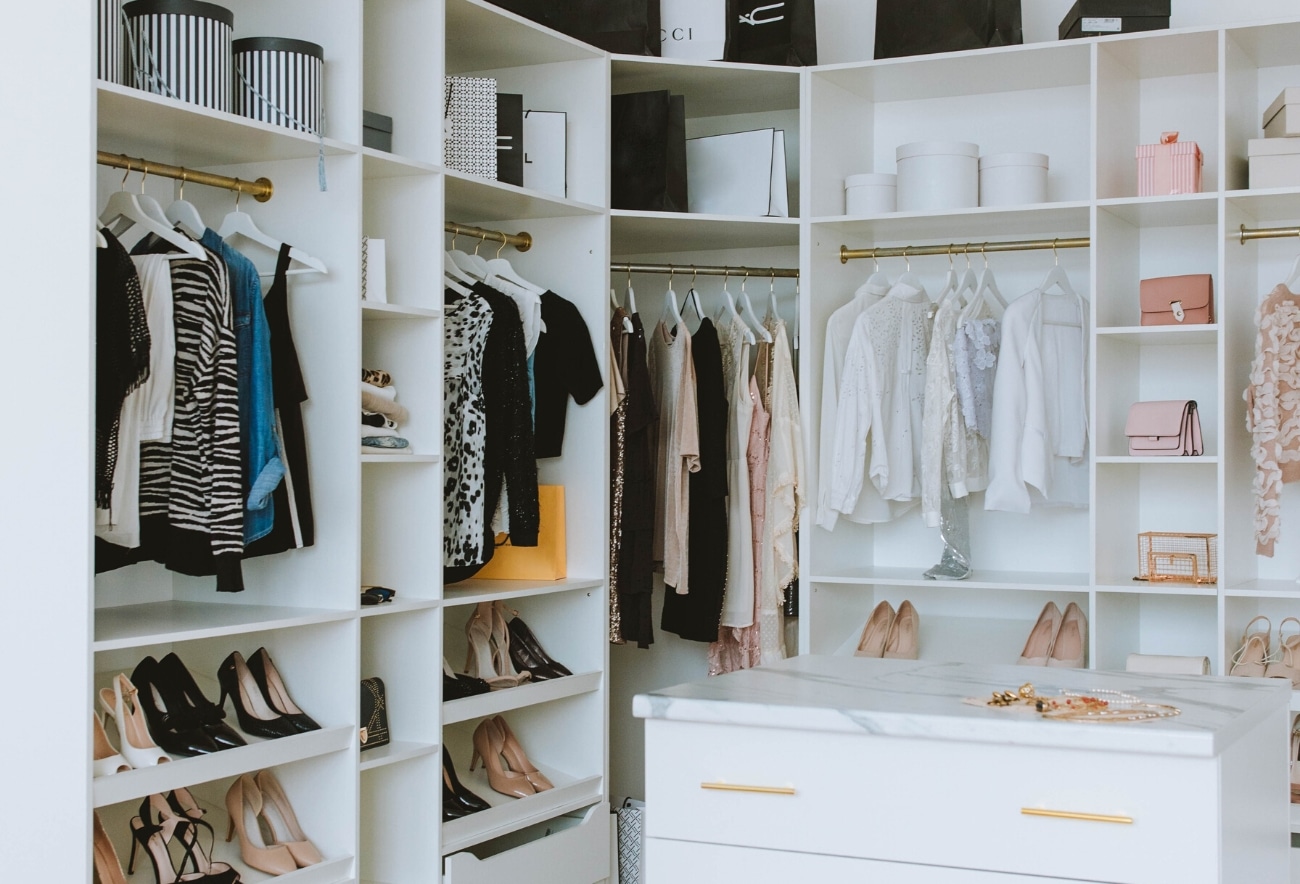 How To Build a Stylish & Sustainable Capsule Wardrobe
Learn how to build a sustainable capsule wardrobe that will simplify your life and elevate your style.
Are you tired of staring at your overflowing closet, feeling like you have nothing to wear? We are too. To help you say goodbye to decision fatigue and hello to effortless outfits, it's time to embrace a "less is more" mentality and build a capsule wardrobe. A capsule wardrobe is a small collection of high-quality, well-made clothing that can be worn for multiple years.
The key to a successful capsule wardrobe is simplicity and versatility. When it's time to build a capsule wardrobe for one season, it's important to choose pieces that are timeless and versatile in different seasons throughout the year to ensure you are reducing the clothes and shoes in your closet.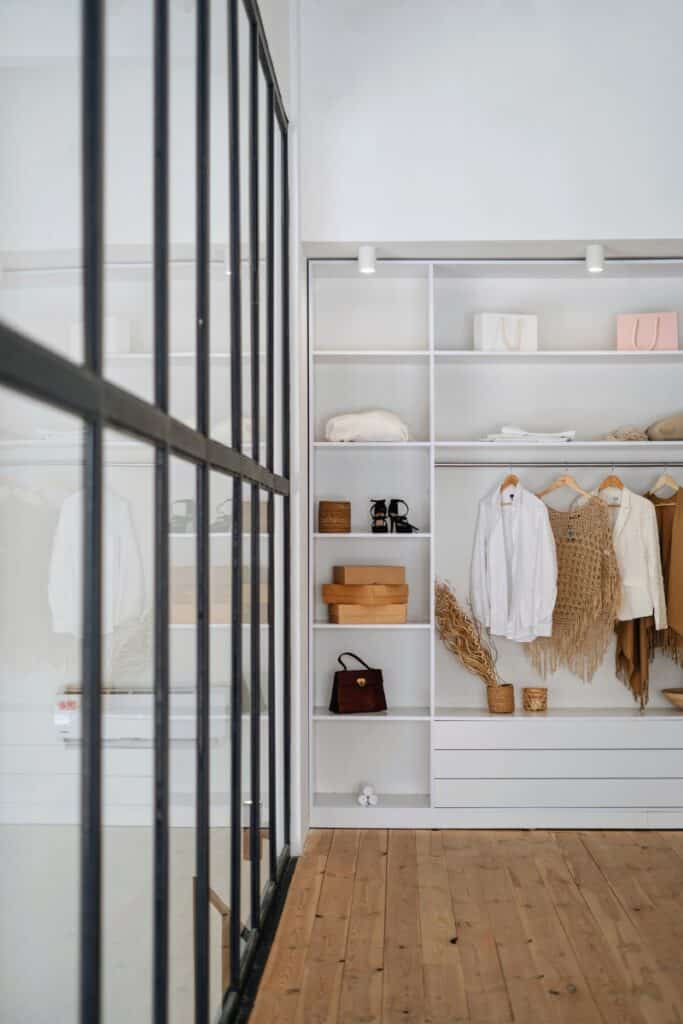 Creating a sustainable capsule and curated wardrobe also has numerous benefits, both for the environment and for your closet. By investing in a curated wardrobe of high-quality, timeless pieces, you'll purchase the right clothes that can be mixed and matched, reduce the need for constant shopping, and contribute to a more sustainable fashion industry.
A capsule wardrobe also allows you to curate a signature style that reflects your personality and values, while simplifying your daily routine by creating more outfits with less clothing and eliminating decision fatigue. Finally, by choosing sustainable materials and ethical brands, you can feel good about the impact of your fashion choices on both people and the planet.
Key benefits include:
– Fewer clothes with more outfit options
– A wardrobe of quality clothing that can be easily mixed and matched
– A year-round wardrobe with key seasonal pieces
– Sustainable and better for the environment
– Saves you money long term
Read on for how you can create a capsule closet that's sustainable in 10 easy steps.
Create a Sustainable Capsule Wardrobe
1. Define your personal style.
Defining your personal style can be a fun and exciting process. It involves exploring different fashion choices, experimenting with new looks, and ultimately finding what makes you feel confident and comfortable. Your clothing should be a reflection of your personality, interests, and lifestyle.
To get to the core of your favorite looks, ask yourself the following questions:
– What colors do I feel most comfortable in?
– What silhouettes and shapes flatter my body type?
– Do I prefer classic, trendy, or eclectic styles?
– What kind of accessories do I like to wear?
– Am I drawn to certain patterns or prints?
– What is my lifestyle like? Do I need clothes that are practical or more formal?
– What kind of message do I want my clothing to convey about me?
– What pieces in my wardrobe do I feel most confident in?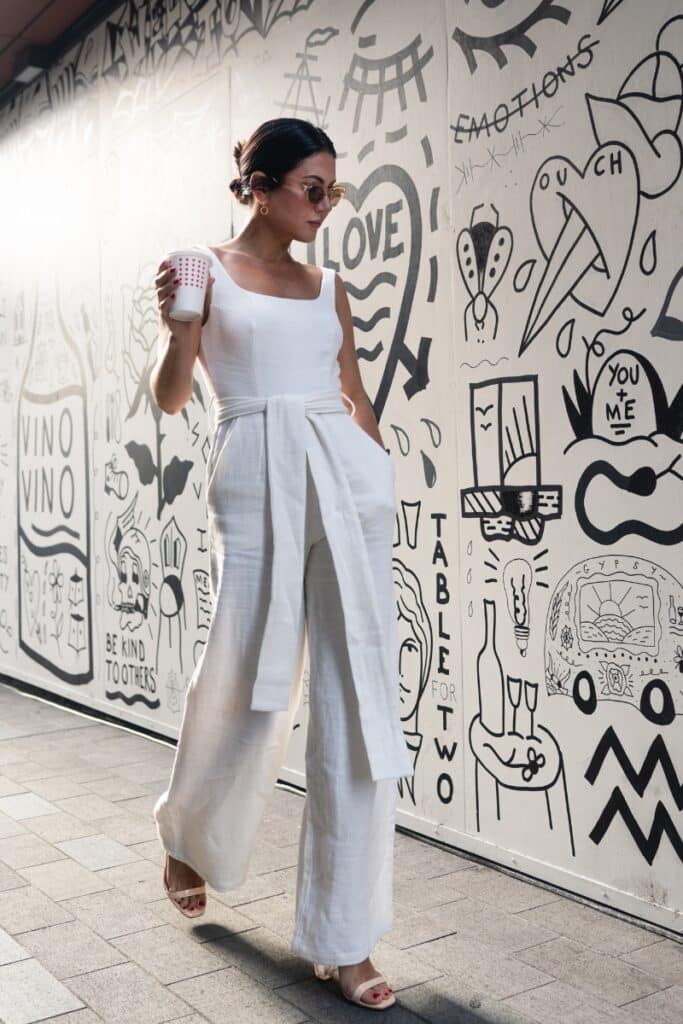 2. Choose a color scheme.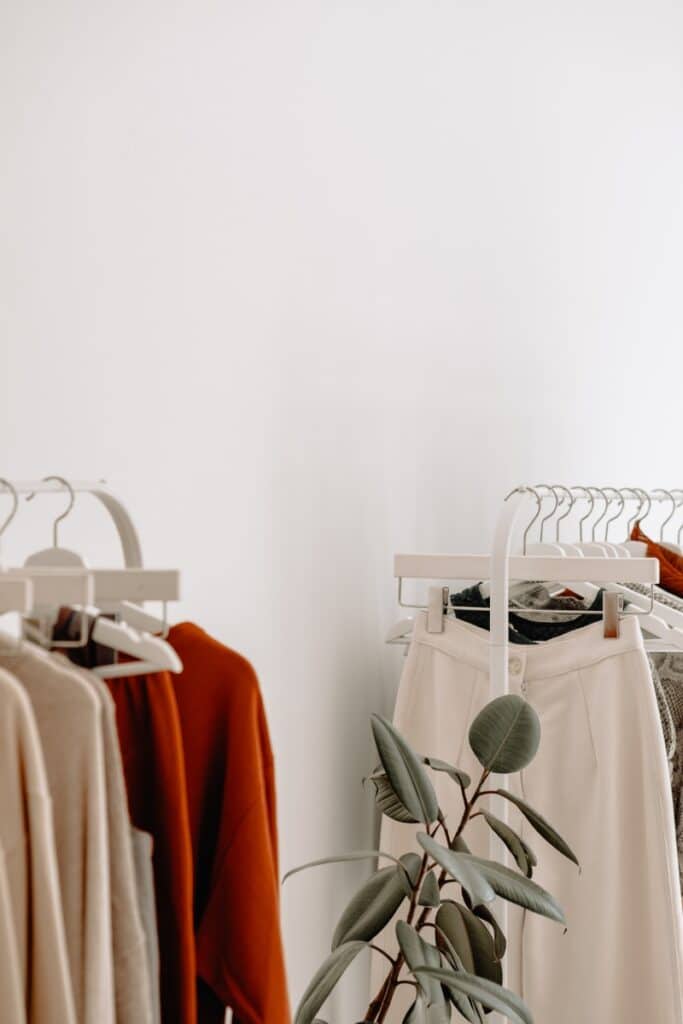 When it comes to creating a capsule wardrobe, choosing the right color scheme is crucial. The goal is to have a versatile and cohesive capsule collection full of clothing that can be mixed and matched effortlessly.
Choose your Base Colors.
Start by choosing neutral base colors for your capsule wardrobe starting with black or navy. Next, you can mix in other neutral colors such as white, gray, and beige. These colors are timeless and can be paired with almost anything.
Choose your Accent Colors.
Once you choose 1-2 base colors, add in 2-4 accent colors that complement your skin tone and the main colors in your capsule.
When determining your skin tone, there are three main categories: cool, warm, and neutral. Cool-toned skin has pink or blue undertones, while warm-toned skin has yellow or golden undertones. Neutral-toned skin has a mix of both.
Choosing your Colors Based on Skin Undertones
To determine the tone of your skin, look at the veins on the inside of your wrist. If they appear blue or purple, you likely have cool-toned skin. If they appear greenish, you likely have warm-toned skin. If it's hard to tell whether they're blue or green, you may have neutral-toned skin.
Cool-Toned Skin
If you have cool-toned skin, look for colors with blue undertones such as:
– Jewel tones like emerald green and sapphire blue
– Bright pinks and magentas
– Lavender and lilac
– Icy pastels like mint green and baby blue
Colors to Avoid:
Avoid wearing warm colors like orange and yellow as they can clash with cool-toned skin.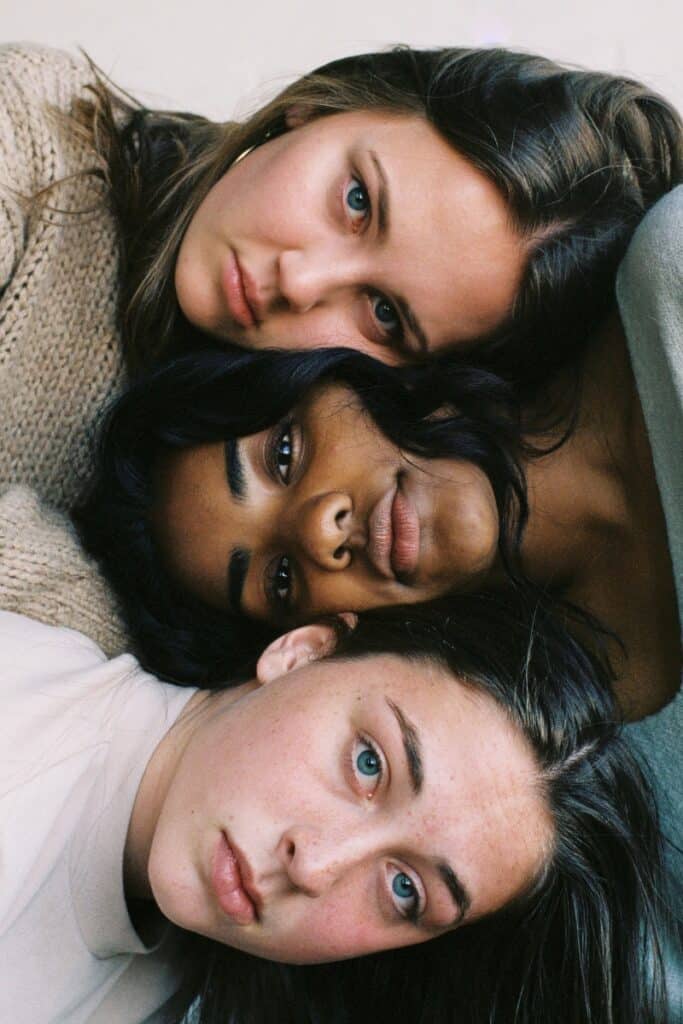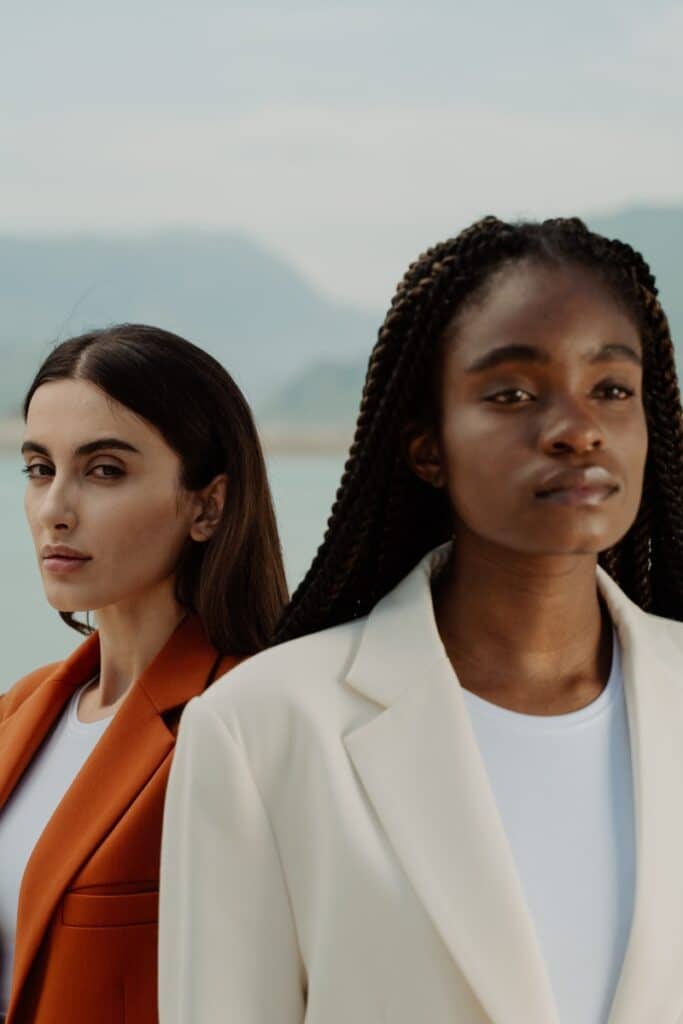 Warm-Toned Skin
If you have warm-toned skin, look for colors with yellow or golden undertones such as neutral colors as:
– Earthy tones like olive green and burnt orange
– Rich jewel tones like ruby red and amethyst purple
– Warm neutrals like camel and beige
– Coral and peachy shades
Colors to Avoid:
Avoid cool colors like blues and purples as they can wash out warm-toned skin.
Neutral-Toned Skin
If you have neutral-toned skin, lucky you. Both cool and warm colors complement you. Some great options include:
– Soft pastels like blush pink and powder blue
– Rich jewel tones like emerald green and amethyst purple
– Warm earthy tones like terracotta and rust
Capsule Wardrobes for Fall/Winter and Spring/Summer
It's also important to consider the season and climate when selecting colors for your capsule wardrobe. Colors may vary between your fall/winter and your spring/summer capsules with each outfit reflecting earthier colors for fall/winter and brighter hues for spring/summer. How many clothes and how many outfits you include in each capsule is up to you. However, it is a common trend to limit a capsule wardrobe to 20-30 pieces.
By following these tips, you can create a color scheme that works for you and helps simplify your life and wardrobe choices.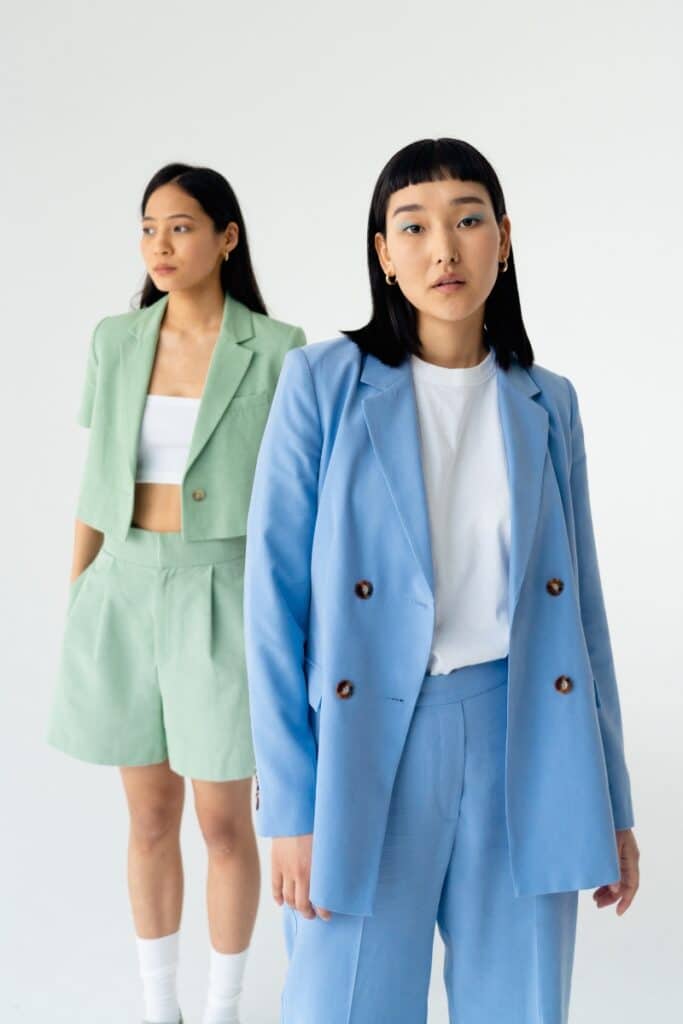 3. Assess and edit your current wardrobe.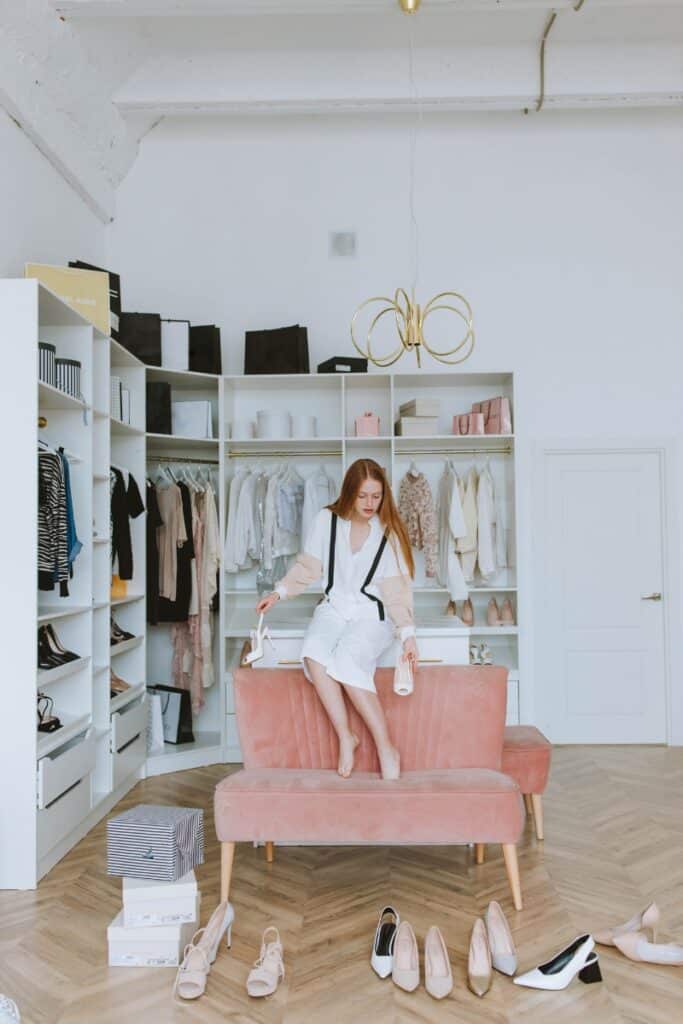 Once you define your personal style and your color palette, it's time to assess your current wardrobe and what is working for you. Take stock of what you already own and identify the pieces that you wear most often.
Ask yourself some questions about the clothes you own, such as whether they fit well, if they are comfortable, and if they reflect the color palette that you've defined. Take note of any items that no longer serve a purpose or don't make you feel confident when you wear them.
Once you have assessed your wardrobe, take inventory of what you have in your closet, including tops, bottoms, dresses, outerwear, shoes, and accessories. For a truly versatile wardrobe and sustainable closet, separate everything into your fall/winter and your spring/summer capsule wardrobes using your color palette as your guide.
This will help you identify any gaps in your wardrobe and make it easier to plan future purchases that will complement your existing pieces. With a little effort and organization, you can create complete seasonal capsule wardrobes that make getting dressed each day a breeze.
To begin editing your closet, start by asking the following questions:
– Do I feel confident and comfortable in the clothes I own?
– Are there any items that I haven't worn in over a year?
– Do I have a good balance of basics and statement pieces?
– Are there any items that don't fit properly or need alterations?
– Am I holding onto clothes for sentimental reasons, even if I never wear them?
– Do my clothes reflect my current lifestyle and needs?
– Are there any gaps in my wardrobe that need to be filled?
– Am I happy with the quality of the clothes I own?
Donate or resell anything that doesn't work with your seasonal wardrobes.
Anything you haven't worn in the closet since last year, doesn't reflect your style, or doesn't pair well with your seasonal capsule wardrobe color palettes should be donated or sold unless you absolutely love wearing the item.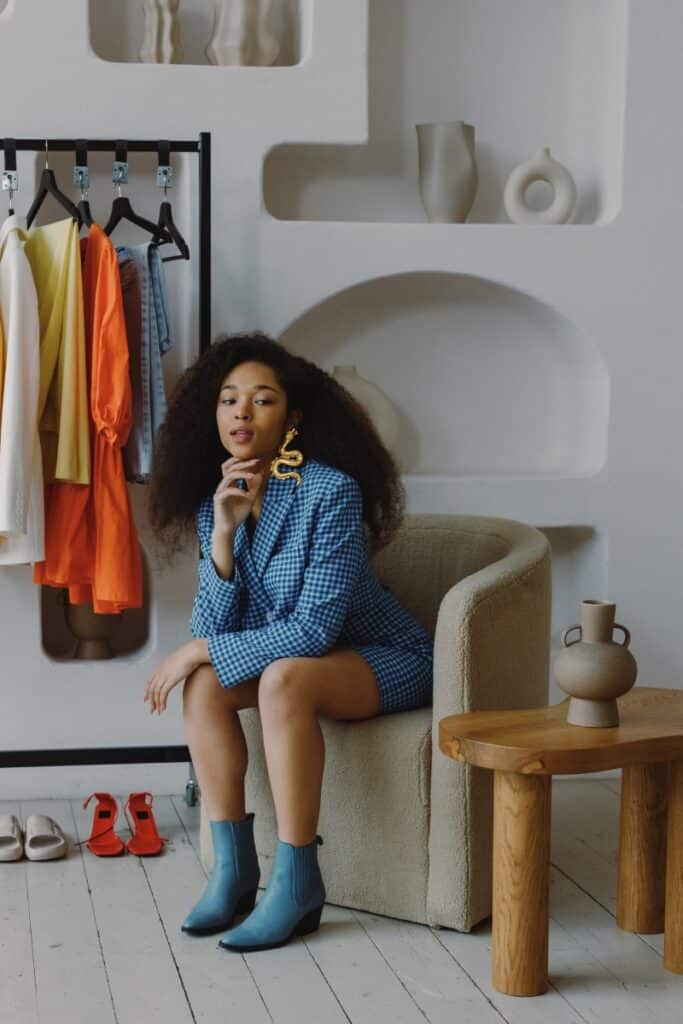 4. Invest in high-quality basics and timeless wardrobe essentials.
Once you've assessed and edited your existing wardrobe, it's time to fill in the missing gaps. To complete your capsule wardrobe you want to start with the basics and look for well-made, versatile, and classic pieces and shoes that can be dressed up or down.
By purchasing high-quality, classic pieces that are versatile and timeless, you can create a sustainable capsule wardrobe that will last for years to come. When investing in basics, it's important to consider the fabric, fit, and durability of every single piece first.
Look for materials like organic cotton, wool, and silk that will stand the test of time and won't easily wear out or fade. It's also important to pay attention to the fit of each item and choose pieces that flatter your body type.
By investing in quality basics, you can create a capsule wardrobe that is both stylish and sustainable.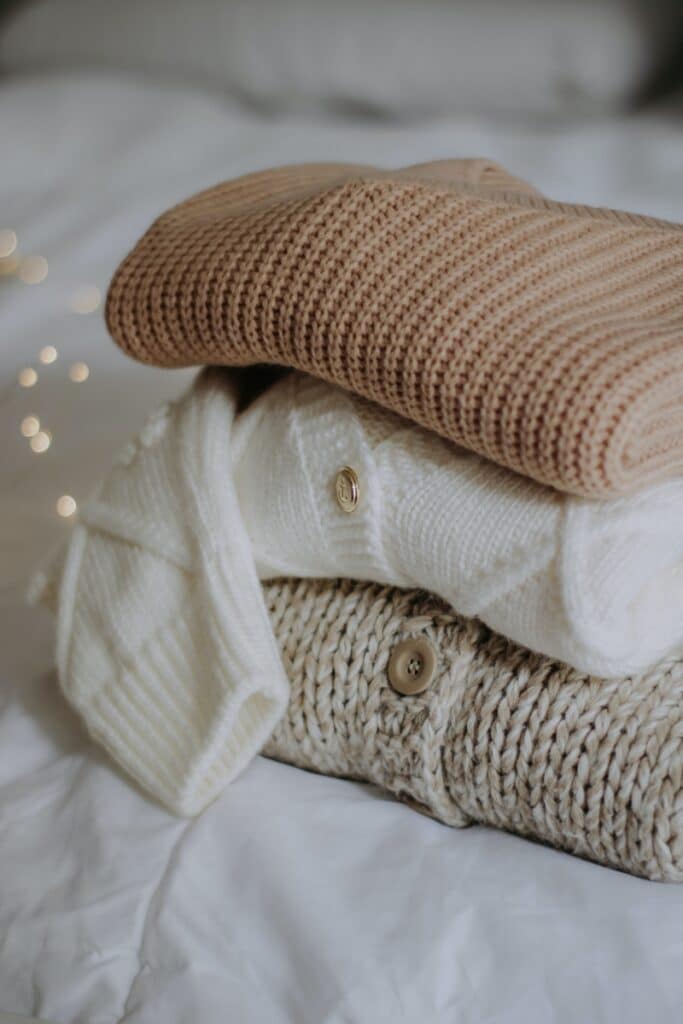 What to Wear Year Round:
Denim Jeans: Invest in 1-4 pairs that are versatile and you absolutely love. If you don't have denim jeans that flatter your figure, it's time to invest in a new pair.
Black Pants: Black pants are a classic closet staple no matter the season.
Tailored Trousers: Tailored trousers work for every season and will add a classic touch to your closet.
White Shirt: A classic white shirt will become a capsule staple as it can pair with anything.
Black Dress: A black dress is a timeless staple for every season.
Classic Blazer: You can't start a capsule wardrobe without a classic blazer.
What to Wear in Fall/Winter:
Cozy Sweaters: Invest in a few high-quality and sustainable sweaters that will keep you warm and stylish all season long. Look for classic styles like cable-knit or turtlenecks. A staple cashmere sweater is a must.
Cardigans: Invest in quality cardigans in organic cotton or 100% wool in neutral colors for cooler months.
Boots: A good pair of boots is a must-have for fall and winter. Choose from ankle boots, knee-high boots, or over-the-knee boots depending on your style.
Jeans: Denim is always in style, and a good pair of jeans can be dressed up or down depending on the occasion.
Jackets/Coats: Stay warm and fashionable with a variety of jackets, shackets, and coats. Consider investing in a wool coat, leather jacket, or puffer coat.
Scarves: Scarves are not only functional but also add an extra layer of style to any outfit. Choose from chunky knit scarves or silk scarves depending on the occasion.
Hats: Keep your head warm with a variety of hats such as beanies, berets, or brimmed hats.
Sweater Dresses: Sweater dresses are perfect for staying cozy while still looking chic during the colder months.
Leggings/Tights: Layer leggings or tights under dresses and skirts for added warmth.
Midi Skirts: Midi skirts are versatile and can be dressed up or down depending on the occasion.
Neutral-colored Tops: Neutral-colored tops can be mixed and matched with different bottoms for endless outfit options.
What to Wear in Spring/Summer:
T-shirts and Tank Tops: Lightweight T-shirts and tank tops in organic cotton and neutral colors.
Light Blouses: Invest in quality sustainable blouses in neutrals, pastels, or bright colors.
Trench Coat: A trench coat is a timeless staple in your spring capsule.
Denim Jacket: A denim jacket or vest for layering on cooler days.
Shorts: Invest in comfortable shorts in different lengths and styles, such as high-waisted or distressed.
Maxi Dresses: Invest in flowy maxi dresses or a maxi skirt in floral prints or pastel colors.
White Sneakers: Invest in classic white sneakers for casual outings.
Sandals: Invest in quality sandals that you can wear with a variety of outfits.
Jumpsuit: Consider a versatile jumpsuit that can be dressed up or down.
Wide-Leg Pants: Wide-leg pants in lightweight fabrics like linen or cotton.
Statement Blazer: Consider a statement blazer in a bright color or bold print for a dressier event or a special occasion.
Swimwear: Invest in high-quality swimwear that fits well and flatters your body shape.
Accessories: Don't forget accessories like sunglasses, hats, and jewelry to add personality to your outfits.
5. Add statement pieces.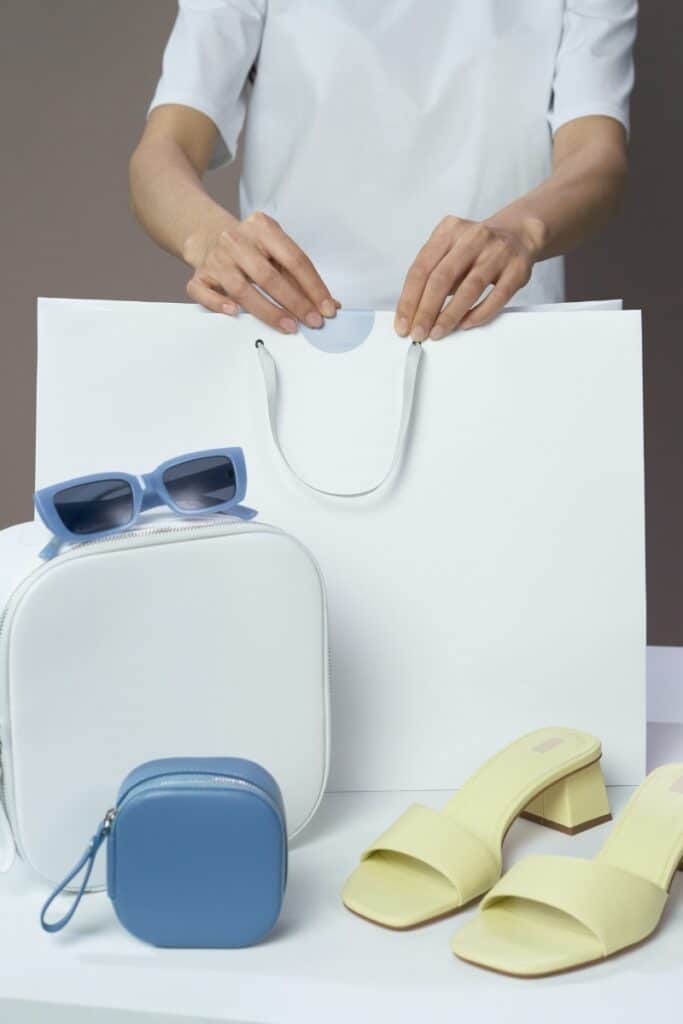 If this is your first capsule wardrobe, be sure to choose a few items that add interest and personality such as bold prints or unique accessories. Adding statement pieces and patterns into a capsule wardrobe can elevate your look and make your outfits more interesting.
Statement pieces can be anything from bold jewelry and sunglasses to eye-catching jackets, pants or shoes, while patterns can add texture and depth to your look. When building a capsule wardrobe, it's important to choose versatile pieces that can be mixed and matched, but don't be afraid to add a few statement items or patterned pieces to your closet to spice things up.
By incorporating these elements into your wardrobe, you'll create a cohesive yet dynamic capsule collection full of clothing that reflects your unique style.
6. Consider ethical and sustainable brands.
Research brands that prioritize sustainability and ethical production practices when adding pieces to your capsule wardrobe.
Sustainable clothing brands are becoming increasingly popular as people become more aware of the impact fast fashion has on the environment. From Everlane to Madewell, there are many well-known brands as well as capsule wardrobe brands that offer sustainable clothing options and capsule shoe brands that offer quality, handcrafted shoes.
There are also smaller, independent brands that prioritize sustainability in their production processes. By shopping from these brands, you can feel good about your fashion choices and reduce your carbon footprint.
7. Shop vintage and secondhand.
Shopping secondhand is a great way to build a sustainable capsule closet. Not only does it reduce the demand for new clothing production, but it also gives old clothes a new life. Thrift stores, consignment shops, and online marketplaces offer a wide variety of pre-loved clothing options that can fit into any capsule wardrobe. By choosing secondhand items, you can save money while also reducing your environmental impact.
8. Avoid fast fashion.
Say no to cheaply made, trendy items that are designed to be worn only a few times before being discarded. It's no secret that fast fashion has become a major contributor to the environmental crisis, with its production and disposal causing significant harm to the planet.
To combat this, many people are turning to sustainable clothing options and creating capsule wardrobes. By investing in sustainable clothing brands and choosing timeless styles over trendy ones, you can build a wardrobe that lasts for years while reducing your impact on the environment. Shop clothing from fashion brands with a focus on creating quality garments made from sustainable materials and sustainable fabrics. With a little effort and creativity, you can create a sustainable wardrobe that reflects your unique personality while also protecting the planet.
9. Care for your clothes properly.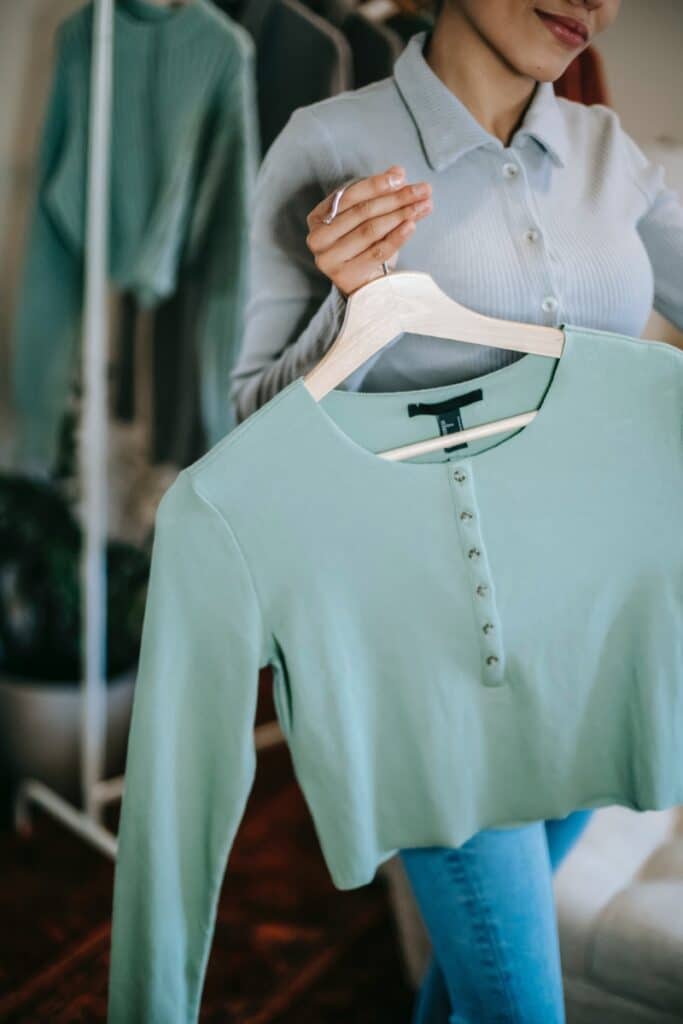 Properly caring for your capsule wardrobe is essential to ensure longevity and reduce the need for frequent replacements. Not only will this make your clothing last longer, but it will save you significant money.
One of the most important steps is to wash like colors together using cool water and a gentle detergent. It's also recommended to wash clothes less frequently, spot clean stains, and air out garments to freshen them up.
Paying attention to care labels and using eco-friendly laundry products can also help maintain the quality of your clothes. Additionally, investing in high-quality clothing and protecting them from damage can make them last longer. By following these tips, you can keep your capsule wardrobe looking great for years to come.
10. Reassess your capsule wardrobe regularly.
Periodically review your capsule wardrobe and make adjustments as needed. This means taking a step back and evaluating whether your current capsule wardrobe still aligns with any changes to your style, color and pattern preferences, and lifestyle needs.
Reassessing your capsule wardrobe every few months will help you identify pieces that are no longer working for you and make room for new additions that better suit your evolving style. When you start a capsule wardrobe, it's a great opportunity to store seasonal items and bring out pieces that are more appropriate for the current season. Remember, a capsule wardrobe should be functional, versatile, and reflective of your unique style.
When you complete these steps, you can create a stylish and sustainable capsule wardrobe while minimizing waste and reducing environmental impact. By investing in high-quality pieces, well-made shoes, and looking for versatile items, your capsule wardrobe will last for years to come.