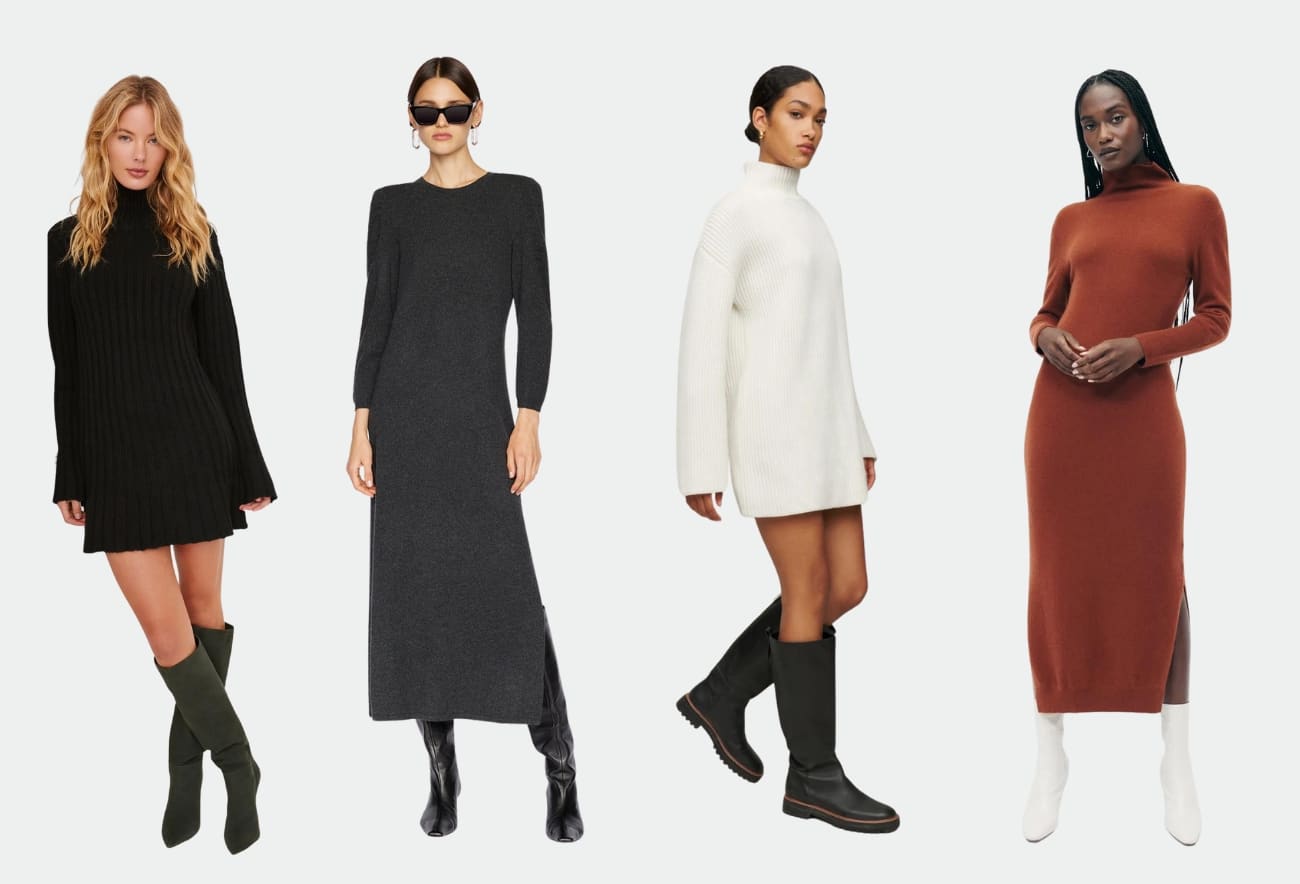 20 Best Sweater Dresses to Look Effortlessly Chic
A curated collection of the best sweater dresses for any occasion.
As temperatures become more frigid, braving the cold while staying fashion-forward can feel like an intimidating feat. That's why a sweater dress is the unsung hero of winter fashion. Effortless and cozy, the sweater dress is the chicest 5-minute outfit and the answer to all of your winter woes.
Spruce up your cold-weather wardrobe with stylish sweater dresses that will become a winter staple. We carefully curated this collection by only selecting sweater dresses from brands that meet our vetting criteria and receive rave reviews online. Uncommon and Curated is proud to be 100% independent. Thank you for supporting our publication by shopping through our links, as we may earn a portion of sales on some items.
Keep scrolling to discover the perfect sweater dress for your personal style.
Featured Sweater Dress Brands
(Quick Links)
Best Sweater Dresses
What We Love
We love the edgy sillouhette of this sweater dress. Sleek and minimalistic, whether you're running errands for the day or heading out for a night on the town, this versatile sweater dress is the definition of effortless style. Keep accessories to a minimum and let this dress do the talking.
About ANINE BING
Inspired by Scandinavian simplicity, ANINE BING was founded by Nicolai Bing in 2012. Based in Los Angeles, this fashion brand is focused on everyday wardrobe essentials and investment pieces thoughtfully sourced from the highest quality fabrications and materials.
What We Love
We love the flattering fit and the figure-hugging silhouette on this sweater dress. The buttons down the front add versatility and can be partially buttoned to show a little leg. The perfect sweater dress for fall and winter, the midi-length lets your favorite boots make a cameo.
About EMOTAÉ
EMOTAÉ is an LGBTQ+-owned fashion label on a mission to make everyone feel beautiful and empowered. EMOTAÉ is derived from the word 'emote,' which is rooted in self-expression and a common thread throughout every collection. This stylish brand is founded on the simple belief that what we wear reflects who we are.
What We Love
We love the show-stopping green hue of this modern sweater dress and chic turtleneck style. Pair with black opaque tights on cold winter days and layer with an overcoat for extra warmth.
About Modern Citizen
Modern Citizen is a contemporary fashion brand that offers timeless and affordable wardrobe staples designed to be mixed and matched. Founded in 2014 by Jess Lee and LIzzie Agnew, the label brings together a minimalist aesthetic with skilled craftsmanship and quality fabrics.
What We Love
We love the versatility of this sweater dress that can be dressed up or dressed down. Pair it with combat boots for a more casual look or dress it up with your favorite statement jewelry and heels for a more polished ensemble. This is also the best sweater dress for a capsule wardrobe.
About AllSaints
With its headquarters in London, AllSaints was founded in 1994 by Stuart Trevor and Kait Bolongaro as a luxury wholesale menswear brand. In 1998 the brand launched its womenswear line boasting modern pieces with a stylish edge.
What We Love
We love that this dress is anything but basic with its unique button side slit. Bring a little pale yellow into your fall and winter wardrobe with this sweater dress and complete the look with black leather heels and a sleek black clutch handbag.
About JIL SANDER
JIL SANDER is a luxury fashion house founded in 1968 in Hamburg, Germany, and currently headquartered in Milan, Italy. With its timeless sophistication and modern elegance, the brand's unwavering commitment to design flawlessly integrates minimalism with modern materials as well as masterful craftsmanship.
What We Love
We can't get enough of this sweetheart neckline and the dramatic sleeves of this sleek sweater dress. Wear it with your favorite necklace or styled with a silk scarf.
About Mara Hoffman
Founded by Mara Hoffman in 2000, the eponymous label creates quality, eco-friendly pieces that are manufactured responsibly by smaller artisan groups under fair conditions. Many of Mara Hoffman's clothes are premium quality and made in the USA.
What We Love
We love the way this knit dress slips on for a close fit, a much-welcomed departure from the oversized styles of most sweater dresses. The metallic sheen and pleats bring a formal touch to this sweater dress perfect for a holiday party or any dressy affair.
About Khaite
In 2016, Creative Director Catherine Holstein founded KHAITE with the goal of creating collections that are unique yet timeless. Based in New York, KHAITE encapsulates the energy of the vibrant city with garments expertly crafted from high-quality materials that evolve with the seasons.
What We Love
We love the bold fall colors that perfectly transition into the winter season. Turn heads when you pair this midi dress with sleek, heeled boots and tie belt for a dressy look.
About St. Roche
Founded by designer Sue Stemp and her husband Paud Roche in 2014, St. Roche is a responsibly designed and manufactured independent brand based in Los Angeles. With a passion for high-quality craftsmanship, St. Roche works directly with skilled artisans and small family or women-led manufacturers in India, Peru, and LA.
What We Love
We love the 70s vibe of this sweater dress with its color palette and ribbed knit. The perfect dress to transition from fall to winter, you'll be wearing this dress for seasons to come.
About Acne Studios
Based in Stockholm, Acne Studios was founded by Creative Director Jonny Johansson. With a focus on design, meticulous tailoring, and an emphasis on using unique materials, each collection from Acne Studios features his signature juxtaposing style with custom-crafted fabrics.
What We Love
We love the on-trend preppy style married with an oversized relaxed fit. For winter, style this sweater dress with over-the-knee boots for extra style and warmth, or even with your favorite pair of denim for a more casual look.
About Jonathan Simkhai
Founded in 2010 in New York City, Jonathan Simkhai's eponymous label employs customized fabrics, romantic detailing, linear lines, and contoured silhouettes to craft quality garments that never sacrifice style.
What We Love
We love that this sweater dress spices up the classic turtleneck dress with two-toned stripes for a modern edge.
About TOCCIN
Founded by Husband and wife duo Alex + Michael Toccin, this independent brand launched with the simple mission of creating fashion that makes women feel comfortable, confident, and stylish. From signature dresses to sleek knitwear, every piece in their collection is an instant wardrobe staple.
What We Love
We love the classic silhouette of this mini sweater dress. Pair this mini dress with your favorite knee-high boots and understated earrings to complete the look.
About Something Navy
Founded in 2009 by Arielle Charnas, Something Navy has evolved from a style blog to a leading fashion brand. In 2020, Something Navy launched an independent fashion line featuring chic and effortless pieces made from premium quality materials.
What We Love
We adore this sweater dress in winter white with its casual, relaxed fit. Pair this mini dress with white sneakers during the day and a sleek pair of boots or heels for date night.
About Rag & Bone
Headquartered in New York City, Rag & Bone was founded in 2002 by Nathan Bogle and Marcus Wainwright with a commitment to craftsmanship and premium quality. Today, with Marcus Wainwright and David Neville at the helm, the brand continues its mission to create timeless pieces that are built to last.
What We Love
This practical sweater dress won't just sit in your closet. With its classic design, the styling options are endless.
About A.P.C.
Founded by Jean Touitou in 1987, A.P.C. is a fashionable French apparel brand that embodies authenticity and accessibility through its signature style and values-driven philosophy. Originally known for their signature raw denim jeans, A.P.C. now offers collections for men and women that focus on classic designs that transcend trends in fashion.
What We Love
With its bold color, sleek lines, and button detail, we love every detail of this stylish sweater dress. The shoulder pads and mock neck style add a fierceness to this already statement-worthy sweater dress. Add a sleek pair of heels to this form-fitting sweater dress and you're ready for date night.
About Balmain
After World War II, Pierre Balmain's eponymous fashion house emerged in Paris and set the stage for a complete transformation of French style. By 1947, Balmain had earned a spot at the vanguard of the fashion revolution and became an influential force worldwide. Pierre Balmain's iconic designs remain central to the house's DNA today.
What We Love
We love the versatility and color of this sweater dress. The uniquely placed cutout in the back makes this a fun knit dress to wear day or night. Pair this midi dress with rich brown leather boots to complete the look.
About Ser. O. Ya.
Ser. O. Ya. is a cutting-edge fashion label that seeks to inspire social change through collaborating with charitable organizations and foundations. Founded by Ohad Seroya, this emerging brand offers a range of trendsetting feminine, masculine, and gender-neutral styles.
What We Love
The side slit is perfect for showing off a little leg—or your favorite knee-high boots. Elevate your look with this season's must-have leather trench, and create an unforgettable style.
About FRAME
Founded by Jens Grede and Erik Torstensson, FRAME is a beloved American fashion label that expertly crafts high-quality clothing from denim, cotton, leather, and extreme cashmere. Since the brand's inception in 2012 in Los Angeles, FRAME has evolved from making handcrafted denim to offering ready-to-wear staples with a commitment to sustainable and fair manufacturing practices.
What We Love
We love the quality cashmere and rust color of this sweater dress. Wear it with sneakers for a laid-back look or dress it up with some heels.
About NADAAM
NAADAM was founded in 2013 by Matthew Scanlan and Diederik Rijsemus. Utilizing a direct-to-consumer business model, the founders have transformed the cashmere industry by ethically sourcing cashmere directly from herders at fair wages while selling premium quality apparel without the extreme markup.
What We Love
One of the most casual sweater dresses in this curated collection, we love the laid-back relaxed fit. Belt this sweater dress for a more polished look, or keep it cozy and embrace its relaxed style.
About Everlane
Everlane is an ethical fashion brand that believes in radical transparency. The brand sources only the finest materials and partners with ethical factories around the world. With a commitment to quality, Everlane designs intentional pieces that are made to last and are perfect for a capsule wardrobe.