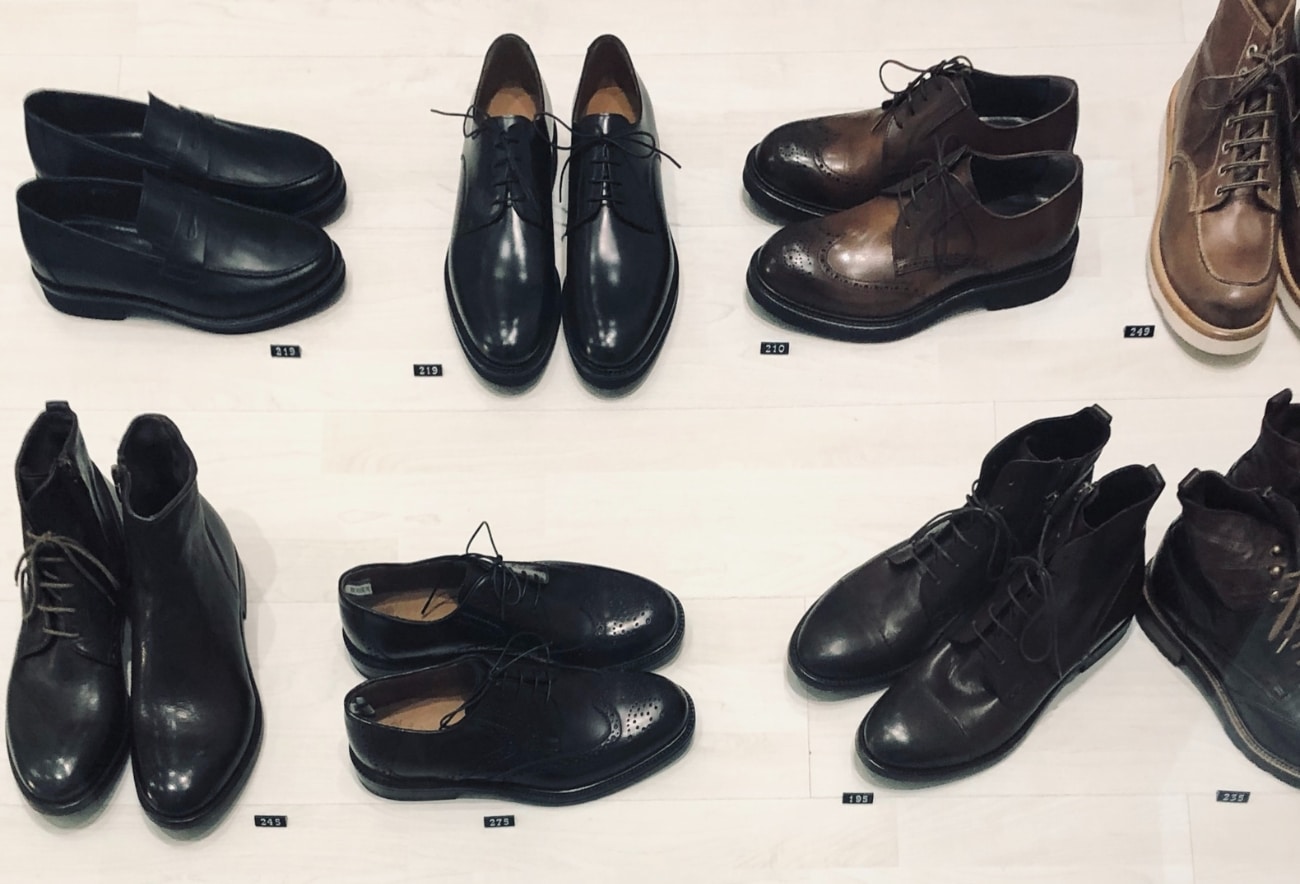 Top 5 Things to Consider When Buying Handmade Leather Shoes
What to consider when buying handmade shoes to ensure quality and longevity.
When it comes to shoes, there is nothing quite like a pair that has been handmade from the highest quality materials. Luxury handmade leather shoes are not only works of art but are made to last and stand the test of time. When considering such a big investment, it's important to understand the "ins and outs" of leather shoemaking including the quality of materials, how the shoes are constructed, and how to determine the right brand for you.
Handmade vs Mass-Produced Shoes
While mass-produced shoes are more affordable, they lack the attention to detail of a skilled craftsman. Mass-produced shoes are often cemented (glued instead of stitched), made with a rubber sole (less durable and flexible than leather), and made with lesser-quality materials.
While the alluring price tag of manufactured shoes makes it seem like it will save money, the longevity of these shoes will never rival the craftsmanship of handmade footwear. In fact, leather shoes that are handcrafted by skilled artisans not only offer the ultimate comfort, but they typically last 2-4 times as long. 
If you are in the market for a new pair of handmade leather shoes, here are the top 5 things you should take into consideration before making your purchase.
1. Seek Handmade Shoes With Quality Materials.
When it comes to handcrafted leather shoes, the materials used can make all the difference in both comfort and durability. Make sure to research the types of leather or fabric used as well as any special treatments that are done to the materials. It's also a good idea to uncover the types of metals or plastics that are utilized for any embellishments on the shoes. For quality handmade shoes, look for materials like leather, suede, and breathable cotton canvas. Overall, the higher quality of the materials, the longer your shoes will last. Whether you are considering handcrafted sandals, dress shoes, loafers, or even sneakers, quality materials should be your number one priority.
Premium Handmade Leather Shoes
Full-grain leather is renowned as the number one high-quality shoe material, and for good reason – it's resistant, durable, and soft. However, when shopping for handmade leather shoes, you want to look out for cheap leather substitutes. "Bonded leather" and "Corrected Leather" are made of mixed leather leftovers with plastic and other chemicals – definitely not what you're looking for in quality handmade leather shoes. Cheaper leather materials create creases, discolor with age, and peel over time.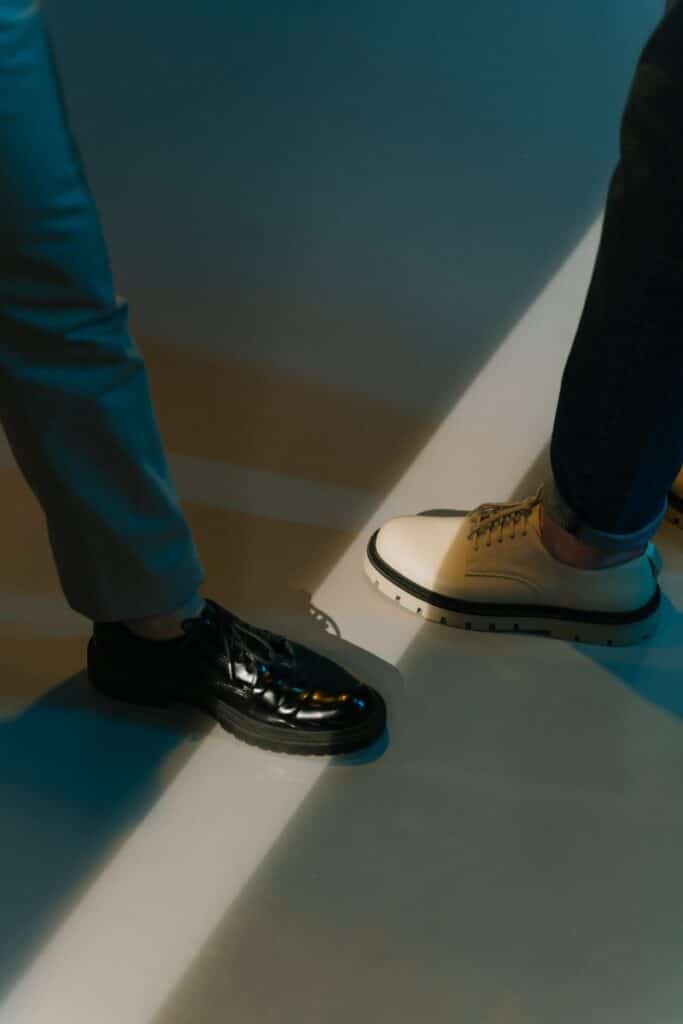 On the other hand, premium quality leather is a worthwhile investment – it looks better with age, takes on character and charm of its own, and is flexible to adapt to the shape of your foot, becoming even more beautiful as time passes.
Sustainably Produced Leather Shoes
When in doubt, look for leather that has been certified by the Leather Working Group. The Leather Working Group is a non-profit organization committed to creating a better, more sustainable future for leather manufacturing. It is a global community bringing together some of the brightest minds in the industry with the shared mission of making sure that leather production is responsibly sourced and environmentally friendly. Thanks to its groundbreaking efforts, LWG has established itself as one of the premier standards for ethical leather production on an international level.
Pro Tip:
When examining handcrafted leather footwear, one thing to look out for is the consistency of color across the surface. Quality leather shoes will be made from premium leather that is expertly tanned. Examine shoe details such as the brogue or other decorative punctures to see if the sides of the holes are the same color as the rest of the shoe. If the sides of the holes are not evenly matched with the rest of the shoe, it could signify poorer workmanship and quality.
Additionally, any little scratches or marks on quality leather shoes are the same shade as the rest of the leather, this indicates that careful tanning has taken place. If the scratches are a lighter hue than the rest of the shoe, this indicates lesser quality.
2. Consider the Construction Method Used to Craft Handmade Shoes.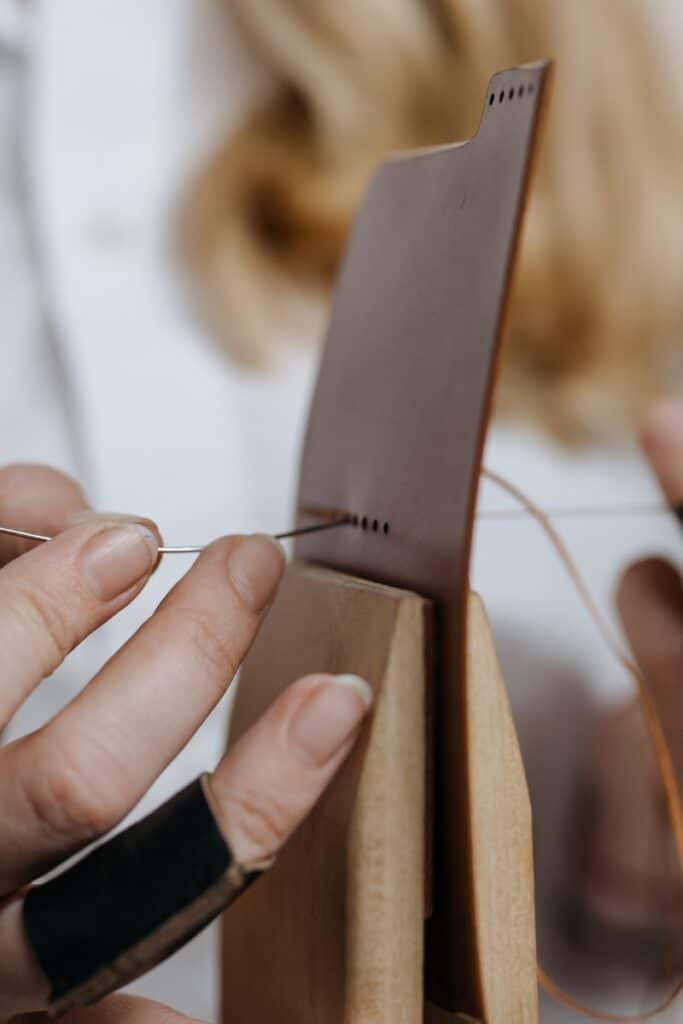 Another important factor to consider when purchasing handcrafted leather shoes is how they were actually constructed. This process can vary depending on the artisan but generally includes using traditional tools to cut the leather, hand stitch everything together, and then attach any soles or embellishments.
There are various methods of shoe construction, but when it comes to handmade leather shoes, hand welting reigns supreme. Hand-welted shoes are handstitched with two-level stitching. Cork filling is placed between the insole and midsole while the "welt," a strip of leather running along the entire perimeter of the shoe, is hand-sewn to both the midsole and outsole. These extra layers create comfort and durability so your shoes can be resoled time and time again.
Different construction methods can result in different levels of comfort and durability so be sure to try to research the construction method before purchasing.
The Anatomy of Quality Handmade Leather Shoes
Unlike the majority of manufactured shoes, handmade footwear and bespoke shoes typically boast premium leather, double and reinforced stitching, and a leather sole.
Premium Leather
A good pair of shoes will be handcrafted with full-grain leather that withstands the wear and tear of everyday life. The quality of leather used in footwear is just as important as the craftsmanship.
Double and Reinforced Stitching
Double and reinforced stitching is a key element of quality handmade leather footwear, offering numerous benefits that make it well worth considering. Not only does this construction method help to reinforce the shoe structure, but it also adds extra comfort and durability for extended wear.
Leather Sole
Leather soles come with a bevy of benefits for handmade leather shoes, making them one of the most sought-after materials in the world of luxury footwear. Leather is incredibly strong and durable, able to withstand regular wear and tear while still retaining its original form and shape. The material's flexibility also allows it to move and flex with your natural foot motion, making every step comfortable and effortless.
Pro Tip:
Look for shoes that are lined with leather rather than fabric or rubber. This makes the shoes more durable and will keep away odor.
3. Consider the Amount of Time Required to Make the Handmade Shoes.
It should go without saying that handmade items will take longer to create than mass-produced items. When it comes to handmade leather shoes, artisans usually need anywhere from a few days to a few weeks to finish just one pair. Keep this in mind when making your purchase as you may need to wait a bit longer than usual to receive your new shoes.
Pro Tip:
While it may take longer, shopping for handmade shoes that are made-to-order is a great way to avoid overproduction and support the environment.
4. Consider the Artisan or Brand's Reputation.
Next, you will want to make sure you buy your handmade leather shoes from a reputable artisan or brand.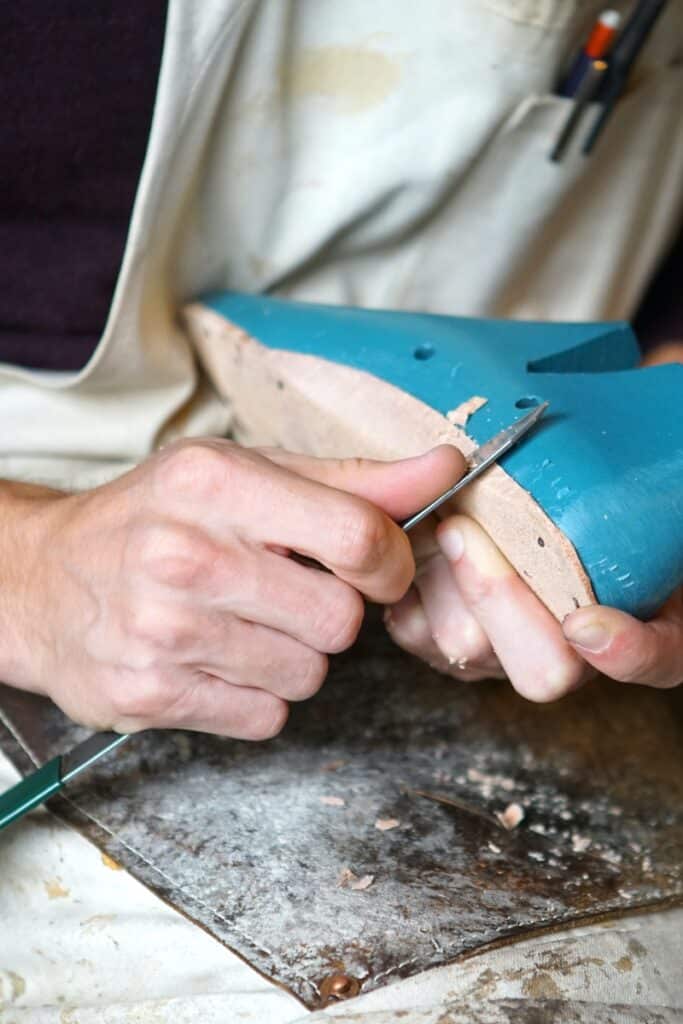 Be sure to read online reviews from previous customers and learn about the construction methods and materials used by the brand. You can also ask for recommendations from friends or family members who have purchased a pair of shoes from the brand you are considering.
Pro Tip:
Italy, Spain, and Japan are just some of the countries that have been practicing traditional shoemaking techniques to master the craft of handmade leather shoes for centuries. When in doubt, search for a pair of shoes handcrafted in these countries.
5. Consider the Price of Handmade Leather Shoes.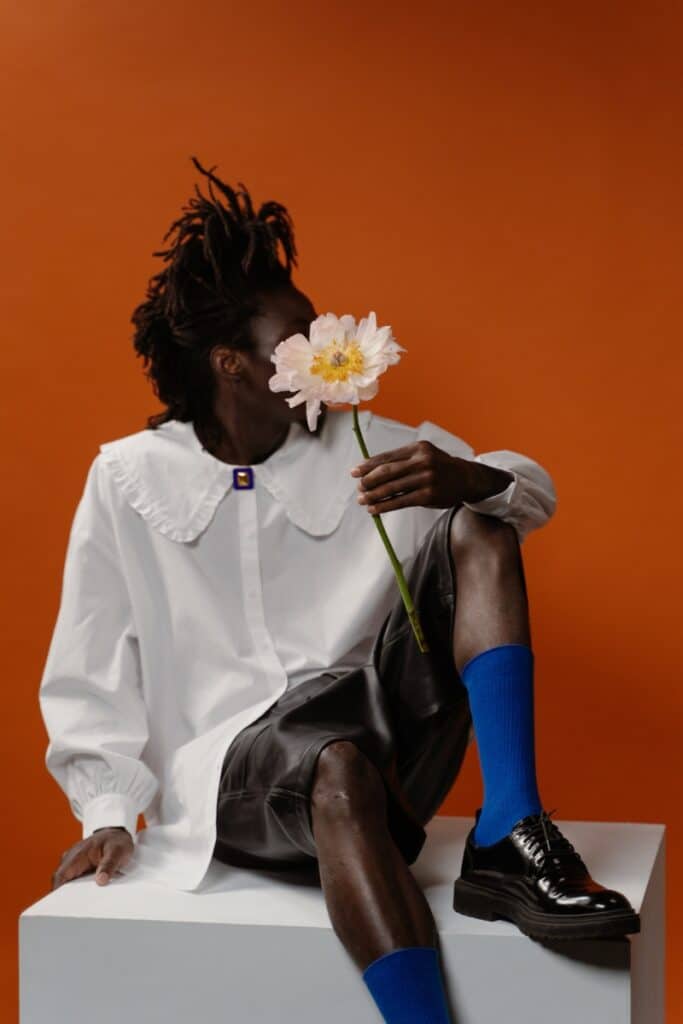 Finally, one of the most important factors you need to take into consideration when purchasing handcrafted shoes is price. Because these items are made by skilled artisans using high-quality materials, they will typically cost more than their mass-produced counterparts. However, luxury handmade footwear is made to last which means these shoes are worth the investment in the long run.
Pro Tip:
One way to save on handmade shoes is to look for handmade shoe brands that are direct-to-consumer. By cutting out wholesalers, the brand is able to offer more affordable prices without sacrificing quality.
Handmade Leather Shoes Frequently Asked Questions
What is the difference between handmade leather shoes vs custom shoes?

All handmade leather shoes are hand-welted, hand-sewn at the sole, and hand-built at the heel. However, custom shoes follow a form and pattern called a "last" which is created from a particular wearer's foot while non-custom handmade leather shoes are crafted based on standard sizing. A custom shoe will perfectly mold to the foot shape of the wearer, which is one of the main benefits of opting for a bespoke shoe. 
Are handmade shoes better? 

Handmade shoes typically have better quality and durability than manufactured shoes. They are typically hand-stitched with leather soles and are made from premium quality materials making them last much longer than manufactured shoes. 
How can you tell good quality shoes? 

When it comes to buying shoes, one of the most important things to consider is quality. Good quality shoes are not only more comfortable and stylish but also last longer than cheaper alternatives. Here are some tips for determining the quality of a shoe before you make your purchase:
– Look for signs of quality craftsmanship such as double or triple stitching. 
– Look for a leather vs rubber sole. 
– Examine the material used in the shoe – premium leather should have a consistent grain and texture without any visible imperfections. 
– Consider the construction methods used to make the shoe – handmade shoes are typically constructed with more complex and intricate methods than manufactured shoes.