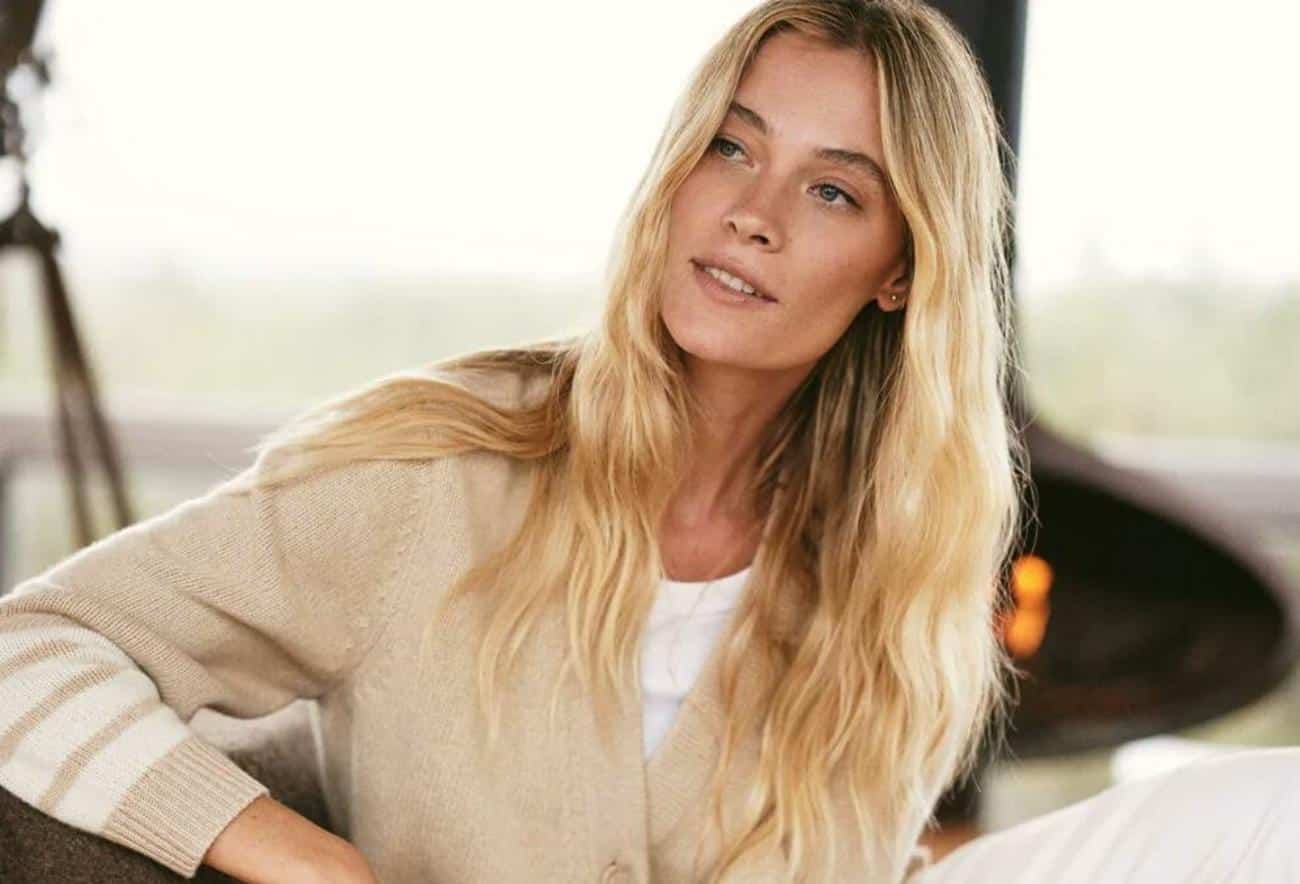 15 Sustainable Sweaters to Keep You Cozy This Season
Your guide to sustainable sweaters with style.
Sweater weather is upon us, and that means it's time to get cozy. When shopping for sweaters this season, there are plenty of stylish and sustainable sweater options that will stand the test of time and not harm the environment.
Say hello to sustainable sweater weather.
As we say goodbye to sundresses and summer sunsets and hello to fall foliage and pumpkin spice lattes, it's time to refresh our wardrobe for the changing seasons. Before you browse the collections of your favorite go-to brands, consider shopping more intentionally this season by exploring sustainable clothing brands.
These ethical fashion brands combine stylish design, eco-friendly materials, and sustainable practices. So not only will you find one of your next favorite sustainable sweaters, but you'll also be supporting a company that puts the environment first. We curated this collection by only selecting sustainable sweater brands that meet our vetting criteria and receive rave reviews online. However, we may make a small commission if you purchase anything through our links. By shopping through our links, you help support our publication and our editors.
Keep scrolling to discover the top sustainable sweaters to shop this season.
Featured Sustainable Sweater Brands
(Quick Links)
Best Sustainable Sweaters
What We Love
We love the use of recycled fabrics and the structured style of this mock neck pullover that adds a sophisticated edge to any outfit. This sustainable sweater is perfect for the office, a weekend away, or simply lounging at home.
About ADay
ADay is committed to creating sustainable clothing that not only looks great, but is better for the environment and better for your health. From the very beginning of their design process, ADay starts with pieces that are thoughtfully crafted and made to last. The perfect capsule wardrobe brand, ADay creates high-quality, seasonless essentials that will stand the test of time and continue to be relevant in your wardrobe over time.
What We Love
We love this casual, "business as usual" v-neck in the front perfectly paired with a dramatic twist detail in the back that brings a sexy touch to this sustainable sweater.
About Amour Vert
Amour Vert (the name means green love in French) is an ethical fashion brand that creates beautiful, high-quality clothes while preserving the planet's resources. Amour Vert uses organic cotton, recycled materials, and low-impact dyes to create their garments, ensuring that the finished product is not only stylish but also eco-friendly.
Unlike other fashion brands that purchase pre-made fabric, Amour vert partners directly with mills to develop their own fabrics that are sustainable, soft, and stand the test of time.
To further the brand's commitment to sustainability, Amour vert makes clothing in limited quantities to avoid overproducing and utilizes packaging made from recycled materials that are 100% biodegradable.
What We Love
We love the timelessness of this classic, sustainable sweater that can effortlessly be dressed up with a blazer or skirt or dressed down with your favorite denim.
About Universal Standards
Universal Standards is a size-inclusive fashion brand known for its premium quality fabrics. From sustainable sweaters made from luxurious merino wool to clothing made from Peruvian organic cotton and the brand's signature stretch linen, Universal Standards offers eco-friendly clothing throughout its collection with garments that last season after season.
When this brand says size-inclusive, they mean it. Every garment is custom fit for every size and wear-tested to ensure the garment is perfectly tailored to move with you.
What We Love
This sweater is a welcome departure from bulky sweaters in favor of something trendy, sustainable, yet still oh-so-cozy. We love the versatility of this sweater and how the sweetheart neckline can showcase your favorite statement necklace.
About Reformation
A sustainable fashion pioneer, Reformation is an innovative brand founded in 2009 with a mission to bring sustainable fashion to everyone. At the core of everything they do is a deep commitment to sustainability—from their factory in Los Angeles to their fabrics, packaging, and retail stores. With a focus on eco-friendly fabrics and materials, Reformation's clothes and sweaters are made from low-impact materials, reclaimed deadstock fabrics, and repurposed vintage clothing. They not only consider the impact of individual garments throughout their entire lifecycle but also track this information transparently with an internal tool called RefScale.
Reformation is certified as a Climate Neutral company and will be Climate Positive by 2025, meaning they work tirelessly every day to reduce their impact on the environment and support climate action to help mitigate the global crisis of climate change. By shopping at Reformation, you are making a positive contribution towards creating a more sustainable future for all.
What We Love
We love that NAADAM works directly with Mongolian herders to source its premium cashmere, and the quality shows in this classic cable knit sweater. Plus, we can never resist a chic, winter-white sweater to pair with a monochrome cream outfit.
About NADAAM
Founded in 2013, NAADAM is committed to providing high-quality, affordable cashmere to its customers while also supporting the communities behind it. This is accomplished through a direct relationship with Mongolian herders, who are paid substantially more by NAADAM than they would be by traditional suppliers.
In addition, NAADAM's soft, premium cashmere is manufactured using sustainable and cruelty-free practices, investing in herder communities while ensuring the protection of the planet.
What We Love
We love the timeless versatility of this camel turtleneck, and the meticulous attention to detail ensured by Cuyana's partnership with a family-owned Italian mill & factory that has been in business since 1885.
About Cuyana
At the heart of Cuyana lies a strong commitment to women's empowerment and sustainability. This forward-thinking company was founded by women for women, and its values are reflected in everything it does. From the impeccable craftsmanship that goes into each of its collections to the close-knit partnerships forged with skilled craftswomen around the world, Cuyana is truly dedicated to creating products that embody timeless design and luxury quality while staying true to its core principles of sustainability.
With a goal to make 100% of products from sustainably-sourced materials by the end of this year, it is clear that Cuyana is constantly striving towards excellence in every aspect of its business. Whether you're looking for essential wardrobe pieces or a one-of-a-kind statement accessory, Cuyana has something for everyone – because truly, less is more.
What We Love
Every wardrobe needs a classic wrap sweater, and we love the sustainability and quality of this one. Theo + George only uses the highest quality cashmere with 100% traceability and control over the production process, so you can rest assured knowing that your sustainable sweater will stand the test of time.
About Theo + George
Established in 2013 by Katie O'Riordan, Theo + George is a fashion brand that is driven by Katie's unique insights and experience in the fields of architecture and physics. With a focus on sustainability and simplicity, Katie has quickly gained recognition in the fashion industry, including making shortlists for various awards and being named Fashion Designer of the Year in 2017 by the International Federation of Accessibility Industries (IFIA).
With production facilities located around the world, this brand stays true to its values of ethical manufacturing and complete product traceability with 100% traceability of the clothing production process. All product packaging is also recyclable.
Dedicated to creating clothes that are both fashionable and functional, Theo + George aims to revolutionize the fashion industry through innovation and creativity. Whether you're passionate about sustainability or simply looking for high-quality wardrobe staples, this brand has something for everyone.
What We Love
We love the soft, feminine color palette of this sweater perfect for pairing with neutrals, jeans, or even pink trousers for a more playful ensemble.
About Sézane
Sézane believes in creating timeless pieces that respect the plant and its people. Compelled by a desire to create truly sustainable fashion, ¾ of their current collection materials are eco-friendly. This brand's sustainable sweaters and clothing not only meet the highest industry standards for quality and safety, but they are also certified by 5 of the most respected organizations in the field: GOTS, Oeko-Tex, FSC, RWS, and RMS.
Since 2018, Sézane raised over 4.5 million euros for DEMAIN, a philanthropic program dedicated to equal opportunities for children all over the world. On the 21st of every month, 10% of their global sales are donated to DEMAIN to support access to education and equal opportunities for children in need – further proof that Sézane helps you stay stylish while making a difference.
What We Love
We love the unique neckline of this sweater. 100% GOTS-certified organic cotton means it's gentle on your skin and OEKO-TEX certified so you can be confident that no harmful chemicals were used in its production. Plus, it's made in India in accordance with fair trade practices, so you can feel good about supporting ethical fashion.
About Able
Founded in 2009, ABLE has been dedicated to empowering women around the world through sustainable employment. Today, Able's staff is over 90% women worldwide. By partnering with women-owned vendors and providing them with safe, fair work opportunities, ABLE has been able to make a real impact on communities both locally and globally.
With a focus on delivering high-quality products while uplifting and supporting the women who help make them possible, ABLE exemplifies what it means to truly empower the individuals in the manufacturing supply chain. Whether through jewelry, clothing, shoes, or leather goods, ABLE's collections are a testament to the transformative power of giving women access to meaningful employment.
What We Love
This is the perfect casual piece for layering and lounging. Pair with a pair of wide denim jeans for a more casual look or pair with a skirt and boots for an effortlessly chic look.
About People Tree
Founded in 1991, People Tree has been dedicated to producing beautiful, high-quality clothing that is made with the utmost care for both people and the planet. Driven by a strong commitment to ethical and environmental standards, People Tree's designs are created using time-honored techniques such as hand weaving, hand knitting, and hand block printing. This sustainable fashion brand's collections are crafted from premium organic materials like organic cotton, TENCEL™ Lyocell, and responsibly farmed wool, all of which are carefully sourced to ensure that they align with the highest social and environmental norms.
What We Love
The classic stripe sleeve details make this cardigan a must-have for your wardrobe. We love the quality fabric, relaxed fit, and versatility of this preppy cardigan.
About Outerknown
Outerknown is a sustainable clothing brand that takes its commitment to sustainability seriously. Founded in 2015, Outerknown has been dedicated to using innovative and sustainable practices in all aspects of its business. The company is focused on becoming fully circular by 2030, setting new standards for sustainability in the fashion industry, and championing fair labor practices and fair wages around the world.
What We Love
We love the standout style of this unique cardigan that will take your wardrobe from bland to bold. With a mission of sustainability and biodiversity, it's easy to feel good shopping artful collections from FarmRio.
About FarmRio
FarmRio is more than just a brand, it's a group of creative individuals from Rio de Janeiro, Brazil. Drawing inspiration from the natural beauty of Brazil, the clothing designs are full of imagination with vibrant colors and shapes with sustainability at the core. FarmRio is a part of the United Nations Global Impact and is working on a sustainability agenda that is aligned with the Sustainable Development Goals and the 2030 Agenda to help FarmRio work towards a more sustainable future.
Today, FARM Rio is a 100% carbon-neutral company focused on circular fashion, sustainable materials, and biodiversity. Brazilian biodiversity is an endless source of inspiration for the brand as they seek to preserve and protect these precious ecosystems. FarmRio has partnered with One Tree Planted to aid in reforestation efforts in the Amazon rainforest, the largest rainforest in the world. A cornerstone of Brazilian fashion since 1997, bring the vibrant colors and positive mission of FarmRio into your wardrobe.
What We Love
Available in seven colors, this turtleneck is a timeless wardrobe staple that can be layered with shackets, blazers, under a cozy sweater, or worn on its own with jeans.
About Quince
Quince is a company that truly values quality. Their products are made from premium materials and designed to last, with an eye towards sustainability in every facet of the manufacturing process. They understand that high-quality, lasting products should be accessible to everyone, which is why they offer affordable pricing without sacrificing quality.
What We Love
We love the textured wool in natural tones that add visual interest to this otherwise classic sweater. Pair with your favorite denim, cream trousers, or black leather pants for an edgier look.
About Filippa K
Since its founding in 1993, Filippa K has become a leading name in minimalist fashion. With a focus on creating simple, well-made garments that balance style and comfort, the label has earned a loyal following among those who value understated elegance and timeless style.
At the core of Filippa K's vision is an uncomplicated and sustainable wardrobe. The brand works with global suppliers to carefully select the finest materials, ensuring that every piece is crafted using only the highest-quality fabrics and craftsmanship. Filippa K utilizes eco-friendly fabrics such as organic cotton, recycled cotton, and recycled wool.
Whether it's everyday essentials like classic tees and flattering jeans or luxurious pieces like cozy knits and unexpected outerwear, Filippa K has something for everyone who appreciates timeless style made with consideration for both people and the planet. So if you're looking for effortless yet elegant designer wear that makes a minimal impact on the world, look no further than Filippa K.
What We Love
This open cardigan will add instant elegance to any ensemble, perfect for a monochromatic dressed-up look or styled more casually with a t-shirt and jeans.
About Lauren Manoogian
Based in Brooklyn, Lauren Manoogian focuses on elevated lifestyle essentials that are beautifully crafted using only the finest, most carefully sourced materials. Whether it's working with Peruvian artisans or experimenting with natural plant-based dyes, Lauren Manoogian has a deep passion for ecological sustainability and high-quality craftsmanship.
But what really sets this designer apart is her unique approach to textiles. She has years of experience working in textiles development, which lends her pieces a truly luxurious feel that can't be found anywhere else. Her collections feature wardrobe staples like sweaters, sweater dresses, hats, scarves, and more that exude an elegant simplicity infused with intricate texture and nuanced details.
Sustainable Sweaters with Ethically-Sourced Materials
Sustainable sweaters are the new way to warm up this winter. Not only do they use eco-friendly materials like organic cotton and recycled wool, but the sustainable fashion brands that create these garments also embrace ethical practices like renewable energy and fair trade. Clothes that are certified fair trade are made under fair working conditions, using sustainable materials, and without any child labor.
Here are a few tips on what to look for when choosing a sustainable sweater:
–Eco-friendly materials: Look for sustainable sweaters made with organic materials such as bamboo, organic cotton, or recycled materials such as recycled cashmere, recycled polyester, or recycled cotton.
The Global Organic Textile Standard: Shop for sustainable sweaters that are GOTS certified. The Global Organic Textile Standard (GOTS) is a globally accepted standard for organic textiles. It certifies that all stages of the production process from the raw materials to the finished product have been organic. This includes things like the cultivation of cotton, the dying and printing of the fabric, and the sewing of the garment. To be certified organic by GOTS, a garment must contain a minimum of 95% organic materials.
Fair trade: Clothes that are certified fair trade are made under fair working conditions, using sustainable materials, and without any child labor.
Know the Origin: Check the garment's origin story. Sustainable fashion labels often have a transparent supply chain that you can check on their website.
Avoid synthetic fabrics: Avoid buying synthetic fabrics (unless they are recycled), which are often derived from non-renewable resources and can be harmful to the environment when they're disposed of improperly.
Consider Longevity: Consider how long the garment will last. A piece of sustainable clothing that lasts ten years is better than one that needs to be replaced every six months.