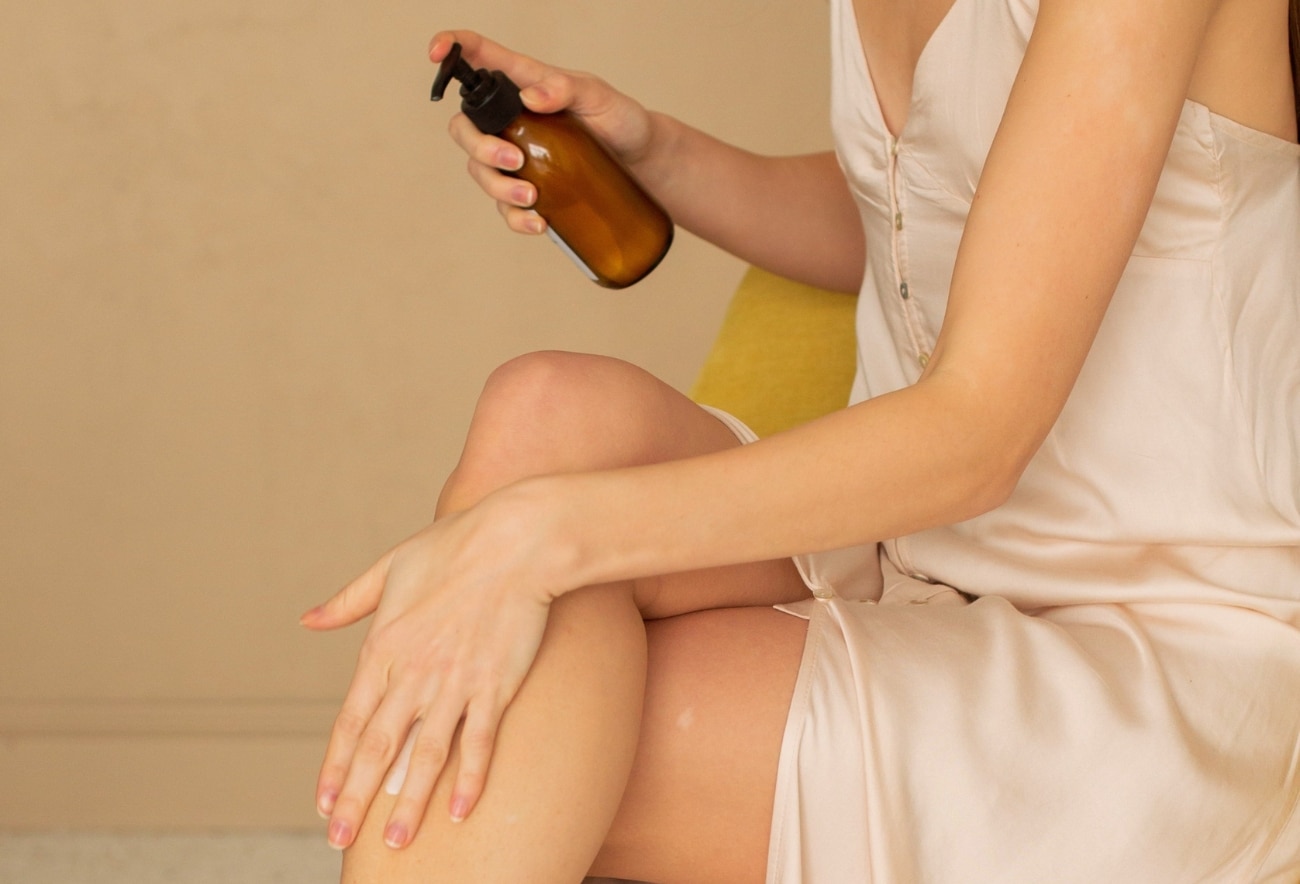 15 Best Natural Body Lotions & Oils for Every Skin Type
Discover the best natural body lotions, so you can find a good body lotion for your skin type with good-for-you ingredients.
Moisturizing your skin is one of the most important steps in any skincare routine, regardless of age or skin type. Moisturizing helps keep your skin looking healthy and youthful by locking in moisture and preventing dryness, flaking, and irritation.
The right body lotion can also help protect against environmental damage from free radicals and other environmental factors that can cause premature aging. In addition to keeping skin hydrated, moisturizers and body lotions often contain beneficial ingredients such as antioxidants which further nourish the skin for a more radiant complexion. With so many benefits to offer, it's no wonder why moisturizing should be an essential part of every skincare regimen, especially for dry skin.
Yet, in our quest for healthy, moisturized skin, are we potentially putting harmful chemicals into our bodies? Most conventional body lotions contain an array of chemicals, preservatives, and other additives that can be absorbed through the skin. This is why it's important to choose natural and organic body lotions or oils whenever possible so you can reap the benefits without having to worry about putting your health at risk. Natural and organic body lotions typically use only plant-based or all-natural ingredients like aloe vera, coconut oil, lanolin, and shea butter to nourish and hydrate your skin.
What makes conventional body lotions potentially harmful?
As we become more aware of the ingredients in our skincare products, it is important to understand what can make conventional body lotions harmful to our health. Conventional body lotions often contain a variety of chemicals that can be absorbed through your skin and potentially cause health problems. These chemicals include parabens, phthalates, formaldehyde-releasing preservatives, and synthetic fragrances.
Parabens which are used as preservatives in many conventional body lotions and Phthalates which are used to make fragrances last longer have been linked to potential hormone disruption and health issues.
Formaldehyde-releasing preservatives that are used to prevent bacteria growth and synthetic fragrances that are often made with petroleum-based compounds can cause skin irritation and potential respiratory issues.
Fortunately, there are now many natural body lotions available that use safe ingredients such as shea butter, coconut oil, aloe vera, sweet almond oil, jojoba oil, lanolin, and shea butter. These natural ingredients provide hydration without exposing you to potentially harmful chemicals.
Read on for the best natural body lotions and oils that will nourish dry skin and help protect your skin barrier for healthier, more youthful skin.
Best Natural Body Lotions
The best natural body lotions will include essential fatty acids, hyaluronic acid, and natural ingredients like aloe vera juice, skin-softening passion fruit, cocoa butter, and essential oils like argan oil, grape seed oil, and more. Ultra-nourishing ingredients like lanolin and colloidal oatmeal help lock in moisture for normal skin to dry skin. Our editors curate our collections against our vetting criteria while also conducting extensive research, testing, and evaluating customer reviews. By shopping our curated collection below, you help support our publication as we may receive a portion of sales.
Best Natural Body Lotion for Dry Skin
These are the best body creams and lotions for dry skin.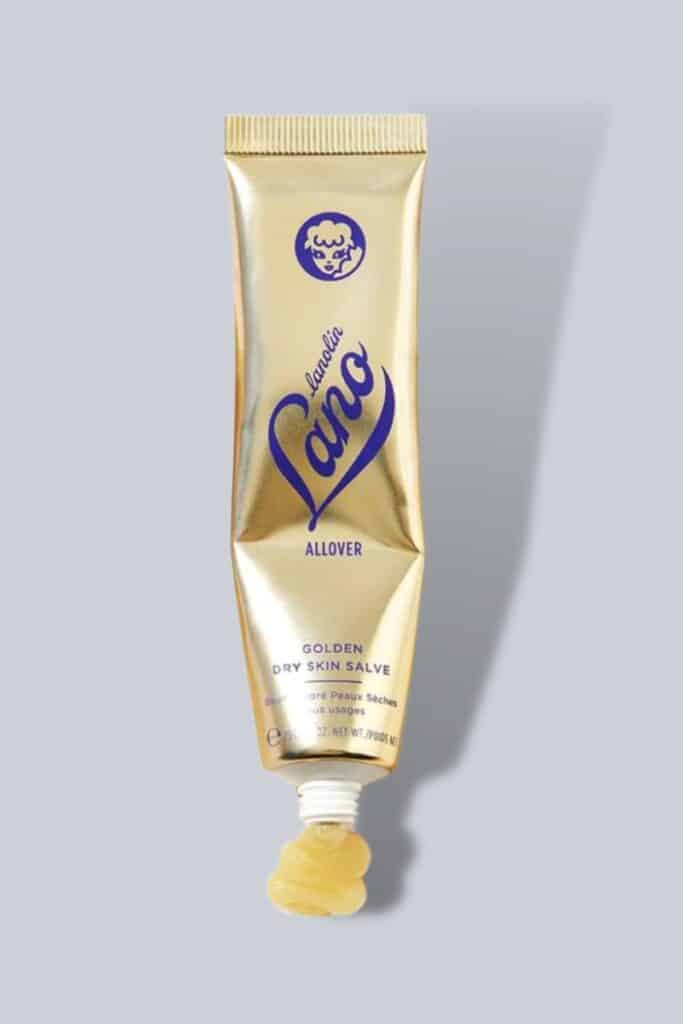 Golden Dry Skin Salve
Lanolips
This all-natural dry skin ointment is truly a miracle worker that has developed a cult following, including us. With over 100 five-star reviews, you don't have to take our word for it. Packed with lanolin (a natural oil from sheep's wool), Manuka Honey, and Vitamin E to intensely hydrate and nourish your skin, this is the best solution if you have exceptionally dry skin or rough skin patches that need treatment.
Because this is a salve with 70% lanolin, it has a thicker texture that will lock in moisture and form a natural barrier against environmental stressors. You can also try Lanolin's Original 101 Ointment, a favorite of GiGi Hadid for treating dry skin.
It's worth noting that this product is cruelty-free with Lanolin which is humanely sourced by Australian sheep farmers.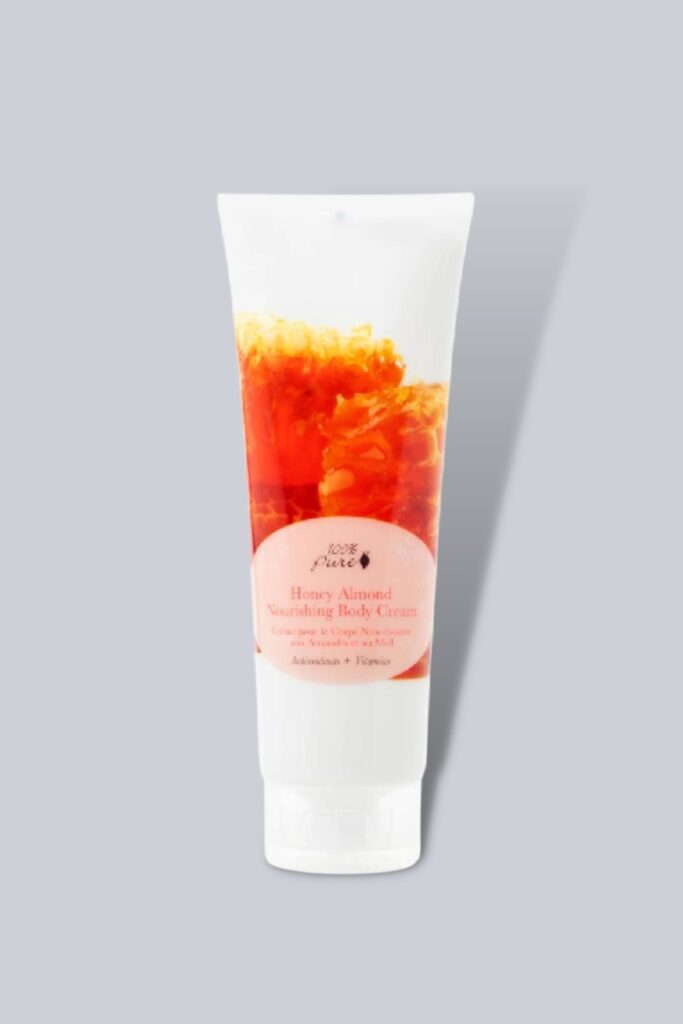 Honey Almond Nourishing Body Cream
100% Pure
Made in the USA, this luxurious body lotion from 100% PURE is enriched with powerful anti-aging vitamins, energizing green coffee, and brightening vitamin C for soft, youthfully supple skin. This deeply hydrating body lotion contains active botanical emollients to nourish and soothe dry skin like cocoa and avocado that provide a rich source of moisture that will leave your skin feeling soft and nourished. We love the natural scent of this cream that's infused with sweet, honey-glazed almonds.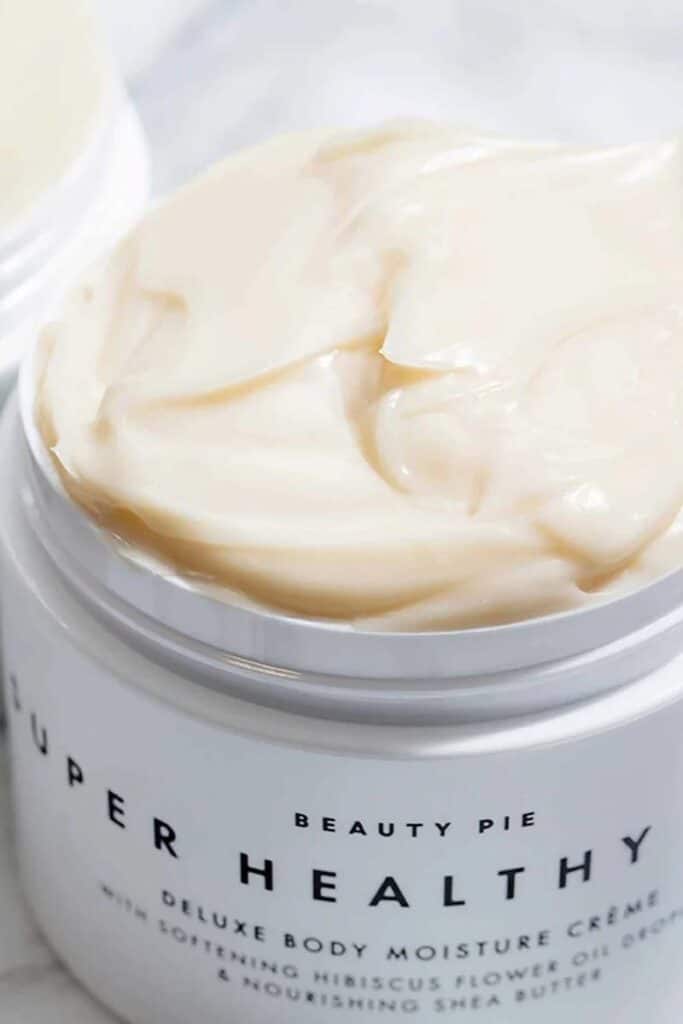 SUPER HEALTHY SKIN™ Deluxe Body Moisture Créme
Beauty Pie
Made in France, this deluxe body moisturizer suspends invisible micro-droplets of oil in water, for superlight yet intense skin hydration. This helps ensure that your skin absorbs all of the nourishing ingredients.
This clean and creamy body lotion for dry skin is infused with sustainable cold-pressed Hibiscus Flower, Meadowfoam Oils, Liquid Shea Butter and Essential Oils of Orange, Tangerine, Geranium and Tonka Bean to help improve skin elasticity and address a number of skin concerns.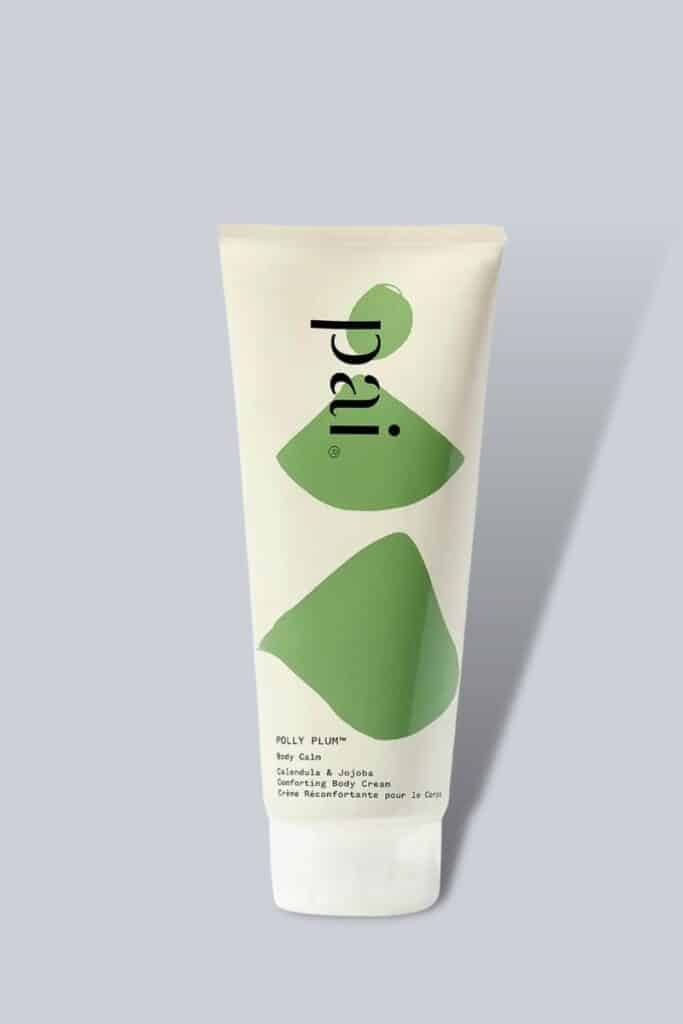 Polly Plum Calendula and Jojoba Comforting Body Cream
Pai Skincare
One of the best body creams for sensitive skin yet deeply moisturizing, it was a tough call on which category this body lotion should fall under. Made in the UK, this deeply hydrating cream is specially formulated for very dry, demanding skin that is prone to eczema. It contains certified organic and vegan ingredients, making it suitable for even the most sensitive skin types. The rich, non-greasy texture provides instant comfort and relief to dry, tight, and uncomfortable skin calming your senses with its natural aroma.
Packed with moisturizing plant oils such as calendula and jojoba oil, this cream helps soothe and bring a visible relief to dry, aggravated skin. It also helps protect your skin from environmental aggressors while leaving it feeling soft and nourished all day long.
Best Natural Body Lotion for Aging Skin
These body lotions are the best natural body lotions for aging and mature skin.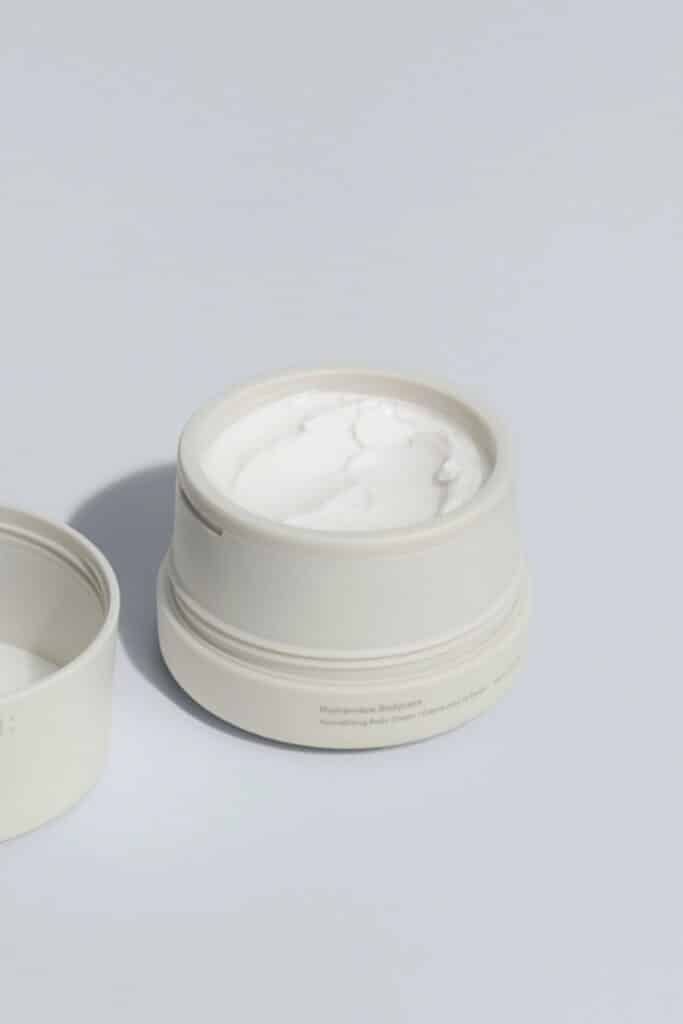 Humidifying Body Cream
Humanrace
One of the best natural body lotions, this luxurious cream is like having a humidifier in a jar. Formulated with bakuchiol (a natural alternative to retinol) and peptides to help smooth and strengthen the skin barrier function, this top-rated body lotion offers long-lasting hydration.
This body lotion also includes snow mushroom as one of its key active ingredients to help lock in moisture and enjoy soft and supple skin all day long. As an added bonus, this cream is packaged in a 51% post-consumer recycled refillable jar, so you can reduce your single-use plastic consumption.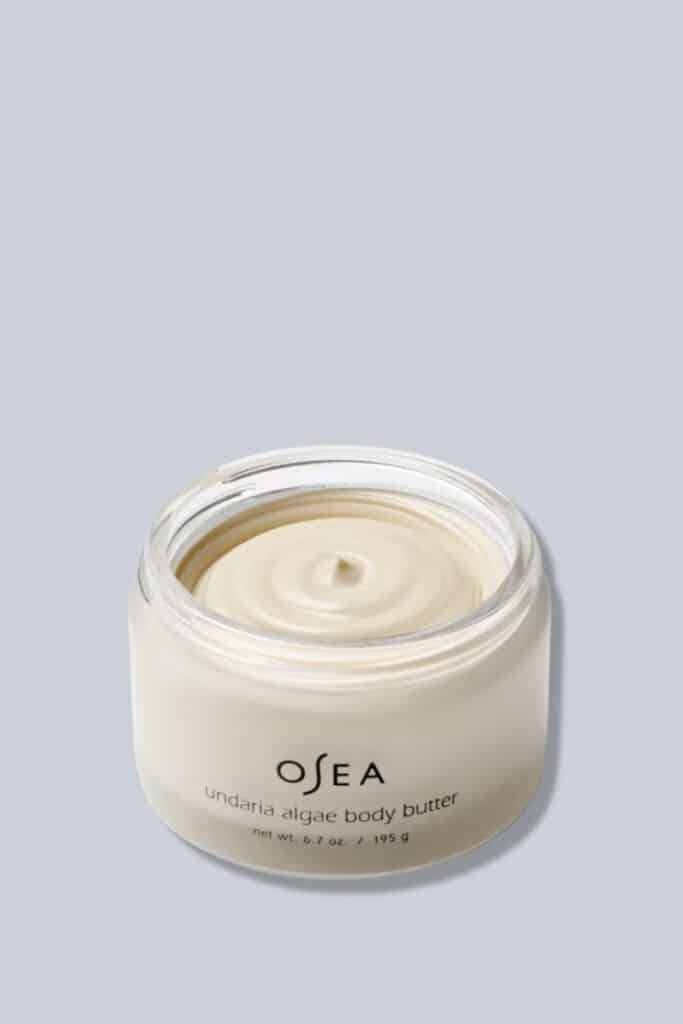 Undaria Algae Body Butter
Osea
This ultra-rich yet fast-absorbing body butter is clinically proven to hydrate for up to 72 hours and is made with nutrient-rich Undaria seaweed, whipped shea butter, ceramides, and oat kernel extract. It's the perfect blend of skincare and body care that will help address all signs of aging while providing long-lasting moisture. Its luxuriously creamy texture has the power to transform dull and crepey skin into soft, smooth, and supple perfection.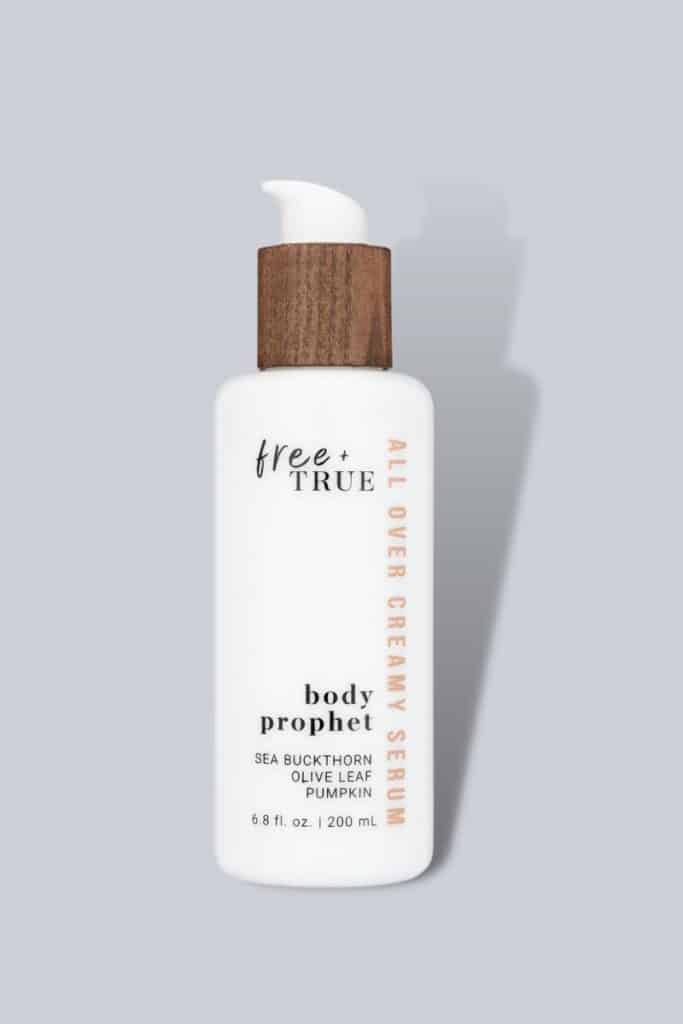 Body Prophet
Free + True
This award-winning body lotion was voted best body moisturizer by The Beauty Shortlist in 2022 and Indie Beauty Expo in 2019, and for good reason. Loaded with skin soothing and free radical fighting botanicals, this body serum is best applied before or after sun exposure and year-round to nourish dry and dehydrated skin.
The serum contains olive leaf extract which has antioxidant effects that are 2.5 times higher than vitamins C and E, as well as sea buckthorn berry which is packed with antioxidants, fatty acids, and vitamins A, E & C to help protect the skin from environmental stressors. In addition to these potent anti-aging vitamins, it also contains aloe vera juice which helps to soothe and hydrate the skin while providing a protective barrier against environmental damage.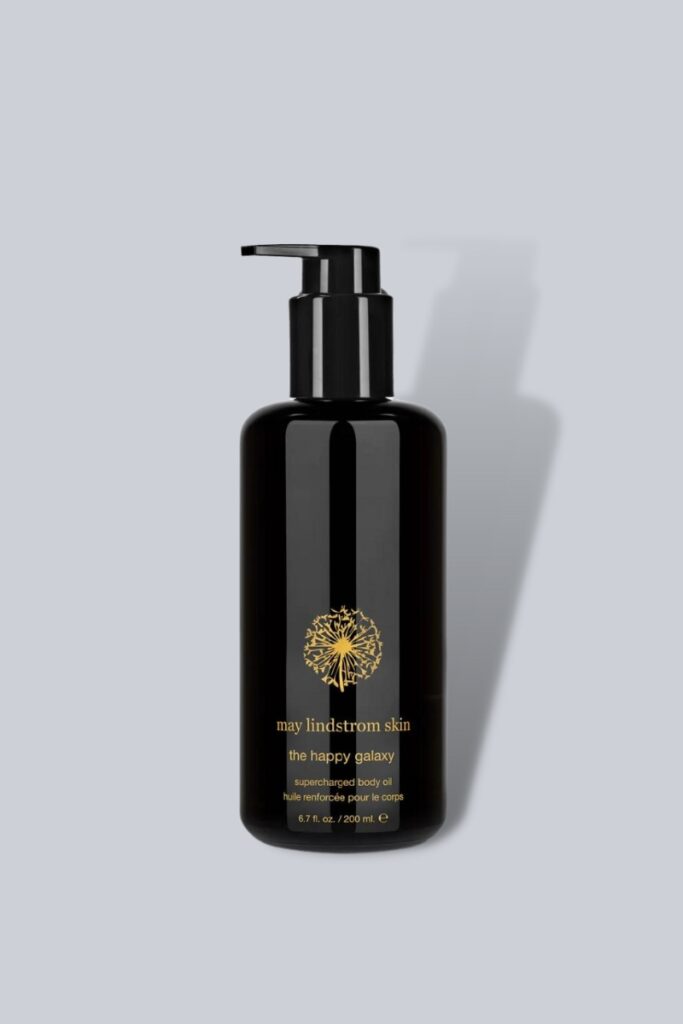 The Happy Galaxy Supercharged Oil
May Lindstrom Skin
Like magic in a bottle, The Happy Galaxy Supercharged Body Oil from May Lindstrom Skin is a luxurious, oil-soluble form of vitamin C ester that absorbs deeply into the skin. This body oil is formulated with precious blue tansy, jasmine, ylang-ylang, and zesty citrus oils to deliver mood-boosting pleasure while hyaluronic acid draws in long-lasting hydration and increases skin elasticity. The natural power of vitamin B3 protects the skin from environmental toxins and damaging free radicals for deeply hydrated skin.
Best Natural Body Lotion for Sensitive Skin
These are the best natural body lotions for skin that is delicate and easily irritated.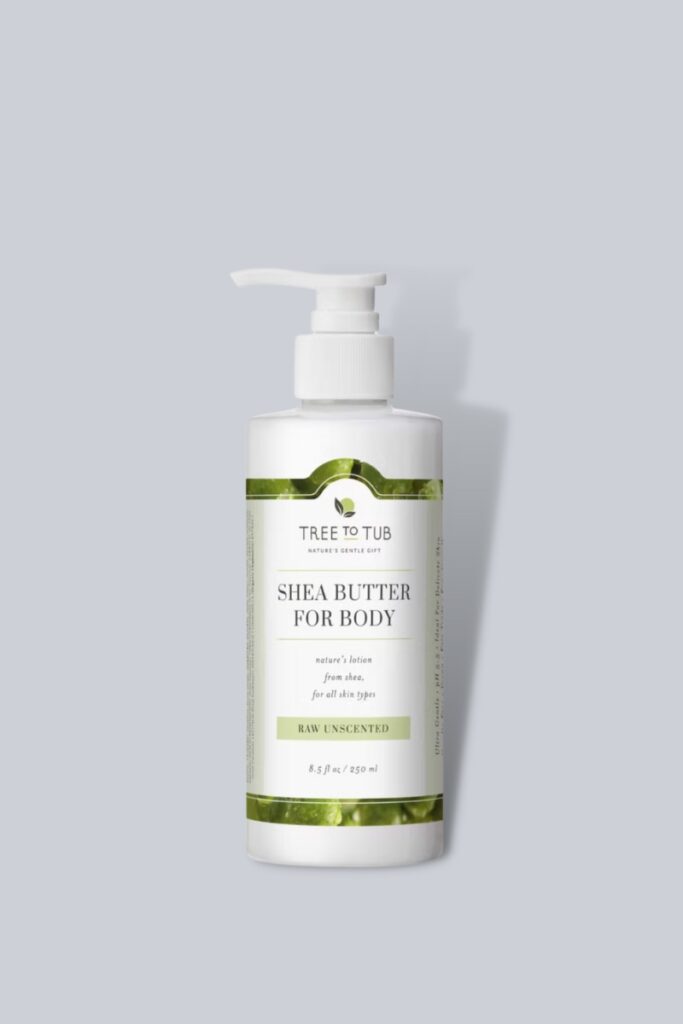 Shea Butter Body Lotion
Tree to Tub
The best body lotion for sensitive, easily irritated skin is hands down the Tree to Tub, Shea Butter Moisturizing Body Lotion. This non-greasy body lotion is packed with natural ingredients like shea butter and cocoa butter that deeply hydrate your skin. You can also purchase this body lotion infused with lavender essential oil to help soothe your skin while providing a calming aroma.
This body lotion is made with 100% clean ingredients and is free from harsh chemicals, parabens, sulfates, and synthetic fragrances. It's gentle enough for all skin types and can be used daily leaving skin soft and nourished.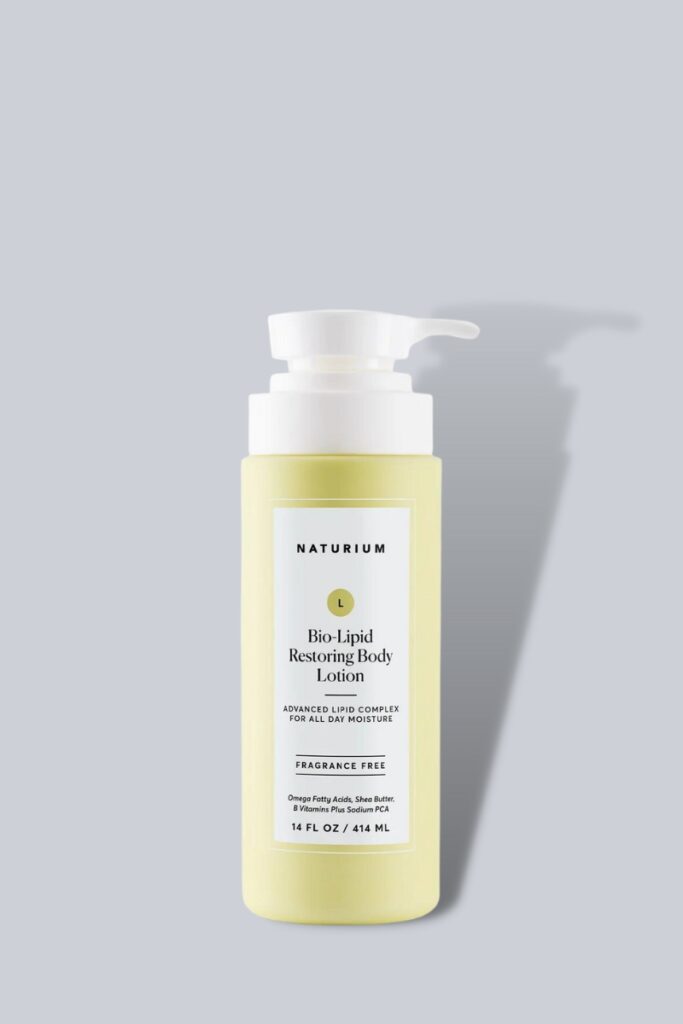 Bio-lipid Restoring Body Lotion
Naturium
This replenishing body lotion works to restore the skin's natural barrier and heals dry, flaky skin. Formulated with omega fatty acids, organic shea butter, B vitamins, and sodium PCA, this natural lotion moisturizes skin and absorbs quickly with no greasy residue.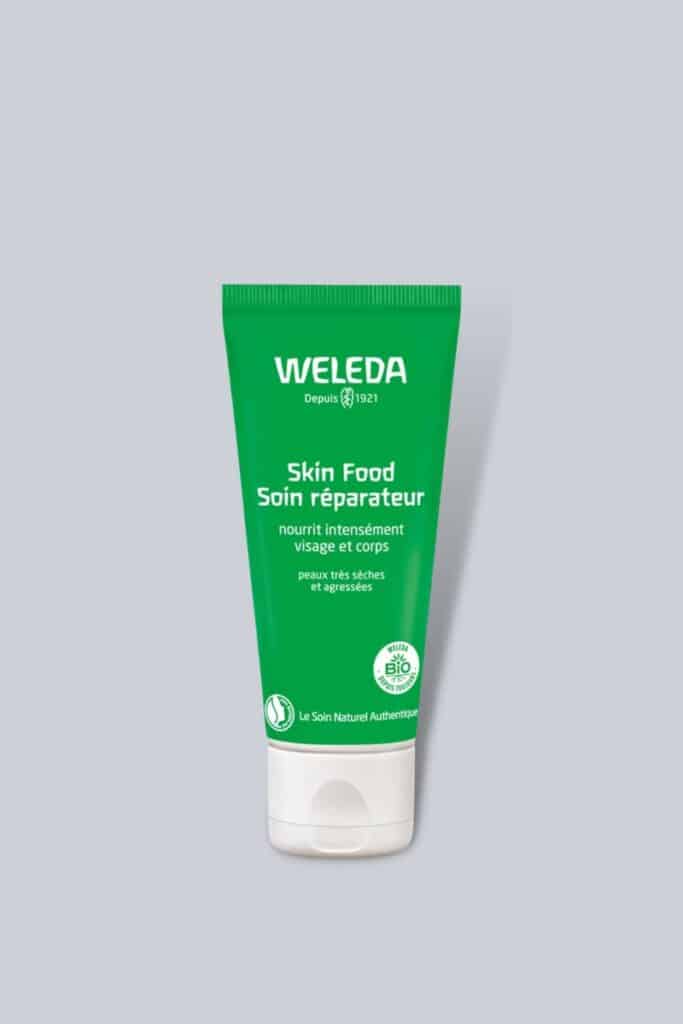 Skin Food
Weleda
While this lotion is small, it packs a powerful punch. Weleda Skin Food is a nourishing lotion that provides intense hydration and nourishment for dry, sensitive skin. It contains organic ingredients and natural extracts of viola tricolor, calendula, and chamomile to soothe and protect the skin from environmental damage.
The rich formula in this body moisturizer helps to lock in moisture for soft skin, and with regular use, Weleda Skin Food can help to reduce redness, flakiness, and irritation while providing long-lasting hydration.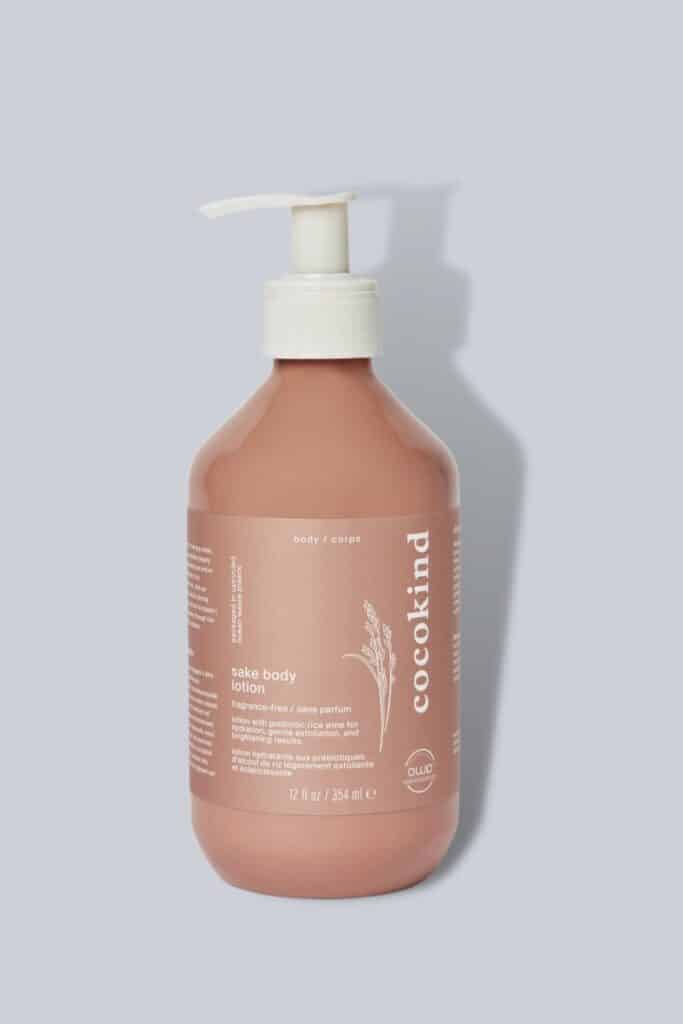 Sake Body Lotion
cocokind
You've heard of colloidal oatmeal to protect and soothe skin, but have you heard of the skin benefits of sake? This fragrance-free body lotion is made with sake, a fermented rice wine rich in smoothing enzymes and microbiome-friendly prebiotic sugars. A good body lotion for soothing skin, it's designed to provide gentle hydration without any irritation.
Cocokind Sake Body Lotion is also packed with natural ingredients like coconut oil, glycerin, sunflower seed oil, aloe leaf juice powder, and more. All of these ingredients work together to help nourish your skin without any harsh chemicals or fragrances.
Best Natural Body Lotion for Oily Skin
The best natural body creams and lotions for oily skin.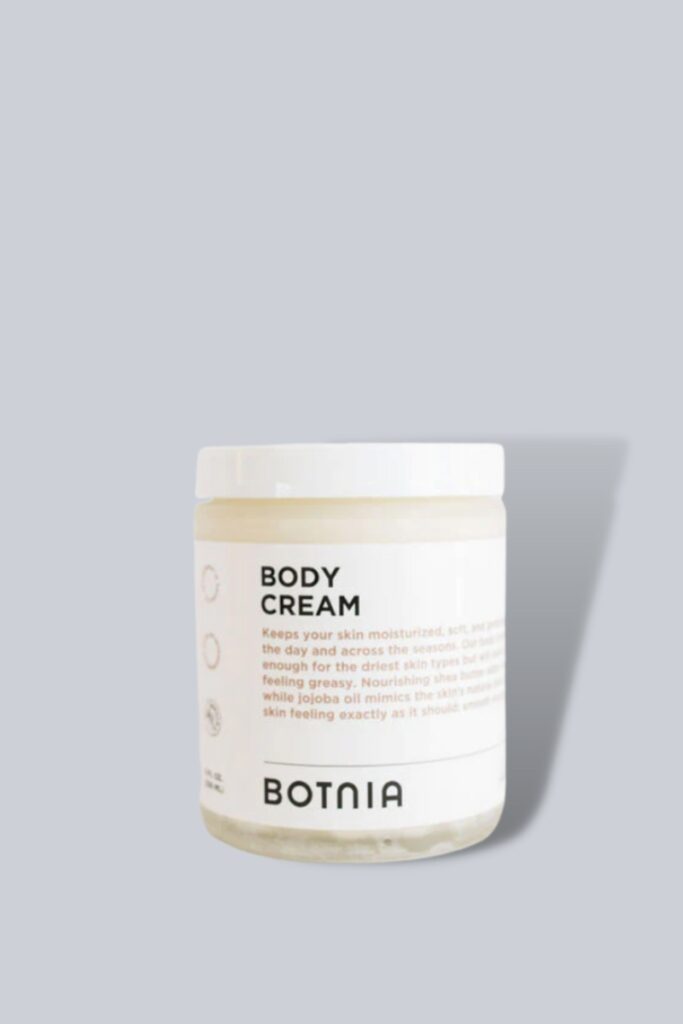 Botnia Body Cream
Botanic Affair
Perfect for oily skin types, this Botnia body cream from Botanic Affair is made with natural ingredients such as rose water, jojoba oil, and shea butter, which work together to hydrate and soothe your skin.
This is a great natural body lotion that is lightweight and non-greasy, so you won't feel weighed down or oily after application. Its gentle formula is suitable for all skin types, making it an ideal choice for anyone looking to maintain healthy skin. With regular use of Botanic Affair Botnia Body Cream, you can enjoy soft, supple skin that looks and feels its best.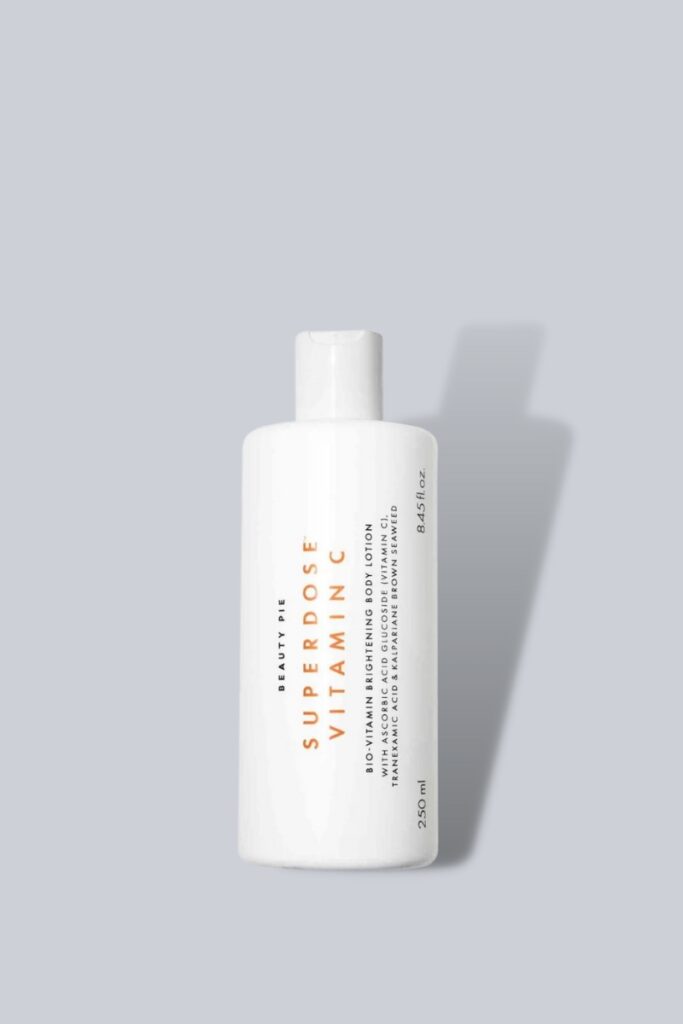 Superdose Vitamin C Body Lotion
Beauty Pie
This high-tech, radiance-boosting body lotion is packed with natural ingredients like Tranexamic Acid, Hyaluronic Acid, Brown Algae, and stable vitamin C. It will give your skin a beautiful glow while firming and moisturizing it.
This luxurious body lotion is easy to apply and absorbs quickly into the skin. Perfect for normal to oily skin, it won't leave any greasy residue or clog pores. Plus, it has been formulated to be 91% Top Allergen Free and free of gluten, parabens, phthalates, and sulfates.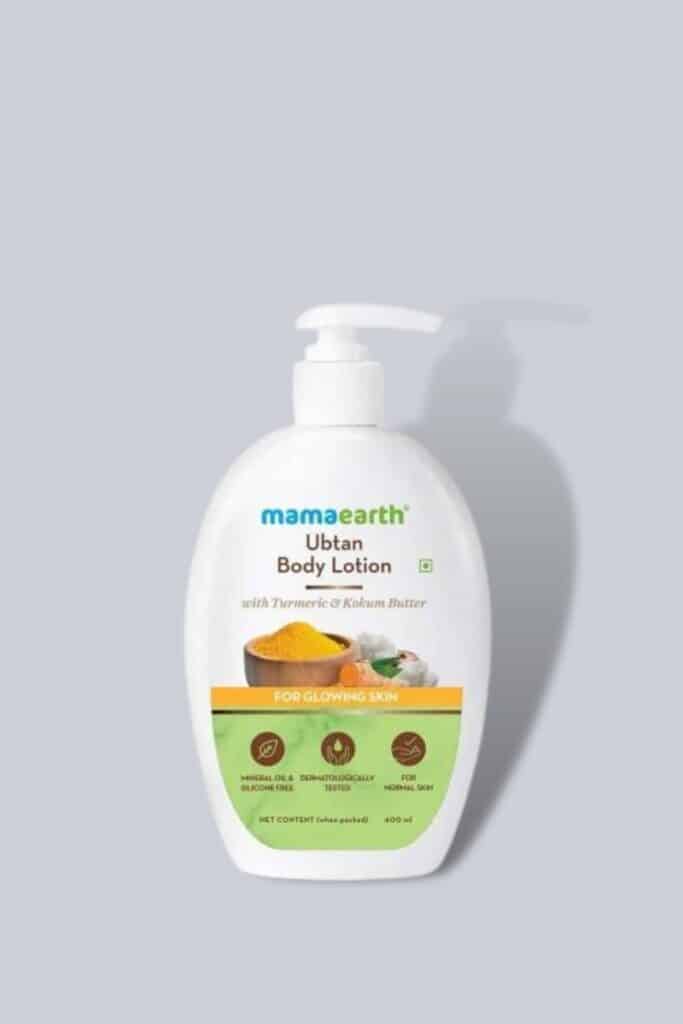 Ubtan Body Lotion with Turmeric & Kokum Butter
Mamaearth
A great lotion for oily skin, This antioxidant and soothing body lotion is made with natural ingredients, including time-tested turmeric which imparts an instant glow to the skin. It reduces signs of aging, protects skin cells from free radical damage, and helps keep your skin nourished and soft.
Body Lotion Ingredients to Avoid
Synthetic fragrance: Beauty products may simply list "fragrance" as an ingredient without disclosing the other hundreds of ingredients that make up their formulations. Synthetic Fragrances may contain carcinogens, endocrine disruptors, allergens, and hormone disruptors [1] [2].
Parabens: Parabens are widely used preservatives that extend the shelf-life of cosmetics and body lotions by inhibiting microbial growth. The most commonly used Parabens are a class of chemicals known as methylparaben, ethylparaben, propylparaben, isobutylparaben, and butylpar. Parabens may potentially disrupt hormone function and may be a carcinogen [3]. It's also worth noting that the European Union banned the use of parabens in cosmetics in 2012.
BHA and BHT: BHA and BHT are preservatives used in many body lotions, moisturizers, and makeup products. They are also used to keep fats from going rancid in food products. BHA stands for Butylated Hydroxyanisole and BHT stands for Butylated Hydroxytoluene. These are known to be endocrine disruptors and potentially carcinogenic [3].
Mineral Oil: Petrolatum, mineral oil, liquid paraffin, or paraffin oil are all names it may be called in an ingredient list. Mineral oil is a liquid by-product of refining crude oil to make gasoline and other petroleum products. It is often used as a moisturizer in body lotions, but it can be harmful if used too frequently. For instance, Petroleum jelly contains xenoestrogens, which interact with hormone receptors and may increase estrogen-related health issues in the body [4].
Formaldehyde: Skin care products and cosmetics often contain formaldehyde-releasing preservatives such as Diazolidinyl urea, Imidazolidinyl Urea, DMDM hydantoin, methenamine and quarternium-15. These substances can be potentially dangerous to your skin if used for extended periods of time. Formaldehyde is a known skin irritant as well as a carcinogen [5].
Phthalates: Phthalates are used in beauty products to enhance product absorption and keep fragrance smelling fresh. Phthalates mimic hormones, which may interrupt hormone production [6].
Polyethylene glycol: Polyethylene glycol is used to make lotion thicker and transport moisture to the skin better. The manufacturing process introduces impurities and by-products, such as ethylene oxides and 1,4-dioxane, which are known carcinogenic materials [7].
Best All-Natural Body Lotions Frequently Asked Questions
What is the difference between body cream, body lotion, and body oil?


Body cream, body lotion, and body oil are all moisturizing products that can help keep your skin hydrated. The main difference between them is the consistency and ingredients.
Body lotions are lighter with more water content and less oil than creams or oils. They penetrate the skin to provide moisture and repair it. Creams are heavier with more oil content and less water than lotions or oils. They form a protective barrier on the skin to lock in moisture and prevent dryness.

Body oils contain emollient ingredients like fatty acids to help hydrate and soften the outer layer of the skin. Unlike lotions, they do not contain any water, so their large molecules take longer to absorb into the skin. Oils also help create a smooth texture on the skin while providing nourishment.

What are the best ingredients that can be found in natural lotions to really improve your skin hydration?


The most common natural ingredients found in body lotions include shea butter, coconut oil, jojoba oil, almond oil, and avocado oil. Shea butter is known for its moisturizing properties and is often used as a base for many body lotions. Coconut oil is also an excellent moisturizer and helps to protect the skin from environmental damage. Jojoba oil is rich in antioxidants and helps to reduce inflammation while providing hydration. Almond oil is packed with vitamins A, E, and D and helps to nourish the skin while providing a barrier against moisture loss. Finally, avocado oil contains fatty acids that help to keep skin soft and supple while providing antioxidant protection.
When looking for an all-natural body lotion, make sure to read the label carefully to ensure that you are getting only natural ingredients.
Sources