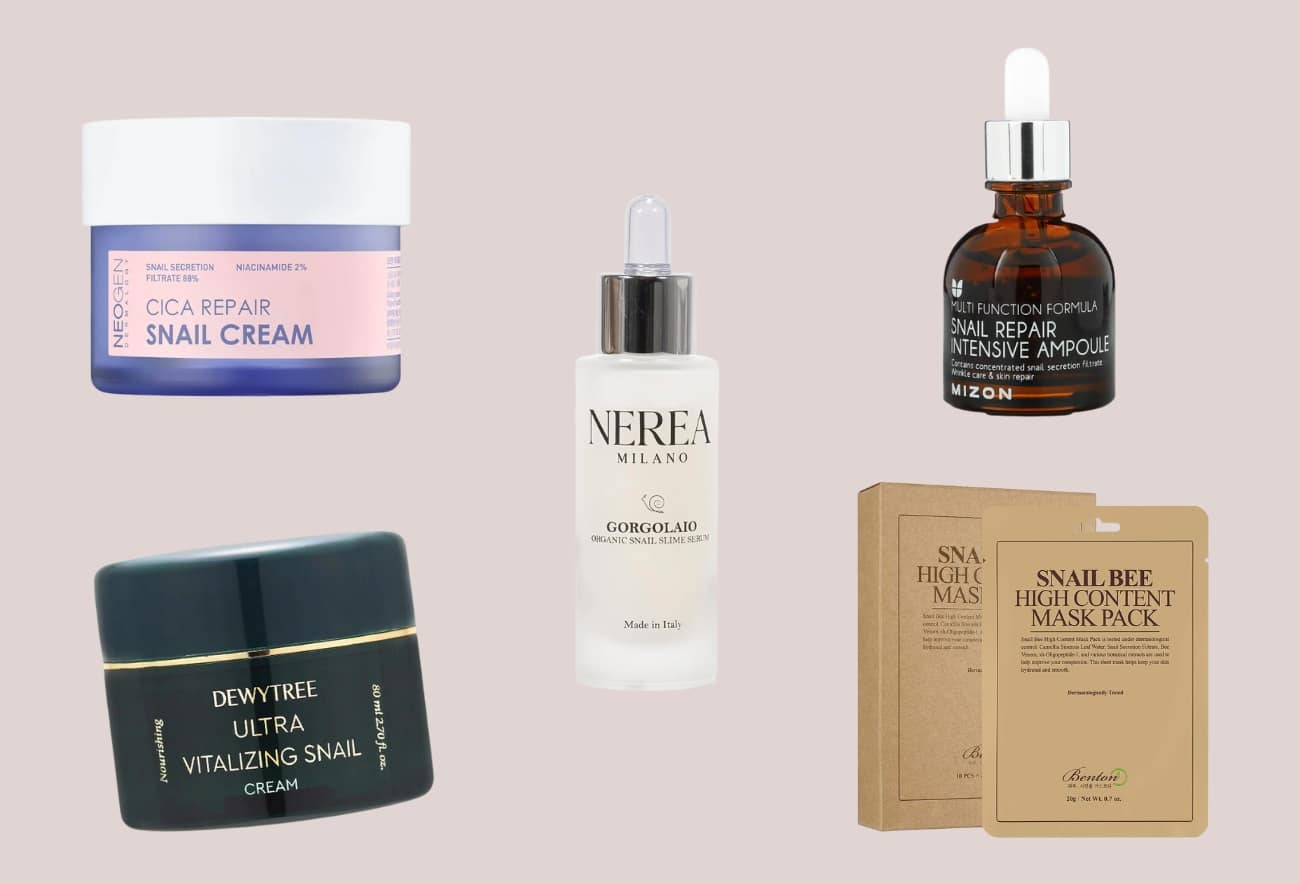 10 Best Snail Mucin Products with Rave Reviews
Discover the best snail mucin products with rave reviews so you can reap the ultra-hydrating, anti-aging benefits of snail mucin.
In the ever-evolving world of skincare, one of the most surprising and effective ingredients to have gained popularity in recent years is snail mucin. Yes, you read that right – snail mucin. Derived from the secretion of snails, this unassuming substance has taken the beauty industry by storm, revolutionizing skincare routines worldwide. Snail mucin is naturally produced by snails as a way to protect their skin, repair damage, and aid with regeneration. It is composed of various ingredients including hyaluronic acid, elastin, glycolic acid, and allantoin, each with specific functions for the skin.
Hyaluronic acid is a key ingredient in snail mucin that aids in retaining moisture in the skin, making it look plumper and more youthful. Elastin, on the other hand, contributes to skin elasticity, making it less prone to sagging and wrinkles. Medical research and studies have also pointed to snail mucin's effectiveness for various skin concerns. A 2013 study published in the Journal of Drugs in Dermatology found that topical application of snail mucin improved hyperpigmentation and eye wrinkles in subjects. Another study in 2015 published in Clinical, Cosmetic, and Investigational Dermatology demonstrated that snail mucin was effective in reducing skin redness and inflammation caused by acne.
With such promising benefits, it's no wonder that snail mucin has become a popular ingredient in many skincare products. In this article, we will delve into the remarkable benefits of snail mucin, explore the various types of snail mucin beauty products, and the 10 best snail mucin products that have rave reviews. 
Best Snail Mucin Products
Whether you're looking to prevent wrinkles or reduce the signs of aging, snail mucin products are a must-have addition to your beauty arsenal. Our editors curate our collections against our vetting criteria while also conducting extensive research, testing, and evaluating customer reviews. By shopping our curated collection below, you help support our publication as we may receive a portion of sales.
WHERE TO BUY:
WHERE TO BUY:
WHERE TO BUY:
WHERE TO BUY:
WHERE TO BUY:
WHERE TO BUY:
WHERE TO BUY:
WHERE TO BUY:
WHERE TO BUY:
WHERE TO BUY:
How to Choose the Best Snail Mucin Products
When looking for snail mucin products, there are several factors to consider to ensure that you choose the right one for your needs. Here are some things to look for in snail mucin cream.
1. Snail Mucin Concentration
Check the percentage of snail mucin in the product. Higher concentrations, typically above 90%, are often more potent and may offer more noticeable benefits.
2. Additional Ingredients
Look for complementary ingredients that address your specific skin concerns. For example, if you have dry skin, a snail mucin cream with hyaluronic acid can provide added hydration. If you're concerned about aging, products with antioxidants like niacinamide or peptides can be beneficial.
3. Skin Type Compatibility
Consider your skin type. Some snail mucin creams are designed for specific skin types, such as sensitive, oily, or combination skin. Choose a product that matches your skin's needs.
4. Texture and Absorption
Pay attention to the texture of the cream. Some snail mucin creams have a lightweight, gel-like consistency, while others are thicker and more emollient. Select one that suits your skin's preferences and absorption capabilities.
5. Product Reviews
Read customer reviews and testimonials to get insights into how others with similar skin concerns have experienced the product. Look for reviews that mention improvements in hydration, texture, and any specific issues you want to address.
6. Brand Reputation
Choose products from reputable and well-established brands known for their quality and commitment to skincare.
7. Fragrance and Allergens
If you have sensitive skin or are sensitive to fragrances, check whether the product contains any potentially irritating fragrances or allergens.