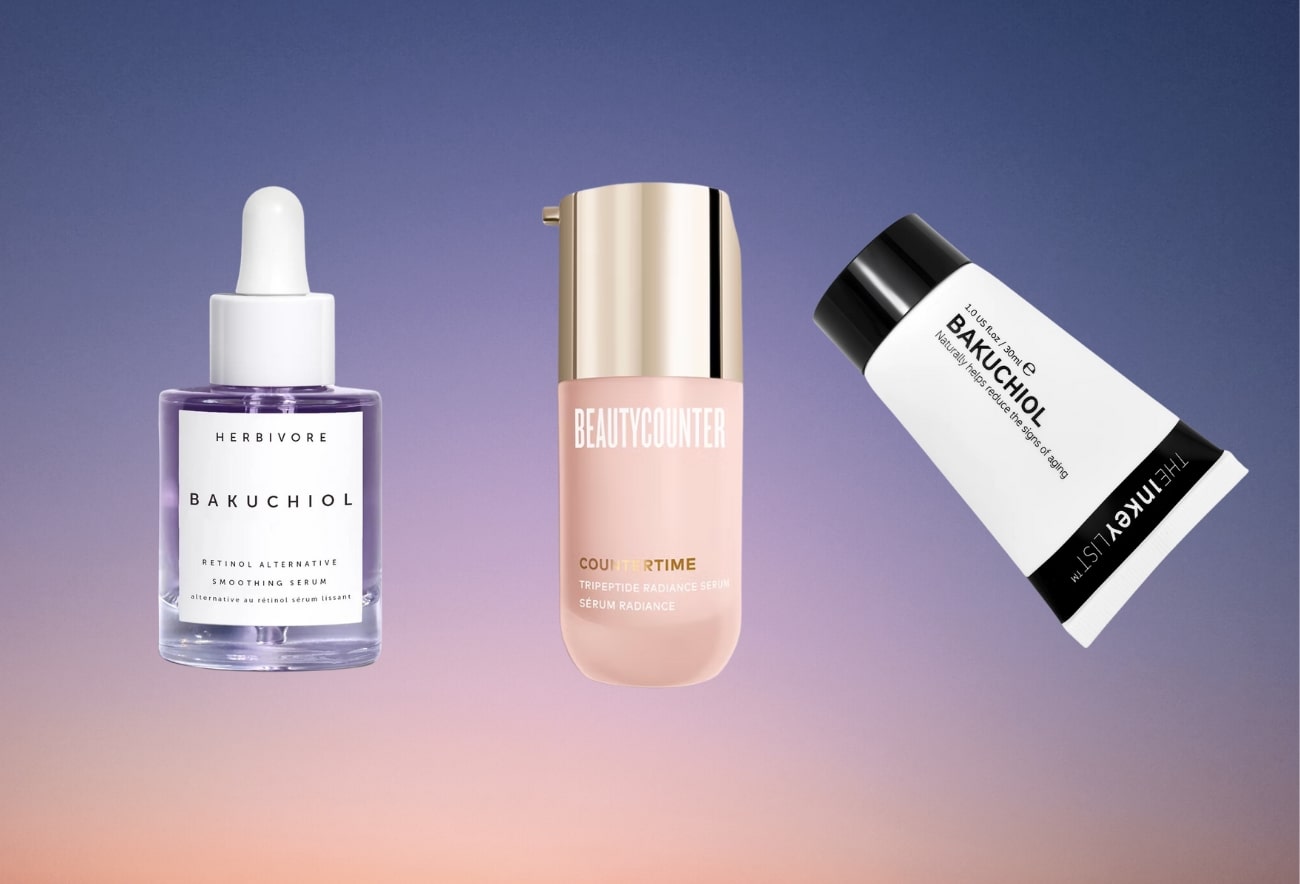 15 Best Bakuchiol Oils, Serums, and Moisturizers with Rave Reviews
Discover the best bakuchiol oils, serums, and moisturizers so you can find a natural retinol alternative that's gentle on the skin.
You've probably heard of retinol as a favorite ingredient among skincare buffs, but have you heard of bakuchiol? This natural plant-based alternative to retinol has been used for centuries in traditional Chinese and Indian medicine to treat skin conditions. Bakuchiol is so powerful that today, it's gaining attention from beauty experts around the world as a safe and effective way to reduce signs of aging and provide other skincare benefits. Let's explore what bakuchiol is and how it can help you achieve younger-looking skin.
Already familiar with bakuchiol? SKIP TO PRODUCTS
What is Bakuchiol?

Bakuchiol (pronounced buh-koo-chee-all) is a plant-based natural alternative to retinol that comes from the seeds and leaves of the Psoralea corylifolia plant, which is also known as the babchi plant or Indian ginseng. It has been used for centuries in Eastern and Chinese medicine to treat inflammatory skin conditions such as acne, psoriasis, eczema, wounds, burns, rashes, and more.

Bakuchiol contains antioxidant properties that help to protect the skin from damage caused by free radicals and it stimulates collagen production to help smooth the appearance of fine lines and wrinkles while also improving texture and brightness.

Overall, bakuchiol is an excellent option for anyone looking to achieve smooth, healthy, glowing skin without harsh chemicals or irritants.

The Benefits Of Bakuchiol For Skin
Studies have shown that bakuchiol can help reduce fine lines and wrinkles, improve skin firmness and elasticity, and even out pigmentation. Unlike traditional retinol, which can cause irritation and sensitivity in some individuals, bakuchiol is gentle on the skin and suitable for all skin types. Its antioxidant properties also protect the skin from environmental stressors that contribute to premature aging. Incorporating bakuchiol into your skincare routine can help you achieve a youthful, radiant complexion without any harsh side effects.
Key benefits include:
1. Retinol-like anti-aging effects: Bakuchiol has been found to have similar effects to retinol in stimulating collagen production, reducing the appearance of fine lines and wrinkles, and improving the texture of skin. It works by increasing cell turnover and promoting the synthesis of collagen and elastin, which are essential components of healthy, youthful skin.
2. Suitable for sensitive skin: Unlike retinol, which can cause serious skin irritation, redness, and peeling, bakuchiol is gentle and well-tolerated by most skin types. This makes it an excellent option for those with sensitive skin or those who have experienced adverse reactions to retinol.
3. Antioxidant properties: Bakuchiol is a potent antioxidant that protects the skin from free radical damage caused by environmental stressors such as pollution and UV exposure. This helps the skin cells to prevent premature aging and maintain a healthy, radiant complexion.
4. Anti-inflammatory properties and antibacterial properties: Bakuchiol has been shown to possess anti-inflammatory and antibacterial properties in human skin, which can fight acne-causing bacteria to help soothe and treat acne-prone skin. It also helps reduce inflammation associated with various skin conditions, such as eczema and psoriasis.
Bakuchiol vs Retinol
Bakuchiol and retinol are two popular skincare ingredients that have been compared for their effectiveness in improving skin texture, reducing fine lines, and the ability to boost collagen production. While traditional retinol has long been considered the gold standard for anti-aging, bakuchiol has emerged as a natural alternative that is gentler on the skin and better tolerated by those with sensitive skin.
According to studies, both bakuchiol and retinol have shown similar results in reducing wrinkles and hyperpigmentation. However, retinol can cause irritation and redness, and skin sensitivity, while bakuchiol is generally better tolerated.
According to board-certified dermatologist Dr. Luke Maxfield, "Bakuchiol doesn't activate many retinoid receptors, but it takes a different road to get to a similar destination, and through that, Bakuchiol and retinol end up affecting similar genes as well as treating a lot of similar skin conditions."
He continues to explain, "Bakuchiol is known to be a gentler alternative and safer during pregnancy while Retinol has a lot more studies to prove its effectiveness. Use Bakuchiol if you have sensitive skin or are pregnant, or you can even combine the power of both together."
Ultimately, the choice between these two ingredients depends on individual preferences and skin type.
Best Bakuchiol Products
Looking for the best bakuchiol products to add to your skincare routine? These are the best bakuchiol oils, creams, and serums loved by our editors and with rave reviews from customers. Whether you're looking for a serum or a face oil, these bakuchiol formulas offer a range of benefits. Give one (or more) a try and see how they can transform your complexion. Our editors curate our collections against our vetting criteria while also conducting extensive research, testing, and evaluating customer reviews. By shopping our curated collection below, you help support our publication as we may receive a portion of sales.
Best Bakuchiol Oils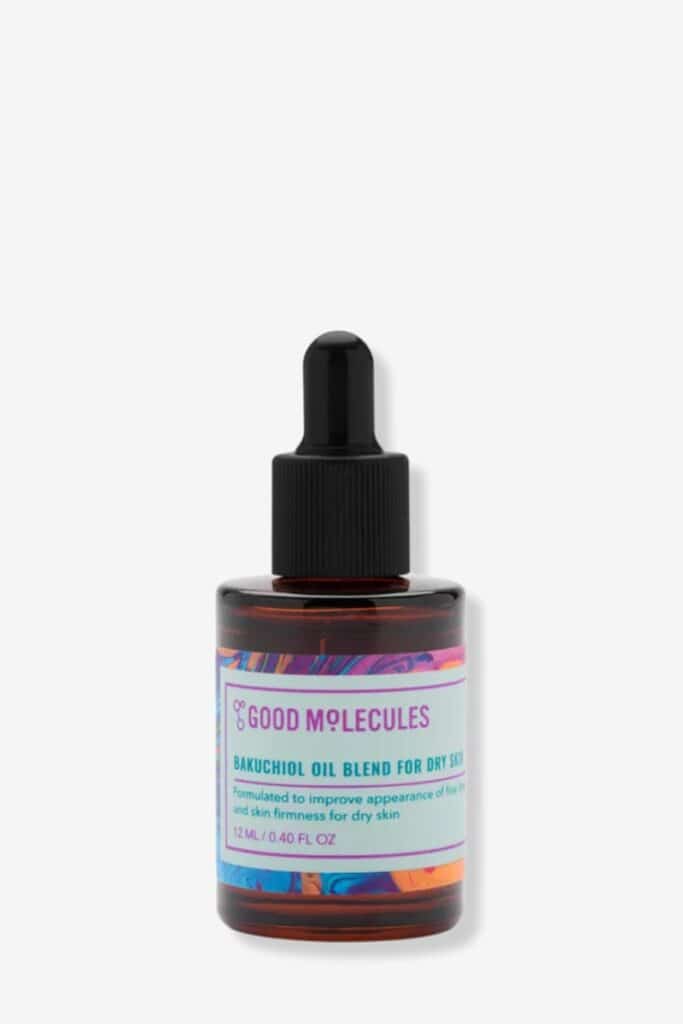 Bakuchiol Oil Blend for Dry Skin
Good Molecules
AVERAGE RATING: 4.3 / 5
This formula is a nourishing oil blend specifically formulated for dry skin. It features a combination of chia and rosehip seed oils to hydrate on contact, plus bakuchiol to help reduce the appearance of wrinkles. This lightweight oil blend absorbs quickly into the skin, leaving it feeling soft and supple. With regular use, this oil blend helps to smooth skin and improve skin tone while providing long-lasting hydration.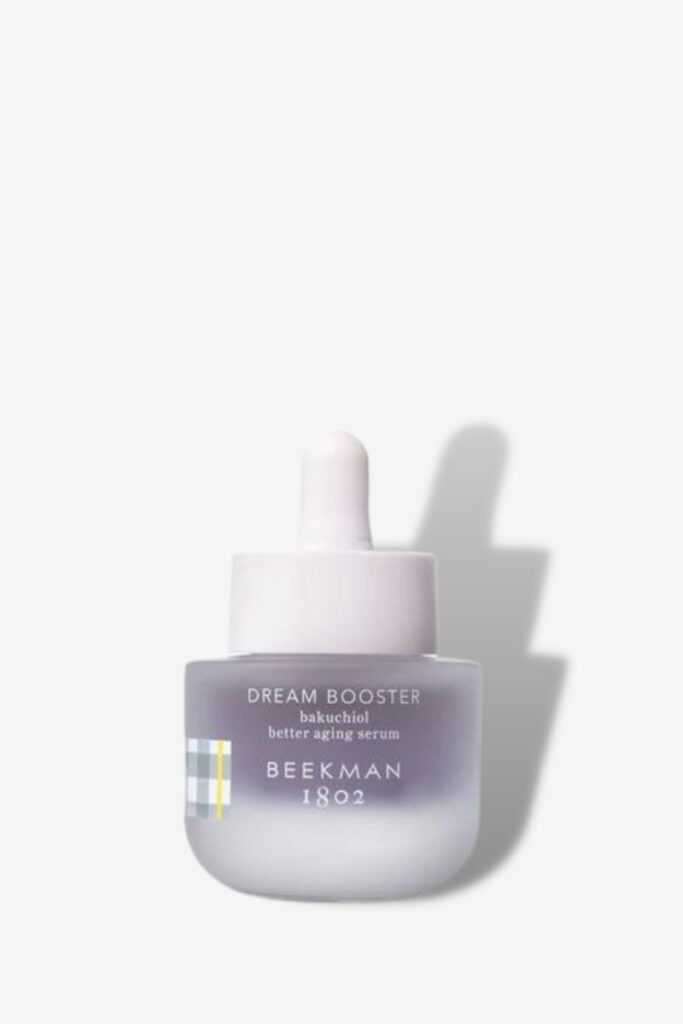 Dream Booster Bukuchiol Serum
Beekman 1802
AVERAGE RATING: 4.8 / 5
This age-defying serum is powered by bakuchiol to smooth skin and reduce the appearance of wrinkles while hydrating the skin. Sunflower, jojoba, and squalane combine for a weightless finish to hydrate, soothe redness, and leave skin feeling soft.
The serum also helps to minimize pores, leaving you with a more even complexion. With regular use, you can expect to see results in as little as two weeks.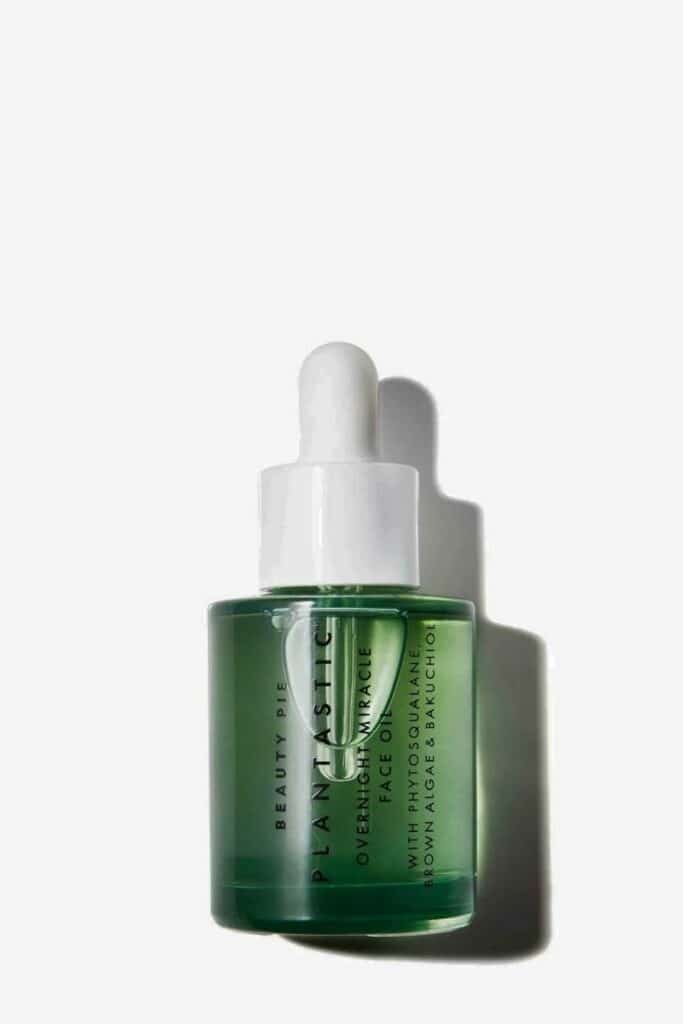 Plantastic Overnight Facial Oil
Beauty Pie
AVERAGE RATING: 4.6 / 5
This 99% natural face oil is super nourishing and skin-energy refreshing, formulated with Grapeseed, Sweet Almond, Jojoba, and Avocado oils to help you achieve a healthy complexion and even skin tone. Neroli Essential oil helps to intensely moisturize the skin while turmeric oil adds a naturally calming anti-fungal and antiseptic to soothe skin and ward off acne. This formula also includes Kalpariane, active brown algae extract that naturally boosts skin elasticity and firmness. Just a few drops a day will feed and refresh your face.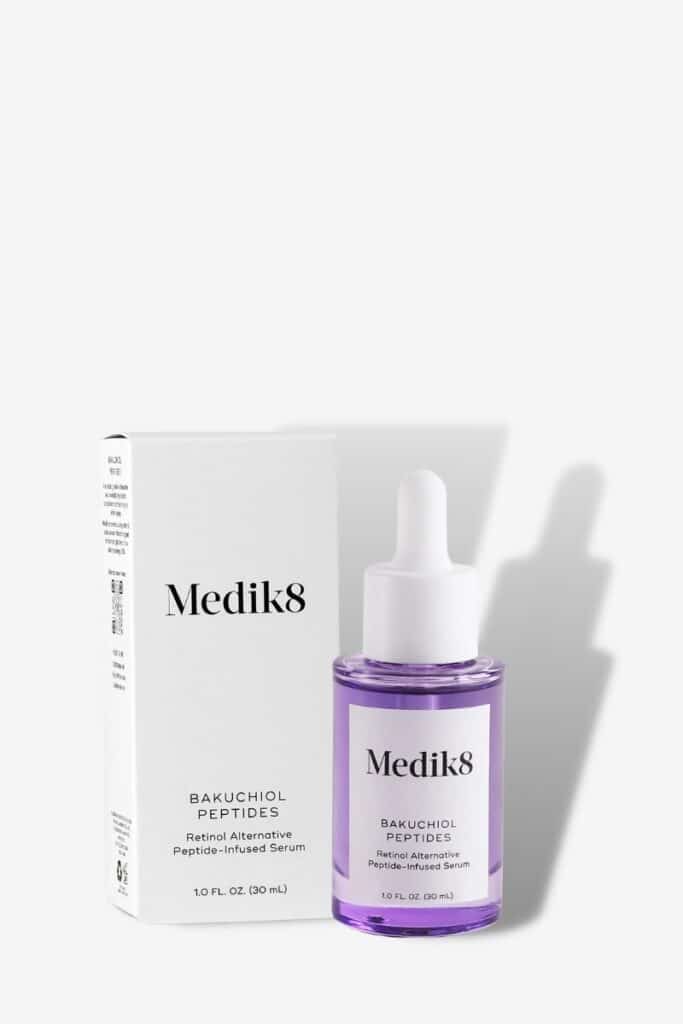 Bakuchiol Peptides
Medik8
AVERAGE RATING: 4.7 / 5
Medik8 Bakuchiol Peptides is a revolutionary oil-based serum designed to help reduce the appearance of lines and wrinkles. It contains 1.25% pure bakuchiol, which helps stimulate collagen production, as well as peptides and centella asiatica extract to brighten skin and provide calming benefits. This retinol alternative is suitable for even the most sensitive type of skin, making it an ideal choice for those who want to visibly brighten their skin and soften the signs of aging without harsh ingredients.
Best Bakuchiol Serums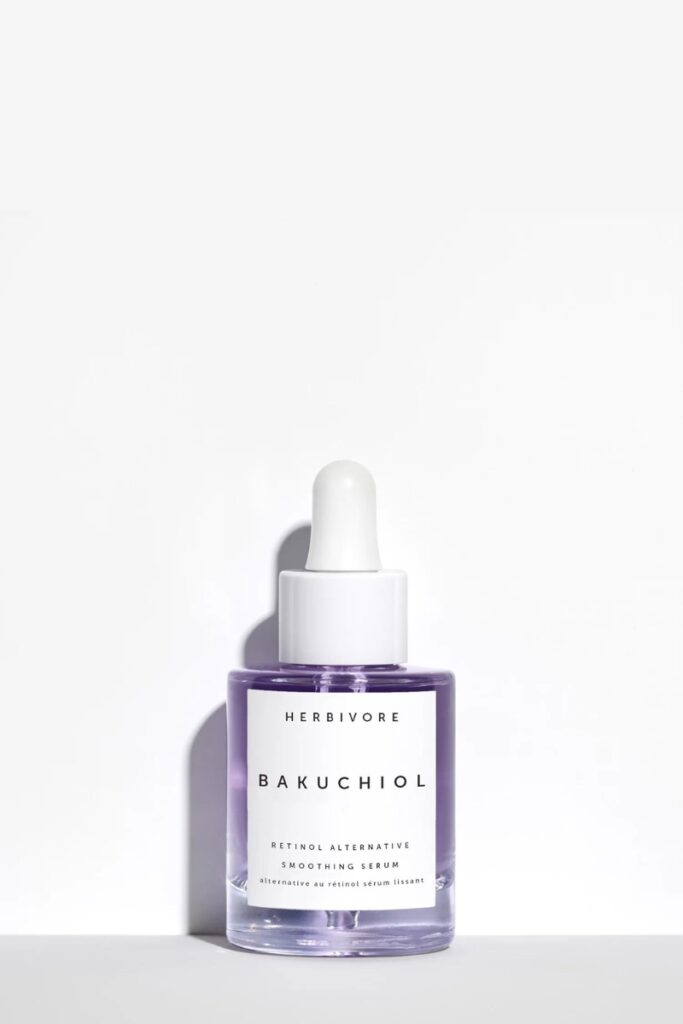 Bakuchiol Retinol Alternative Serum
Herbivore Botanicals
AVERAGE RATING: 4.6 / 5
This bakuchiol serum is a natural retinol alternative designed to help smooth the appearance of wrinkles while sealing in hydration. This plant-based serum is suitable for even the most delicate skin types and can be used as part of your daily skincare routine. With regular use, you will notice improved texture and clarity in your skin, leaving it looking youthful and radiant.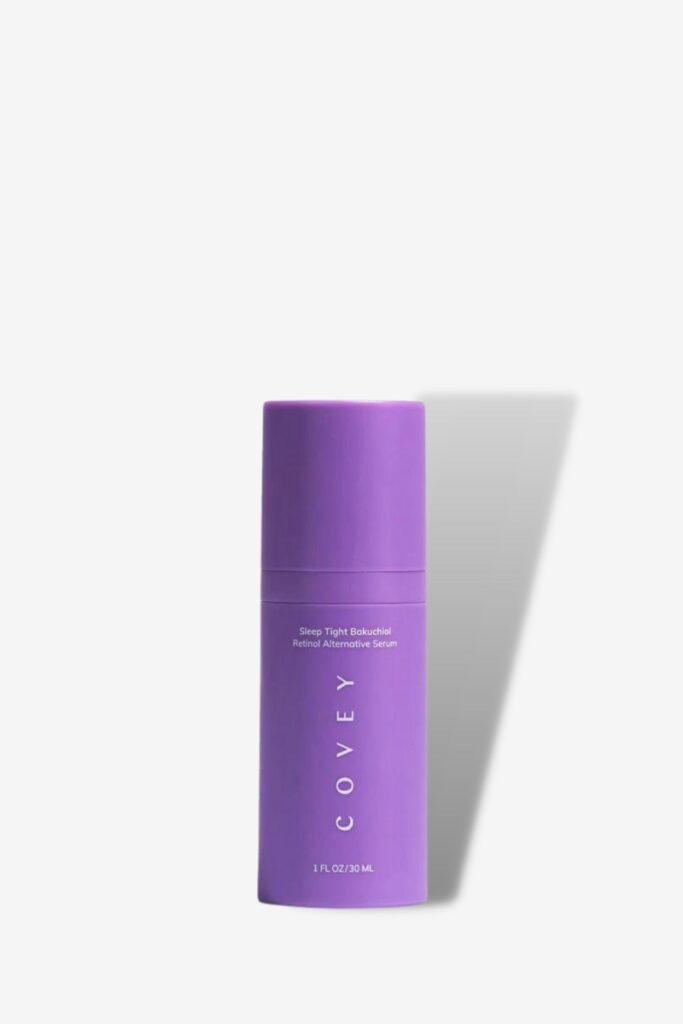 Sleep Tight Bakuchiol Serum
Covey
AVERAGE RATING: 4.9 / 5
This bakuchiol serum has a smooth and lightweight texture that will leave your skin feeling nourished and hydrated. Formulated with Covey's proprietary Covey Complex, a clinically-proven blend of bakuchiol, a youth-boosting tripeptide, and fortifying niacinamide, this powerful blend gently transforms skin overnight and gives you clearer, smoother skin by morning. Hyaluronic acid gives this formula an extra moisturizing boost. Pair with the Covey Next Up Vitamin C Serum in the morning to brighten & eliminates dark spots.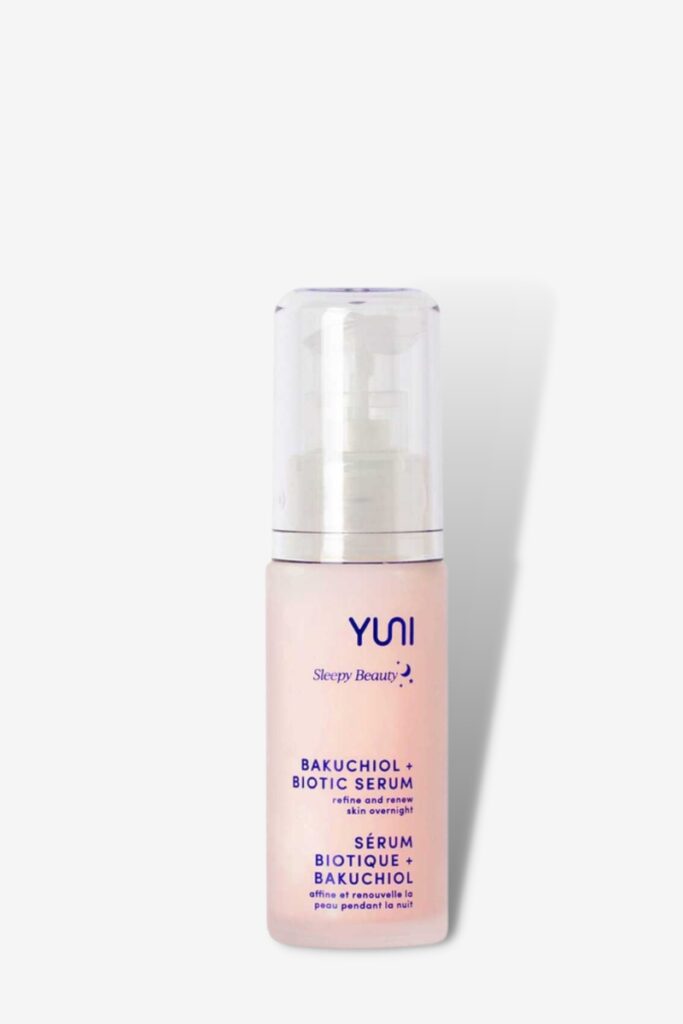 Bakuchiol + Biotic Serum
Yuni
AVERAGE RATING: 4.8 / 5
In addition to topical bakuchiol, this lightweight formula contains Biotic actives that help refine skin texture and support the skin's natural defenses. With regular use in your skincare routine, you can expect to see a plump, smooth appearance on the skin.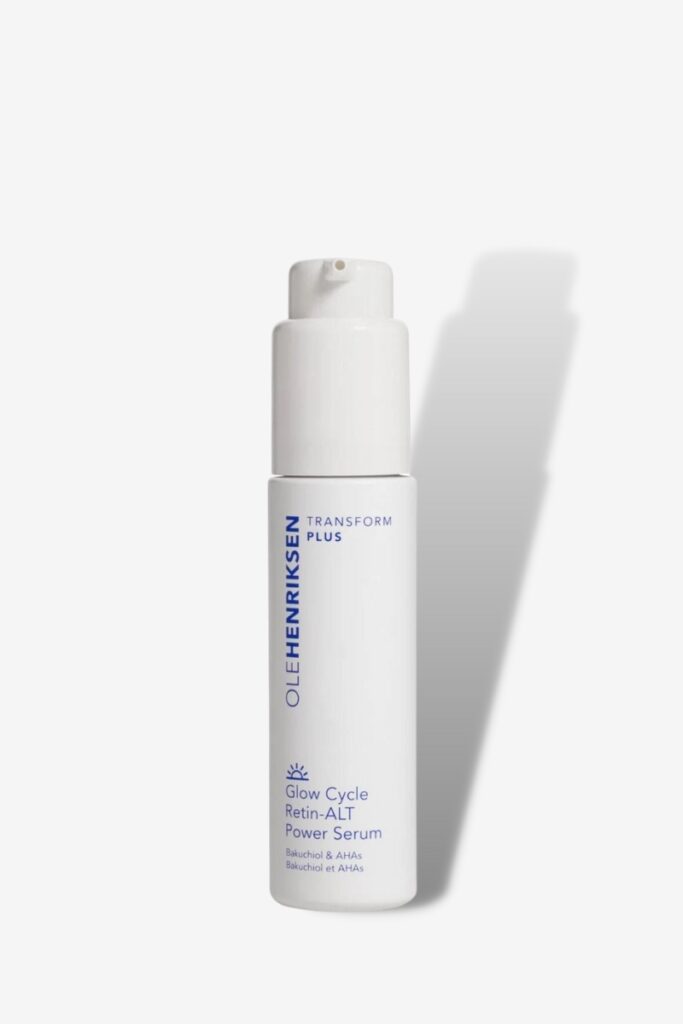 Glow Cycle Retin Alt Power Serum
Olehenriksen
AVERAGE RATING: 4.6 / 5
Powered with AHAs and topical bakuchiol, this all-in-one skin-perfecting day serum targets fine lines, wrinkles, pores, and pigmentation while instantly brightening skin. Edelweiss stem cell, red algae, and tara extracts promote firmness while licorice root, chamomile, and sandalwood extract smooth and nourish the skin. AHAs and hibiscus flower extract help even out the skin to reduce the signs of skin aging. For a dose of Vitamin C, try Olehenriksen's Truth Serum.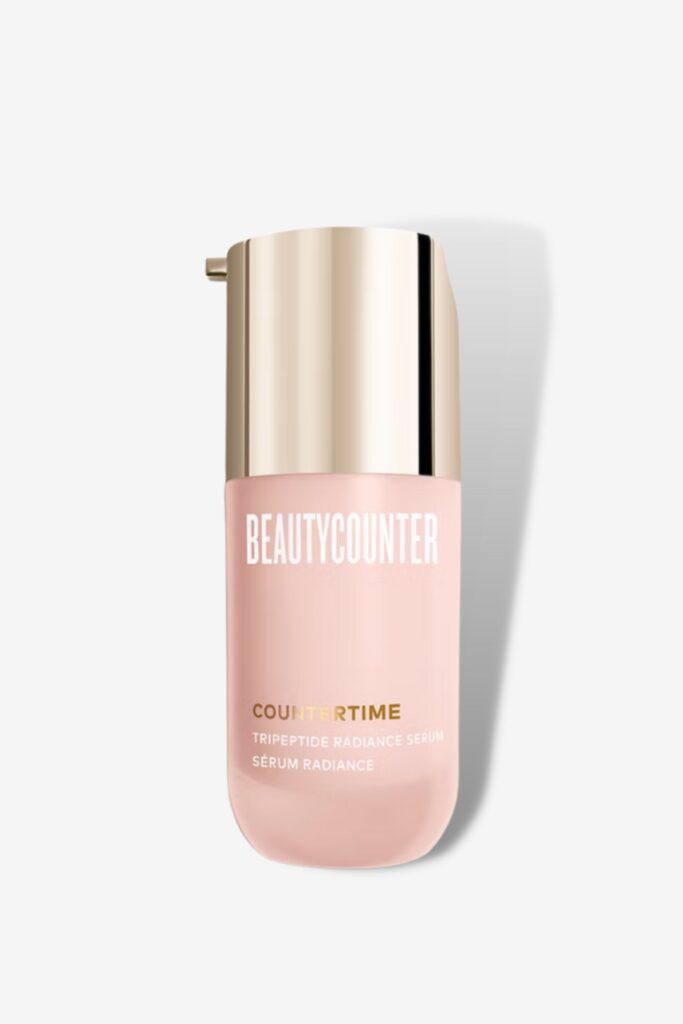 Countertime Tripeptide Radiance Serum
BEAUTYCOUNTER
AVERAGE RATING: 4.8 / 5
This bakuchiol serum is formulated with tripeptides and amino acids to help boost skin's visible firmness and minimize the look of lines and wrinkles while keeping skin plump and hydrated. In a clinical trial, 97% of participants reported reduced wrinkles as well as firmer and brighter skin.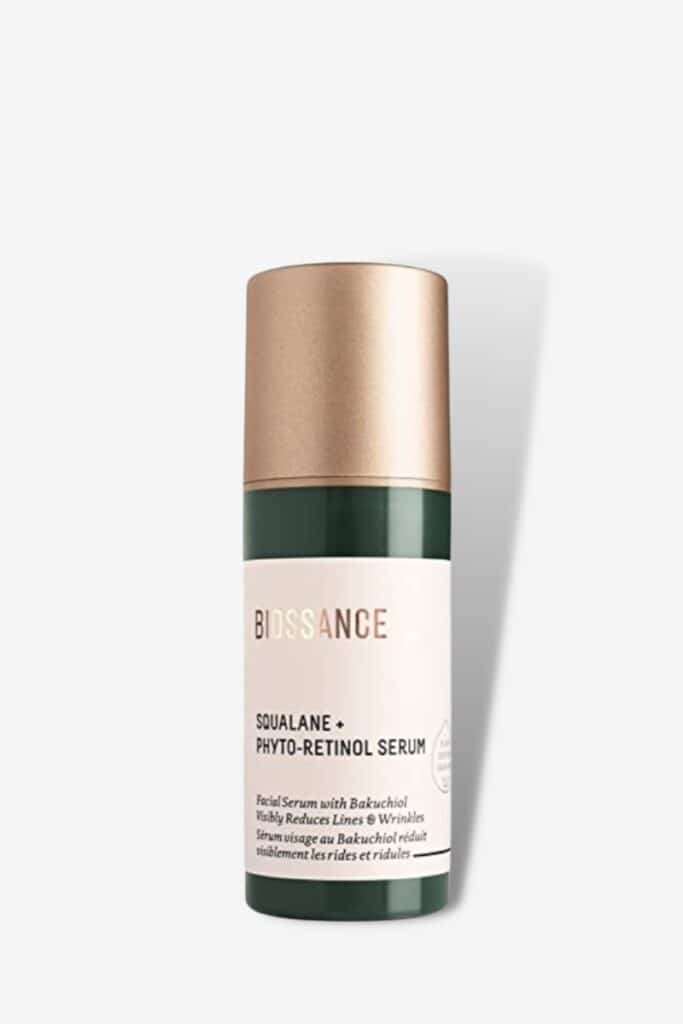 Squalane + Phyto-Retinol Serum
Biossance
AVERAGE RATING: 4.2 / 5
This plant-derived formula also includes Niacinamide to target fine lines, wrinkles, discoloration, and sun damage. Like all of the other products on this list, it helps improve the look of texture for a more youthful complexion.
Best Bakuchiol Moisturizers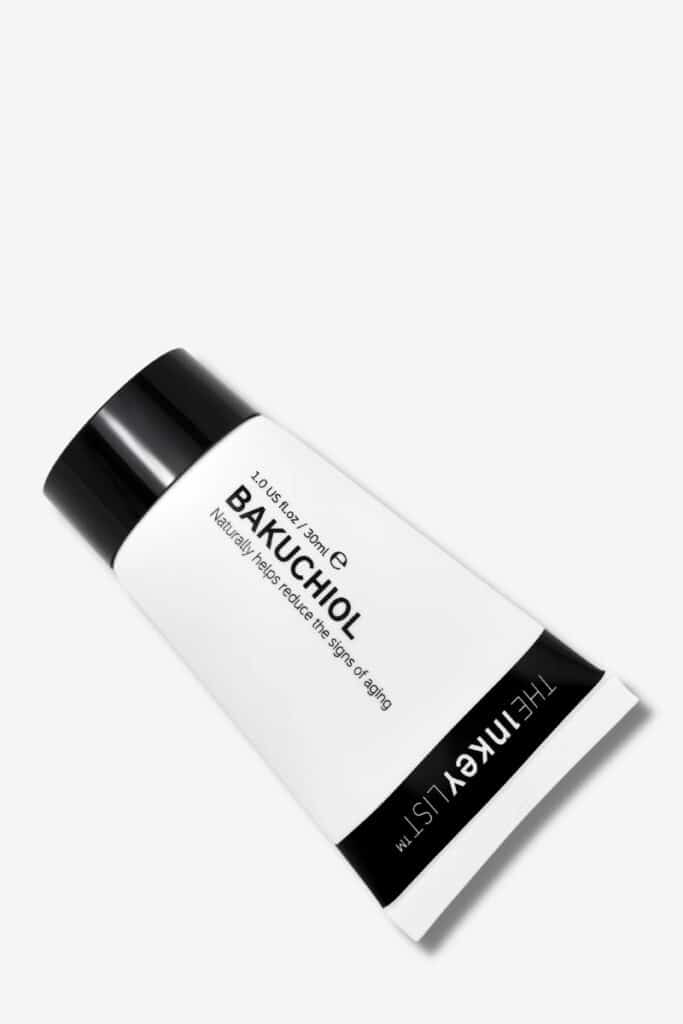 Bakuchiol Moisturizer
The Inkey List
AVERAGE RATING: 4 / 5
The INKEY List Bakuchiol Moisturizer is a lightweight, plant-derived moisturizer that helps to reduce the appearance of wrinkles and protect the skin. Formulated with Omega-3-rich Sacha Inchi Oil and Squalane, it works to hydrate and nourish your skin while providing antioxidant protection.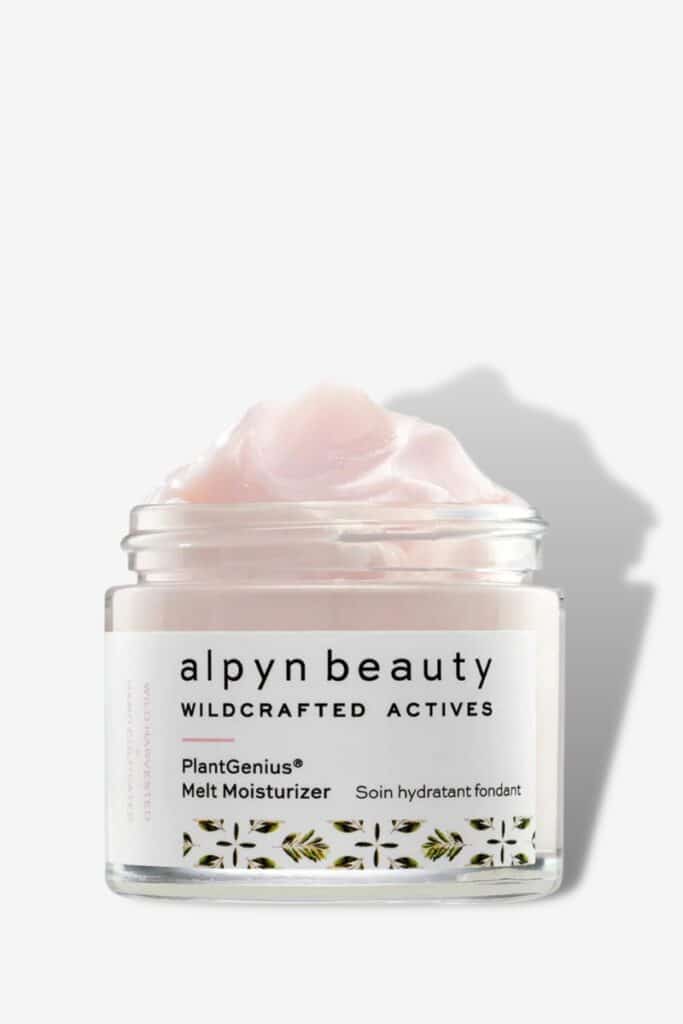 Melt Moisturizer
Alpyn Beauty
AVERAGE RATING: 4.9 / 5
This award-winning wildcrafted facial moisturizer is the perfect solution for dry, dehydrated skin. It melts right into your skin, leaving a fresh, velvety finish that won't weigh you down. In addition to bakuchiol, this moisturizer contains hyaluronic acid and squalane to hydrate and support your skin's moisture barrier. Ceramides help to strengthen your skin's natural protective barrier while wild plants provide essential nutrients to nourish your skin. This formula is vegan, cruelty-free, and certified plastic-neutral.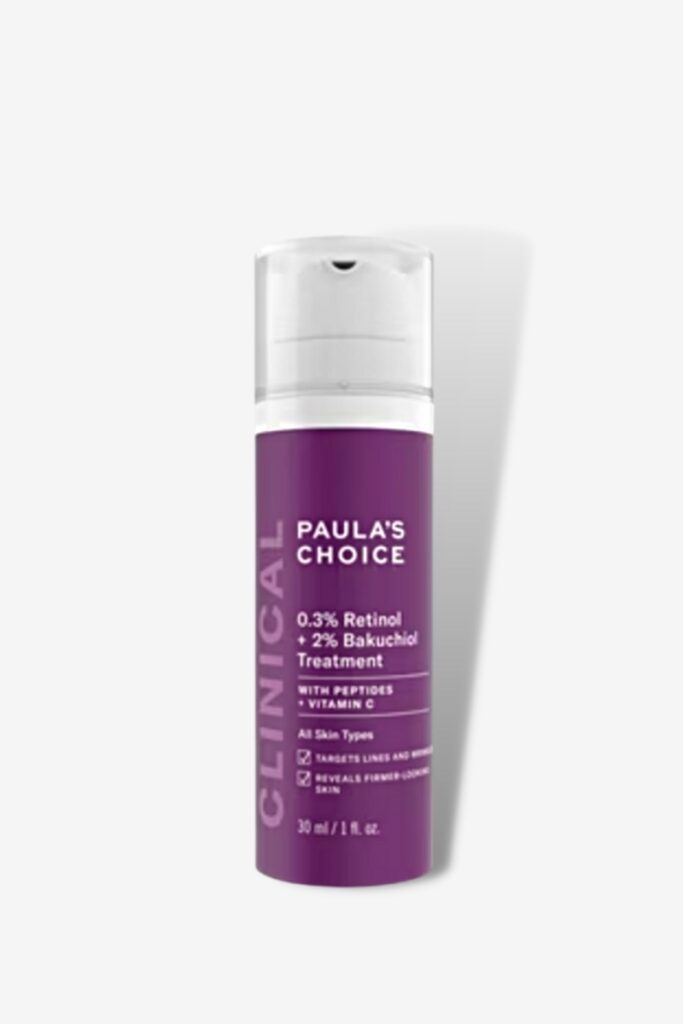 .3 Retinol and .2 Bakuchiol Treatment
Paula's Choice
AVERAGE RATING: 4 / 5
Research shows that bakuchiol and retinol work even better together. This triple-action formula combines retinol, bakuchiol, and peptides to help support collagen-depleted skin and give you a more youthful appearance. The light lotion texture absorbs quickly into the skin for maximum effectiveness. To get the best results, use this product three times a week initially and then increase it as needed.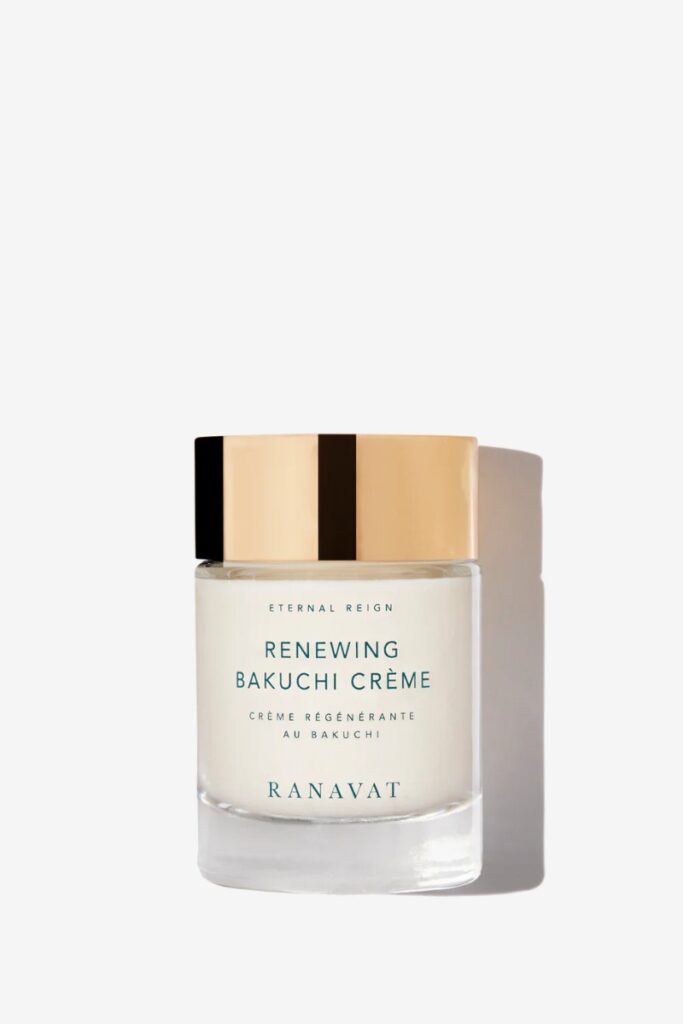 RENEWING BAKUCHI CREME
RANAVAT
AVERAGE RATING: 4.6 / 5
Whole bakuchi seed blend is distilled in clarified oil to deliver 12-hour hydration and improve skin barrier function. Lotus flower and adaptogenic ashwagandha leave skin smooth, soft, rested, and youthful looking. In a clinical trial, 97% of participants demonstrated a highly significant reduction in fine lines and wrinkles after just 4 weeks.
How to Use Bakuchiol Serum
To incorporate bakuchiol serum into your own skincare regimen routine, follow these simple steps:


Cleanse your face thoroughly using a gentle cleanser.

A gentle cleanser will be sure not to irritate your skin. If you have a lot of makeup on, you may want to consider double cleansing.



Apply a few drops or a small dollop of bakuchiol to your fingertips and gently massage it into your skin, focusing on areas with fine lines, wrinkles, or uneven texture.

When massaging the serum or moisturizer into your skin, you may want to consider using a gua sha tool for a deeper massage.



Allow the serum to absorb fully before applying your moisturizer and other skincare products.

When you allow your serum to fully absorb before adding more product you avoid product piling which will cause the product to "ball up" on the surface of your skin.



Use the serum once or twice daily, depending on your skin's tolerance and needs.

Consider using your serum both morning and night for the best results.


With its retinol-like benefits, antioxidant properties, and suitability for sensitive skin, bakuchiol is an exciting addition to your skincare lineup. Give it a try and experience the difference it can make in your skin's health and appearance.
Bakuchiol Frequently Asked Questions
Is bakuchiol more effective than retinol?

Bakuchiol and retinol both have similar benefits when it comes to improving skin tone, texture, and reducing wrinkles and lines. However, bakuchiol is generally considered to be gentler on the skin than retinol, as it does not cause dryness, peeling, or irritation like retinol can. Additionally, bakuchiol can be used daily without any adverse effects. On the other hand, while retinol can cause more irritation than bakuchiol, it may be more effective in treating certain conditions such as acne. Ultimately, which one you choose depends on your individual needs and preferences.

What is the best percentage for bakuchiol?

When it comes to bakuchiol, the best percentage for effectiveness is between 0.5-2%. This has been supported by multiple studies with a combined total of 224 people participating. For most products, you can expect to find a concentration of 0.5 to two percent. However, some products may contain higher concentrations such as 4%, which can be beneficial for those looking for more intense results.

It's important to note that the bakuchiol product is gentle enough to be used both morning and night and should be applied thinly for optimal results. With the right product and concentration, you can enjoy the powerful anti-aging benefits of bakuchiol without any stinging or other side effects. It's best to consult your dermatologist before using any new beauty product.


Is it safe to use bakuchiol and retinol together?

Using bakuchiol and retinol together is safe and can be beneficial for your skin. Bakuchiol has been found to stabilize retinol, which breaks down quickly when exposed to light. This means that when used in combination, the two ingredients can boost each other's effectiveness. Studies have also shown that bakuchiol and retinol work well together when it comes to fighting off fine lines and wrinkles. It's always best to consult your dermatologist before using any new beauty product.