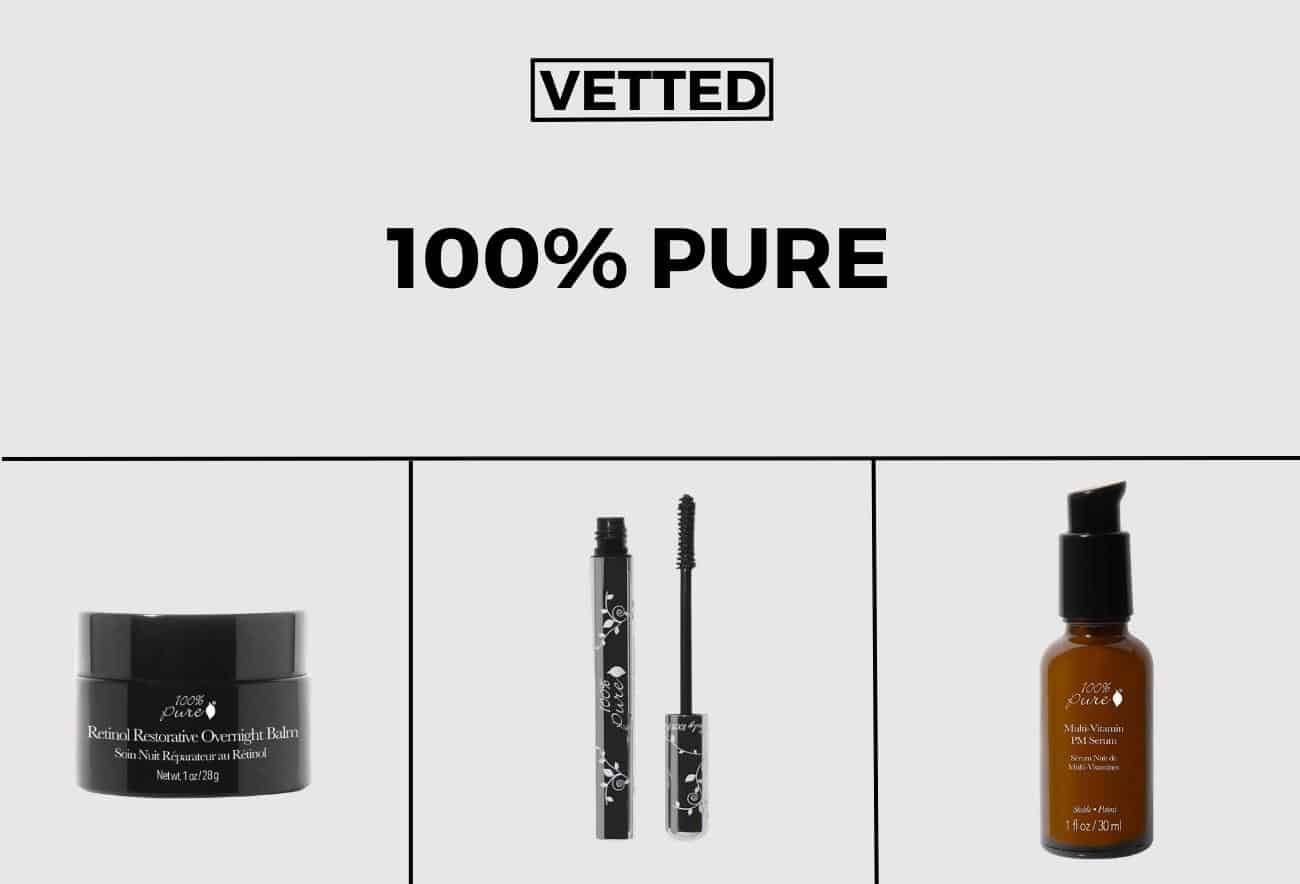 We Vetted 100% PURE Beauty Products, Here's Everything You Need to Know
An honest review of 100% PURE makeup & beauty products to help you find the best all-natural beauty products for you.
Founded by Susie Wang, James Wang, and Ric Kostick in California, 100% PURE is an award-winning clean beauty brand committed to formulating cruelty-free and all-natural makeup and skincare products that are made in the USA. With an endless quest for natural skincare and cosmetics that don't compromise results, our editors were excited to try 100% PURE beauty products.
100% PURE Review Criteria
All of the brands and products we review are independently selected by our editors based on our vetting criteria. We will only recommend products that meet our strict quality standards and that we think our readers would love.
When reviewing 100% PURE we considered the following criteria:
Clean Ingredients
Cruelty-Free
Quality
Performance
Gentle on Skin
Value
Brand Values
Rating Summary
Clean Ingredients 10/10
Cruelty-Free 10/10
Quality 9/10
Performance 9/10
Gentle on Skin 9/10
Value 8/10
Brand Values 10/10
The Verdict
100% PURE cosmetics and skincare products are worth the investment. All of our editors unanimously agreed that 100% Pure cosmetics and skincare products are of premium quality, are gentle on the skin, and pack powerful results. We all noted the luxurious texture and anti-aging results of the skincare products, how gentle the cosmetics were on sensitive skin, and the overall impressive quality of every product we tested. Use code UC15 for 15% off.
Explore
The Haul
If you browse the 100% PURE website, you'll discover cruelty-free and all-natural cosmetics, skincare, and body lotions that are free of artificial fragrances, harsh chemicals, and other toxins.
 Our editors focused on the bestselling products from 100% Pure testing products like the Multi-Vitamin + Antioxidants Potent PM Serum, Retinol Restorative Overnight Balm, Coffee Bean Caffeine Eye Cream, Caffeine Mask, Multi-Vitamin + Antioxidants PM Facial Oil, and Fruit Pigmented® Ultra Lengthening Mascara.
100% Pure Review Breakdown
Below is a more detailed breakdown of our reasoning behind each rating in our vetting criteria. 100% Pure scored highest in Clean Ingredients, Quality, and Cruelty-Free.
Clean Ingredients
The 100% PURE beauty brand understands the importance of using only the purest ingredients in their formulations. Never compromising on quality and safety, 100% PURE products are made in the USA, gluten-free, and guaranteed to be free of harsh or toxic ingredients that can be harmful to your overall health.
100% PURE beauty products are also free of any artificial fragrances and other toxins sourcing pigments only from natural fruits, vegetables, tea, and cocoa, avoiding the use of commonly used FD&C colorants and heavy metal dyes. The brand's skincare products are just as clean with ingredients only found in nature that are rich in antioxidants and nourishing vitamins.
Cruelty-Free
100% PURE beauty products are completely cruelty-free and most products are vegan. 100% PURE beauty products are also free of harsh chemicals and artificial fragrances, making them a great choice for those looking to switch to a more natural beauty routine. If you are looking for a fully vegan beauty product, there will be a vegan icon under the product listing on the 100% Pure website. You can also read the product ingredient list for each product.
Quality
Where do we start? Occasionally we have the pleasure of vetting a brand that surpasses our expectations and 100% PURE is no exception.
100% PURE prides itself on using only the highest quality ingredients, and it shows. Their products are free from toxic ingredients and harmful chemicals, and they never dilute their products with fillers such as water, alcohol, thickeners, or emulsifiers. Instead, 100% PURE products are fully concentrated to perform at optimal levels.
The brand also uses unrefined ingredients that contain all of their natural benefits, such as fruit pigments for makeup, natural oils for skincare, and plant-based proteins for hair care. Whether formulating facial products with vegan retinol formulated from carrot seeds or nourishing, all-natural ingredients like avocado butter and antioxidants like Vitamin C, 100% PURE is committed to providing safe and effective beauty products that are cruelty-free, non-toxic, and made with only the best ingredients.
Performance
We evaluated each 100% PURE product against its promised benefits and each one exceeded expectations. Our editors found the facial beauty products to be deeply moisturizing leaving the skin feeling soft and smooth with reduced fine lines. Overall, 100% PURE's facial beauty products gave the skin a glowing and youthful appearance. Most notably, our editors noticed anti-aging benefits from the 100% PURE vegan retinol and the Multi-Vitamin PM facial serum in just two weeks. Read below for more in-depth reviews of some of the products we tested. There are also over 600 five-star customer reviews that align with our experience with these products with most 100% PURE products boasting an average customer rating of 4.6 or higher.
Gentle on Skin
We found all of the 100% PURE products we tested to be extremely gentle on the skin. After continued use, none of our editors experienced any redness, skin irritation, or breakouts. One of our editors even reported that the Multi-Vitamin + Antioxidants PM Facial Oil helped calm her already red and irritated skin.
Value
We found 100% PURE products to be a great value for the price point. While there may be other cheaper all-natural beauty products on the market, we found the results that 100% PURE products delivered were well worth the investment.
Brand Values
In addition to 100% PURE being a cruelty-free brand, they give back by donating one meal to shelter dogs with every 100% PURE purchase. We also love the mission of the brand that goes beyond its commitment to producing the purest, healthiest products with a focus on building the brand around living with compassion, kindness, and empathy. 100% PURE is also woman-owned with cofounder Susie Wang at the helm leading creative.
What Sets It Apart
Pure Ingredients
When this brand says 100% pure, they mean it. From naturally-pigmented cosmetics to plant-based body and facial products, you can trust that all products are made from completely pure ingredients that are free from harmful chemicals and toxins. It's also worth noting that most 100% Pure products are made in the USA.
Premium Quality
When ingredients are this pure quality comes naturally. All facial and body products have rich, nourishing textures that deeply hydrate and penetrate the skin while 100% Pure's naturally pigmented makeup has won awards for its high-quality performance.
Cruelty-Free
100% Pure products are never tested on animals.
Performance
With scientifically proven ingredients like hyaluronic acid, apple enzymes, and green tea, as well as antioxidants such as Vitamin C, Vitamin E, and Vitamin A, these are just a small handful of the all-natural ingredients from 100% PURE that will never sacrifice performance.
Are 100% PURE Products Worth the Investment?
Yes. Our editors tested multiple products from 100% PURE and we all agree that 100% PURE products are worth the investment. The pure ingredients, premium quality, and amazing product performance sets 100% PURE apart. With so many cruelty-free products that feature all-natural ingredients, it's easy to make your beauty routine more organic and better for your health. Plus, with 100% PURE only using natural ingredients with proven performance, you'll never have to sacrifice results.
Where to Buy 100% PURE Products
For the best selection, we recommend shopping the 100% PURE website directly. Use code UC15 for 15% off your purchase.
Uncommon and Curated is an independent publication that's supported by our readers. You can help support our publication by shopping through the links in this guide as we may receive a portion of sales. This helps us bring you more in-depth brand reviews like this one.
About 100% PURE: The Story Behind the Brand
100% PURE is a natural and cruelty-free beauty brand that has revolutionized the cosmetics industry with its commitment to organic and all-natural ingredients. From their award-winning makeup to their luxurious skincare, 100% Pure offers premium quality products that are free of synthetic chemicals, chemical preservatives, artificial fragrances or colors, harsh detergents, or any other unhealthy toxins.
The origin story of 100% PURE is an inventive one. When co-founder Susie Wang was a freshman at UC Berkeley, she bought an expensive Vitamin C serum only to find it had oxidized. Oxidation has the unfortunate consequence of reducing the potency of vitamins, transforming them into free radicals that can harm your skin – a stark contrast to what you would desire from your skincare products. Committing herself to find a solution, Wang figured out a way to stabilize vitamins in order to prevent oxidation. In between her classes, she filed patents for this game-changing innovation that's utilized in many of the 100% PURE products today.
After years of experience working at big beauty brands and seeing the use of harmful chemicals and testing on animals firsthand, Wang knew there was a healthier way to approach beauty product development that doesn't harm animals in the process. With the right team and determination, 100% PURE was born to become the inspiring brand it is today.
Overall, with 100% PURE, you can indulge in natural, healthy, and ethical beauty products for beauty that truly goes beyond skin deep.