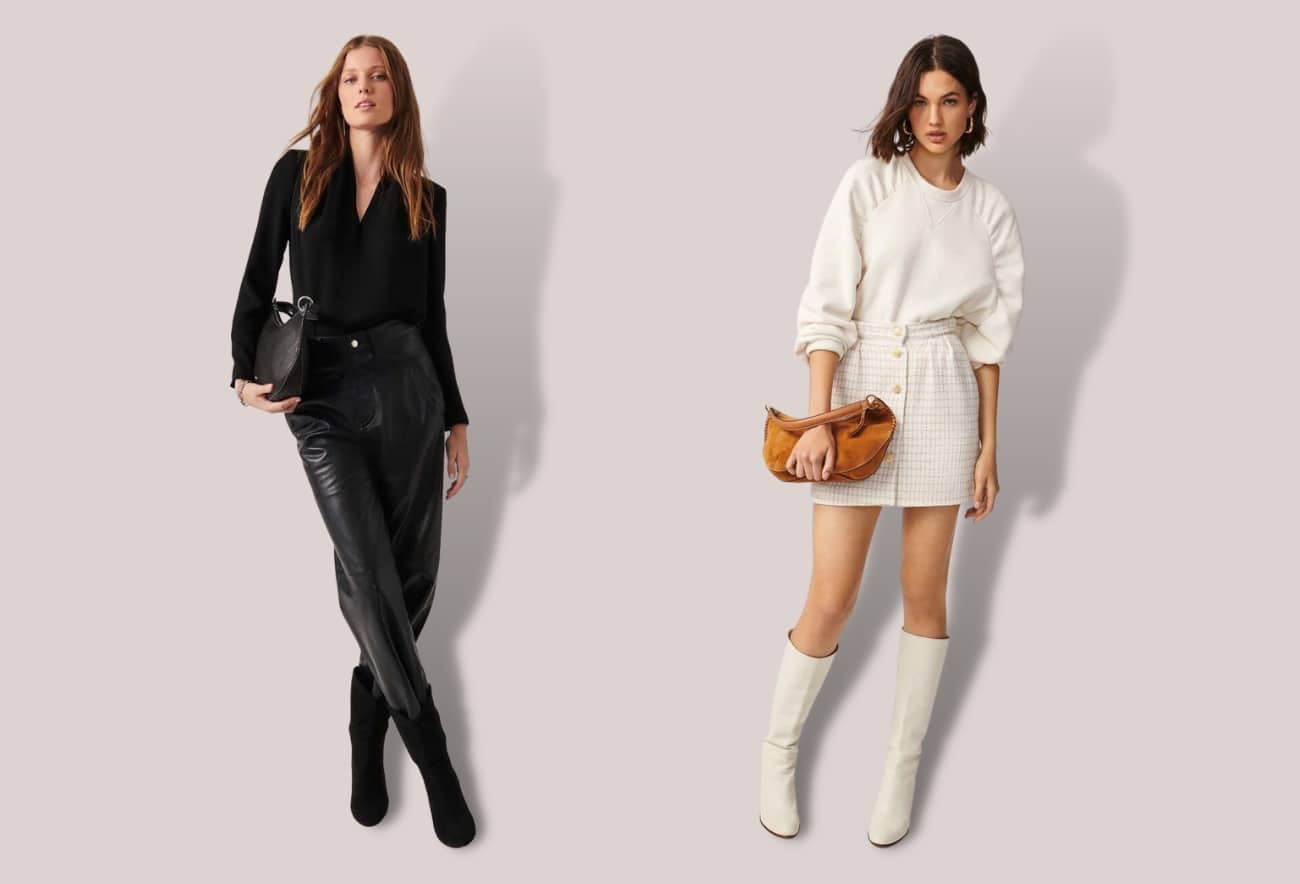 Monochrome Outfit Ideas & Style Tips for Trendy and Timeless Looks
A curated collection of monochrome outfit ideas for every wardrobe.
There's no easier way to look effortlessly put together than a monochromatic outfit. This statement-making trend of coordinating hues of the same color from head to toe has become an iconic style worn by celebrities, stylists, and your chicest friends.
Not only are monochromatic outfits simple yet sophisticated, but with just one color palette, you can create an array of looks that are sure to turn heads. Whether you're going for classic elegance or modern minimalism, mastering the art of styling a monochrome outfit will give your wardrobe a serious upgrade.
What is a monochromatic outfit?
Monochromatic outfits are rooted in a base color and consist of contrasting shades of the same hue. While you can embrace the same shade for each piece in your monochromatic look, you can also use light and darker shades in the same color family to create visual interest. Overall, monochromatic outfits are incredibly versatile and an easy way to create a cohesive look.
We've curated stylish monochrome outfit ideas and where to shop so you can find the perfect outfit for your style. Whether you're looking for a classic ensemble or an edgier look, you'll step out in style with these on-trend monochrome outfits. Our editors curate our collections against our vetting criteria while also taking into consideration trending styles and brands. By shopping our curated collection of monochrome outfits below, you help support our publication as we may receive a portion of sales.
Monochrome Outfit Ideas
Get inspiration from these monochrome outfit ideas to elevate your wardrobe.
1. Keep it simple and sleek with a blazer and matching skirt.
A blazer with a matching skirt not only channels 90's fashion (as if), it's one of the most effortless monochrome outfits so you can get ready in a pinch and look pulled together.
2. Style a cream monochrome outfit with black accessories and accents.
Nothing looks quite as high-end as a cream monochromatic outfit in the same hue. From casual ensembles with denim to sleek styles with silk or satin, styling your cream monochromatic outfit with black leather accessories and shoes will add a hint of edge to your look.
3. Keep your cream monochrome outfit on-hue from head to toe.
If you want to lean into your cream monochromatic outfit and not deviate from the script, you can style your outfit in different shades of cream and tan from the same color family head to toe.
4. Style monochrome outfits with mixed textures.
Creating a stylish monochrome outfit doesn't have to be boring. By incorporating different textures, you can make a monochrome ensemble look interesting and unique. Textures like leather, velvet, sequins, fur, and even cotton can help add depth to your look. For example, pair a black leather jacket with black velvet trousers for a sleek evening look or layer a white cotton tee under a long white shearling coat for the ultimate winter chic style. With the right mix of fabrics and textures, it's easy to create an eye-catching monochrome outfit.
5. Get cozy in matching loungewear.
One of the easiest monochromatic outfits to style is matching loungewear in the same fabric. You can toss out the style tips and simply focus on different silhouettes that are fashion-forward and flattering.
6. Keep it classic with a suit and don't shy away from bright colors or pastels.
If you're looking for a trend that will never go out of style, one of the most classic monochrome outfits is the two-piece suit. Whether you keep your outfit understated with a tan, gray, or blue suit or venture out into pastel territory, you can't go wrong with a matching suit paired with the perfect shoes and accessories.
Monochrome Outfit Styling Tips
1. Choose the right colors.
When it comes to monochrome outfits, not all colors are created equal. Some colors, like black and white, naturally lend themselves to monochrome looks. Other colors, like green or purple, can be more difficult to style in a way that looks intentional and pulled together. If you're just starting out with a monochrome look utilizing the same color palette, stick to classic colors like black, white, grey, or navy in multiple shades. You can always experiment with other colors once you've mastered the basics with your monochromatic look.
2. Mix different textures and fabrics, while playing with proportions.
To add interest to a monochrome outfit with minimal effort, mix textures and fabrics. For example, if you're wearing a black sweater, try pairing it with a pair of leather pants or a satin skirt. Not only will mixing textures help break up the solidity of the color, but it will also add a touch of luxury and sophistication to your monochromatic look. You should also play with proportions by mixing and matching different silhouettes such as cropped sweaters, high-rise pants, and oversized cardigans in your monochrome look.
3. Accessorize with a strategy.
When it comes to accessories, less is more when wearing a monochrome outfit. This is especially true when creating a monochromatic outfit with brighter colors. A few well-chosen accessories will elevate your look without overwhelming it. If you choose to accessorize in different shades of the same color family, keep accessories understated for a streamlined look. A classic pump and a delicate gold necklace are the perfect finishing touches for a chic monochrome look.
4. Know when to break the rules.
Of course, there are always exceptions to the rule—and that's definitely true when it comes to fashion statements like these. If you're feeling daring, go ahead and experiment with brighter color combinations or patterns to add visual interest. Get creative with multiple shades in the same color family. After all, fashion is all about having fun and expressing your individual style.
5. Incorporate your personal style.
When putting together your monochrome outfits, don't neglect your personal style. Just because you are styling your outfit in matching shades, doesn't mean you have to color within the lines. Bring your favorite jacket, accessories, and shoes into your monochrome outfits, and don't forget the little details. When it comes to tiny details like hair accessories, sunglasses, or even your lipstick, make sure it polishes off your monochrome look, but most importantly, feel uniquely you.
How We Vetted These Brands
Quality: When curating this collection of monochrome outfits, we evaluated the quality of the materials, garment details, and value for the price point.
Style: We curated monochromatic outfits with unique garments, flattering fits, and on-trend details.
Versatility: We focused on women's monochromatic outfits that can be dressed up and dressed down.
Vetting Criteria: We have four core principles for vetting the brands that we feature in our publication. Our brand ethos is our guiding principle to ensure that the products we feature align with our values and yours.
Reviews: We only picked garments and brands with rave reviews from customers. This ensures that you are shopping for products that are not only loved by our curators but are also loved by the rest of the internet.