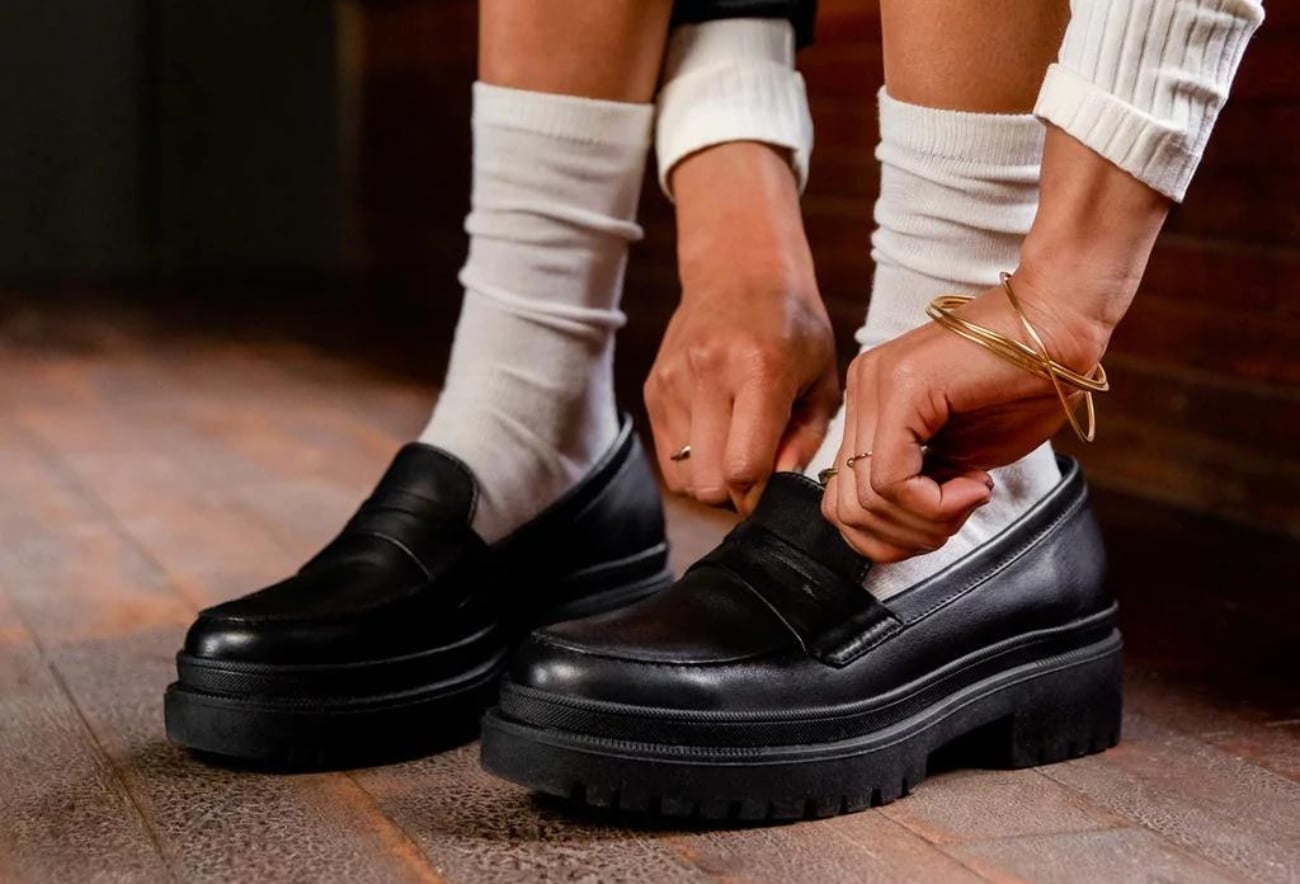 Uncommon and On-Trend: Best Women's Chunky Loafers
A curated collection of the best women's chunky loafers of the season.
Elevate your style with the latest trend in footwear – the chunky loafer. With sleek details and bold accents, the traditional women's loafer has received a makeover this season with the coveted lug sole loafer becoming a chic and comfortable addition to any wardrobe. These women's lug sole loafers come in a variety of designs, materials, and colors to suit any taste and style. Plus, they offer the added bonus of comfort from the sky-high lug soles.
We've curated the best women's chunky loafers including our top picks so you can find the perfect pair. Whether you're looking for a more traditional loafer in leather or suede or an eye-catching design with chain details or metallic hues, you'll step out in style with the best chunky loafers this season. Our editors curate our collections against our vetting criteria while also taking into consideration trending styles and brands. By shopping our curated collection of the best chunky loafers, you help support our publication as we may earn a portion of sales.
Best Women's Chunky Loafers
Choosing the Right Women's Chunky Loafers for You
Aside from selecting one of these top brands, there are several other factors to consider when choosing the best lug sole loafer for you.
Fit and Comfort: When picking the best lug sole loafers for you, consider whether the women's loafers are best for narrow or wide feet to ensure an optimal fit. Features like a cushioned sole will also add extra comfort.
Style: While lug sole loafers are a fresh take on the classic loafer, it's up to you how far you want to stray from the classic loafer style. Embellished hardware, patent leather, and bold colors are currently trending.
Material: From leather to suede, there are many material options available when it comes to lug sole loafers. Consider how each material will affect the overall look and feel of the shoe and how it will wear over time.
Color: Choose colors strategically and take into account where you'll be wearing your shoes most often when selecting colors. Neutral shades like black and brown will be more versatile than bolder colors.
How We Vetted The Best Women's Chunky Loafers
Quality: When curating this collection, we evaluated the quality of the materials, shoe details, and value for the price point.
Style: We considered the style of these women's chunky loafers evaluating factors like uniqueness, fit, and on-trend details.
Versatility: We focused on women's lug sole loafers that can be dressed up, dressed down, and worn with a variety of styles.
Vetting Criteria: We have four core principles for vetting the brands that we feature in our publication. Our brand ethos is our guiding principle to ensure that the products we feature align with our values and yours.
Reviews: We only picked women's lug sole loafers with rave reviews from customers. This ensures that you are shopping for products that are not only loved by our curators but are also loved by the rest of the internet.