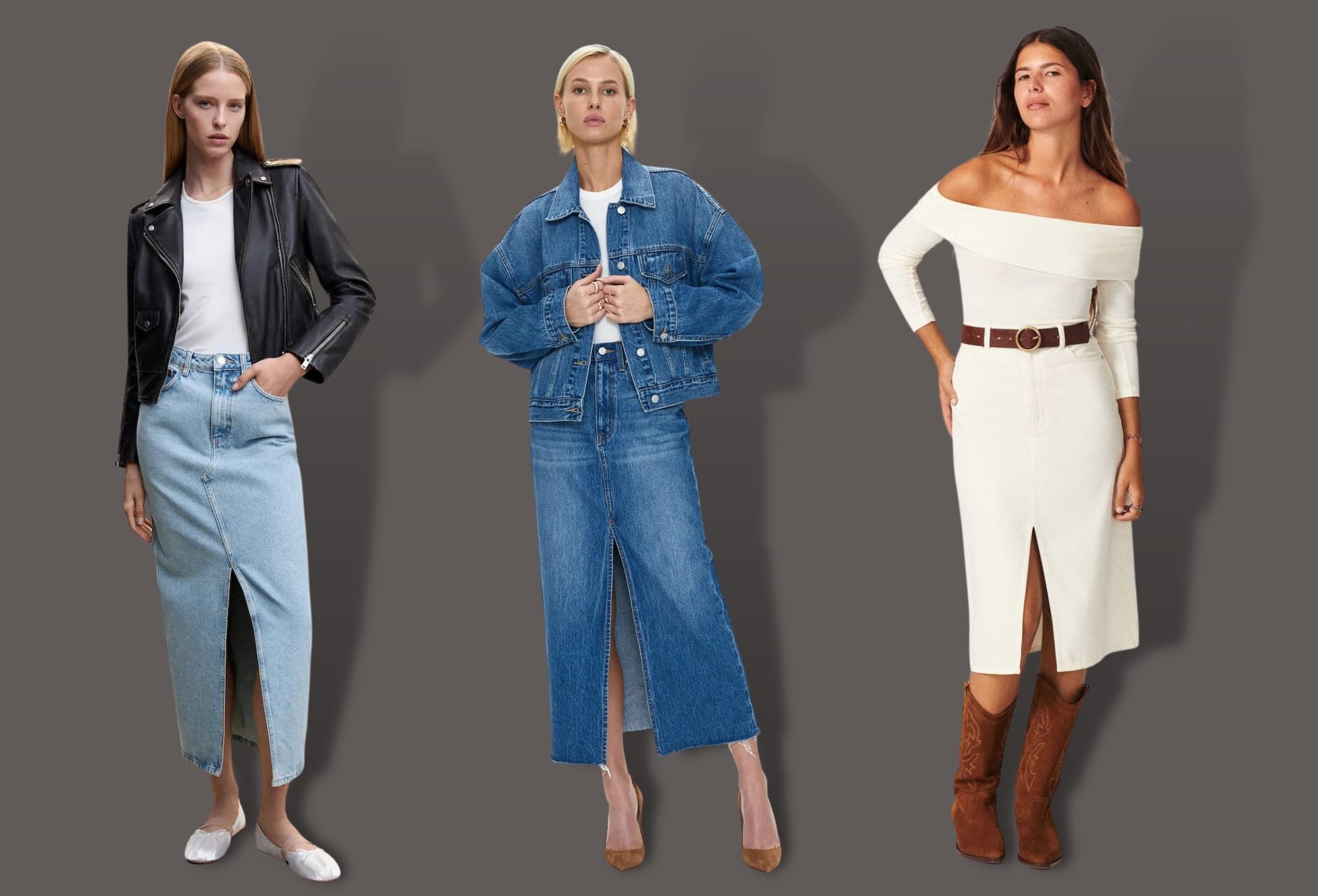 Shop the 15 Best Denim Maxi Skirts, Spring's Hottest New Staple 
A curated collection of top denim maxi skirts inspired by SS23 Fashion Week trends.
The denim maxi skirt has seen a dramatic resurgence in the fashion world this season, being spotted on several of the top Spring/Summer 2023 runways. Fashion icons everywhere are embracing the spring trend, a refreshing departure from its micro mini skirt counterpart that was popularized by Miu Miu's Spring 2022 collection. 
The maxi skirt is praised for its versatility and wearability, making it perfect for any outfit. From MM6 Maison Margiela's distressed styles to Burberry's ultra high-waist cuts, there is no shortage of variety when it comes to styling this look. The maxi has quickly been embraced by fashion influencers everywhere for spring and the denim maxi skirt could very well become your next wardrobe staple for seasons to come. Whether you double up on denim like Bella Hadid at the Givenchy SS23 show or keep it simple with your favorite tees and tanks, the denim maxi skirt is sure to make endless outfit cameos this spring.
Taking inspiration from Spring Fashion Week 2023 styles and trends, we've curated the top denim maxi skirts worth shopping for this spring. Our editors curate our collections against our vetting criteria while also taking into consideration trending denim maxi skirts with rave reviews. By shopping our curated collection below, you help support our publication as we may receive a portion of sales.
Best Denim Maxi Skirts
How We Vetted These Denim Maxi Skirts
Quality: When curating this collection, we evaluated the quality of the materials, skirt details, and value for the price point.
Style: Taking inspiration from SS23 Fashion Week, we considered the style of each skirt by evaluating factors like uniqueness, silhouette, and on-trend details.
Versatility: We focused on denim maxi skirts that can be paired with a variety of clothing and accessories.
Vetting Criteria: We have four core principles for vetting the brands that we feature on our website. Our brand ethos is our guiding principle to ensure that the products we feature align with our values and yours.
Reviews: We only selected the denim maxi skirts with rave reviews from customers. This ensures that you are shopping for products that are not only loved by our curators but are also loved by the rest of the internet.
How To Choose The Best Denim Maxi Skirt for You
With so many denim maxi skirt options available, it's important to consider several factors before making your purchase. Here are five things to consider when choosing a denim maxi skirt:
Length: Consider the length of the skirt and how well it will pair with your shoes and existing wardrobe. What length will flatter your shape and will make you feel most confident?
Style: Do you prefer a more classic and timeless denim maxi skirt or something more modern and trendy?
Material: Determine if you want 100% cotton denim, denim that has more stretch, or recycled denim that's more sustainable.
Comfort: Make sure the length and fit will be comfortable for the occasions you plan to wear your denim maxi skirt.
Price: Set a budget for yourself before shopping so that you can narrow down quality denim maxi skirts that are in your price range.
Denim Maxi Skirt Frequently Asked Questions