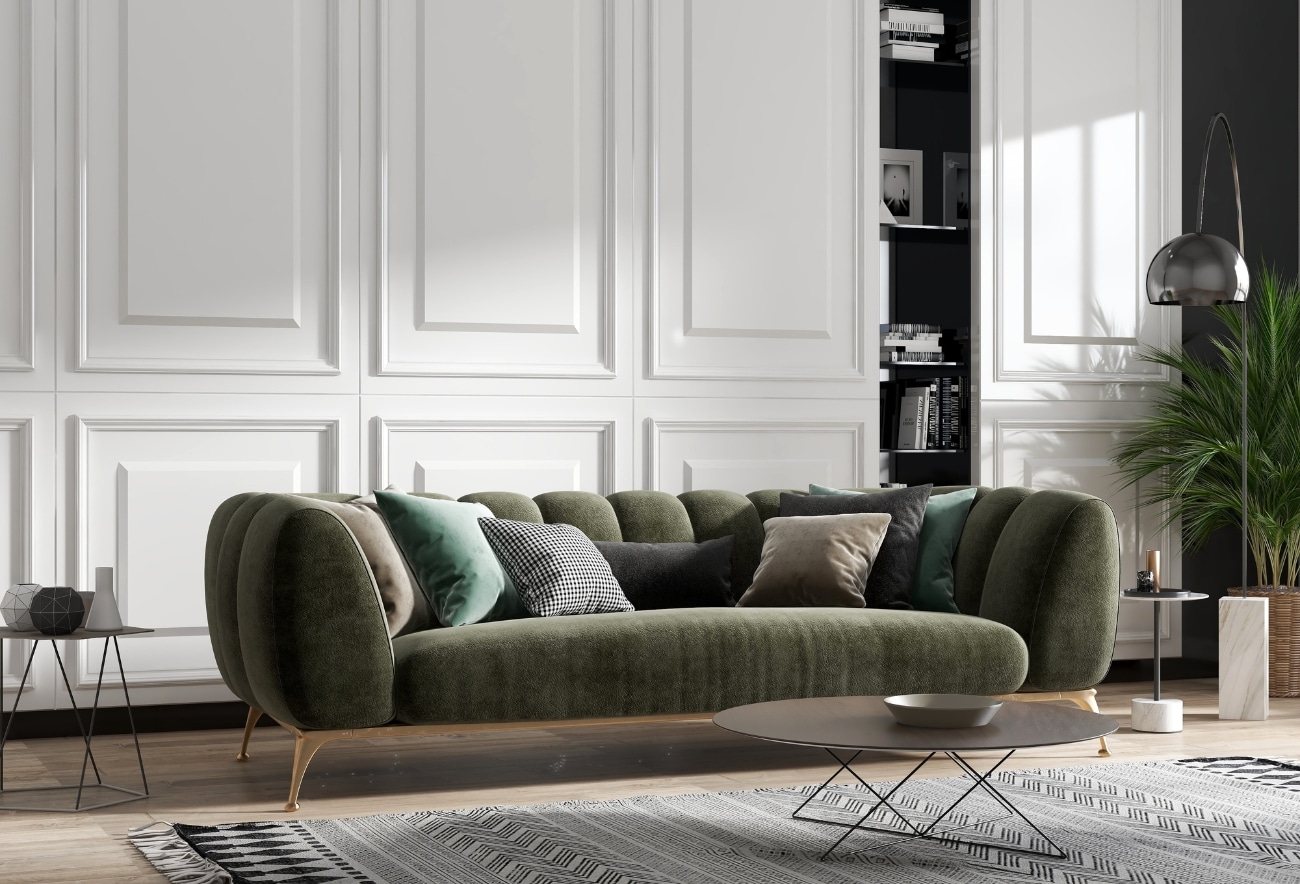 How to Master The Hipstoric Home Decor Trend Taking Over Instagram
Interior designers weigh in on how to incorporate the latest hipstoric home interior design trend into your space.
By now you are well-acquainted with the grand millennial home decor trend with its gilded mirrors and rich embellishments that made our homes look more luxe. Now, the hipstoric home interior design trend is taking over in 2023, combining vintage pieces with modern elements to create a space that is both stylish and timeless.
What is the hipstoric home decor trend?

Cleverly combining the words "hip" and historic" the hipstoric home decor trend is all about mixing old and new. With the goal of creating a space that feels both classic and modern, the hipstoric home aesthetic brings together furniture from different eras and styles, as well as embraces mixing different materials like wood, metal, stone, marble, and glass. 

From the intricate details of classic architecture to the bold colors and patterns of Art Deco, a hipstoric home is truly a work of art. From elegant mouldings and trims to unique design elements such as vintage door nobs and vintage style mirrors, the hipstoric home interior design trend has an undeniable charm that will bring character and personality to any space.


The key to getting the hipstoric home look right is finding furniture and accents from different eras with different styles that have a sense of cohesion whether it be material, color, or even creating intentional contrast to give your space interest. You can also mix old and new by giving vintage pieces a modern twist, such as vintage armchairs with modern upholstery or find modern pieces with classic elements, such as modern lighting with a vintage twist.
Whether you're looking to completely redesign your interiors or just add some character to your space, this trend is one that will stay current for years to come, making it a swoon-worthy aesthetic worth exploring.
Keep scrolling for tips and tricks from interior designers on how to bring this budding trend into your home.
Master the Hipstoric Home Trend
1. Balance vintage pieces and modern elements.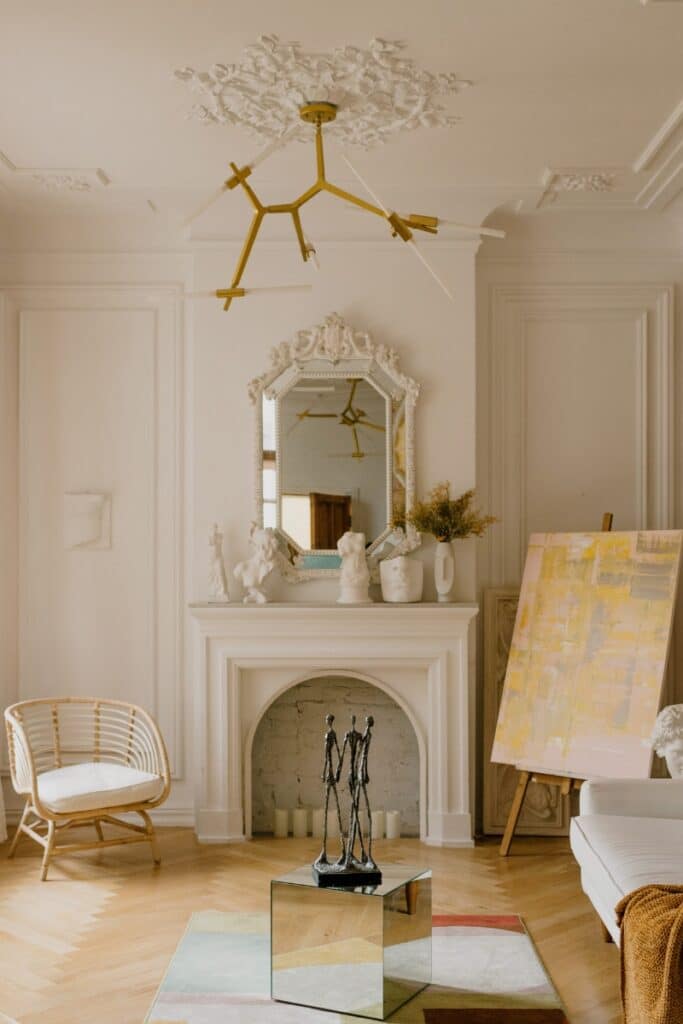 First, focus on creating balance between the vintage pieces and modern elements. Vintage pieces can be anything from antique furniture to vintage artwork or even old family heirlooms. These pieces will add character and charm to any space and create a sense of history in the home.
Modern accents can be anything from lighting to sleek furniture, monochromatic color palettes, and modern art. Seamlessly blending these elements together can be tricky, but if done properly, it will create a unique and eye-catching space.
Your personal taste and style should be your guide to how you balance vintage and modern elements. If you want your space to feel more classic and "storied," strive for 75% vintage and 25% modern accents and accessories. If you want your space to feel more modern with a touch of character strive for 75% modern and 25% vintage. The key is to find harmony with furniture from different eras without giving your space an identity crisis.
One of the key benefits of mixing decor from different eras and styles in the hipstoric home decor trend is it will keep your home from quickly looking dated. "We are saying goodbye to themed interior styles like industrial, farmhouse, and boho that look like they have just come off the set of a movie," says Aoife Tobin from Interior Design Firm Style So Simple. "That doesn't mean that elements of these styles can't be incorporated into a space, they absolutely can, but going with one specific style can potentially make your space look dated quite quickly. Mixing styles is much more timeless. Overall, people are opting to have elements of these styles in their space as opposed to having these styles take over their space."
2. Mix and match textures and patterns.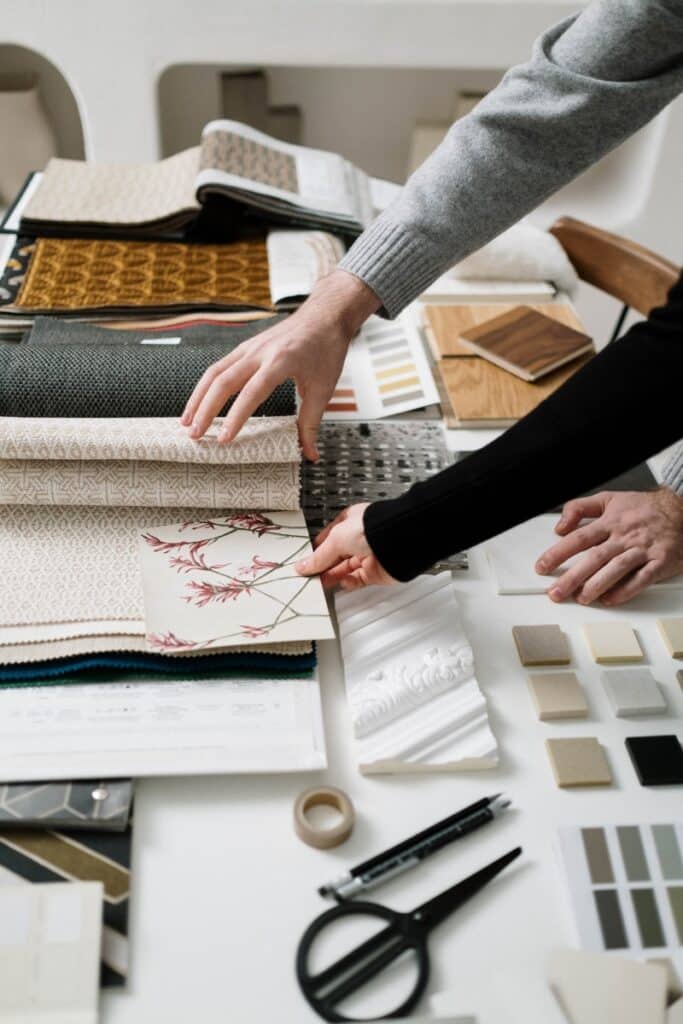 To really make the hipstoric home trend come alive, mix and match different textures and patterns to add dimension to your space. According to Interior Designer Annie Elliott, Principal Designer at Annie Elliot Design, "Hipstoric and Grand Millennial style is a fresh take on maximalism that's making a big comeback right now. The biggest thing to keep in mind with this trend is mixing colors and patterns. For instance, you can have an oriental rug that's very colorful with an intricate pattern and accent your space with throw pillows with two different patterns for contrast. When mixing patterns, you want to make sure you have some white in the background of your pattern because it keeps things fresh and not too overwhelming. For instance, I love mixing floral and plaid, just make sure you have some solid fabrics and colors in your mix so it's not too busy."
3. Choose Quality Materials.
To capture the timeless hipstoric home aesthetic, it's important to choose quality materials that will stand the test of time. When choosing materials, consider how it will look in terms of color and texture as well as how it will perform over time with regards to wear and tear. Additionally, look into any special maintenance requirements such as cleaning or sealing that may be necessary for certain materials.
4. Start with home accessories and artwork.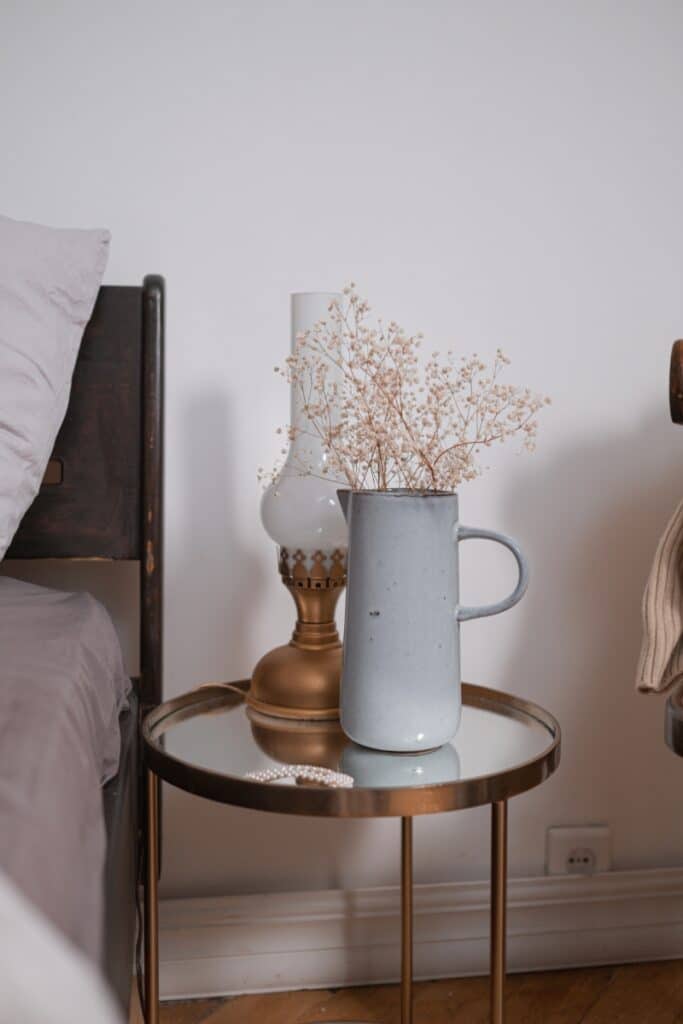 Embracing this trend doesn't have to be a huge home overhaul. You can simply add some hipstoric home touches to bring your space to life. Small additions such as velvet accents, patterned wallpaper, throw pillows, vintage table lamps, persian rugs, and vintage paintings will give each room its own unique look. These accessories are easy to mix and match and you can easily experiment with these accents in different rooms and spaces throughout your home.
Finding vintage furniture and accessories is also a great way to update your home with quality pieces while shopping for your home more sustainably. In addition, quality vintage furniture that has stood the test of time is an investment that can last for life, as opposed to fast furniture which may need to be replaced in a few years.
Another way you can dramatically update your space is to add vintage or modern art to become the focal point of the room. Consider the size and color of the artwork, as well as the wall it will be hung on. To add visual interest to any room, you can create a gallery wall or hang one large canvas for maximum impact. To truly capture the hipstoric aesthetic, try to avoid mass-produced art by shopping vintage or independent artists.
5. Add moulding to elevate your space.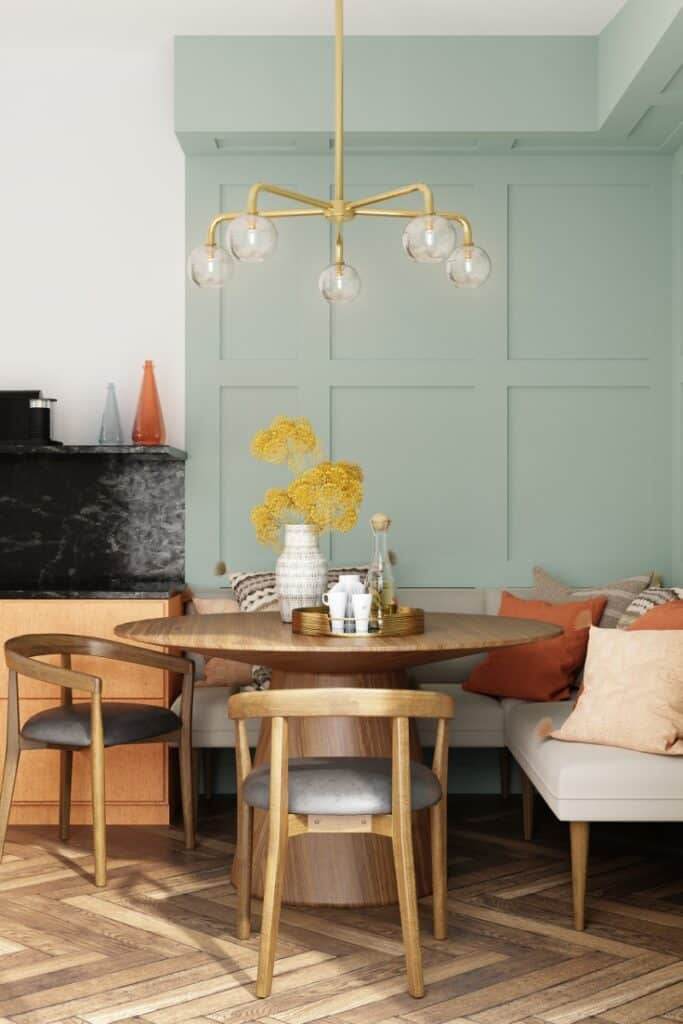 Put the history in hipstoric with classic design details such as crown moulding and wainscoting. Adding moulding to your home is an easy and inexpensive way to add character and style. First, decide what type of moulding you want to install. Crown moulding is a popular choice for adding a touch of elegance to any room, while wainscoting is perfect for creating a timeless look.
For a classic yet modern look, interior designer Marissa Warner from The Home Narrative recommends going with wainscoting that features wider wood panels with minimal detailing. You can also make these wide panels taller for clean lines that open up the space.
6. Add modern and unique lighting.
Lighting is often the focal point of any room so make sure you choose fixtures that will enhance your overall design scheme. According to a design consultant from the Nifty Nest, lighting trends for the next few years will embrace mixed materials, mixed metal tones, and unexpected natural finishes like marble and leather.
Hipstoric home decor lighting tends to lean more modern with a classic twist since modern lighting is one of the easiest ways to make a historic home or more traditional decor look current. Think globe bubble light chandeliers, art deco-inspired lighting, brass finishes, lights in natural materials, and even more futuristic designs to create a stark contrast.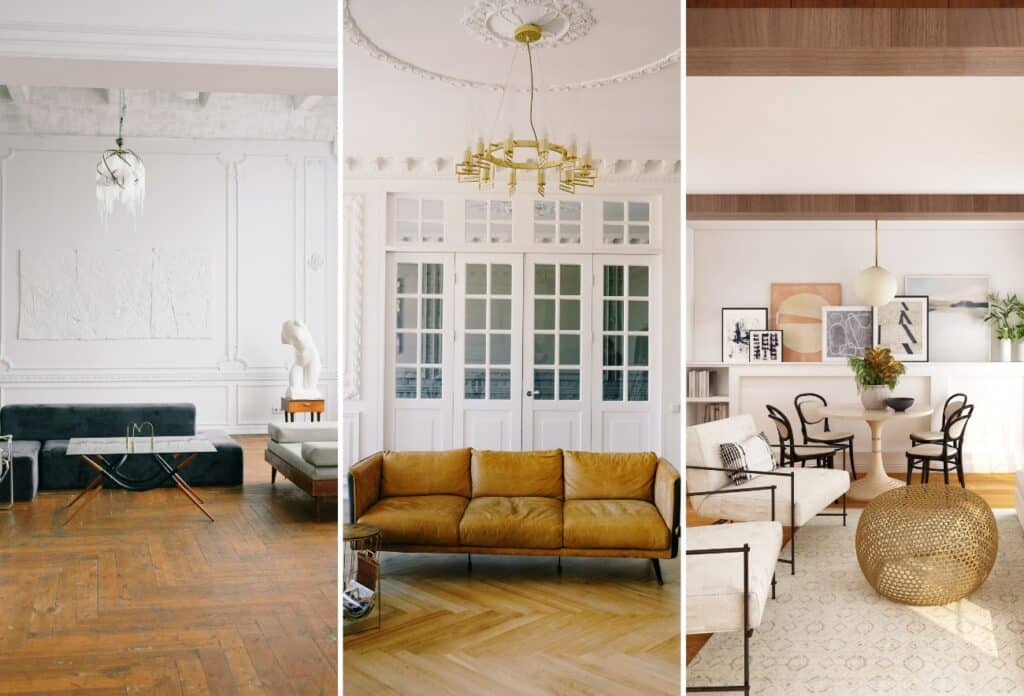 7. Add greenery, organic elements, and pops of color.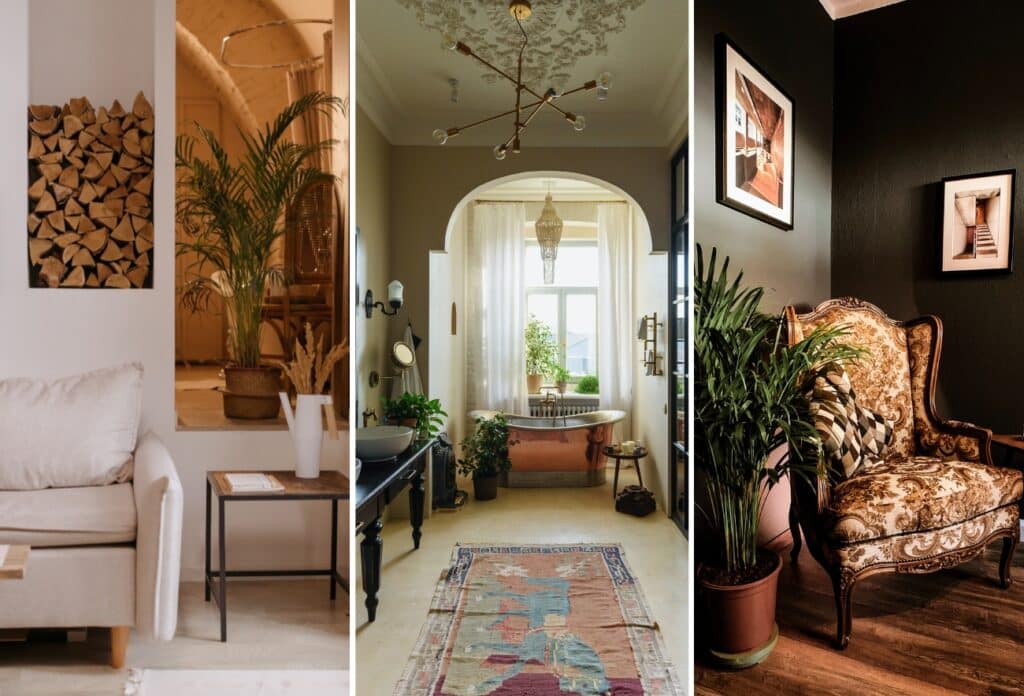 While a monochromatic color palette works perfectly with the hipstoric home aesthetic, adding greenery, organic materials, and pops of color will bring dimension and character to your space. Natural wood will bring a sense of warmth to your space while experimenting with pops of color can give your decor more depth. For instance, upholstering a vintage chair with a bold-colored or patterned fabric will add instant personality to any space.
As always, we can't forget the greenery. Plants are essential when creating a hipstoric home aesthetic as they bring life into any space while also helping to purify the air in your home naturally. Choose plants that fit with your overall design aesthetic such as palm plants or fig leaf trees for an easy way to add some greenery without taking up too much space in the room.
Overall, the hipstoric home aesthetic is a great way to create a stylish yet timeless look in your home. By combining vintage pieces with modern elements, mixing patterns and textures, and adding unique lighting and accents to your interior decor, you can create a beautiful living space that will stand the test of time and future trends. Finally, a timeless trend we can get behind.
Where to Shop This Trend
To capture this look in your home, it's important to know where to shop. Many online retailers sell vintage, antique, and modern furniture that will help you successfully master the hipstoric aesthetic.
What are the best stores for shopping the historic home trend?

If you are ready to bring hipstoric home into your space, there are many online retailers you can shop to perfectly capture the aesthetic. For antique and vintage finds consider shopping 1stDibs, Chairish, Jayson Home, Rejuvenation, Old Plank, Modern Antiquarian, Everything But The House, Midcentury Mobler, The Old Cinema, Narchie, Vinterior, The Hoarde, Anemone, The Antik Store, Merchant & Found, and of course, the usual suspects like Etsy and eBay.

For pieces with a modern twist, consider shopping Pamono, Claude Home, Ballard Designs, Serena & Lily, Lulu & Georgia, Maiden Home, Castlery, Design Within Reach, The MoMa Design Store, AllModern, Anthropologie, Scully & Scully, Burrow, CB2, and Safavieh.