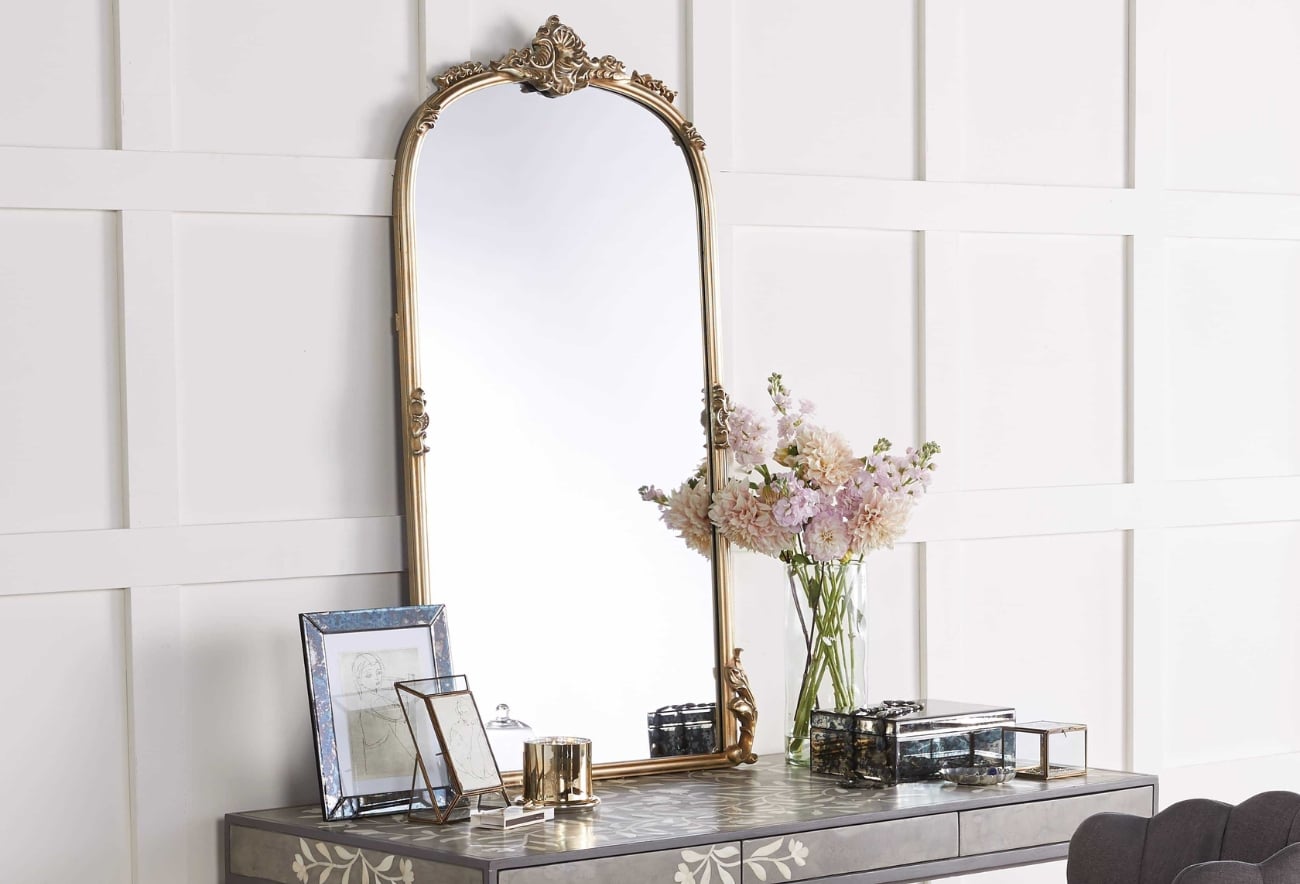 Best Gilded Mirrors to Make Your Home Look Luxe
A curated collection of the best gilded mirrors to elevate your decor.
If you've been following interior design trends like Grand Millennial and Hipstoric decor, then you are no stranger to the power of a gilded mirror to bring a dose of luxury to any room. Whether you want to add a stunning statement piece to your living space or simply make your space feel bigger and brighter, gilded mirrors are the perfect accent piece. Gilded mirrors are not only stunning and luxurious additions to any home, but they have the power to instantly transform a room.
Our editors curate our collections against our vetting criteria while also taking into consideration trending decor styles and brands. By shopping our curated collection below, you help support our publication and editors as we may receive a portion of sales.
Keep scrolling to review the best gilded mirrors that are loved by our editors and have rave customer reviews.
What We Love
We love the swirls of corrosion and off-white distressing that reveals warm metallic undertones in all the right places, creating a rustic, vintage feel that's classic but undeniably modern.
What We Love
We love that this wall mirror comes in a wide range of sizes so you can bring a hint of glamor to a cozy nook or make a statement in a grand dining room. With over 500 customer reviews with an average 4.6 rating, you don't have to take our word for it.
What We Love
We love that this gilded mirror not only features beautiful antique finishes, but it's also handmade for quality that lasts. This gilded mirror comes in both a brass finish and oil-rubbed bronze to add style to any decor. Whether you hang this gilded mirror in your entryway or above your vanity, the Ballard Designs Beaudry mirror transforms any area into a classically chic oasis.
What We Love
We love the versatility of this gilded mirror. Whether you're envisioning this unique mirror in a large country manor or you pair it with modern pieces for more of an eclectic look, this mirror is sure to stand out.
What We Love
If you want to dabble in the gilded mirror trend with a more streamlined silhouette, your search is over. We love the unique yet subtle shape of this wall mirror that will bring life to any room.
What We Love
We love that each mirror has a hand-applied antique finish so every mirror is truly unique. The silver finish brings an understated elegance to any decor pairing well with a neutral color palette and natural materials.
What We Love
We love the old-world European elegance perfect for a bedroom, over a bathroom vanity, or part of a hallway gallery wall. With rave reviews from customers, our editors aren't the only ones who love this versatile round mirror. Also available in oil-rubbed bronze.
What We Love
We love the old-world European elegance perfect for a bedroom, over a bathroom vanity, or part of a hallway gallery wall. With rave reviews from customers, our editors aren't the only ones who love this versatile round mirror.
What We Love
The vintage design gives off an unbeatable sophisticated charm that will make you feel like you've stepped into a Parisian palace. This gilded mirror is also available in vertigris and gold.
What We Love
Labarge giltwood mirrors are simply stunning and this unique mirror is worth the price. We love the ornate detail of the gold frame that will bring a sense of opulence to any small space. Complete the look with classic wallpaper.
What to Consider When Buying a Gilded Mirror
Gilded mirrors are a beautiful addition to any home decor. They add elegance, sophistication, and a luxe look to any room. Before you buy a gilded mirror, there are several things you should consider. Below are the key considerations to keep in mind.
Size:
Consider the size of the mirror and where you plan to hang it. Make sure it fits the space and doesn't overwhelm the room.
Style:
There are many styles of gilded mirrors available, from ornate and traditional to sleek and contemporary. Select a gilded mirror that reflects your decor style.
Frame Material:
Gilded mirrors can be made from various materials such as wood, metal, or resin. Consider the durability and maintenance required for each material.
Quality:
Look for high-quality craftsmanship and materials that will ensure your mirror lasts for years.
Price:
Gilded mirrors can range in price from affordable to very expensive depending on their size, style, and quality. Set a budget before you start shopping.
Reflection Quality:
The reflective surface of the mirror should be clear and free of distortion.
Lighting:
Consider how lighting will affect the appearance of the mirror in your space.
By keeping these factors in mind when shopping for a gilded mirror, you'll be able to find one that enhances your home's aesthetic while also meeting your practical needs.
How We Vetted The Best Gilded Mirrors
Quality: We evaluated the quality of these mirrors including the materials used, attention to detail in the craftsmanship, and the brand behind the design.
Design: We curated gilded mirrors that reflected antique details, functional designs, and a variety of dimensions.
Value: We evaluated these mirrors considering the value for the price point.
Vetting Criteria: We have four core principles for vetting the brands that we feature in our publication. Our brand ethos is our guiding principle to ensure that the products we feature align with our values and yours.
Reviews: We only picked gilded mirrors with rave customer reviews. This ensures that you are shopping for products that are not only loved by our curators but are also loved by the rest of the internet.