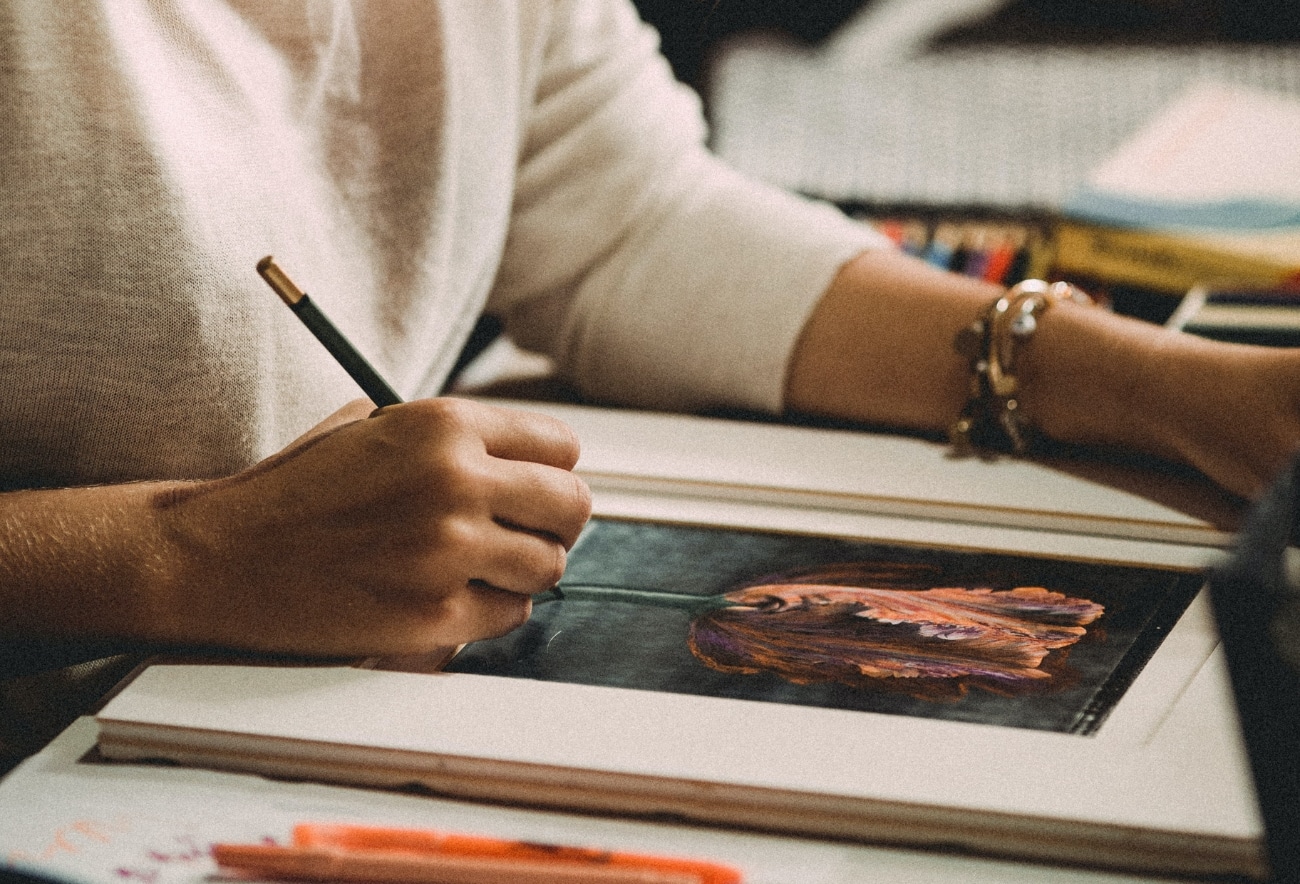 10 Online Art Marketplaces to Shop Emerging Independent Artists
One of the easiest ways to make your living space more inspired is by adding original or limited-edition artwork from independent artists. We've uncovered 10 online art marketplaces that feature emerging artists so you can discover unique artwork and photography within a range of styles and price points.
Whether you are a seasoned art collector or are just starting to explore the world of independent art, many of our featured online art marketplaces give you access to a team of in-house art advisors to help you select the perfect piece.
Shop these unique online marketplaces to find your next favorite artist.
Every Tuesday, Tiny Showcase releases a limited edition of unique art. For each print release, Tiny Showcase donates a portion of the proceeds to a nonprofit organization of the artist's choice. Over the years Tiny showcase has expanded to include letterpress prints, screenprints, foil-press prints, calendars, and more. After three purchases from Tiny Showcase, you can activate a membership to the Small Works Collectors Club that comes with a gift pack and access to special membership services.
In August of 2020, Tiny Showcase was acquired by artist and educator Julia Gualtieri. Gualtieri comes with decades of immersion in art, and in Julia's approach to the arts and curating work, she's always looking for ways to make artmaking and art collecting more fun and accessible.
---
OUR CURATED PICKS
---
Founded in 2007 by Jen Bekman, 20 x 200 has been connecting artists and collectors with a mission of making art more accessible for all and giving artists the opportunity to make a living through their craft.

The platform collaborates with contemporary artists to produce limited-edition artwork exclusively for 20×200. Each museum-quality, carefully packaged contemporary art print comes with a Certificate of Authenticity that's numbered and hand-signed by the artist. They also partner with libraries and institutions like the Metropolitan Museum of Art and Library of Congress to offer a collection of Vintage Editions that are painstakingly restored and perfected by a production team.
---
OUR CURATED PICKS
---
Tappan co-founder, Chelsea Neman Nassib, launched Tappan with a vision to connect leading emerging artists to new and seasoned collectors across the world while supporting artists to fully explore and evolve their practice.
Tappan's mission is to reinvent the approach to discovering and collecting contemporary art by showcasing exceptional emerging talent through digital content, art exhibitions, and strategic partnerships. Tappan is committed to investing in artists' careers, supporting development through residency programs and exhibitions while offering an opportunity to connect directly to their collectors.
---
OUR CURATED PICKS
---
Founded by Mariam Naficy, Minted is a design marketplace that sources creative content from a global community of independent artists. Growing up in five countries in the Middle East and Africa, Naficy discovered interesting art and design in her travels, exposing her to the idea that there was hidden creative talent around the world whose work was not accessible to consumers. Minted was born to surface these artists through an online community that today features "Direct from the Artists," a curated marketplace of one-of-a-kind items shipped straight to you from the independent artist's studio, limited edition art, and more.
An early pioneer of crowdsourcing, Minted holds monthly art and design challenges that are open for both submission and voting. The 'crowd' curates Minted's product selection by rating products, and Minted utilizes analytics to evaluate votes and determine winners.
Minted is also driving towards greater sustainability with over 80% of packaging made from recycled, post-consumer waste, plant-based, or sustainably-sourced materials.
---
OUR CURATED PICKS
---
Juniper Print Shop sells affordable, designer-curated art prints that make a statement and transform any space. All of the platform's art is licensed from over 40 independent artists and curated by interior designer and founder, Jenny Komenda. Komenda is also the founder of Juniper Home where she shares her favorite furniture and home decor picks.
---
OUR CURATED PICKS
---
Artsy is an online marketplace to discover, buy, and sell fine art. You can search over 1 million artworks from Artsy's network of partners, including the world's leading galleries, auction houses, fairs, and institutions. To connect collectors to meaningful art that moves them, Artsy features the largest selection of international emerging, established, and blue-chip artists.
Artsy specialists are available to all Artsy members, from leading auction houses, galleries, and museums, and are ready to help you find works that you love—with your price range, taste, and current collection in mind.
---
OUR CURATED PICKS
---
Founded by, Tze Chun Aims, Uprise Art is an online art gallery that makes it easy to collect original artwork by contemporary artists. With a team of in-house art advisors, you can receive skilled advice to help you discover new artists completely free of charge. All artwork in the online gallery arrives framed and ready to hang, making updating your home with unique art a seamless process. The online gallery also offers a payment plan through Affirm, so you can bring home your artwork now and pay over time through monthly installments.
---
OUR CURATED PICKS
---
Founded in 2011 and based in London and Miami, Artfinder connects people to unique and compelling artists. Artfinder believes in ethical production and in building a business that makes all of our lives better by supporting creativity in communities worldwide.
---
OUR CURATED PICKS
---
Saatchi Art's mission is to help you discover and buy from the best emerging artists around the world that suit all budgets, styles, and spaces. Discover new curator-approved artworks in special collections released weekly, or you can work with an art advisor to get personalized recommendations. We love their visual search feature that allows you to easily select an artwork you like and see similar matches to easily discover new artists that align with your taste and style.
---
OUR CURATED PICKS
---
Founded in Copenhagen, Paper Collective brings contemporary art from around the world to its online marketplace in collaboration with handpicked designers, artists, illustrators, and photographers. With a focus on sustainability, Paper Collective offers prints that are produced locally in Denmark using FSC-marked material. Social responsibility is also a priority for the brand donating a portion of every sale to good causes around the world. Paper Collective completed a project in 2020 to help build an elementary school in rural Nepal and is currently supporting the "Waste to Value" project with the WWF focused on fighting plastic pollution in Kenya while providing jobs to local women.
---
OUR CURATED PICKS
---