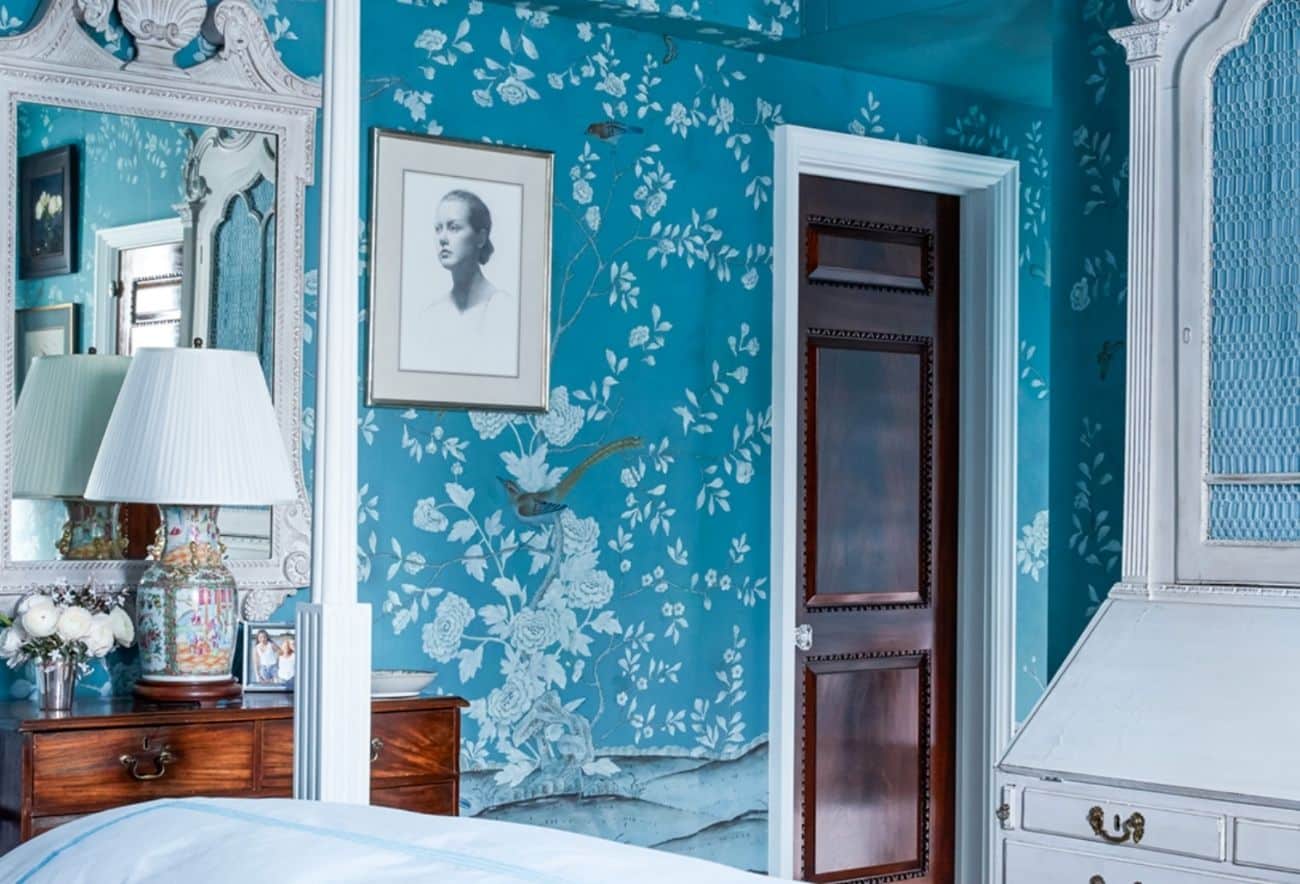 From Common to Captivating: Unique Hand-Painted Wallpaper to Elevate any Space
Unique, hand-painted wallpaper is one of the easiest ways to add character to your space and infuse inspiration into your home. Form meets function with beautifully crafted wallpaper that visually enthralls while adding height and depth to any room. Whether you choose bespoke, chinoiserie wallpaper (a hand-painted pattern that never repeats) or opt for a bold modern accent wall, these unique, hand-painted wallpapers will transform your space from common to captivating.
1. Gracie
Founded in 1898, the Gracie family has offered the finest range of hand-painted scenic wallpaper, antiques, and lacquer.
Drawing on a 300 year-old tradition, Gracie Studio paints each order by hand with detailed customization. When Charles R. Gracie founded Gracie in 1898 in New York City, he started his business selling custom lamps and unique home furnishings.
As the business evolved to include chinoiserie wallpaper, Gracie became the first company to import hand-painted wallpapers to the United States since the 1700s, paving the way for these exquisite designs to flourish in America. Today, Gracie's collection of hand-painted wallpaper is as inspiring as ever with collections including Scenic Florals, Landscapes, Japanese Designs, and more.
Explore
2. de Gournay
de Gournay, a British luxury interiors company, specializes in creating breathtaking hand-painted wallpaper, fabrics, and porcelain. These hand-painted works of art were born out of necessity when founder Claud Cecil Gurney sought to buy 18th-century hand-painted Chinese wallpapers to decorate his London townhouse. Proving to be difficult to find or too expensive, Gurney went straight to the source and commissioned hand-painted wallpapers from artists in China.
Today, de Gournay has showrooms around the world spanning from New York to Shangai, and features a vast array of hand-painted wallpapers rooted in the tradition of centuries-old chinoiserie panels, often depicting lavish, vibrantly hued garden scenes.
According to the brand's philosophy, de Gournay's preference is for vibrant, balanced and contrasting colors that create an aura of happiness, allowing you to relax surrounded by beauty after a hectic day. Wallpaper Collections include the Chinoiserie Collection, the Scenic Collection, the Japanese & Korean Collection, the Diaghilev collection, and more.

Craving more to the story? Immerse yourself in the beauty of de Gournay with the book "de Gournay – Hand Painted Interiors."
Explore
3. La La Curio
LALA CURIO specializes in hand-painted and embroidered Chinoiserie wallpaper, Cloisonné tiles, and bespoke hand-crafted furnishings.
Founder Laura Cheung Wolf's flair for interior design is steeped in three generations of her family's expertise in the imperial crafts. Today, LALA CURIO is driven by its mission to invigorate forgotten arts for future generations.
The LALA CURIO wallpaper collection includes an archive of poetic landscapes, Chinoiserie sceneries and playful contemporary illustrations that revives ancient artisanship with contemporary humor.
The collections include Chinoiserie, Contemporary, and Floral and Fauna.
Explore