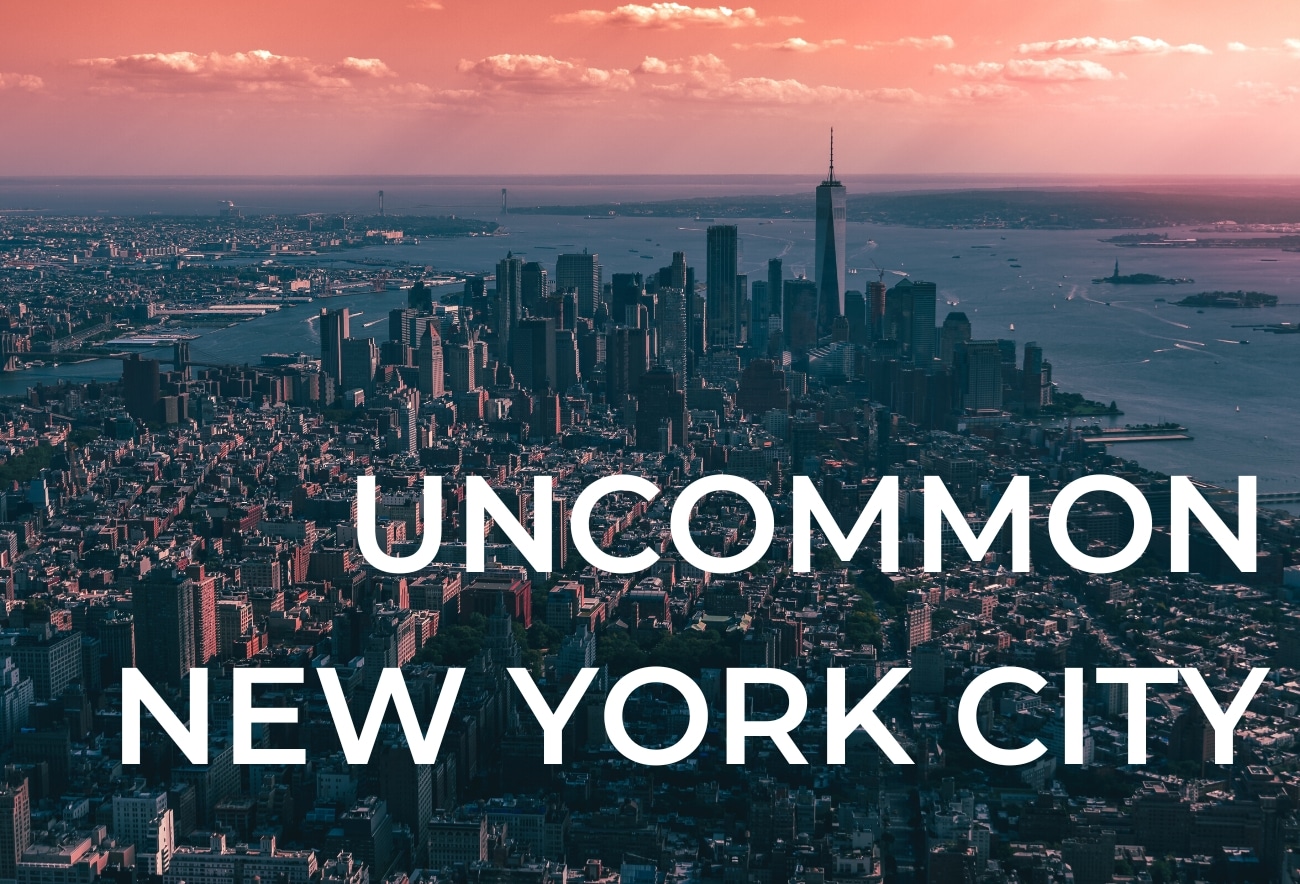 New York City Hidden Gems & Local Hotspots
NEW YORK CITY TRAVEL GUIDE
This New York City Travel Guide is a part of our "Uncommon Travel Guide" series highlighting curated hidden gems and local hotspots.
New York is not just a city, it's a character in its own right. Its iconic scenery has played backdrop to some of our favorite shows and movies, drawing us into its vibrant energy that somehow never seems to run out. From the bustling streets of SoHo to quiet nooks in Central Park, NYC has something for everyone.
Our Uncommon Destination Guide digs deep into this iconic city, uncovering the best hidden gems throughout. We've curated truly unique experiences, local favorites, and the occasional local hotspot. Learn where the fashion set flocks on a Friday night, or uncover unique speakeasies serving up Instagram-worthy cocktails. Whether you want to shop thoughtfully curated boutiques, grab a quick bite, or indulge in Michelin-starred cuisine, this guide will help take your NYC experience to the next level.
Make sure to check back often, as we're always hunting for new and exciting spots in this ever-changing city.
In This Guide
---
---
Discover NYC Hidden Gems
Boutique Hotels
From uptown to downtown, below we've curated our favorite New York City boutique hotels boasting stunning decor, chic style, and unique amenities.
Dining & Nightlife
From historic restaurants and bars to hidden speakeasies and one-of-a-kind experiences, read on for hidden gems and local hotspots you'll love.
Popular NYC Dining & Bars
Now that you've uncovered the hidden gem restaurants and bars in New York City, don't forget some of the most popular restaurants, New York institutions, and nightlife.
Boutique Shopping
There are few things we love more than a thoughtfully-curated boutique. From whimsical bookstores to trendy fashion boutiques, read on for unique shopping, hidden gems, and local favorites.
Popular NYC Shopping
Now that you've uncovered the hidden gems, don't forget some of the most popular shopping destinations in New York City. These tried and true stores and neighborhoods are popular for a reason.
Activities & Culture
While iconic New York landmarks like Radio City Music Hall or the Empire State Building will always have a place in our hearts, it's the unexpected hidden gems that showcase the true beauty of New York. From hidden gems in the New York Harbor and the beautiful Cloisters Museum located in Fort Tryon Park to the beauty of the historic stone street and the city hall subway station in downtown Manhattan, discover a special New York moment.
Popular NYC Attractions
Now that you've uncovered the hidden gem attractions, don't forget some of the most popular attractions in New York City.
The Hot List
If you are limited in time or need to narrow down your itinerary, below are some of the top experiences that should make the cut.
Resident
Sleep No More
Nubeluz
The Office of Mr. Moto
Showplace NYC
Bemelman's Bar
Torrisi
Tansy's Polite Society
The Dead Rabbit
Gallagher's Steakhouse
Don Angie
Our Favorite "No-Frills" Finds for You to Explore
Sometimes the "no frills" experiences make a lasting impression on our travels. From grabbing a quick breakfast to hole-in-the-wall dive bars and late-night eats, here are some of our favorite "no-frills" recommendations.
Oyster Happy Hour
If you're seeking an awesome oyster happy hour you can enjoy $1 oysters and a happy hour menu every day from 5-7 at Bar Belly or half a dozen oysters and a beer for $12 from 5-7 at local favorite Upstate.
Quick Morning Bite
For a quick morning bite enjoy a delicious breakfast burrito from Downtown Bakery or breakfast staples from La Bonbonniere, an unpretentious diner that serves some pretty delicious chocolate chip challah french toast. For a classic New York bagel, check out Ess-A-Bagel for a quick bite that doesn't disappoint.
Quick Tacos
For quick yet delicious tacos visit Los Tacos No. 1, Taco Shop, or Los Mariscos if you have a hankering for seafood tacos.
Dive Bars
For a hole-in-the-wall dive bar try Milano's Bar, Johnny's Bar, Sophie's Bar, Spring Lounge, 169 Bar (gets rowdy at night), Home Sweet Home (you can dance to Motown on Friday nights), Forgtmenot (has great food) and WXOU Radio Bar.
Intimate Cocktail
If you're a whiskey lover stop by On The Rocks, an intimate bar serving over 150 whiskeys, or if you prefer pairing your spirits with a good cigar stop by Hudson Bar and Books, one of the oldest cigar bars in the city. For intimate cocktails visit The Bar Upstairs in Tiny's (located in a pink townhouse you cannot miss) or The Garrett West located in the back of Five Guys in the West Village.
For affordable cocktails stop into Botanica with $11 cocktails, Mr. Fong's with cocktails for $10-$13, or Holiday Cocktail Lounge serving short cocktails for $7 and cocktails for $13-$14.
If you prefer an intimate cocktail with a side of dancing, check out The Lounge Downstairs at Macao Trading Co or enjoy dancing downstairs at Kind Regards, Wiggle Room, or Discolo (downstairs at Al Coro). For good measure, Lullaby, Dingaling, and Joyface are all intimate bars where you can dance the night away.
Comfort Food
For the best perogies visit Veselka (open 24 hours), enjoy delicious falafel from Mamoun's, grab a late-night hotdog at Crif Dogs, or enjoy some of the best Sichuan Chinese food at Han Dynasty. You can't go wrong with a slice from Joe's Pizza or if you're a seafood lover, get the clam pie from Lombardi's, you won't regret it. For a "no-frills" brunch with delicious food and 3-for-1 brunch cocktails, check out Supper. Last but not least, if you're searching for a solid, no-frills burger check out the latest location for The Gotham Burger Pop-Up for a delicious smash burger. If you prefer a bistro-style burger, while it doesn't quite fall into the "no-frills" category, Raoul's serves a pretty amazing "Au Poivre" burger that's off-the-menu, only available at the bar, and has limited availability with only 12 burgers available each night.
Featured New York City