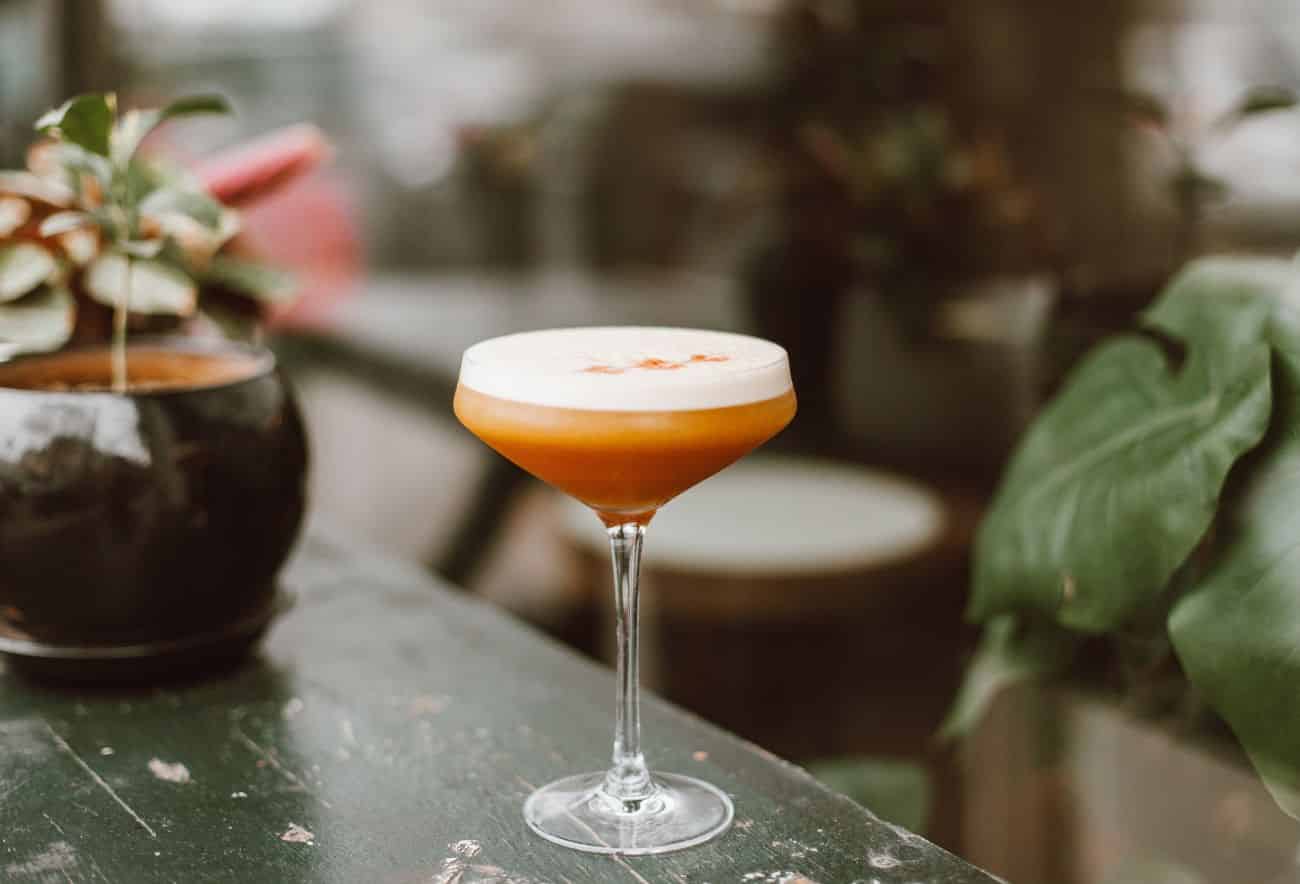 Spring Cocktails from Iconic New York City Bars to Sip and Savor
As we welcome spring by reinvigorating our wardrobes with bright colors and florals, our palate begins craving equally bright flavors. From the Upper East Side to Brooklyn, inspired spring cocktails infused with floral notes, fresh herbs, and fruit-forward flavors begin to bloom on some of the most coveted cocktail menus. Whether you prefer to imbibe from the privacy of a members-only lounge, with views of Central Park, or from a swanky spot downtown, you'll savor the scene as much as the sips at these iconic New York restaurants and bars both classic and new.
If you are on the hunt for a creative spring cocktail in New York City, look no further.
The "II" Cocktail from Chapel Bar
THE SIP
The "II" cocktail is made of vodka, elderflower liqueur, yellow chartreuse, fresh lime juice, orgeat, fresh strawberries, and soda. With the secret recipe of Chartreuse being guarded by monks at the Monastery of Grande Chartreuse, each sip is sure to be a spiritual experience.
THE SPOT
Tucked away in Fotografiska and a former 19th-century chapel reimagined, Chapel Bar is home to an exclusive member lounge after dark including a thoughtfully-curated cocktail program.
THE SIP
Made with caviar vodka, English oak-smoked vodka, vermouth, and bitters du Japon, indulge in a cocktail of caviar, smokey and vast, pulling you into the waves of the sea.
THE SPOT
Named for her family name, Les Trois Chevaux is owned by acclaimed chef and proprietor, Angie Mar. Les Trois Chevaux embodies a renaissance of the great French restaurants of New York's eras past with simplistic elegance, an eye for opulence, and the procurement of the finest ingredients in every dish. While each dish takes you on a unique culinary journey, each cocktail tells a story. When browsing the creative concoctions on Les Trois Chevaux's cocktail menu, you'll find a personal anecdote from Chef Mar or an inspiring quote paired with each cocktail.
The ambiance is as compelling as Les Trois Chevaux's culinary offerings. Having fallen in love with New York City's vibrant and creative energy, Mar ensures that Les Trois Chevaux encapsulates New York's artisans through its design elements and artwork.
The Earl Grey Martini from Bemelmans Bar
THE SIP
Perfect for a rainy day, enjoy this soothing spring cocktail made with Grey Goose infused with earl grey tea, lemon juice, honey syrup, and a sprig of lavender.
THE SPOT
With masterpiece murals by Ludwig Bemelmans, the creator of the classic Madeline children's books, Bemelmans Bar is a timeless Upper East Side classic that draws in a sophisticated crowd with its extensive drink menu and live entertainment. The Art Deco decor and warm, candlelit ambiance will whisk you away to New York's most glamorous era.
THE SIP
Tart and refreshing, The Amelia is made with vodka, St Germain, blackberry purée, fresh lemon juice, and garnished with mint.
THE SPOT
A speakeasy in the heart of the West Village, Employees Only opened in 2004 by five industry friends. With an award-winning bar program hailed "World's Best Cocktail Bar" by Tales of the Cocktail, you can expect flawlessly crafted cocktails that adapt to the seasons every time you set foot in this cozy, unpretentious bar. If you wish to see what's in store for your future beyond your next cocktail, on some evenings, Employee's Only has a fortune teller that will reveal what's in your stars.
The Penicillin Cocktail from Temple Bar
THE SIP
The perfect remedy to perk up any evening, the Penicillin from Temple Bar is made with scotch, fresh lemon, ginger, honey, and an Islay float.
THE SPOT
Temple Bar opened in Nolita in 1989, then closed in 2017, and now it's back in action at its original location under new management. The space has stayed true to its Art Deco decor, boasting rich woodwork, black and white tiled floor, and golden accents. Dim mood lighting and complimentary popcorn will keep you savoring the scene and the sips well into the night.
The Clever Clover Club from Caffe Dante
THE SIP
The Clever Clover Club cocktail featured at the original Caffe Dante in Greenwich Village is made with Bombay Sapphire, St. George raspberry liqueur, raspberry, lemon, vanilla, clarified milk, and rosé prosecco.
THE SPOT
Dante has been a New York City institution in Greenwich Village since it opened its doors in 1915. Now a registered New York City landmark, Dante has expanded to include locations in West Village and the Seaport District. Voted "World's Best Bar" in 2019, every cocktail at Dante offers something unexpected. From a new spin on an old classic like the Café Negroni, with rum, marsala, and coffee liqueur to inventive martinis and spritzes, clever cocktails and a cozy, casual environment will give you a warm welcome.
À La Folies-Bergère Cocktail from Le Coucou
THE SIP
At your next dinner at Le Coucou, enjoy The À La Folies-Bergère cocktail made with armagnac, gentian, lemon, and egg white.
THE SPOT
After taking Paris by storm, internationally acclaimed chef Daniel Rose returns home with Le Coucou. A gracious modern nod to fine European gastronomy, Rose brings the true essence of fine French dining to New York City alongside Justin Smith who has curated a classic yet curious seasonal cocktail menu. Start the evening off right by ordering a delicious cocktail or aperitif while you wait for your table.
THE SIP
Savor the night with The Spanky made with mezcal, lime, passionfruit, and cinnamon.
THE SPOT
With bright-yellow booths, wood-paneled walls, and a fish tank behind the bar, sip cocktails with a retro vibe at The Flower Shop. Grab a bite upstairs or head downstairs to mingle and shoot some pool in what feels like a late-night party in grandma's basement complete with vintage photographs, floral upholstery, and a bubblegum-pink fireplace.
THE SIP
Wake up your senses with the Viridian Green cocktail made with bourbon, Vicario artichoke liqueur, ginger, and lemon.
THE SPOT
From the owners of American Bar, Saint Theo's is an Italian restaurant in West Village that draws inspiration from one of Italy's most inspiring cities: Venice. Saint Theo's exquisitely designed decor boasting parquet floors, a gilded ceiling, plush seating, and vintage photography will transport you to the Italian coast, spritz in hand. Inventive cocktails complement traditional Venetian cicchetti, housemade pasta, seasonal salads, and fresh seafood.
THE SIP
It's a mystery, ask the bartender.
THE SPOT
From Scott Sartiano, the owner of ZERO BOND, discover a luxurious hideaway perched on the 47th floor of the Park Lane Hotel which boasts an esteemed address on "Billionaire's Row." With sweeping views of Central Park, sip your cocktail in style surrounded by lush greenery and Art Deco opulence. With a cocktail menu curated by Zero Bond bar director Adam Baca, any selection on the menu is sure to impress.
THE SIP
The Mezcucha cocktail is made with mezcal, kombucha, ginger, lemon, and cardamom garnished with mint.
THE SPOT
Masquerade is an Iranian bar in Williamsburg, Brooklyn with a laidback vibe offering a short menu of cocktails and mezze. The cocktails successfully incorporate Iranian-inspired ingredients like saffron, cardamom, tamarind, and pomegranate for a flavor profile outside the everyday.
THE SIP
The Zelenskyy Mule is made with Ukrainian vodka, lime, ginger beer, and a healthy dose of resistance to support the people of Ukraine. A portion of the proceeds for this cocktail is donated to World Central Kitchen which has provided over 9 million meals and delivered 5 million pounds of food throughout Ukraine and surrounding countries.
THE SPOT
Located beneath a stunning, nine-story Victorian-era atrium in The Beekman Hotel, The Bar Room is set with rich, jewel-toned furnishings delivering a stylish ambiance for celebratory cocktails no matter the occasion. Pair your classic cocktail with timeless culinary favorites such as locally-sourced oysters on the half shell, caramelized onion dip & Tom Colicchio's signature wagyu burger.
THE SIP
The Mile High cocktail made with Haku vodka, kalamansi, Crème de Violette, maraschino, and rose petals is a purple dream with a spritz of magic.
THE SPOT
Glamourous and provocative, The Bar at the Baccarat Hotel in Midtown takes its visual cues from great American long bars of decades past, glamorous ballrooms, and the royal stables at Versailles with distinctive barrel vaulting. With grand, shimmering chandeliers overhead, scarlet walls, and distinctive art, no detail is spared at this iconic bar. Each cocktail is a feast for the senses with unique libations presented in stunning crystal Baccarat glasses.
Discover more NYC hidden gems.