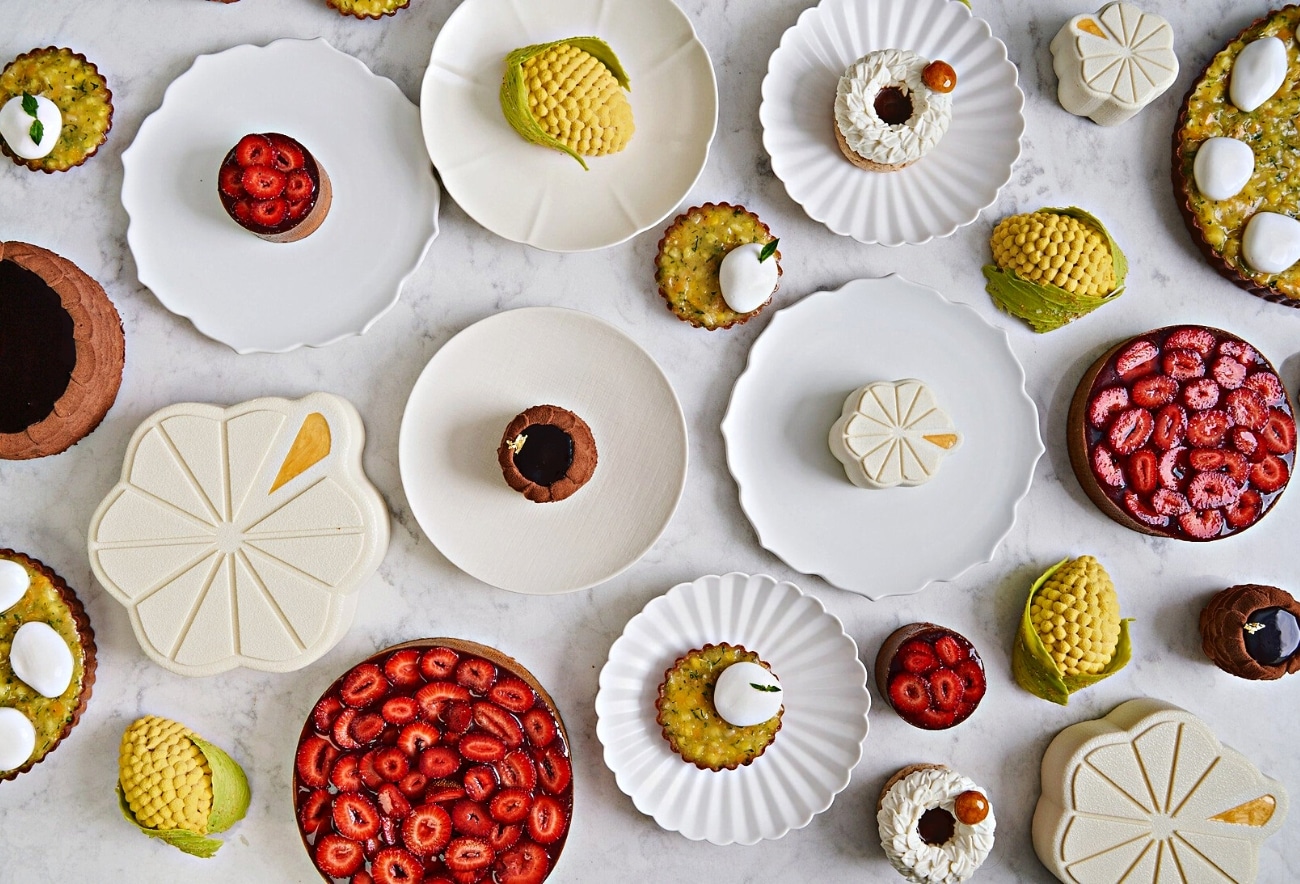 Discover Edible Art at Lysée, A Pastry Shop Meets Art Gallery in NYC
Discover Lysée, a "gallery of confections" in New York City featuring edible art.
While its name may sound like a designer fashion brand, Lysée is the latest marvel in the world of art and food. Located in Flatiron, Lysée is a French Korean pastry shop that serves artistic pastries in a "gallery of confections" giving a whole new definition to the term "eye candy."
The brainchild of chef Eunji Lee, Lysée is a celebration of pastry as edible art. From their signature mousse cake to their decadent tarts, each dessert is carefully crafted with an eye for detail and flavor. The gallery also features a cafe where you can enjoy creative coffee concoctions while admiring the artistry of the pastries on display.
About Lysée
The name Lysée (lee-zay) is derived from the French word "Musee" which means "museum," the perfect name to encapsulate the Lysee experience with a dine-in cafe on the first floor, and a gallery on the second floor where you can admire meticulously crafted pastry art on display.
Chef Eunji Lee is no stranger to the art of trompe l'oei which is French for "to deceive the eye." After spending three years at the acclaimed restaurant Ze Kitchen Galerie in Paris, she then trained under Alain Ducasse and Cedric Grolet (famous for his edible fake apples) at the three Michelin-starred Le Meurice for another four years.
In 2016, she became the Executive Pastry Chef of Jungsik, a Korean restaurant in Tribeca with two Michelin stars, where she crafted her famous fake banana dessert. Yet, at Lysée you won't find hyper-realistic desserts masquerading as your favorite foods. What you'll find is something much more unexpected. You'll uncover artful creations full of creativity and precision that are something truly unique on their own. The famous corn dessert doesn't exude a sense of eerie realism but rather an artist's sketch whose grand finale is the symphony of flavors when you take your first bite.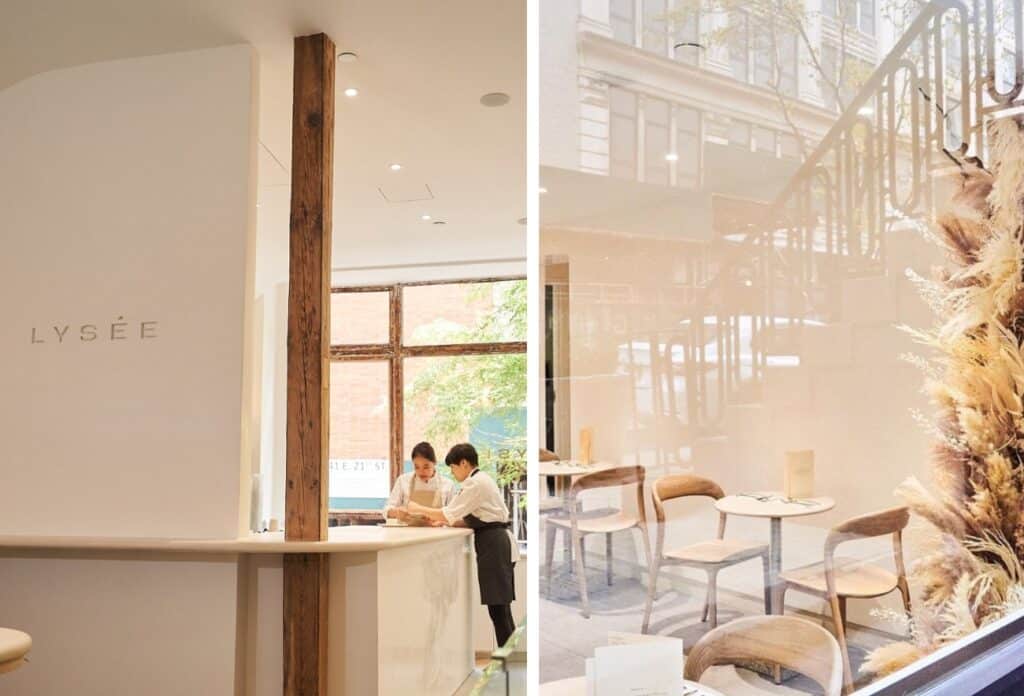 The Menu
The menu at Lysée is a blend of French and Korean cultures with a dash of New York. You can dine in with a choice of a signature menu or a la carte menu, or take your pastries to-go in packaging as beautiful as the pastries.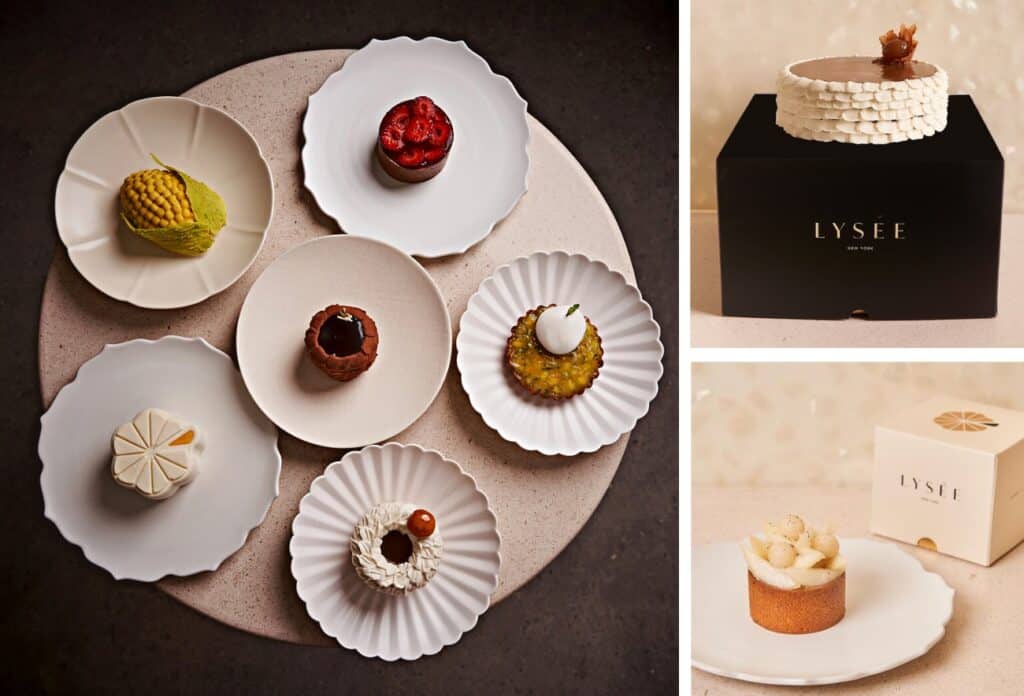 Menu Standouts
Corn Dessert
Lysée went viral on social media for their corn dessert made with corn mousse, corn cremeux, roasted corn sablé, and grilled corn cream. The corn kernels are individually hand-piped so they only offer a limited amount per day.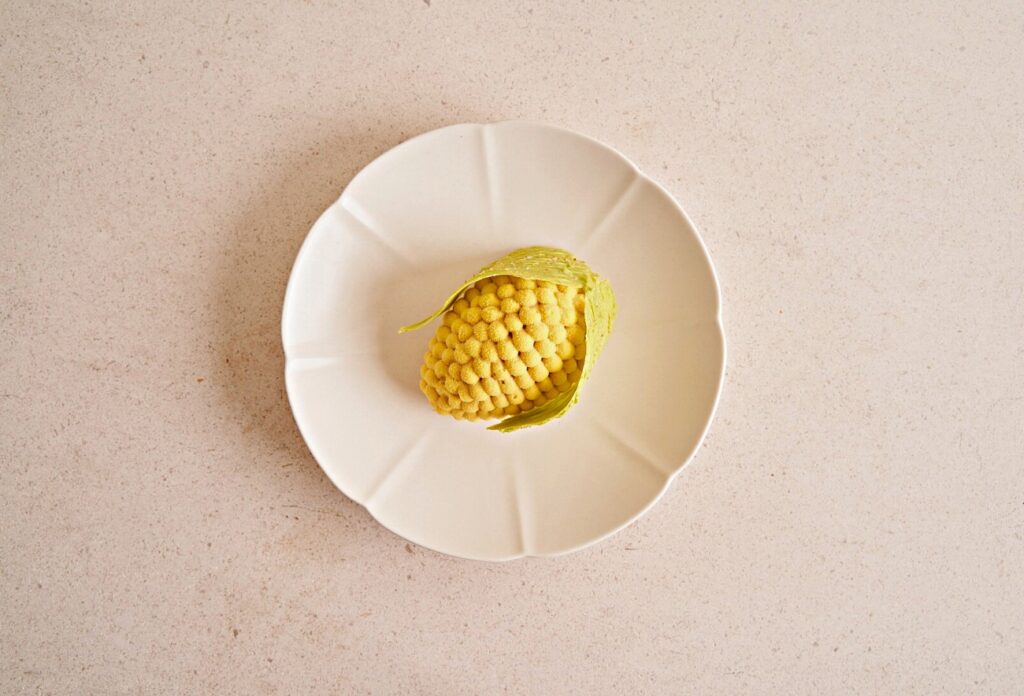 Signature Mousse Cake
Lysée is also known for its signature mousse cake made with Korean toasted brown rice mousse with caramel, Elliot Pecan Sablé, and Praliné. Both desserts happen to be gluten-free which is an added bonus for anyone with dietary restrictions.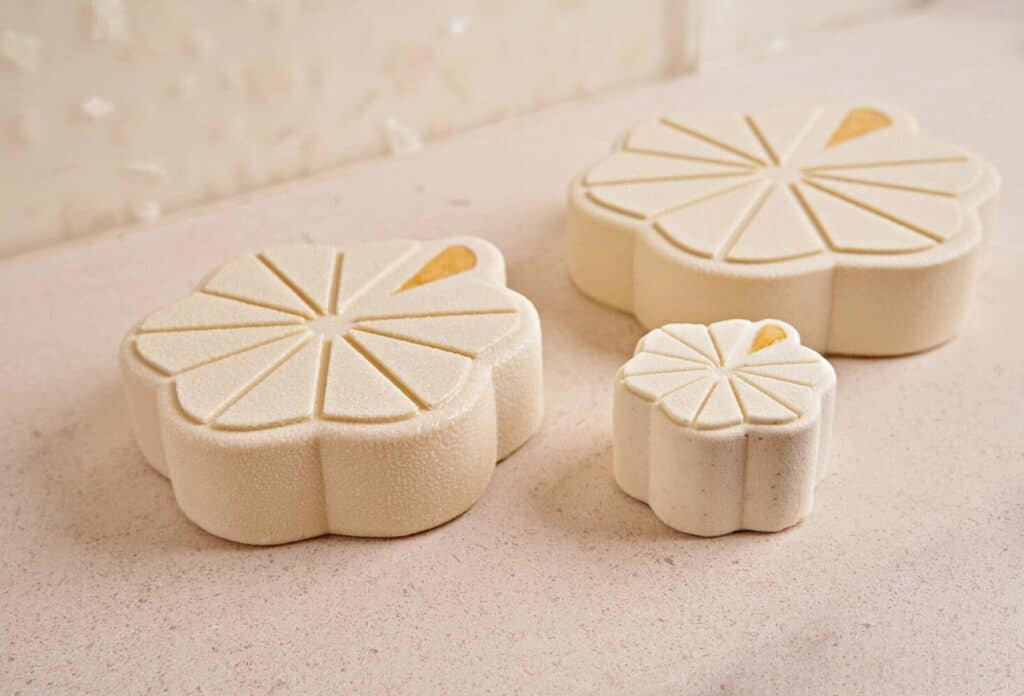 Signature Lattes
The drink menu also offers some unique concoctions including the Lysée Signature latte made with their signature Brown rice-infused milk and the S.P.L. which is a dairy-free sweet potato latte with a sprinkle of cinnamon. Pair either drink with the apple tart and you can't go wrong.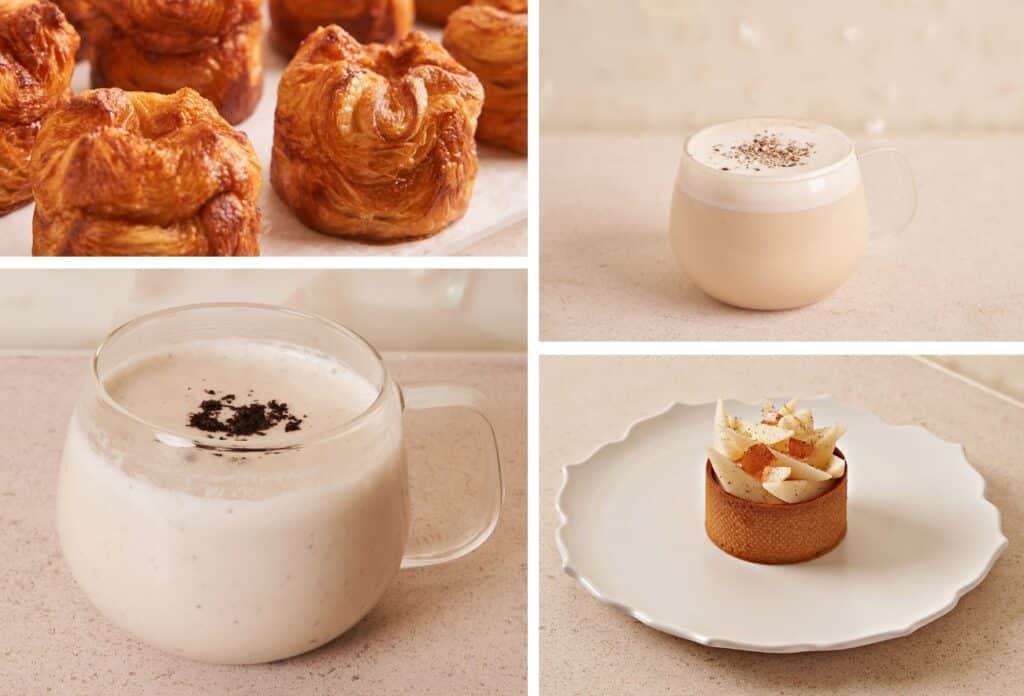 The Setting
With its light and airy atmosphere and minimalistic accents, you'll feel like you are stepping into an art gallery in Chelsea. The decor is a beautiful harmony of both traditional Korean culture and modern NYC design. Vintage wooden beams from Korea are incorporated into the space along with nacre ('Jagae'), creating a welcoming blend between old and new.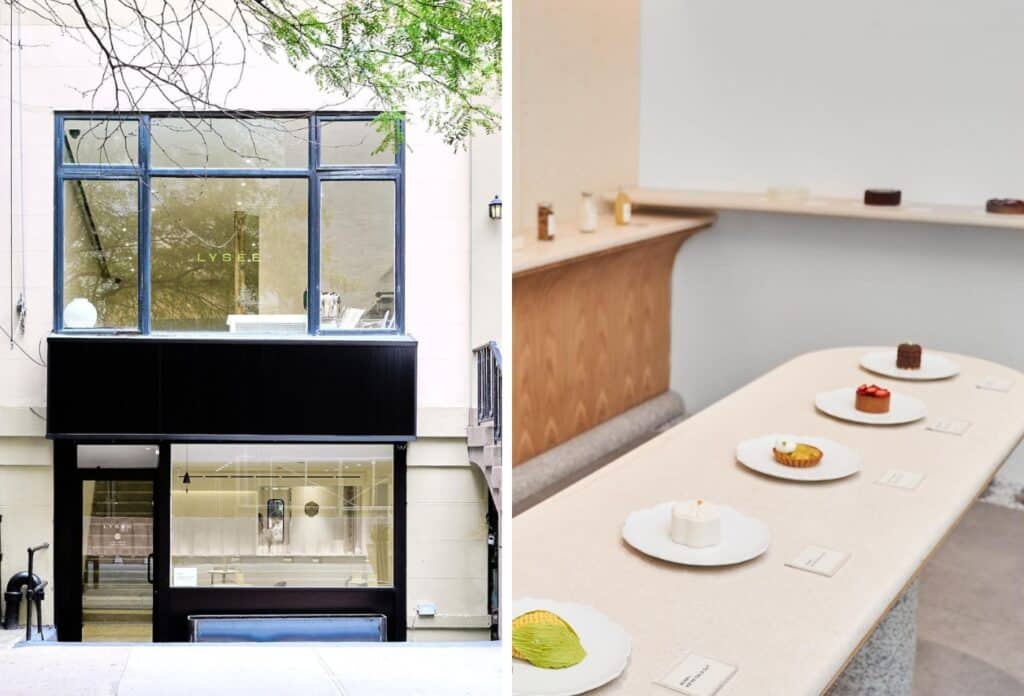 Put it on the Itinerary
If you're looking for a unique experience in NYC, be sure to check out Lysée Dessert Gallery. It's worth mentioning that people line up for sit-down dining a half hour before opening (or earlier). If you are lucky enough to snag a seat in the cafe, be sure to check out their signature menu and indulge in one of their unique lattes. If there are no seats available in the cafe,  head to the second floor to order takeout and peruse the "gallery" where stunning pastries sit on long white tables for your viewing pleasure. Prices range from $6.50 for a full-moon croissant to $35 for petite cakes, while the famous corn dessert costs $18. Discover more NYC Hidden Gems.
Photos courtesy of www.lyseenyc.com.