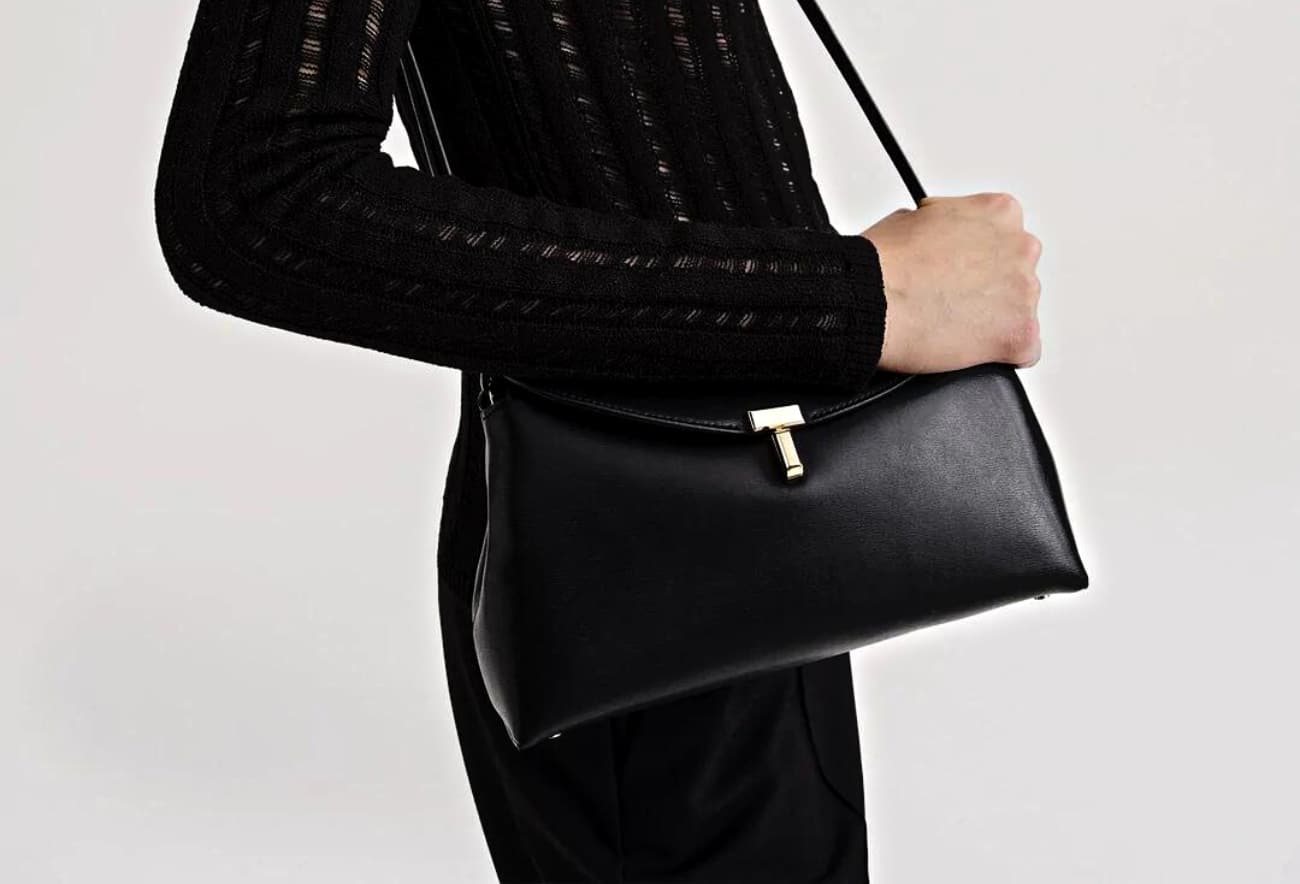 15 Quiet Luxury Handbags That Exude Understated Cool
If you know, you know. These low-key luxury bags are the best designer bags that will outlast trends.
With so many "it bags" saturating the luxury market, there's been a shift in the conversation around the most coveted styles with quiet luxury handbags becoming the center of attention. Quiet luxury handbags feature quality craftsmanship, classic silhouettes, and most importantly, luxe designs that are free of any prominent logos.

However, that doesn't mean these designer bags will grace your arm in complete incognito mode. For the fashion set "in the know," these bags have recognizable elements such as brand-defining details, signature clasps, and unique silhouettes that serve as subtle hints to the brand of the bag in tow.

From the classic quiet luxury brands such as Hermes, Celine, and Ferragamo, to luxury newcomers Savette and Khaite, shop these quiet luxury handbags that whisper "cool" and will elevate your wardrobe for years to come.
We curated this collection by only selecting low-key luxury handbags that meet our vetting criteria and are independently selected by our editors and curators. By shopping our curated collection below, you help support our publication as we may receive a portion of sales.
Best Quiet Luxury Handbags
Métier Perriand & Roma Designer Handbags
If you're seeking a luxury leather handbag or luggage that will stand the test of time with premium quality and chic style, then look no further than Métier London. This iconic brand makes some of the best designer handbags with unique and elegant details. Métier London's expertly crafted, travel-inspired pieces will bring any tryst around the city or weekend getaway to the next level of sophistication and timelessness.
Métier Perriand Designer Handbag Collection
Drawing inspiration from French architect Charlotte Perriand's harmonious blend of sophistication and utility in her designs, the signature of the Perriand collection is its skillfully hand-braided handle crafted by a Florentine artisan. From shoulder bags to larger carry-alls, the Métier Perriand collection features low-key bags that make a big statement.
Métier Roma Designer Handbag Collection
The Roma is a timeless silhouette that has been crafted with chic, modern details. The Roma is known for its unique curved shape that pays homage to the 1958 Triumph that Marcello Rubini drives in the iconic film, La Dolce Vita, a reminder of life steeped in beauty and sweetness within Rome.
---
SHOP MÉTIER LONDON BAGS
---
TOTEME T-Lock Bag
TOTEME's T-Lock bag is a timeless, understated piece that has been one of the most popular and talked-about bags in recent years. Its discreet yet elegant design features just a subtle "T" clasp that identifies it as part of this renowned collection. Exquisitely crafted in Italy from soft yet durable pebble-grain leather certified by the Leather Working Group, this collection is accessorized with the iconic metal T-Lock closure, distinct topstitching, and protective feet. This designer bag is as functional as it is fashionable with two convenient interior pockets for easy organization. This leather bag comes with a clutch or top handle.
---
SHOP TOTEME T-LOCK BAG
---
KHAITE Olivia Bag
Founded by Cate Holstein in 2017, KHAITE designs modern pieces with luxe details. One of KHAITE's iconic designs is the Olivia bag, a sleek and subtle hobo leather bag crafted in buttery calfskin. One of the best designer handbags, the slouchy zip-top silhouette features an open, lined interior and is finished with gold-toned hardware. This sleek bag also features an integrated strap to wear over the shoulder or carry in hand.
---
SHOP KHAITE OLIVIA BAG
---
Savette Symmetry Pochette & Tondo Hobo Designer Bags
Founded in 2020 by Amy Zurek, Savette is fresh on the fashion scene with the craftmanship that rivals heritage brands. From the convertible strap to Savette's signature hardware, every element of each leather bag is thoughtfully designed and handcrafted in Italian leather outside Florence.
Savette Pochette Leather Bag
The Symmetry collection of designer handbags features a streamlined silhouette with sleek parallel and perpendicular lines. The Pochette is one of Savette's most elegant styles, featuring Savette's signature Symmetry turn-lock, one interior pocket, and a leather handle.
Savette Tondo Hobo Leather Bag
If you're looking for a more casual style, the Tondo Hobo with its sleek curves combines the ease of a hobo shoulder bag with the same sophistication of Savette's signature metal hardware.
---
SHOP SAVETTE BAGS
---
Ferragamo Trifolo Shoulder Bag
Ferragamo is a well-known Italian fashion house that has been handcrafting stylish and sophisticated leather goods since 1927. Founded by Salvatore Ferragamo, the brand is renowned for its classic designs with modern touches and quality craftsmanship. The label's signature style can be seen in its Trifolio line of handbags which feature geometric shapes, soft matte-finish calfskin, and the signature Ferragamo Gancini clasp.
---
SHOP FERRAGAMO TRIFOLO BAG
---
Loewe Puzzle Bag
Founded in Spain in 1846, Loewe is a heritage brand dedicated to craftsmanship with unmatched expertise in leather. These designer handbags are handcrafted in Madrid by master artisans combining traditional techniques with modern innovation to deliver classic yet inventive designs. Designed by Creative Director Jonathan Anderson, The Puzzle was the debut designer bag for LOEWE featuring a cuboid shape and distinctive geometric lines that define this iconic leather bag.
---
SHOP LOEWE PUZZLE BAG
---
CELINE Triomphe Bag
Inspired by the metal chain encircling Paris' iconic Arc de Triomphe, CELINE's Triomphe bags feature a sleek clasp that pays homage to one of France's most treasured monuments. Every detail of this leather bag design is effortless and elegant.
---
SHOP CELINE TRIOMPHE BAG
---
Proenza Schouler PS1 Bag
Drawing inspiration from classic workwear satchels, the signature PS1 collection was created to bring a sense of function and ease into everyday life. Made in Italy, the PS1 Medium Bag offers timeless elegance with its calf suede and signature silver-tone tab closure and belted straps that make this bag instantly recognizable. Perfect for any occasion, this bag is sure to add sophistication to your wardrobe. No detail is spared with this designer bag with a sculpted top handle and a removable, adjustable shoulder strap with hand-painted edges.
---
SHOP PROENZA SCHOULER PS1 BAG
---
JW Anderson Chain Bag
JW Anderson was founded in In 2008 by the creative and innovative designer Jonathan Anderson. The brand has a distinctive design aesthetic that marries both masculinity and femininity that's expressed in unique and bold silhouettes. This refreshing dichotomy earned the label a cult following, and the same rings true for the brand's iconic bag designs.
If there's a new bag to add to your collection that will make a statement, it's the JW Anderson Chain Bag. This leather hobo bag with suede lining can be worn as a shoulder or as a top handle bag. Known for its signature chain detailing, this new handbag will add an instant edge to any look. We love the versatility of this bag that's available in over ten colors and styled with both silver and gold chain detailing.
---
SHOP JW ANDERSON CHAIN BAG
---
Saint Laurent Manhattan Leather Shoulder Bag
Yves Saint Laurent is a French fashion house that has been creating timeless and iconic designs since 1961. Founded by the legendary designer Yves Saint Laurent after rising the ranks of Dior at just 21 years old, the brand is renowned for its bold and sophisticated style with luxurious materials. From classic handbags to statement accessories, each piece from this luxury label exudes craftsmanship and quality.
To embrace quiet luxury, ditch the signature monogram logo for one of the brand's more understated luxury bags with the Manhattan leather collection. Made in Italy with supple leather, the Manhattan bag's sleek silhouette with subtle gold-tone hardware is just as recognizable to those "in the know" as the more common YSL monogram logo.
---
SHOP SAINT LAURENT MANHATTAN
---
The Row '90s' Bag
For a bag with such a simple silhouette, The '90s' Bag from The Row became an instant cult classic, often sold out everywhere it's available online. The Row prides itself on using exceptional materials, meticulous details, and incomparable quality. By concentrating on basic silhouettes with a hint of edginess, the label crafts classic garments that will never go out of style.
Crafted from supple nappa leather with softly rounded edges, leather piping, and a slim buckled strap, The '90s' Bag is no exception.
---
SHOP THE ROW '90s' BAG
---
Brunello Cucinelli Suede Bag with Precious Insert
Brunello Cucinelli is an Italian fashion house that has been creating luxurious, timeless designs since 1978. Founded by the iconic designer Brunello Cucinelli, the brand is renowned for its classic yet modern look with luxury cashmere knits, exquisite craftsmanship, and an ethical approach to production. From stylish handbags to statement accessories, each piece from this luxury label exudes sophistication and quality.
Subtly sophisticated materials and delicate details join forces in this small yet sumptuously soft suede bag. At the top of the bag rests a wide band made up of rows of shiny monili, the iconic embellishment of the Brunello Cucinelli collections. This stunning detail stands out against the smooth texture of this bag. A leather lining and an adjustable and removable shoulder strap complete the style with practical, functional details.
---
SHOP BRUNELLO CUCINELLI SUEDE BAGS
---
Mansur Gavriel Bucket Bag & Everyday Tote
Mansur Gavriel is a fashion brand that has become renowned for its stylish, yet timelessly classic designs. Founded in 2013 by Rachel Mansur and Floriana Gavriel, the label quickly gained a cult following due to its minimalist aesthetic and use of luxurious materials. From their signature bucket bags to shoes and ready-to-wear collections, Mansur Gavriel offers an effortless style that is both modern and timeless.
Mansur Gavriel Mini Bucket Bag
This smaller version of the Mansur Gavriel iconic Bucket Bag, keeps its signature modern silhouette in a slightly more compact size. It's made from high-quality vegetable-tanned leather sourced from a family-owned tannery in Italy and features an adjustable crossbody strap and simple cinch closure.
Mansur Gavriel Everyday Soft Tote
If you are looking for a luxury tote with enough space to haul everything, ditch the Louis Vuitton Neverfull bag for this more understated tote that will stand the test of time. Handcrafted from buttery Italian calf leather with minimal construction and extra sturdy, reinforced handles, you can easily pack your laptop and daily essentials with room to spare. The Mansur Graviel's signature red lining will drop a subtle hint that there's a luxury bag in tow.
---
SHOP MANSUR GAVRIEL BAGS
---
Bottega Veneta Woven Bags
Bottega Veneta is a luxury Italian fashion brand that has become synonymous with timeless quality and sophisticated style. Founded in 1966 by Michele Taddei and Renzo Zengiaro. The company has grown to become one of the most sought-after brands in the world, renowned for its leather goods, shoes, jewelry, and ready-to-wear collections. With an emphasis on craftsmanship and attention to detail, Bottega Veneta's designs are classic yet modern—each piece is crafted with care and precision to ensure it will stand the test of time.
Cassette Woven Bag
The woven bag pattern by Bottega Veneta is an iconic design that comes in many silhouettes, with the sleek Cassette being one of our favorites. Made in Italy from 100% calfskin leather with gold hardware, this crossbody bag is both chic and stylish. Available in nine colors.
Cassette Bowling Bag
Think outside the box with the Cassette Bowling bag with the same iconic woven design with a fresh new shape.
---
SHOP BOTTEGA VENETA BAGS
---
HERMÈS Birkin Bag
We had to include the original quiet luxury handbag that started it all. Made in France, the HERMÈS Birkin Bag is a designer handbag with a famous silhouette recognized worldwide. From the signature foldover top with turn-lock closure to the padlock charm, The Birkin bag is a timeless classic considered one of the top investment pieces in fashion.
---
SHOP HERMÈS BIRKIN BAGS
---