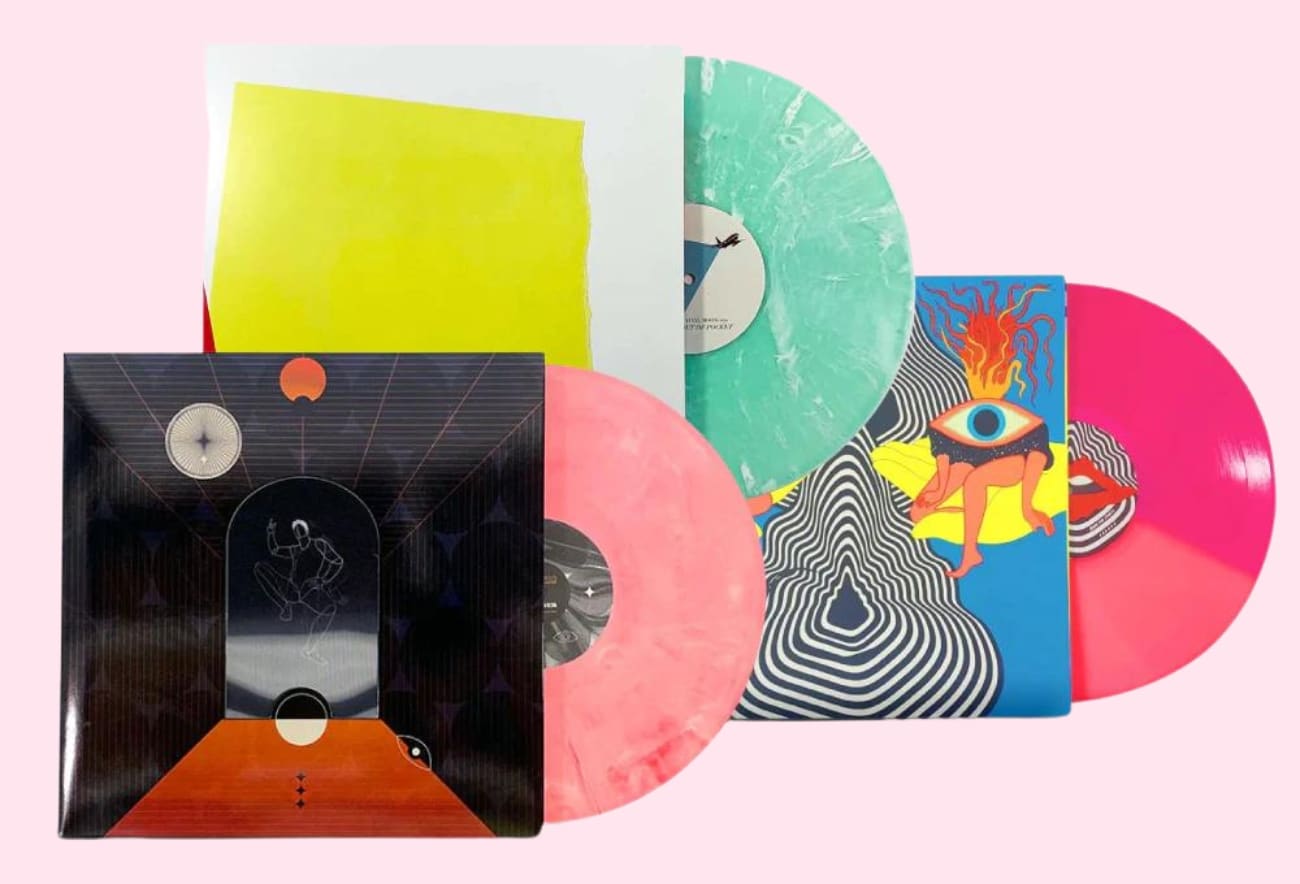 Get a Monthly Mix of Music and Art to Your Mailbox with Vinyl Moon
Record lovers rejoice: Discover emerging music and art with Vinyl Moon, the monthly record subscription club you never knew we needed.
When most people think of vinyl, they think of shuffling through a record bin dedicated to decades past. With a unique vision and a passion for music, founder Brandon Bogajewicz set out to change that with Vinyl Moon, a monthly subscription featuring uniquely curated records delivered right to your doorstep. Keep scrolling for everything you need to know about the Vinyl Moon experience.
We only feature products or experiences selected by our curators based on our vetting criteria. You support our publication when you shop through the links in this article as we may receive a portion of sales.
Quick Links
---
---
What is Vinyl Moon?
Vinyl Moon is a vinyl "mixtape" club that combines the best new music with original artwork. Each month, Vinyl Moon curates a limited-edition record filled with music from established and undiscovered musicians that comes beautifully packaged in vibrant artwork by independent artists. It's like having your own personal music concierge team up with an art curator to make you a custom playlist delivered to your door every month.
Gone are the days of relying on your audiophile friend or scrolling Spotify on the hunt for new music. If you love music and art as much as we do, Vinyl Moon is an effortless way to curate your own music collection while supporting independent musicians and artists in the process.
Fast Fact
s
HEADQUARTERS:
Los Angeles, California
FOUNDER:
Brandon Bogajewicz
VALUES:
Inclusivity, Independent Brand
What Makes Vinyl Moon Unique?
Emerging music? check. Independent art? check. The sonic beauty of vinyl records? check. Vinyl Moon offers a unique way to discover new music and independent artists each month. If like me, your record player has been suffering from neglect, there's no better excuse to dust it off and start indulging in music while sipping a stiff cocktail. We view Vinyl Moon's monthly subscription service as a friendly reminder to press pause on Netflix and hang with friends or indulge in some much-needed "me time."
The team behind Vinyl Moon's deep passion for music and art shines in each thoughtfully curated album, and you can expect an easter egg or two with fun surprises including access to VR experiences.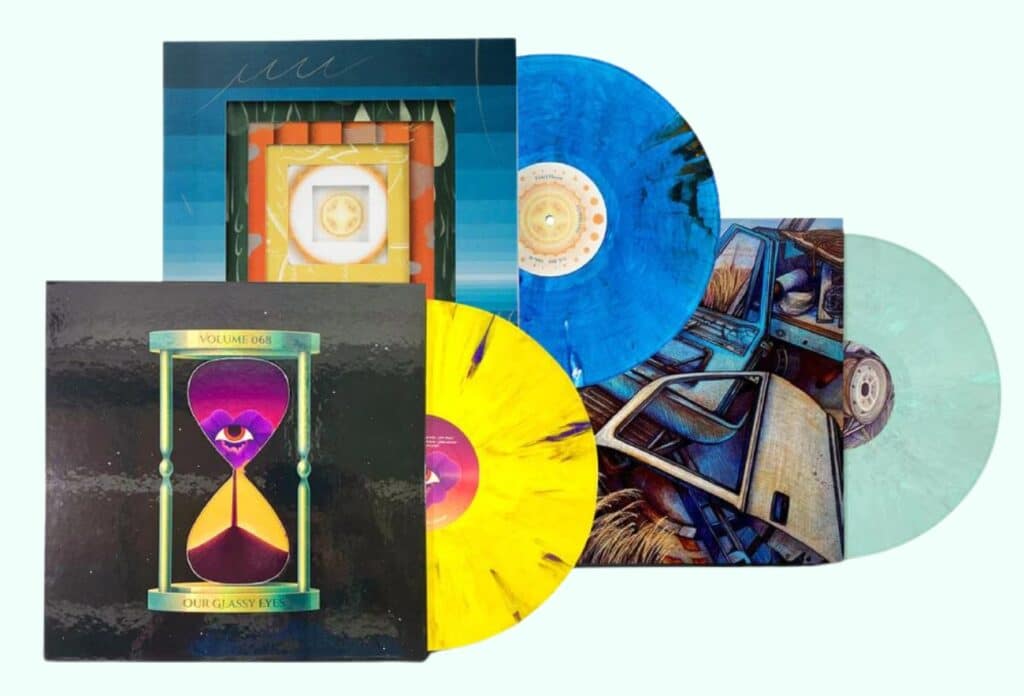 The vinyl records are works of art on their own, yet they manage to capture the essence and mood of the curated playlist so perfectly that it creates a truly immersive listening experience.
Why We Love It:
Curated Playlists
Experience a carefully curated selection of songs from both established and emerging artists from around the world.
One-of-a-Kind Artwork
Each record features one-of-a-kind artwork that is inspired by the music and designed by esteemed, international artists.
Eclectic & International
The Vinyl Moon's team scours the globe for the best new music from indie, alternative dance, electronic, and more.
Unique Themes
Each mixtape is curated around a mood that tells a story brought to life by custom artwork (It's a vibe).
Fully-Immersive Storytelling
Each record comes with an artist booklet featuring details about each musician and song lyrics for full immersion.
Slow Living
This subscription is a monthly reminder to slow down and embrace slow living.
How Does Vinyl Moon Work?
Every month, Vinyl Moon will send out a brand-new record featuring 10 tracks—all picked specifically for your listening pleasure—along with exclusive artwork created exclusively for that month's release. Each record is a vibrant work of art that intertwines with the music, and every record includes hidden bonuses and unexpected surprises to explore.
What kind of music and artists can I expect from Vinyl Moon?
Vinyl Moon features emerging artists from around the world from a variety of music genres including indie rock, indie pop, alternative dance, and electronic. You can sample featured artists including the indie sounds of Deathsport and Abby Diamond on Vol. 084 Sour Idols, and artists like Vibenacci and Little Archer on Vinyl Moon's Vol. 083 Lost and Sound. 
Check out the video below to get a taste of Vinyl Moon's curated playlists.
How much does Vinyl Moon Cost?
Vinyl Moon subscriptions start at $34 a month with slightly cheaper pricing for annual and quarterly subscription plans.
Featured Review
"I love discovering new music and independent artists with Vinyl Moon each month. The monthly selections are thoughtfully curated and even the order of songs and flow of music on each record feels intentional. The artwork that extends to the vinyl itself is truly unique and I love that it captures the mood of the music. I am someone who loves surprises, so this subscription gives me something new and exciting to look forward to each month. It's also a great conversation piece when I'm hosting."
Pros
– A unique way to discover new music and art
– Affordable subscription at $34 a month
– Members receive exclusive discounts on merchandise
– Can easily swap or return the first record if unsatisfied
– Cancel your subscription anytime
Cons
– While Vinyl Moon embraces all genres, the curated selections tend to lean towards indie rock and electronic so keep that in mind when subscribing
The Verdict
Is Vinyl Moon Worth it?
Vinyl Moon is worth it for music lovers and vinyl collectors. This unique experience is giving the music scene a much-needed plot twist for those that are tired of lurking on Spotify or Soundcloud for new music. With curated music and custom artwork delivered to your doorstep each month, we can't think of a more immersive way to enjoy new music from the comfort of home. Plus, Vinyl Moon is a great way to help support emerging musicians and independent artists while finding new music you love.