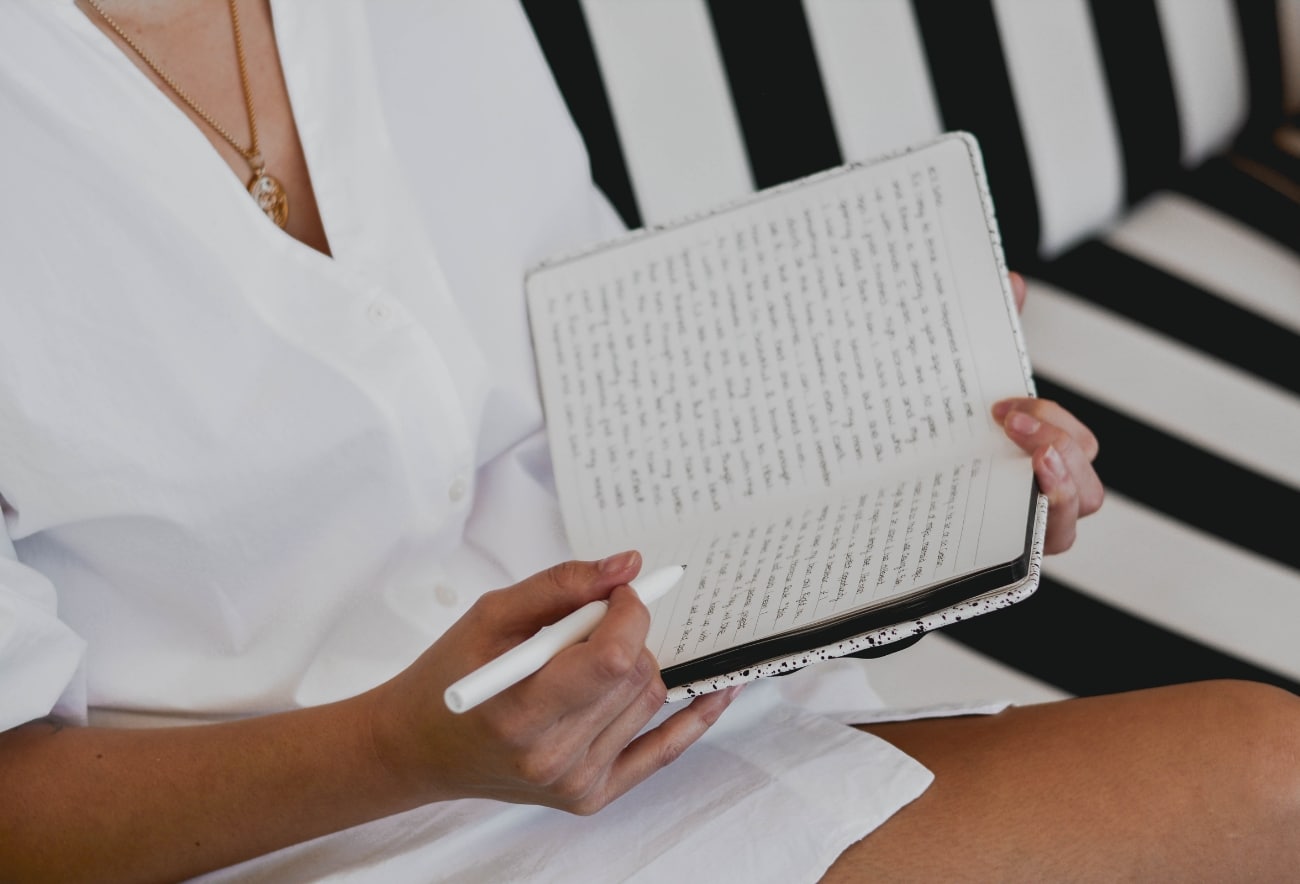 15 Positive New Year Intentions That Will Transform The Year Ahead
Discover the power of setting New Year intentions instead of resolutions.
With the start of a new year, many of us make resolutions that we often fail to keep or quickly forget come February. As the new year approaches, we excitedly jot down our resolutions ready for a fresh start certain that this year is going to be different than the last. Yet, as the year progresses and life throws us curveballs, our best-laid intentions are easily tossed to the wind.
The number one reason New Year's resolutions don't stick is that they are treated as a goal and external outcome instead of a shift in mindset. This year, approach your resolutions differently and promote positive growth by setting New Year's intentions.
Resolutions vs. Intentions
Instead of dwelling on old habits and setting daunting goals for the coming year, focus on shifting your mindset. Resolutions are goals focused on external outcomes while intentions help you improve your mindset and focus on the "why."
Instead of creating a set of "rules" to help you achieve outcomes, take a moment to consider how you want your life to feel this coming year. It's the difference between stating "Go to the gym three times a week to lose 10 lbs" and stating "Have more energy to live an active lifestyle."
When you write down resolutions that are focused on external outcomes you are separating yourself from that state of being. By focusing on how you want to feel in the new year, you are acknowledging that you are already capable of making these positive changes.
This year, formulate intentions that will truly bring meaning rather than just jumpstart productivity or chase after an ideal. Letting go of outcomes and living more intentionally can truly improve our happiness. Here are 15 positive intentions to help you get started on the path to a transformative year.
1. Practice compassion and kindness towards yourself and others.
When challenging moments arise, show yourself some grace and focus on being compassionate towards yourself and those around you. Prioritizing compassion in your daily life will help you foster meaningful relationships, build better habits, and most importantly, be kinder to yourself for a lighter sense of being.
2. Live in the moment and savor it.
Slow living isn't just a lifestyle, it's a movement. Try to be more intentional every day and stay present in whatever task you're doing. When you focus on what is happening right now instead of worrying about the future or ruminating on the past, you can make more mindful decisions that will bring greater joy and satisfaction. To help you get started, a mindfulness journal is a great way to help you be more present. 
3. Take more "me-time" and practice self-care as often as you need it.
Make sure to take regular breaks from work to de-stress and reconnect with your inner self–whether it's through meditating or simply taking a long walk in nature. Self-care doesn't have to be complex. You can find small pleasures for you to indulge in such as a rejuvenating face mask, a relaxing cup of tea, or a serene diffuser. 
4. Prioritize physical activity throughout the week even when life gets hectic.
When life gets busy oftentimes we neglect our physical health. Prioritizing physical activity doesn't have to mean hitting the gym every day. If going to the gym just isn't your thing, find physical activities that you look forward to and enjoy. This can be long walks, taking a workout class with friends, playing a sport, or simply working out in the comfort of your home. With so many in-home workout options like the Tempo Studio Mirror, and easy ways to stay physically fit like using a balance board while working at your computer, working out is easier than ever. 
5. Make time for meaningful conversations with family and friends.
Carving out time for meaningful conversations with family and friends will help us feel more connected in the new year. Try not to rely solely on digital means of communication like texts or emails. Whether a simple phone call or spending more time with your loved ones, make sure to be present with the people you love.
6. Get organized and declutter your space.
Decluttering your space will help boost productivity while also providing clarity when needed most. Find ways to organize what matters most, whether it's your home, workplace, or digital files. Streamline your life by taking stock of what you have and creating a system that works for you. Whether it's throwing out unused items or just making sure everything has a home, focus on creating a space that is clutter free and makes your daily routine easier.
7. Learn something new every day.
Learning new information not only helps keep our brains healthy but helps us feel fulfilled. This coming year, write down topics that you always wanted to learn about and challenge yourself to learn something new every day even if it's just reading for five minutes. Learning platforms like Masterclass, Skillshare, and Udemy are great resources for learning a new subject matter or skill.  
8. Take up a creative hobby like writing, painting, or pottery.
Creative expression can be a huge stress reliever and help us discover a new side of ourselves. Keep in mind you don't have to be skilled to be creative. It's not about becoming a master artist but rather finding new creative outlets for you to let your mind wander and express itself. Whether a simple hobby like flower arranging or taking an online art class, prioritize creative expression in the new year. 
9. Focus on practicing positivity by replacing negative thoughts.
Make it a point to think (and act) positively every day, no matter how small these actions may seem. Become more aware of your negative thoughts and make an effort to reframe these thoughts with a positive counterpart. Challenge negative thoughts by noting down alternative solutions whenever doubts arise; this way, you can combat stress levels while managing situations more effectively. Books like The Power of Positive Thinking by Dr. Norman Vincent Peale can help you practice a more positive mindset.
10. Live mindfully rather than reactively.
When we live more intentionally than reactively we have the power to create the life we want rather than always feeling as if life is happening to us. Also, staying mindful of other people's perspectives during difficult times can help shift conversations from feeling hostile into more understanding encounters.
11. Embrace change rather than fear it.
Recognizing the opportunities hidden within each moment or problem we encounter will create more ease in adapting to change. Focus on the present with a curious mindset rather than worrying about the future, and you'll be better equipped to handle life's many transitions. While this sounds more easily said than done, books like Deepak Chopra's Seven Laws of Spiritual Success can help you embrace this mindset.
12. Practice the art of giving.
When we focus more on the happiness of others it creates a greater contentment within ourselves. Whether you volunteer, donate to charity, or simply shop from brands that give back, being generous to those in need is one of the easiest ways to find greater fulfillment and happiness in the new year.
13. Be kind to our planet.
As more and more brands embrace sustainability, it's easier (no matter how small) for us to move towards more sustainable daily practices such as reducing plastic consumption and shopping sustainable brands where possible. When we contribute to something bigger than ourselves, the impact goes far beyond our day-to-day happiness.
14. Practice gratitude even when things go wrong.
While practicing gratitude is not a groundbreaking concept, it doesn't diminish its importance in our daily happiness. First, reflect on last year and make a note of everything you accomplished big and small. Once you've compiled your list, take time to celebrate your wins and relive the highlight reel of your year. In the coming year, make gratitude a daily practice by keeping a gratitude journal or simply recalling what you're grateful for during your morning routine. The biggest challenge? Practicing gratitude when life doesn't go our way. Acknowledge the moments where things may not go as planned and fill in the sentence "This is good because" to find the silver lining in the situation. 
15. Drink more water.
Last, but not least, if you do nothing else in the new year, drink more water. Ensuring you drink enough water will help clear your mind, nourish your body, and elevate your energy levels. Staying hydrated is truly the secret to life. If drinking water doesn't excite you, consider an infused water bottle so you can flavor your water with fruit.
By setting intentions and celebrating progress regularly rather than focusing solely on goals and outcomes, we can enjoy the journey throughout the new year and not just the destination. If we keep these positive intentions top of mind, we can transform any area of inconsistency into intentionality – encouraging self-discovery & personal growth along the way.
Shop by intention below to help support our publication as we may receive a portion of sales.
Shop By Intention
PRACTICE SELF CARE
ENHANCE YOUR WELLNESS
IMPROVE YOUR MINDSET
UNLEASH YOUR CREATIVITY