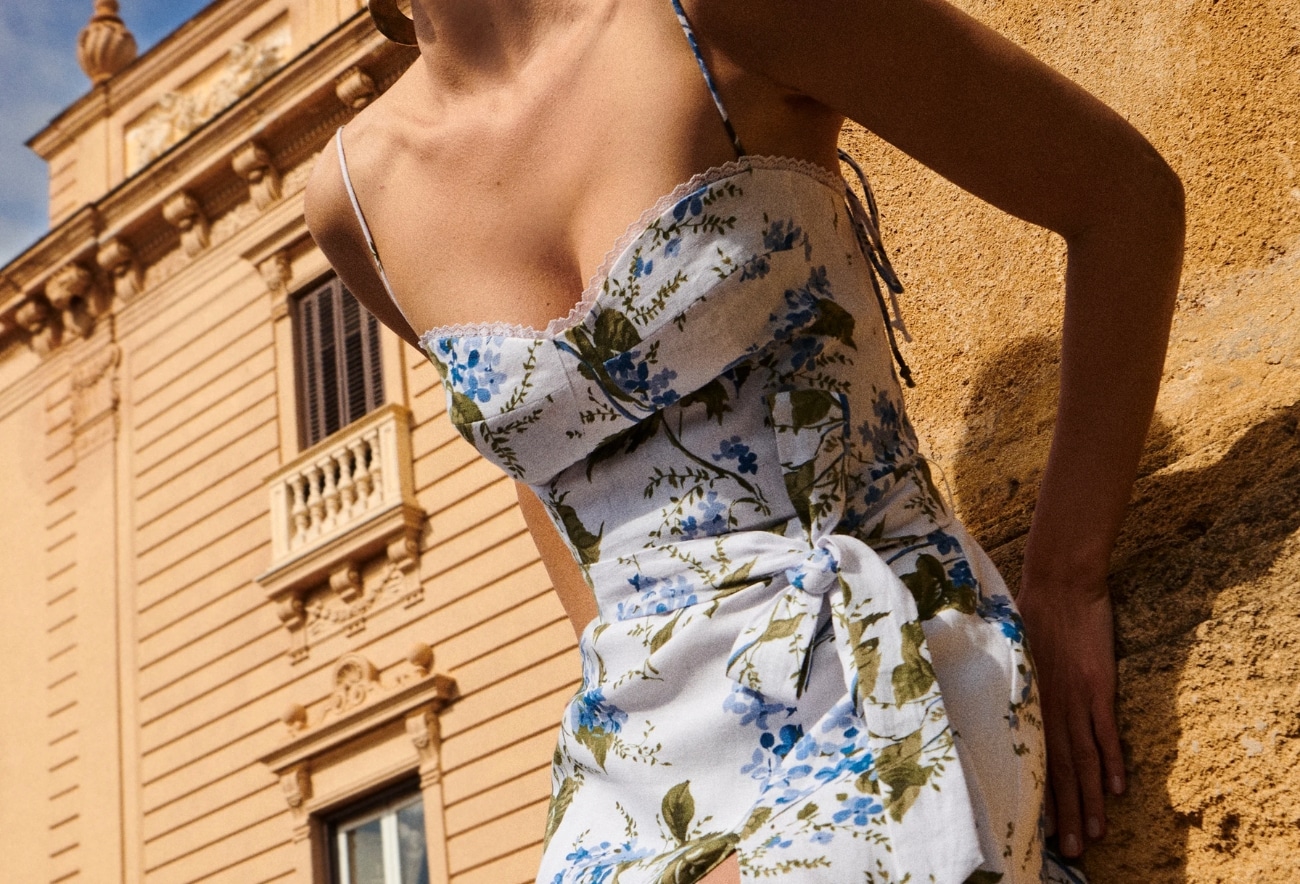 Wear To: Amalfi Coast Style Guide for The Perfect Amalfi Coast Outfits
A part of our "wear to" fashion series, these are the perfect Amalfi Coast outfits so you know exactly what to wear on the Amalfi Coast.
Heralded as one of the chicest places to holiday in the Mediterranean, the Amalfi Coast is a glamorous and luxurious destination known for its incredible natural beauty, breathtaking views, and stunning shoreline. Whether you're taking a dip in the Mediterranean Sea or exploring the winding cobblestone streets of the coastal towns, with this fashion guide to the Amalfi Coast, you'll look effortlessly chic as stunning cliffs play backdrop to your summer travel adventures on the Amalfi Coast.
Amalfi Coast Clothing Style
From floral prints resembling Italian tiles to pastel hues like dusky terracotta orange and shades of yellow, the Amalfi Coast is known for its unique fashion, flowy silhouettes, and glamorous summer style. Classic pantsuits and two-piece sets, lemon-inspired patterns, and flowy sundresses with vibrant prints make for iconic moments on the Amalfi Coast.
Comfort is Key
When it comes to dressing for the Amalfi Coast, think light, airy, and comfortable clothing with feminine silhouettes. When putting together your Amalfi Coast packing list, keep your clothing loose and breezy to stay cool in the summer heat, and opt for breathable fabrics like linen, cotton, and silk. Easy and breezy dresses, skirts, and shorts will keep you comfortable as you climb infinite flights of stairs while flowing fabrics like silk and georgette will billow in the sea air and make for stunning photo opportunities.
Keep scrolling for packing tips and tricks for what to wear to the Amalfi Coast, so you can look and feel your best while soaking up the sunshine and taking in the sights.
Amalfi Coast Outfits
What to Wear to the Amalfi Coast in Summer
If you're wondering what to wear to the Italian coast, these classic silhouettes, flowy dresses, and glamorous accessories will bring a sophisticated Italian style into your wardrobe while you live "la dolce vita" Aperol spritz in hand.
This Amalfi coast packing list features the must-have clothing and accessories curated by our editors. You can help support our publication by shopping this guide as we may receive a small portion of sales for some items.
1. Wear linen for luxurious lounging.
Linen is the perfect fabric for the Amalfi Coast. It's lightweight and breathable making it ideal for hot summer days, while its durability makes it a great choice for long-lasting wear. The fabric's natural texture adds a touch of elegance to any outfit, making it perfect for a day wandering Capri or the steep little lanes of Positano. Plus, linen is an eco-friendly option as it requires less energy and water to produce than other fabrics. Consider a glamorous pair of linen pants or a matching set to feel elegant both day and night.
---
SHOP OUR CURATED PICKS
---
2. Wear Bright patterns and florals.
Whether you're looking for a bold, vibrant look or something more subtle and romantic, a floral dress is a must for the Amalfi Coast dress code. With bright pink and purple bougainvillea flowers growing on the arbors of homes, hotels, and restaurants, feminine floral dresses are an ode to Italy and the stunning Amalfi landscape.
Retro floral patterns are also in this spring and summer, sparking nostalgia with their bright colors.
---
SHOP OUR CURATED PICKS
---
3. Go gallivanting in knitwear and dresses.
Knitwear and dresses are a popular trend on the Amalfi Coast. From midi dresses to maxi dresses, off-the-shoulder styles, and bright kaftans, these stylish pieces will make you feel like you belong on the Italian Riviera. Complete your Amalfi outfit with a pair of sleek sandals or wedges for an effortlessly chic look.
---
SHOP OUR CURATED PICKS
---
4. Bring an iconic blue-patterned dress.
The Amalfi Coast architecture is known for its signature blue-patterned tiles. These iconic tiles are used to decorate walls and pathways, adding a unique charm to the region's buildings and streetscapes. The patterns usually feature geometric shapes or floral designs, making them instantly recognizable as part of the local culture.
Take inspiration from the iconic architecture and wear a blue-patterned dress that will be the center of attention against the beautiful setting of the Mediterranean Sea and the picturesque cliffs.
---
SHOP OUR CURATED PICKS
---
5. Keep it cute and classic with matching sets.
When putting together outfits on your Amalfi Coast packing list, matching sets are one of the easiest ways to look Instagram-ready on the Amalfi Coast. Whether it's a classic two-piece set or an on-trend co-ord, this look is sure to add a timeless elegance to your vacation. From fun prints to bold colors, there are so many ways to express your style while staying comfortable in the warm Italian sun.
---
SHOP OUR CURATED PICKS
---
6. Embrace bold colors with mod accents.
With its bright blue waters, vibrant colors, and stunning views, the Amalfi Coast is the perfect backdrop for bold colors and mod accents. From bright yellow sun umbrellas on the beach to colorful pastel buildings in the towns, the Amalfi Coast's bright and bold colors create the perfect backdrop for stylish and swoon-worthy photos.
---
SHOP OUR CURATED PICKS
---
7. Wear bright, lemon-inspired clothing.
The Amalfi Coast is renowned for its abundance of lemons, which are grown in the region's terraced lemon groves. The fruit has become so iconic to the area that it has been incorporated into many aspects of local culture and style. From restaurants serving limoncello to handmade jewelry featuring images of lemons, this delectable citrus fruit can be found everywhere along the coast.
Lemon-inspired clothing is also popular among locals and visitors alike; bright yellow dresses, tops with lemon prints, and accessories adorned with golden charms all pay homage to beautiful lemon groves along the coastline.
---
SHOP OUR CURATED PICKS
---
8. Don't forget casual comfort.
From white jeans to linen pants and maxi skirts, be sure to pack casual clothing that can be easily mixed and matched. As day to turns to night, a light cardigan is essential for breezy evenings that can get a bit chilly while a mix of cropped tops, blouses, shorts, and trousers will ensure you look effortlessly chic any time of day.
---
SHOP OUR CURATED PICKS
---
9. Chic sandals, slides, and sneakers are key.
The Amalfi coastline features stairs winding along the rugged cliffs, cobbled streets that lead to tiny squares lined with cafes, and pebbled and sandy beachfronts making versatile footwear essential. Forget high heels and opt for flat, comfortable sandals or espadrilles that will keep your feet cool and fashionable. For a more relaxed and stylish look, classic white sneakers are perfect for exploring charming towns in comfort. Flip-flops are perfect for sunny beach days or casual poolside lounging.
---
SHOP OUR CURATED PICKS
---
10. Bring on the statement pieces and accessories.
The Amalfi Coast is all about glamour and when it comes to accessories more is more. A chic scarf, statement earrings, bracelets, or headbands can transform your outfit and add a pop of color to your looks. Gold or silver jewelry will complete your look, while bright-colored statement pieces will elevate any outfit.
---
SHOP OUR CURATED PICKS
---
11. Invest in glamorous swimwear.
The Amalfi Coast is known for its unique pebbly beaches and we can't think of a better way to spend a relaxing day oceanside than in a stunning swimsuit cocktail in hand. A quality swimsuit that fits you well and flatters your body shape is simply a must for beach days. You can go for bikinis in bold colors or printed swimsuits. A sarong, kaftan, or lightweight cover-up is ideal to keep you comfortable before and after swimming and free to move around the beach in style. To save space in your suitcase, opt for a reversible swimsuit.
---
SHOP OUR CURATED PICKS
---
The Amalfi Coast is a fashionable destination, and nothing exudes Italy more than quality pieces that you can mix and match to create the perfect outfit. Whether you're looking for a simple statement piece to add to your vacation wardrobe, a stunning dress for an evening out on the town, or simply a one-piece that can be dressed up or dressed down, remember to stay true to your personal style, and always be comfortable.
Essential items of stylish footwear, flowy summer dresses, sunglasses, hats, and light cover-up attire will make you feel confident and stylish while enjoying what the Amalfi Coast has to offer. So pack your bags, embrace your inner fashionista and enjoy visiting this stunning coastal paradise.