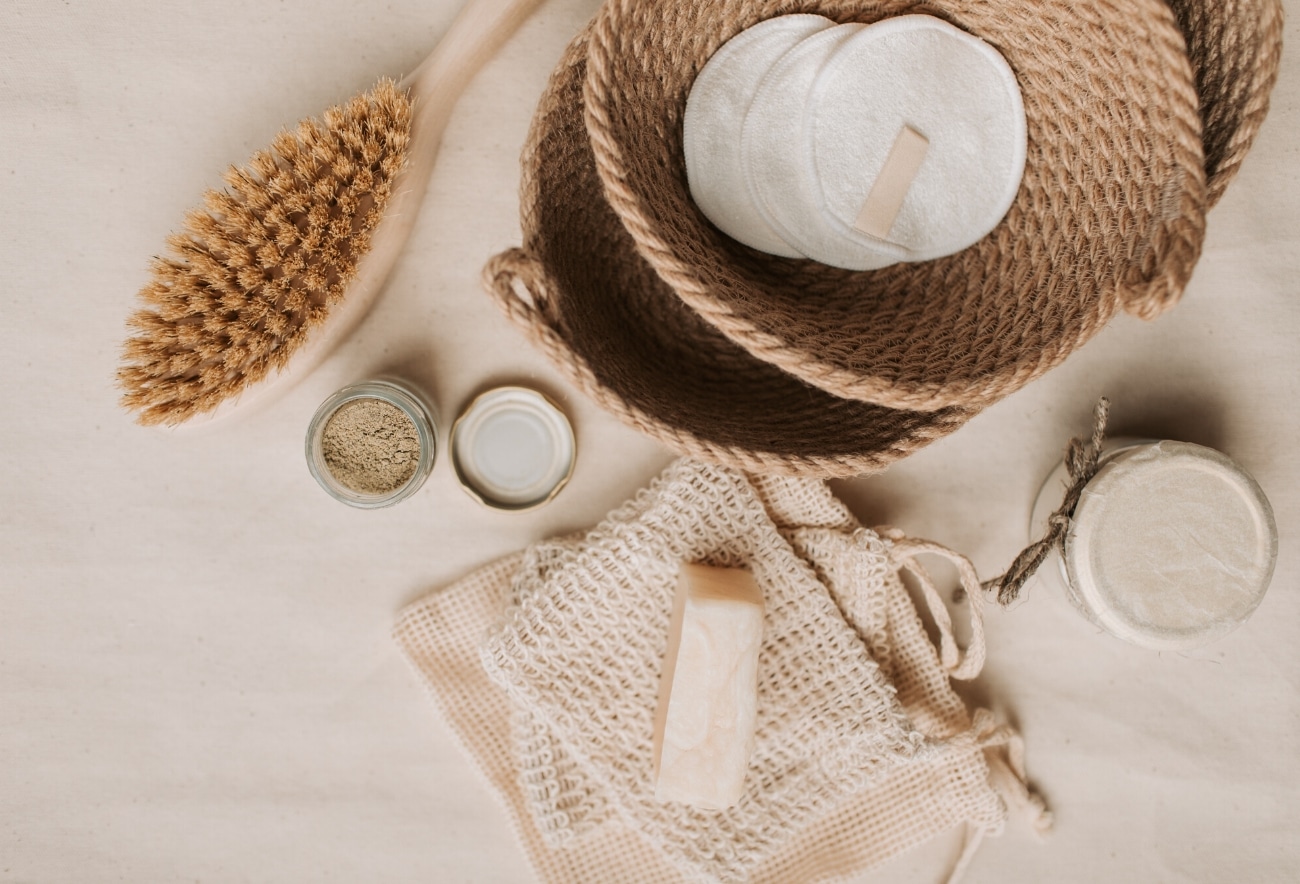 7 Easy Sustainable Beauty Swaps to Help You Go Green
These easy sustainable beauty swaps will make your routine better for you and better for the environment.
Whether you have a 10-step beauty routine (we don't judge) or simply stick to the basics when getting ready each morning, focusing on sustainable beauty is becoming increasingly popular as consumers become more conscious about the impact of their daily routine on the environment. Beauty products are notorious for their high use of plastic packaging and often contain harmful chemicals that can negatively impact both personal health and the environment. It's estimated that the global beauty industry produces more than 120 million units of packaging each year, and packaging accounts for 70% of the industry's waste.
It's not just the products making our beauty routines unsustainable, it's also the waste we create by using non-reusable beauty tools like cotton pads and makeup wipes. With 20 million pounds of makeup wipes thrown away every day, this step in your beauty routine alone can dramatically impact the environment. Makeup wipes are often not recyclable or compostable. Additionally, many makeup remover wipes use plastic fibers, which means that when they are disposed they can release small microplastics into our waterways and oceans.
Easy Sustainable Beauty Swaps
7. Reduce your water usage.
Water is a precious resource, and reducing water usage is an important step in sustainable beauty. By reducing water usage, you are not only conserving water but also reducing energy usage and the environmental impact of beauty products.
Take shorter showers.
There are several ways to reduce water usage in your routine. One of the most effective ways is to take shorter showers. The longer you stay in the shower, the more water you use. By reducing the time spent in the shower, you can significantly reduce your water usage.
Turn the water off when brushing your teeth.
Another way to reduce water usage is to turn off the water while brushing your teeth or washing your face. This simple step can save gallons of water each day.
Use waterless beauty products.
In addition to reducing water usage during your routine, it is also important to consider the water usage associated with the manufacturing of beauty products. Many beauty products require a significant amount of water to be produced. By choosing products from sustainable brands that prioritize water conservation, you can make a positive impact on the environment.
Some sustainable beauty brands are now using waterless formulas, which not only reduce water usage but also reduce the need for preservatives and packaging. Waterless formulas also tend to be more concentrated, which means that a smaller amount of product is needed, reducing the overall environmental impact of the product.
Getting Started with Your Green Beauty Routine
Creating a sustainable beauty routine is achievable with a little effort and dedication. By making some simple swaps, such as switching to reusable tools, transitioning to natural and organic beauty products, and finding eco-friendly packaging options, you can make your daily routine more sustainable and reduce your impact on the environment. Every small step makes a difference when it comes to protecting our planet and creating a healthier beauty routine for yourself.
Frequently Asked Questions