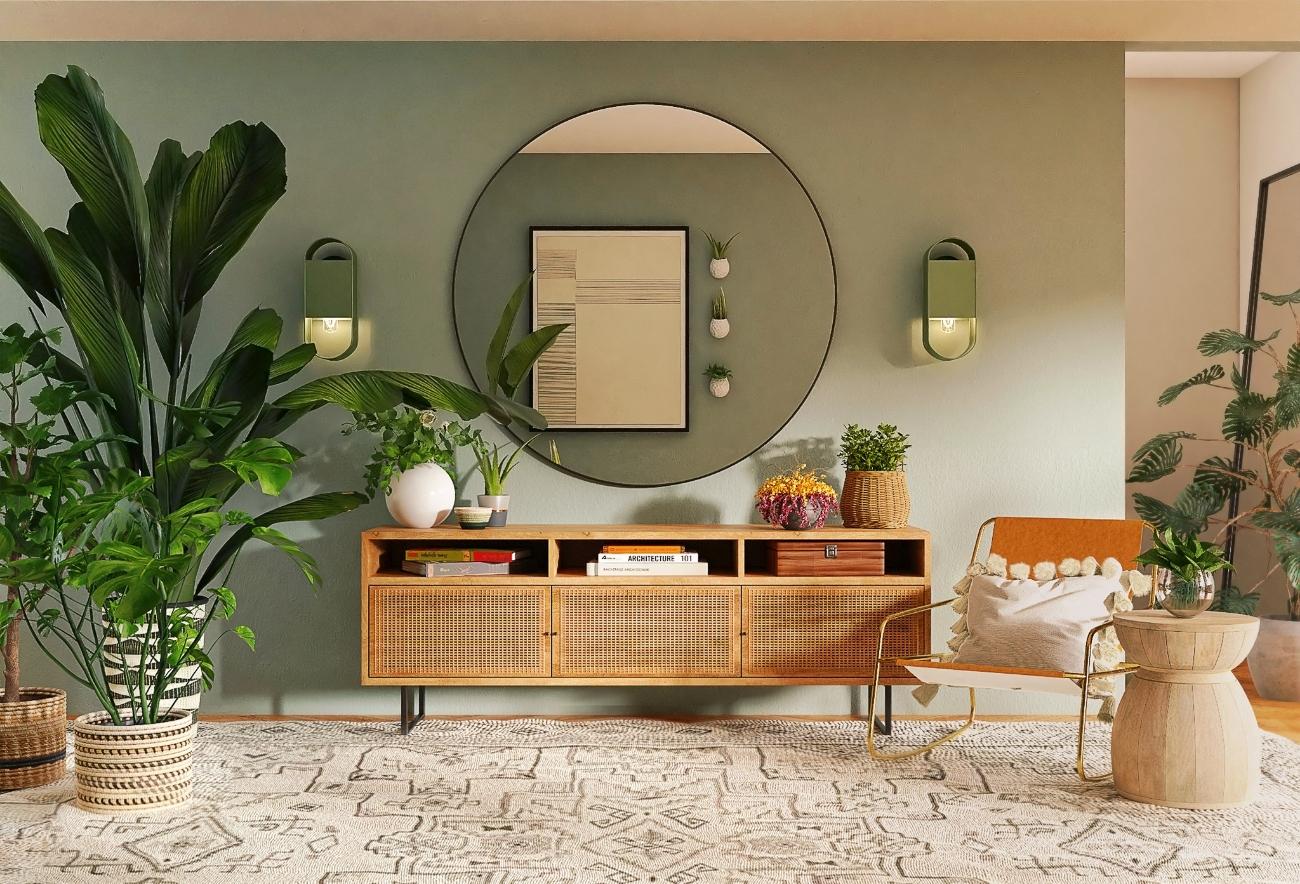 10 Ways to Refresh your Home with Spring Decor
As the first signs of spring begin to bloom, it's time to refresh your home with spring decor. When transitioning your home from winter to spring, it's a unique challenge to add spring-inspired elements that are fresh and creative while not taking away from the central theme of your home's decor.
When exploring your spring decor options, it's important to revisit the main color palette and textures of your home. What softer hues can you add to your home's color palette? What spring patterns and textures will complement your home's year-round decor?
When updating your home with spring decor, we believe that less is more. Embrace simple touches like plants, flowers, and spring-scented candles. Consider updating home accents such as pillows, throw blankets, and vases that reflect spring patterns and colors. Understated spring touches will create an inspiring space that brings the elements of spring into your home in an organic, tasteful way.
Read on for our top 10 ways to refresh your home with spring decor.
1. Start with spring cleaning.
When spring blossoms so do one's desire for bright and airy spaces. As we emerge from our winter hibernation, it's important to declutter your home and ensure you are making optimal use of your space. Anything seasonal in your home for winter should be packed away and anything you no longer use should be sold or donated. For the items that will remain in your home, are there cleaner and more convenient ways to organize and store them? Spring cleaning is all about opening up your space. To give your home a fresh start, discover the book that inspired Marie Kondo to start tidying up.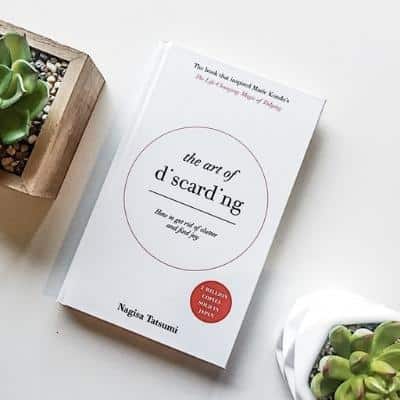 The Art of Discarding
The Art of Discarding offers hands-on advice and easy-to-follow guidelines to help readers learn how to finally let go of stuff that is holding them back. Author Nagisa Tatsumi urges us to reflect on our attitude to possessing things and to have the courage and conviction to get rid of all the stuff we really don't need, offering advice on how to tackle the things that pile up at home. By learning the art of discarding you will gain space, free yourself from "accumulation syndrome," and declutter just in time to refresh your home with spring decor.
2. Bring the outdoors in with greenery and fresh flowers.
Plants and flowers can truly transform a space. Based on the color palette of your home, begin bringing in flowers in complementary accent colors to brighten and liven up the rooms throughout your home. Green plants are another great way to make your space feel more inspired. You can shop fresh plants and bouquets online at The Sill, or if you are lacking a green thumb, shop a selection of beautiful dried flowers from Afloral.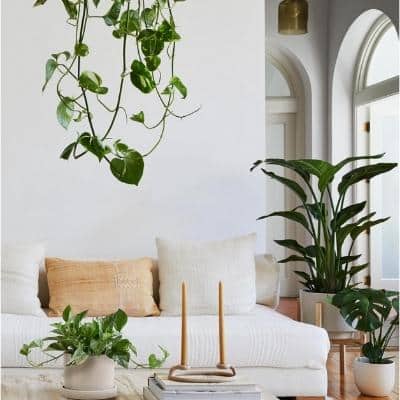 The Sill
Founded on the premise that plants make people happy, The Sill is an online shopping destination for plants and flowers that brings the vibrant beauty of lush green plants and flowers to your doorstep. The Sill guarantees that all plants arrive happy and healthy or they will replace your plant for free. The Sill even offers a monthly plant subscription so you can discover a new plant every month and bring the outdoors in year-round.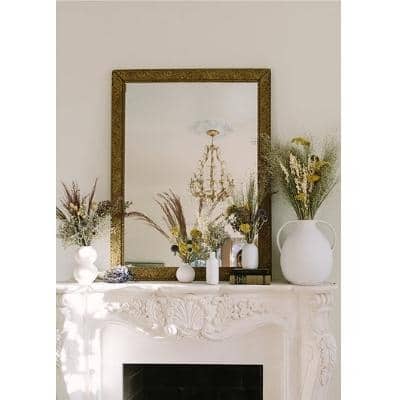 Afloral
Whether you're creating a simple faux flower arrangement, sprucing up your space with dried flowers, or swapping a dead plant for an artificial plant, you're embracing the ease of permanent botanicals. Afloral is a small, female-founded company that handpicks every bloom. When refreshing your home with spring decor, we recommend exploring their dried flower selection, to bring timeless elegance into your home.
3. Embrace spring shades in your accent decor.
One of the simplest ways to help your space reflect the change in seasons is to transition your accent decor. This includes home decor such as throw pillows, vases, table centerpieces, doormats, and so on. Trade-in dark, rich hues for a softer, sun-soaked color palette and earthy textures that infuse a sense of light and optimism into your home. Shop the Spring collection from The Citizenry that includes colors like mustard, rose, and dusty blue to add a pop of color to your decor. The warm textures of this collection such as plush wool, cotton, and soft alpaca create a layer of familiarity and comfort.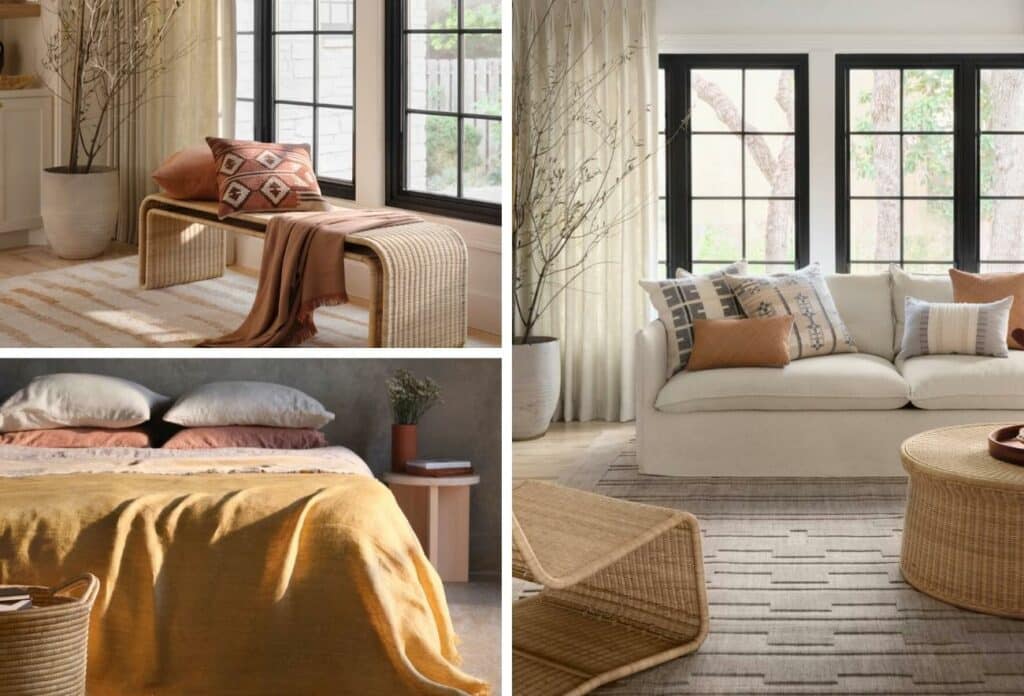 The Citizenry
The Citizenry believes that personal spaces deserve designs with a soul, a story, and a purpose. They travel the world to develop exclusive collections of home goods by partnering with master artisans, blending modern style with their time-tested techniques. By personally traveling to each country and using only local materials, The Citizenry establishes sustainable relationships with artisans and sells directly to you online.
4. Update your home's signature scent with spring notes.
Refreshing your home with Spring decor should be a full sensory experience. Consider bright and vivacious scents that include notes of citrus, bergamot, honeysuckle, jasmine, rose, and iris.  Essential oils utilized with a diffuser or scented candles can immerse your home in the fresh scents of Spring that bring a dose of happiness to your day. Shop the Spring Seasonal Edit from Boy Smells, a candle company that breaks away from the traditional gender norms of scent. This seasonal edit of spring-forward candles goes beyond just the standard florals for Spring with unique additions like fruity and botanical scent profiles.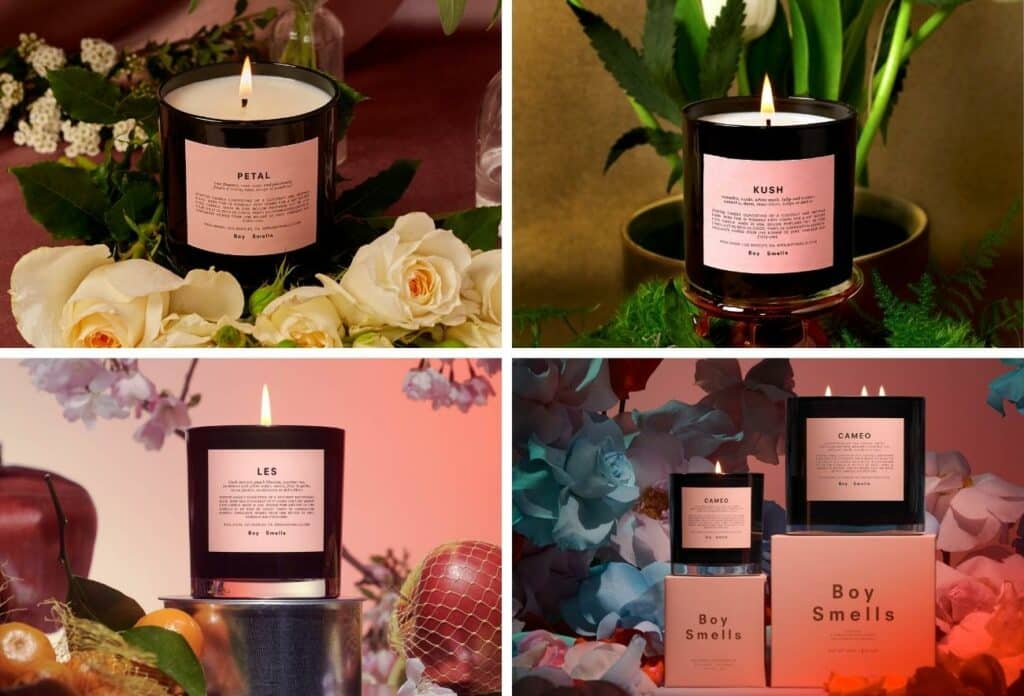 Boy Smells
In late 2015, Boy Smells began as an experiment in candle-making in the Los Angeles kitchen of co-founders and partners Matthew Herman and David Kien. Founder-invented scents like Cinderose, a union of rose and smoke, and Gardener, a compilation of tomato vine and honeysuckle, wrap traditionally masculine scents in a prettier bouquet. The candles are hand-poured in a reusable glass vessel and hand-labeled in Los Angeles, California.
5. Decorate with citrus.
If while reading this article you thought "Florals for Spring? Groundbreaking," then this tip is for you. Add an instant pop of bright color to your decor by decorating with citrus. You can simply put lemons in a glass vase or bowl, or combine citrus with your favorite flowers. Citrus can also be utilized with fresh greenery in tablescapes for dinner parties, and you can even add a Meyer lemon tree to your decor.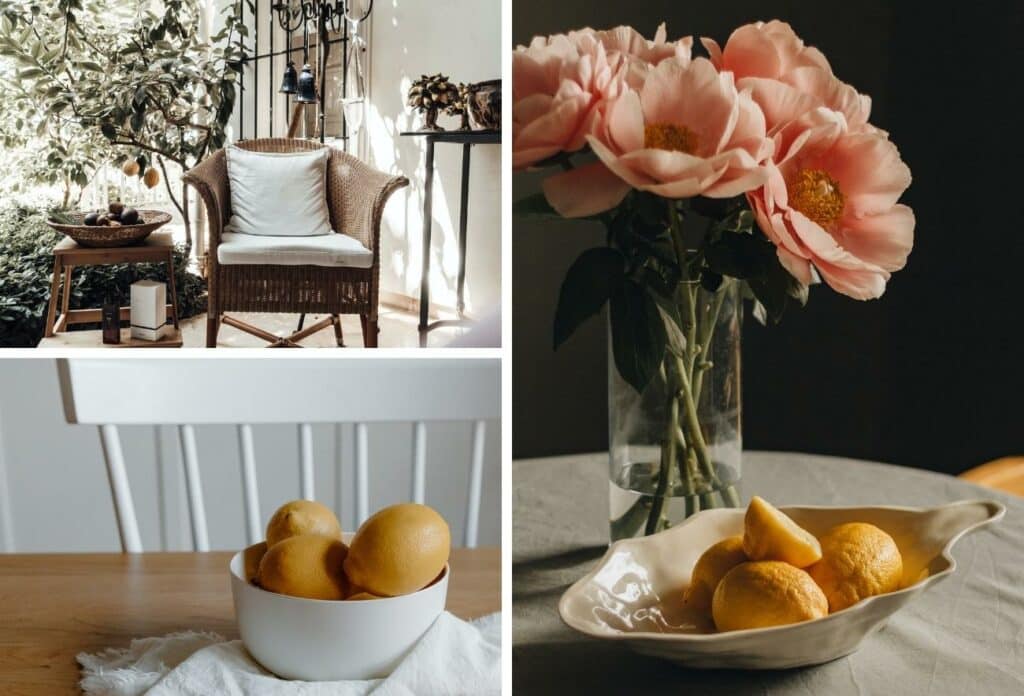 Citrus Accents
Pair lemons with complementary flower colors or feature them in a standalone bowl or vase.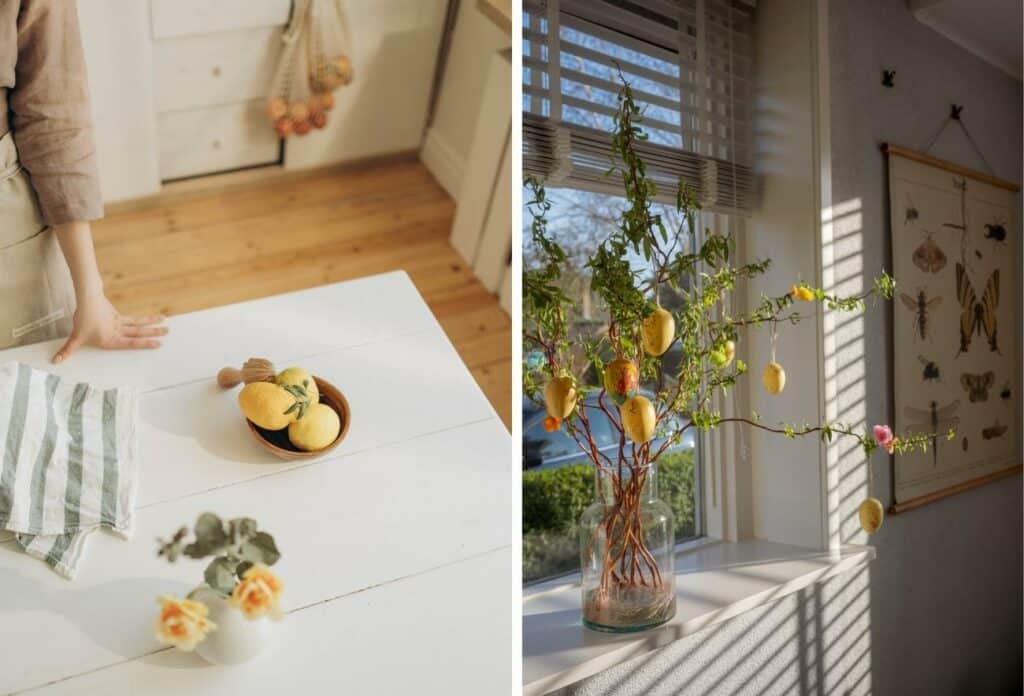 Meyer Lemon Tree
Meyer Lemon Trees are a great way to brighten up any space and refresh your home with spring decor. Depending on your climate, you can keep them outdoors during the summer months and bring them indoors during the winter.
6. Update tableware with pastel hues or floral patterns.
Another simple way to infuse Spring into your home is by switching out your tableware for pastel hues or floral patterns. Get creative with Spring-inspired napkin rings, tablecloths, and earthy accents. Shop the latest collection from The Nopo, an online eCommerce platform that connects shoppers with exceptional artisans in some of the most intriguing markets around the world.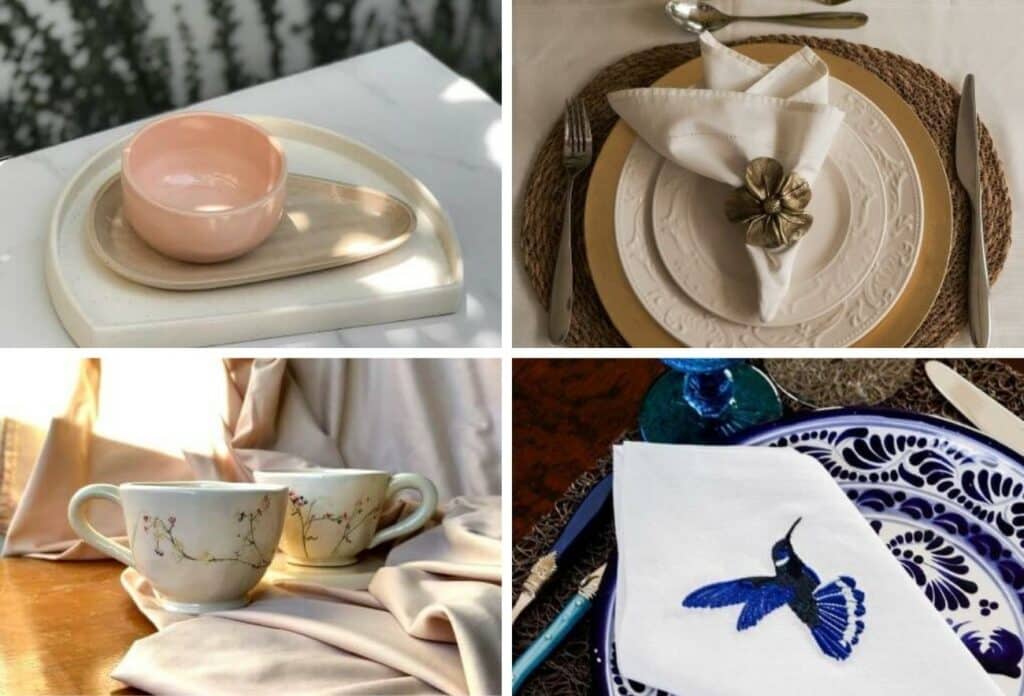 The Nopo
The Nopo was founded by a 'wanderlust' female duo, Kelly Breakstone Roth and Shanny Harel, who set out to create an exceptional discovery platform that would inspire people to explore beyond their familiar geographical and cultural boundaries.
Shop the new arrivals to spruce up your table for spring.
7. Update your outdoor space with spring accents and decor.
Consider updating your outdoor space with Spring-inspired outdoor rugs, throw pillows, and furniture with earthy, organic colors and textures. To create cohesion throughout your home, extend the same indoor color palette to your outdoor spaces while embracing slightly more texture and pattern to bring your outdoor space to life. For Spring outdoor decor inspiration, shop the Spring outdoor collection from Sundance.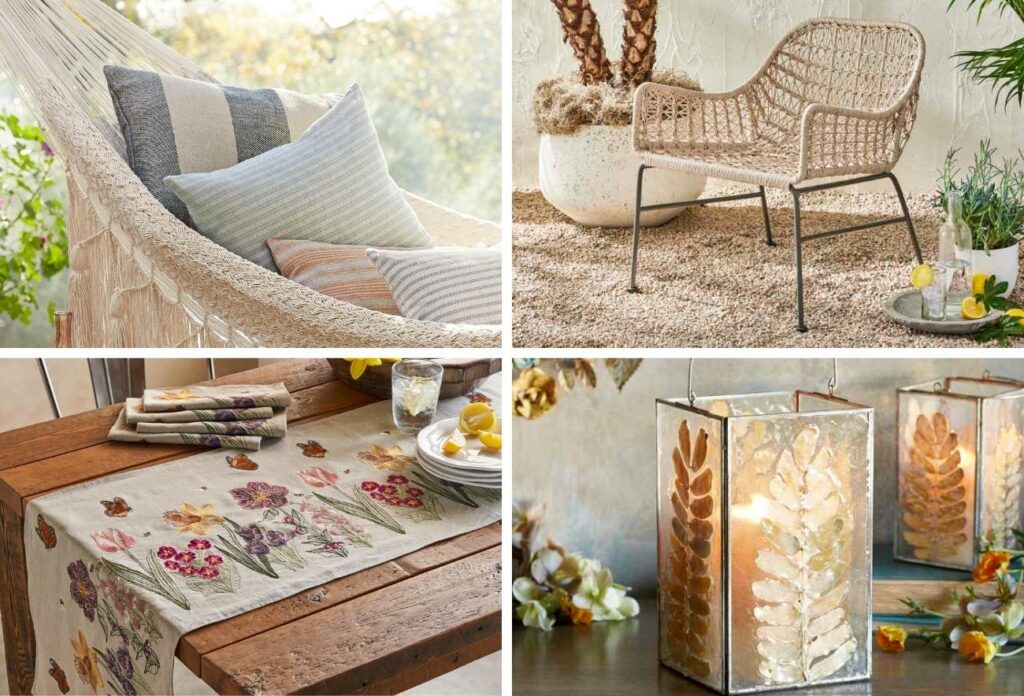 Sundance Outdoor Spring Collection
From a handmade hammock in the Yucatán Peninsula of Mexico by indigenous women, to a woven, all-weather wicker chair, the Sundance outdoor collection brings an earthy organic essence to any outdoor space.
8. Add a spring-inspired stained-glass ornament to a window that gets ample light.
If the idea of putting up a sign that reads "Spring has Sprung" feels a bit cliche to you, but you still wish to sprinkle some Spring decorations into your home, consider a stained-glass ornament of flowers, a hummingbird, or even keep it minimal with stained-glass greenery on a window that gets ample light. Shop stained-glass ornaments from Glass Lady Designs.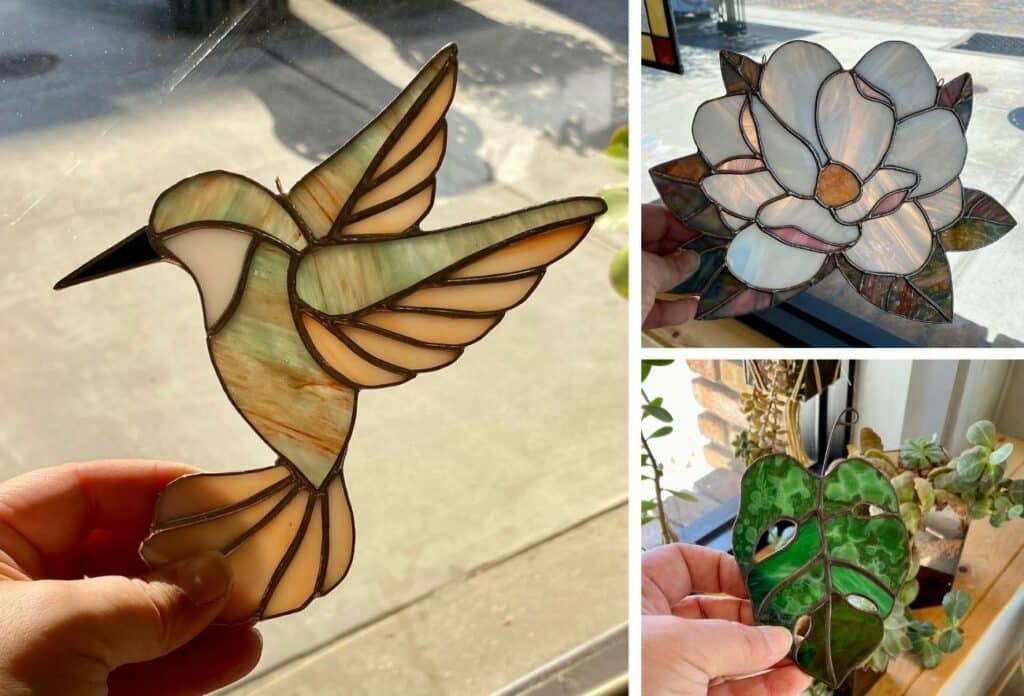 Stained Glass Window Ornament
Every one of Glass Lady Design's pieces is handcrafted in a stained glass studio in St. Cloud, Florida. All pieces are made to order and can be customized to your exact preferences including custom colors to blend seamlessly with your decor color palette.
9. Add floral and colorful glassware to your next soiree.
Why serve a refreshing Spring cocktail in an ordinary glass? Consider unique Spring cocktail glasses such as iridescent cocktail glasses, bright floral glasses, or peony cocktail glasses in the perfect Spring hues.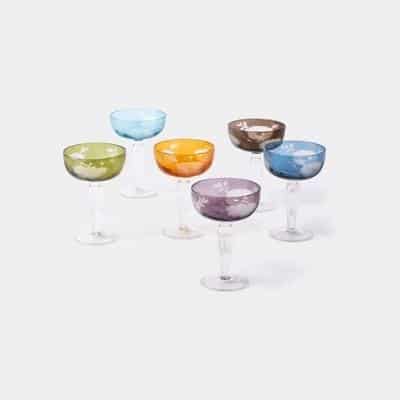 Peony Coupe Glasses
Featuring sandblasted impressions of peony blossoms across their surface, POLSPOTTEN's 'Peony Coupes' are a breath of fresh air. Presented in six different colors and cut from glass, the vibrant coupes are ideal for events and entertaining guests.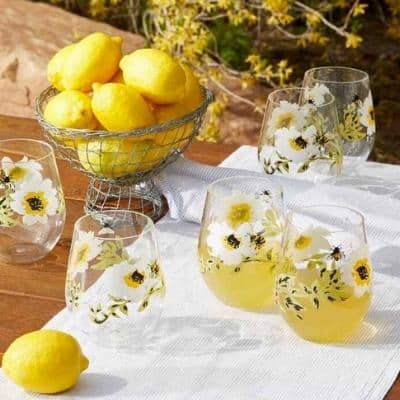 Honeyland Stemless Wine Glasses
These whimsical stemless wine glasses will perk up any party, with their cheery bumblebee and floral designs in a splash of sunny color. Sturdy, yet lightweight, easily moved from table to patio to picnic.
10. Create spring-forward surprise and delight moments.
At Uncommon and Curated, we embrace the little surprise and delight moments throughout life, and your approach to Spring shouldn't be any different. Consider freezing fresh fruit or edible flowers in your ice cubes to add a splash of spring to any drink. Even little touches like updating your hand soap to a Spring scent or using essential oil to add a little scent to your napkins are a great way to delight your guests this spring.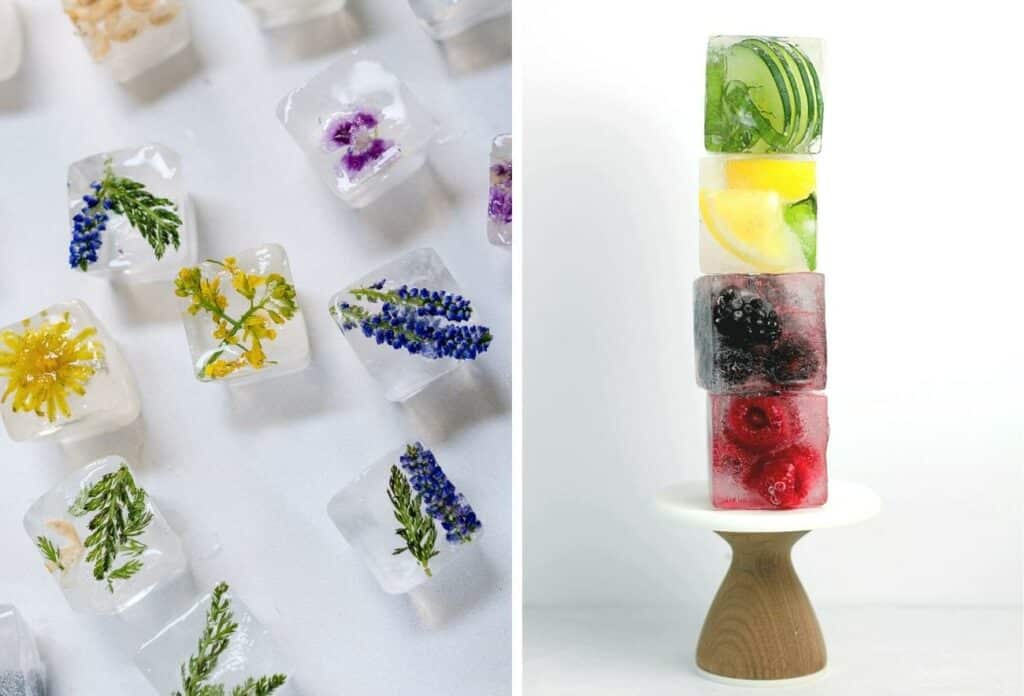 Floral or Fruit Ice Cubes
To put your fruits and florals on full display, be sure to choose an ice cube tray with large square cubes like this one from W and P Design.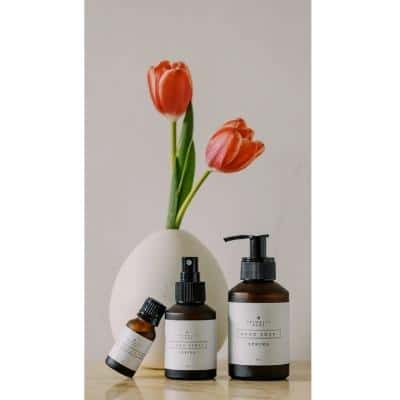 Primarily Pure Spring Home Collection
Discover this hand soap, room spray, and essential oils that are organic, wild-harvested, and sustainably sourced from Pink Grapefruit, Wild Lavender, White Sage, and Palo Santo. These key ingredients offer powerful plant medicine and metaphysical benefits along with antibacterial and antimicrobial properties to detoxify, refresh and promote a sense of lightness in your space and your spirit.
What are some places to shop for spring decor?
Now that you've explored some ways to update your home decor for Spring, it's important to update your home with beautiful and intentional pieces. To blend your Spring home updates seamlessly into your decor, start with the brands you've already incorporated into your home. The brands you already own will most likely feature seasonal edits you can shop to sprinkle spring home decor throughout your space.
Once you've exhausted all of your go-to brands, you can expand your horizons by shopping websites that feature beautifully crafted decor. For instance, brands like Nordic Peace, Maison Numen, and Azulina Home feature inspiring and handcrafted decor with seasonal patterns and textures.
Looking for more spring home decor inspiration?
See some of our spring home decor tips in action with the below inspiration mood boards.
Earthy textures, patterns, and pops of golden color.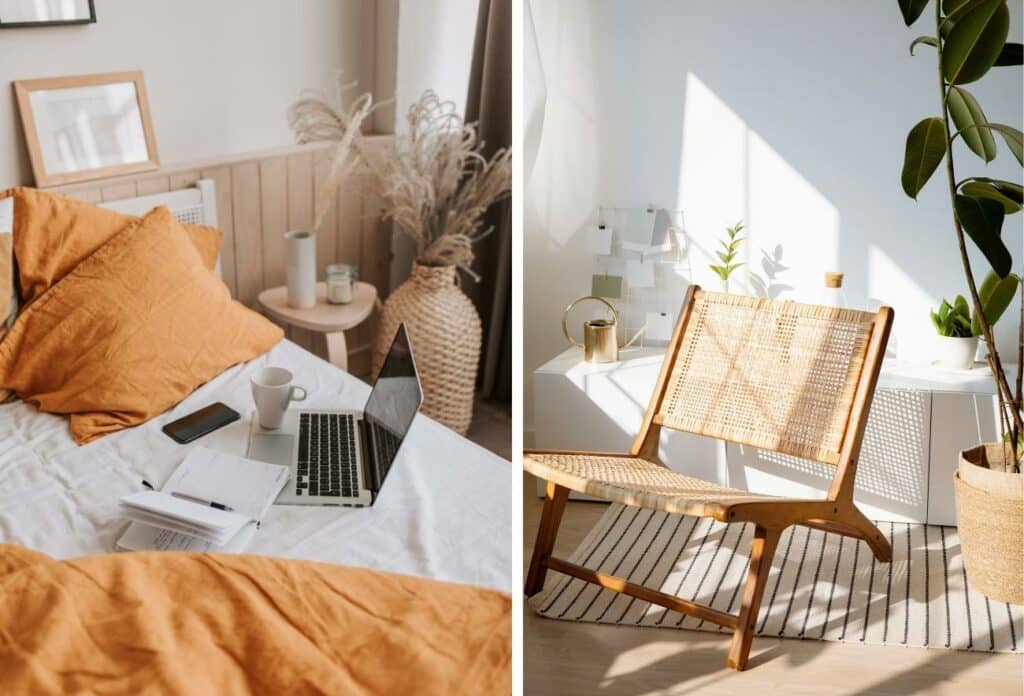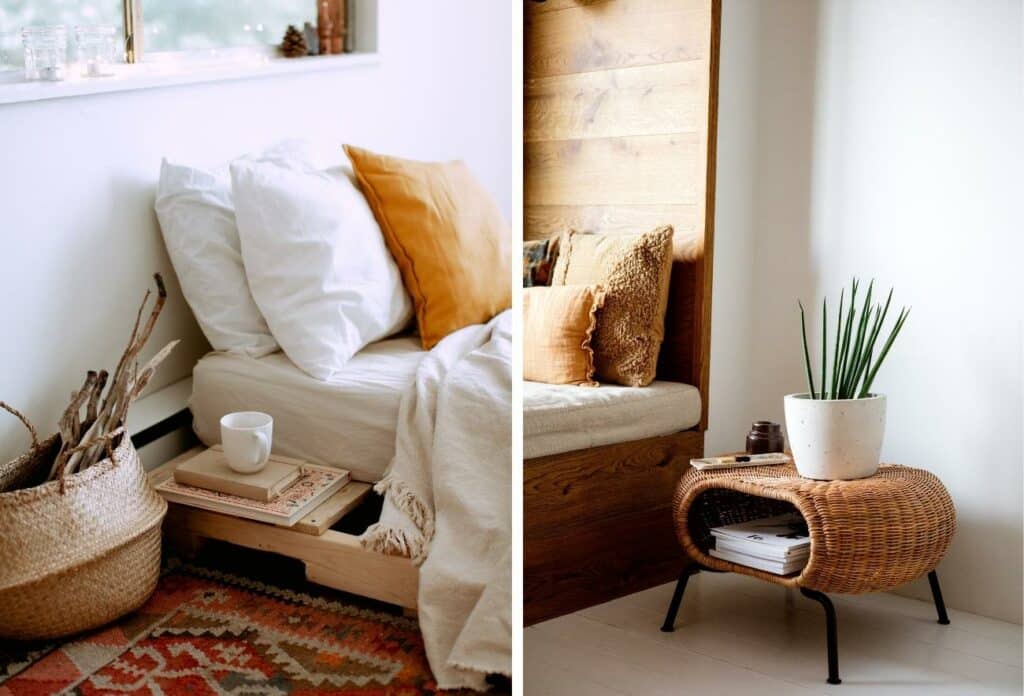 Monochromatic decor with spring accents such as dried flowers and pastel throw blanket.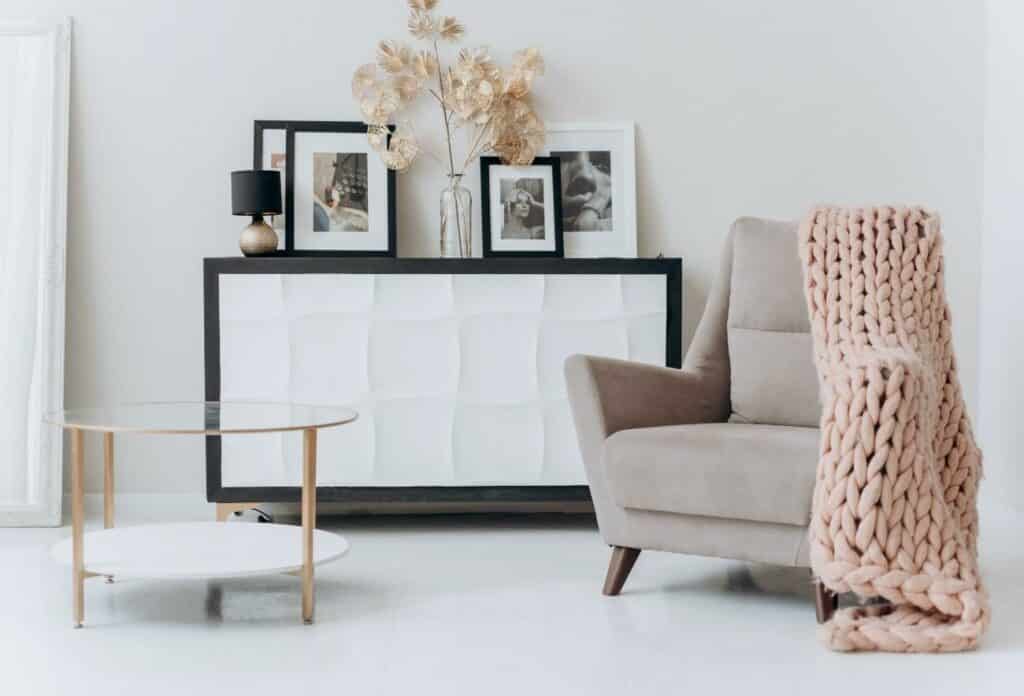 Greenery and plants to bring the outdoors in with gold and amber accents.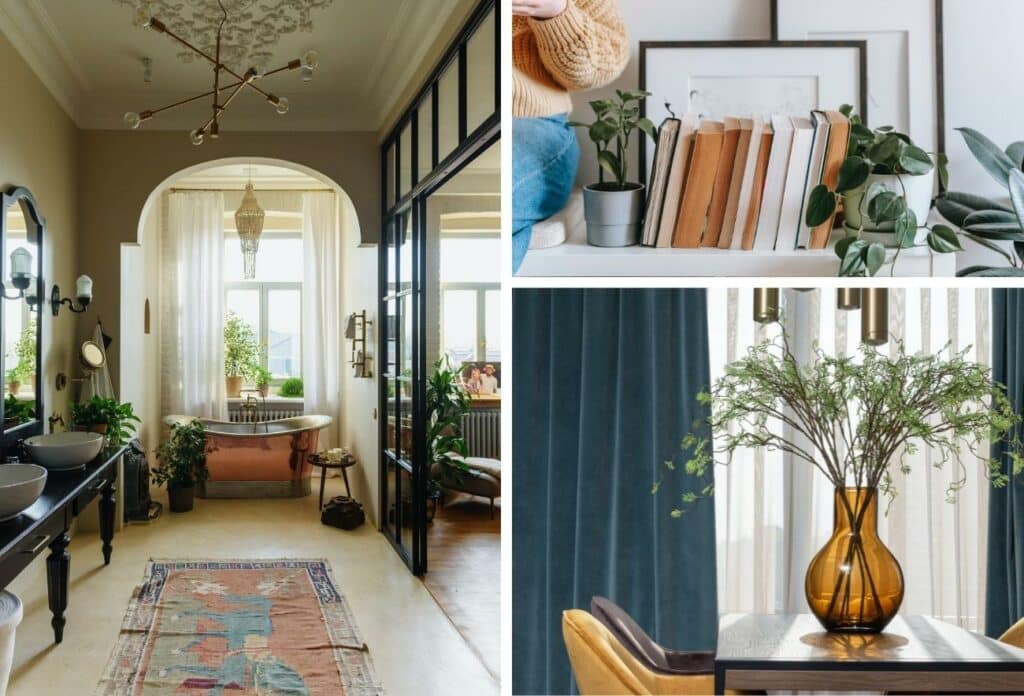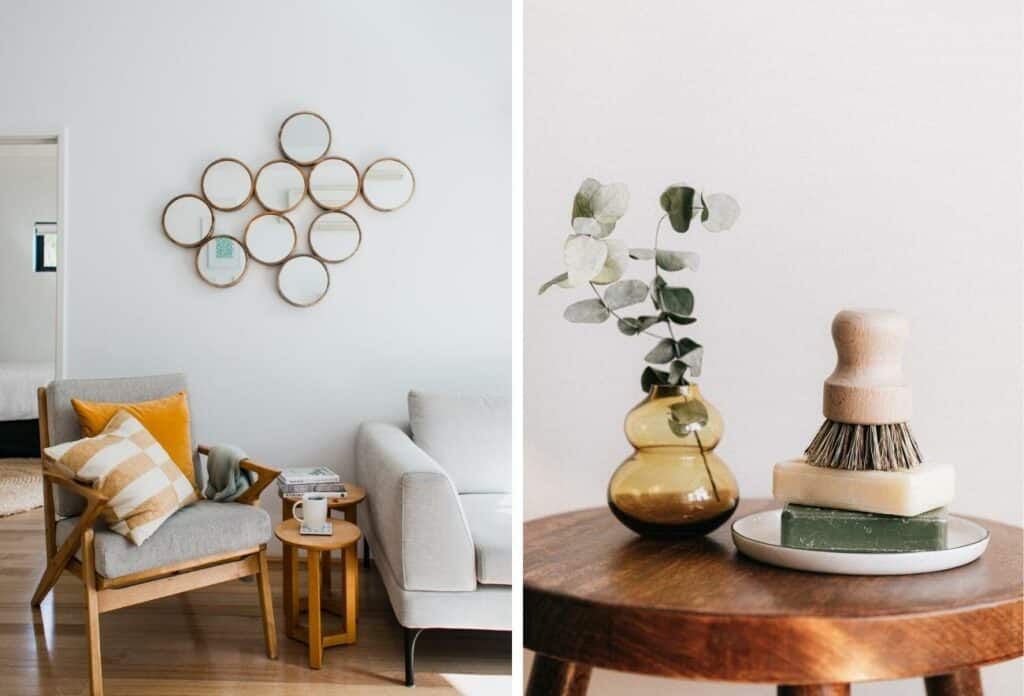 Fresh or dried flower bouquets and unique displays with citrus.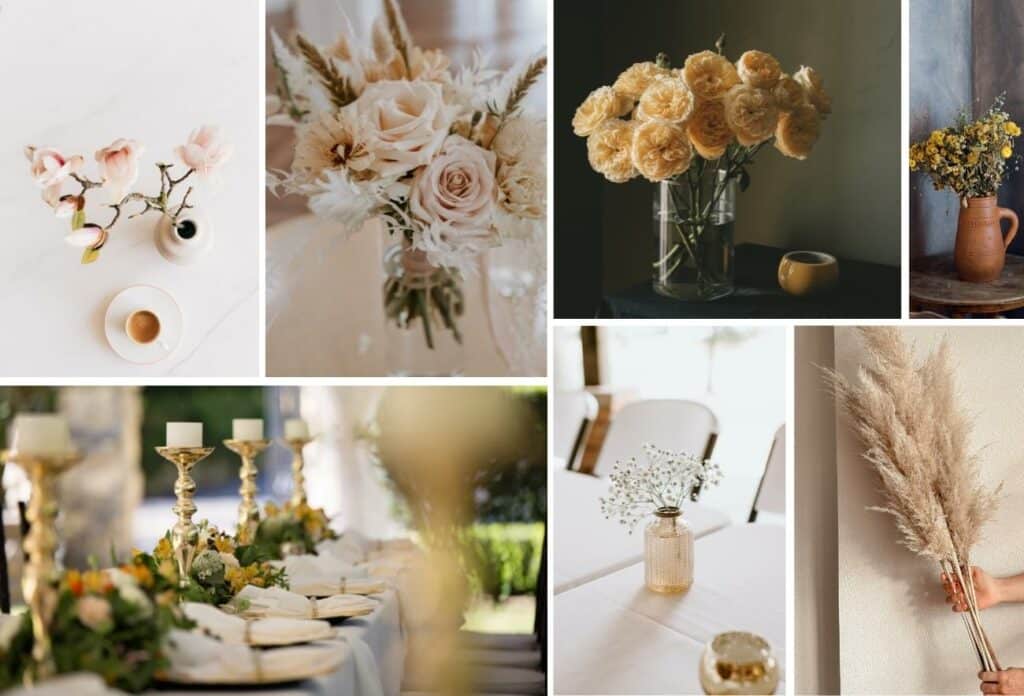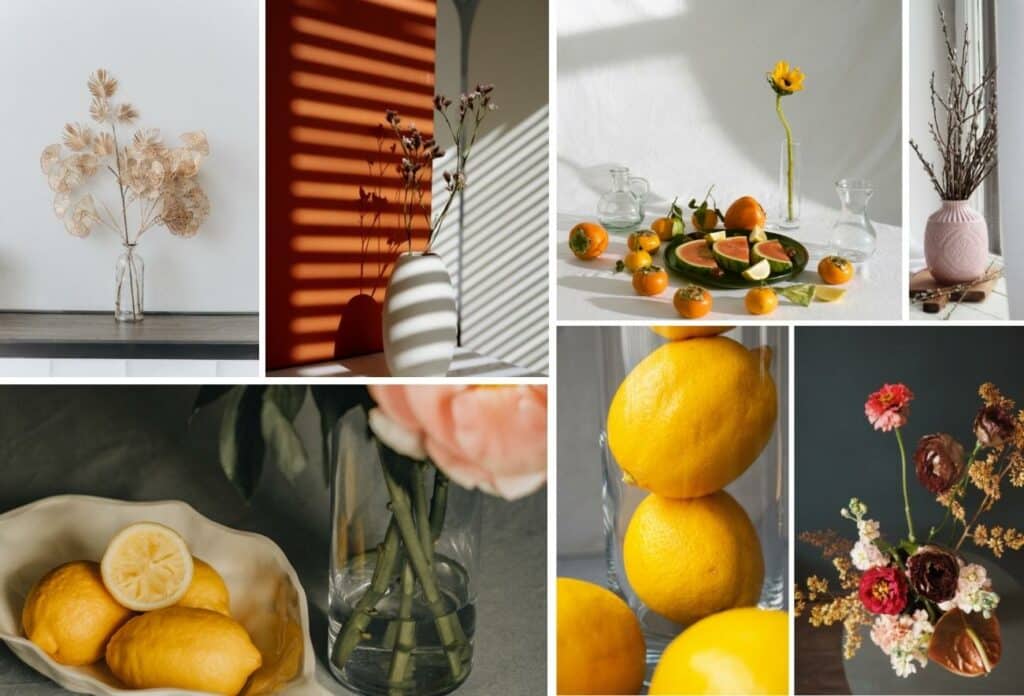 Spring themed tablescapes and displays.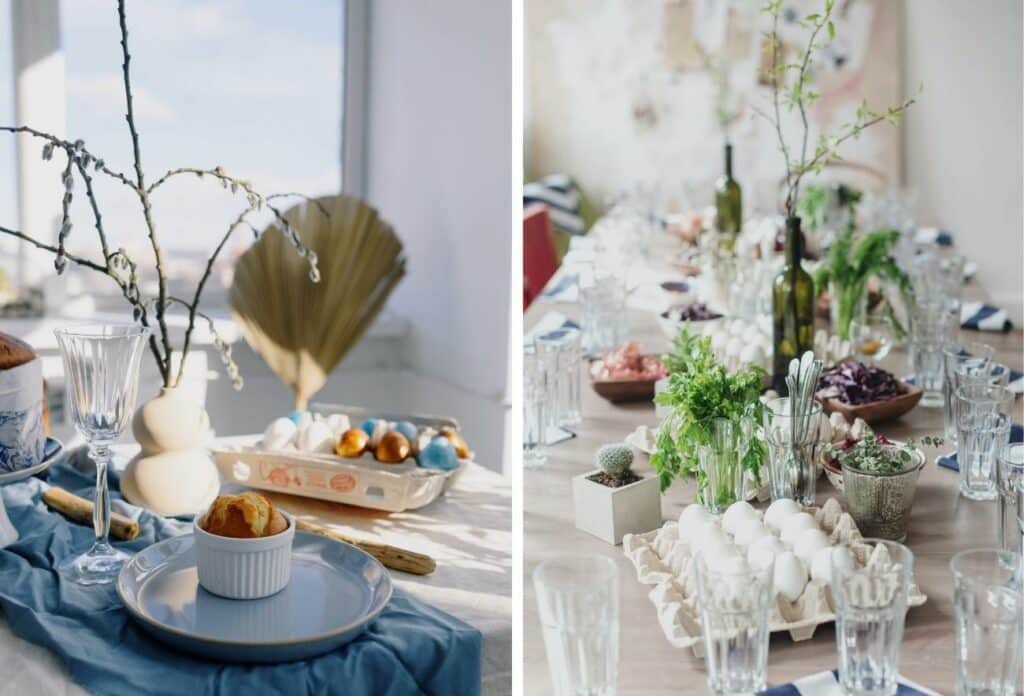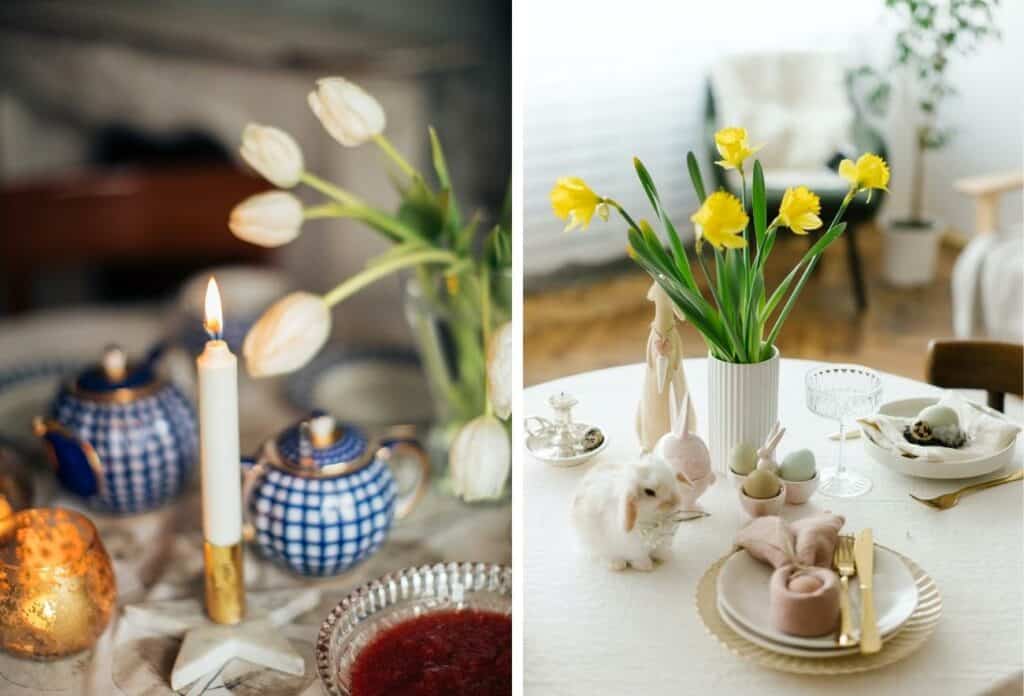 Soothing color tones and cozy nooks.