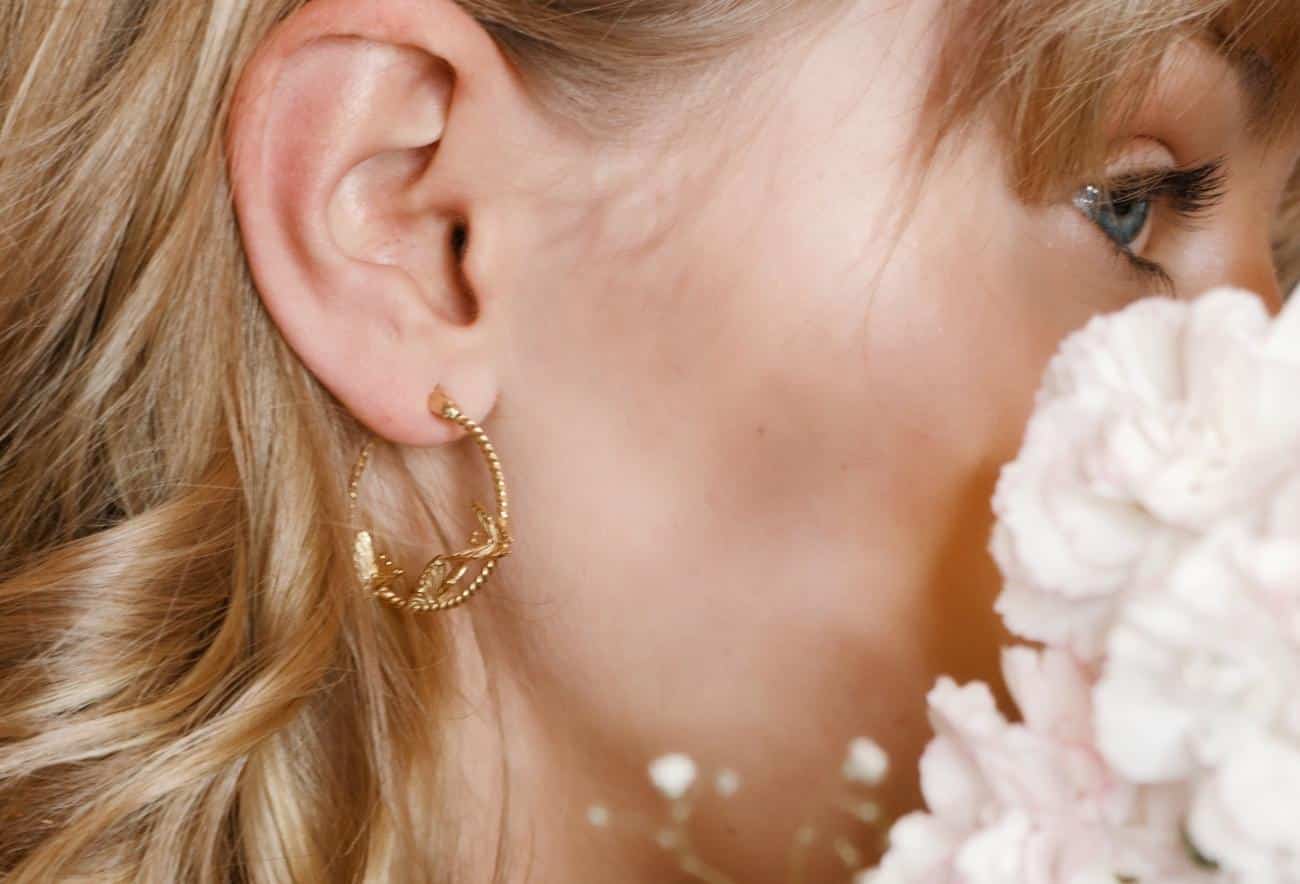 7 Ethically-Sourced Fine Jewelry Brands You Need to Know Now
A decade ago, ethically-sourced fine jewelry was hard to come by, making each purchase a difficult choice between looking good and doing good. Today, with the environmental impact of what we buy and consume becoming an even bigger priority, brands are defining what it means to make more sustainable jewelry. From recycled gold to conflict-free diamonds, these ethically sourced fine jewelry brands are raising the bar for sustainable jewelry without compromising quality and style.
Read on to learn the story behind these sustainable and ethically-sourced fine jewelry brands.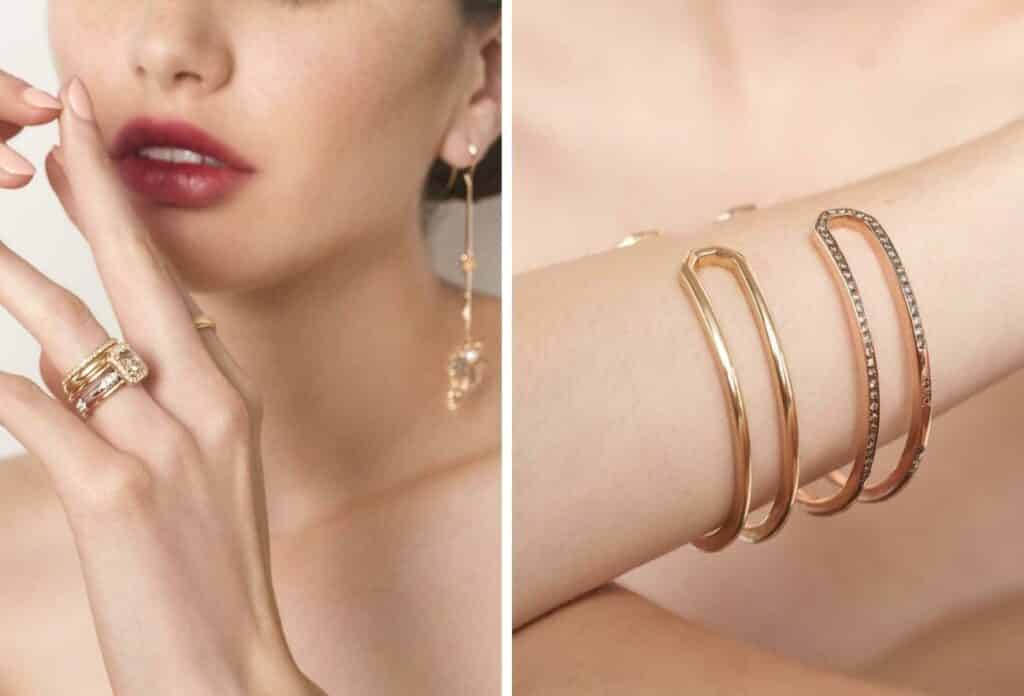 THE STYLE
Anna Sheffield is an eponymous jewelry line focused on making fine jewelry that is uniquely meaningful. Each piece of jewelry is a precious talisman crafted to be passed down for generations. From diamonds in rare forms, to extraordinary gems, and a custom range of gold colors, Sheffield's designs are contemporary yet timeless. 
Anna Sheffield has a strong commitment to sustainability. This ethically sourced jewelry brand uses recycled gold, conflict-free diamonds, single-origin gems, and reclaimed melee.
THE STORY
Sheffield started her career in sculpture before shifting her focus to jewelry, drawing upon her Fine Art fundamentals to create unique and elegant pieces that are truly original. Sheffield's childhood in the Southwest has had an enduring influence on her work, with her pieces reflecting a natural beauty and spirituality in their design.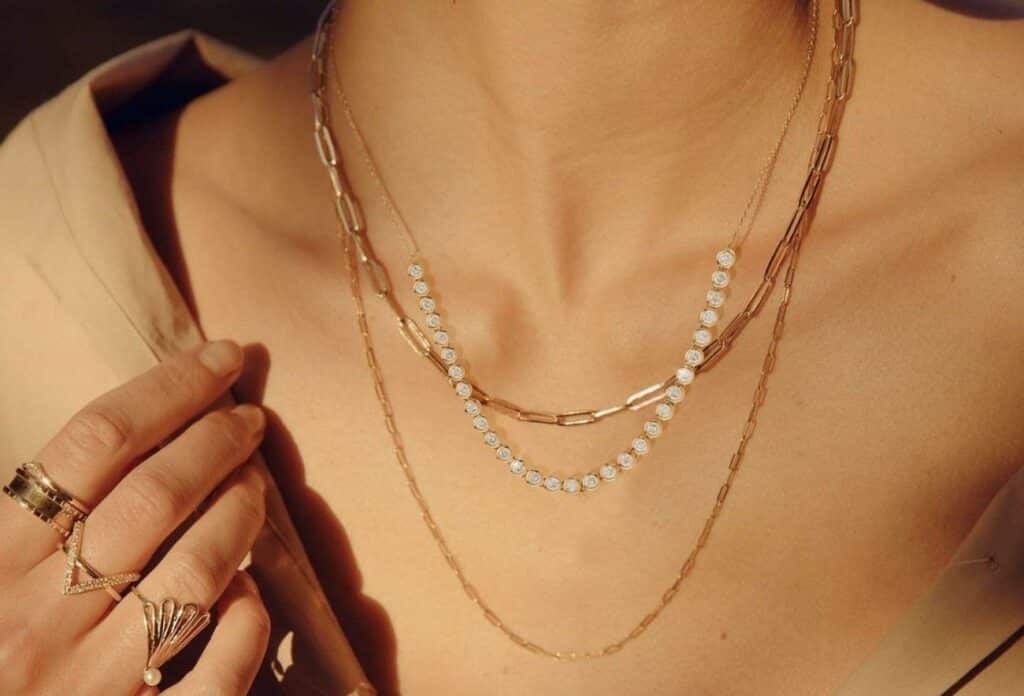 THE STYLE
Aurate fine jewelry is handmade with ethically sourced sustainably made 14K gold, 18K gold, and 14K gold-plated vermeil. They rigorously test for quality to ensure that each and every piece lasts a lifetime. Aurate works hand-in-hand with seventh-generation craftsmen from across the globe overseeing every step of the process to ensure no detail is missed. All gold is 100% recycled and each gem is carefully chosen and tracked, strictly adhering to the Kimberley Process. Their mines are run under ethical and safe working conditions with fair wages and the utmost respect for the local indigenous communities.
THE STORY
Aurate focuses on what truly matters: durable materials that withstand everyday wear, transparent pricing, and sustainable practices to protect our planet. Longtime friends from grad school, Sophie Kahn and Bouchra Ezzahraoui couldn't find fine jewelry with a contemporary spin and a reasonable price tag. So, they decided to take matters into their own hands. Hailing from the Netherlands and Morocco respectively, Sophie's background in fashion and Bouchra's experience in finance created a perfect partnership to transform the fine jewelry market. The result is a fine jewelry collection of the highest quality, ethical practices, and the chicest designs.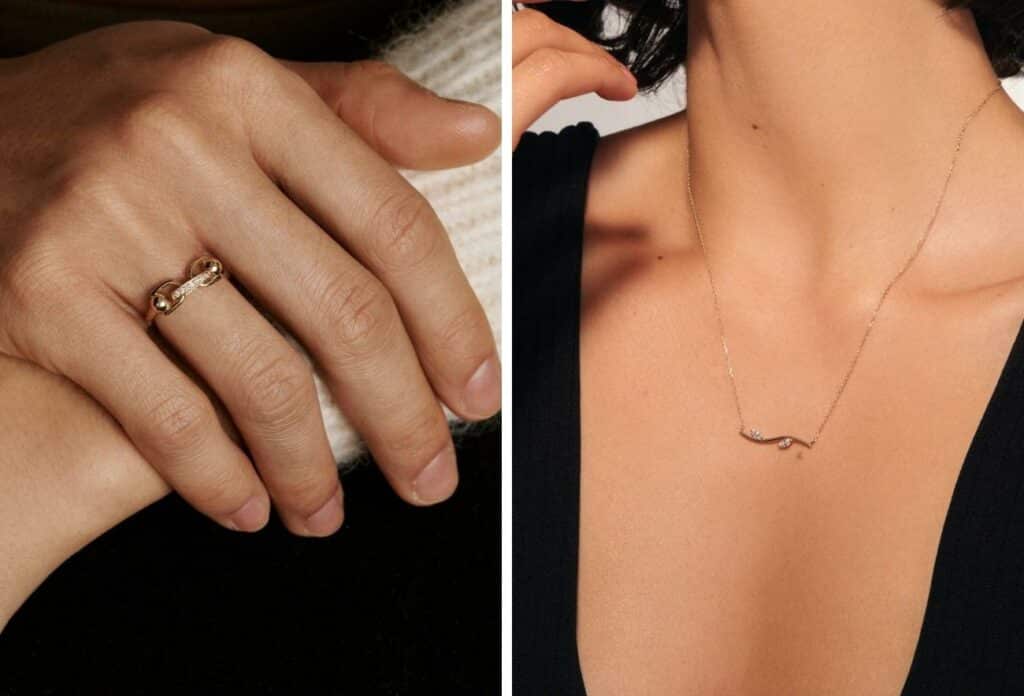 THE STYLE
Sophie Ratner makes bespoke fine jewelry that isn't limited to special occasions. Designed for every day, the brand features dainty earrings, unique rings, and shimmering pendants to complete your daily wardrobe. Whether you plan to mix and match, dress up or down, Sophie Ratner features versatile designs for every mood and style. With a commitment to sustainability, All styles are made to order in New York City with lab-grown diamonds and ethically-sourced 14 karat gold.
THE STORY
Sophie Ratner launched in 2016 on a simple belief: fine jewelry is meant to be worn every day and in every setting. ​​Founded by Sophie Ratner and Hannah Rosenberg, the company has a strong commitment to helping women lead more empowered lives. With the vision of creating beautiful, airy designs entirely comfortable for everyday living, Sophie Ratner designs jewelry with women in mind – what they need, want, and what will best suit their lifestyle.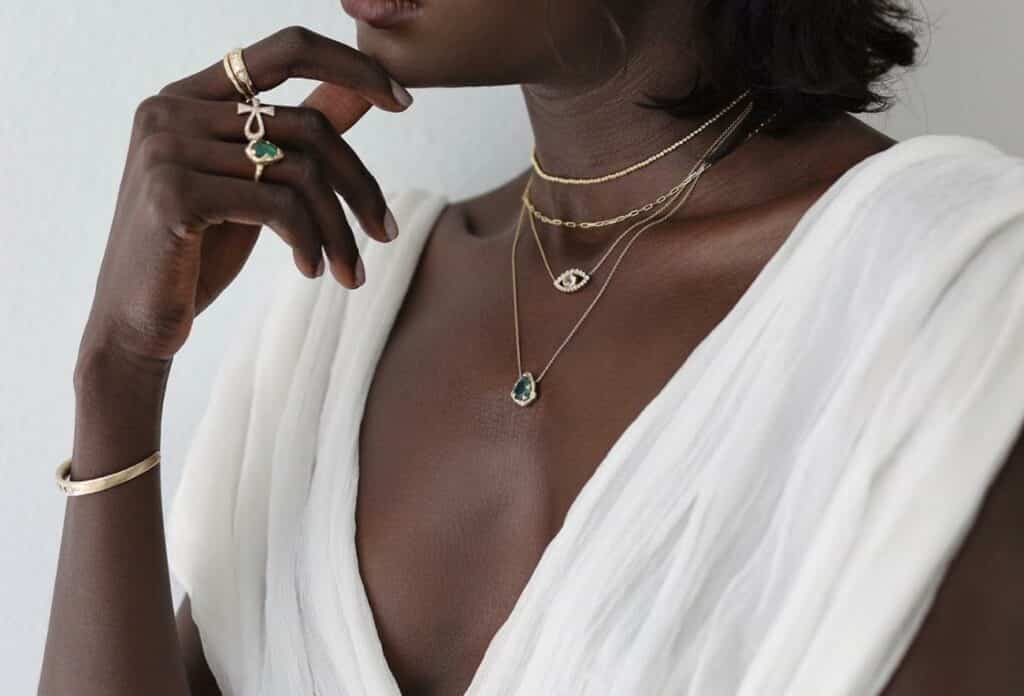 THE STYLE
Logan Hollowell fine jewelry is handcrafted in Los Angeles using recycled gold, conflict-free diamonds, and gemstones from around the world. Each piece is created by artisan goldsmiths with handpicked gemstones based on the intuition and feeling that Hollowell receives from the stone and its beauty. Logan Hollowell designs collections that encompass ancient wisdom, and inspiration from the universe, always visualizing the spiritual impact and healing effect that a piece will have on its wearer.
THE STORY
Founder and CEO of Logan Hollowell, Hollowell moved to Los Angeles from North Carolina when she was 17 to pursue a career in the fashion industry. Eight years later, she launched her first jewelry line inspired by nature and the vastness of the universe. From the age of 14, Hollowell would go to flea markets and scour vintage shops for inexpensive jewelry that she could take apart and rework to make her own. People started offering money for her designs, and after moving to LA, someone asked if they could wear her jewelry to a red carpet event. The rest is history. Today, Logan Hollowell's mission is to create heirlooms made with intention that will stand the test of time.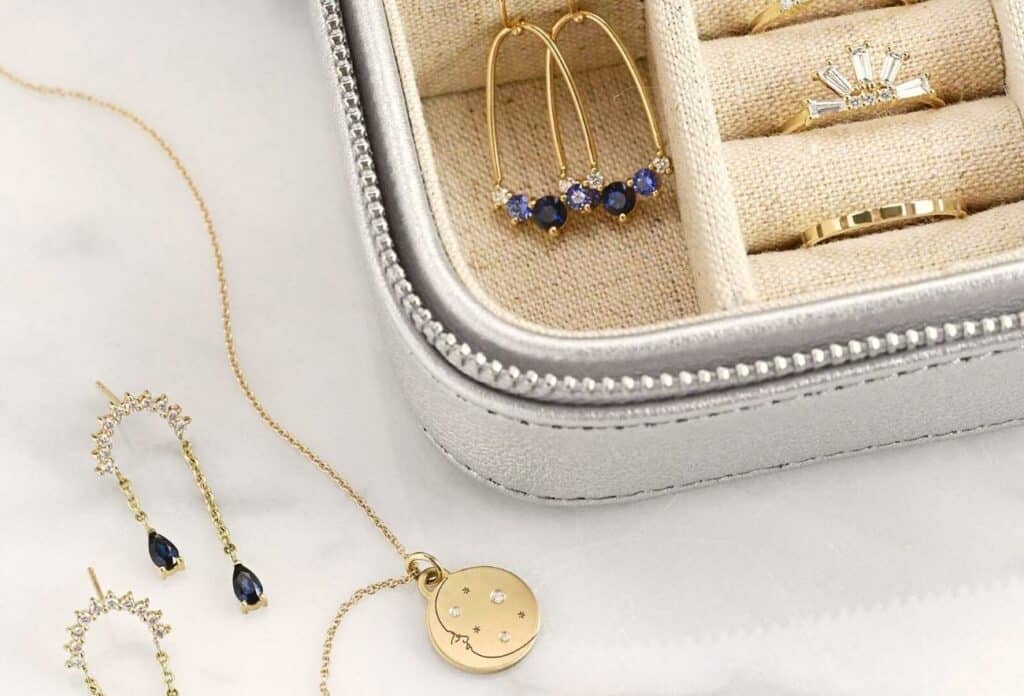 THE STYLE
Valerie Madison creates vibrant, elegant, and unique designs made with high-quality materials to ensure they can be worn for generations. Valerie Madison jewelry features styles and stones not seen in traditional pieces, such as salt-and-pepper diamonds, rose-cut diamonds, uniquely shaped stones, vibrant hues, and more. The brand uses recycled metals, conflict-free diamonds, Australian & Montana sapphires, and more, sourced through reputable and trustworthy vendors.
THE STORY
Founded in 2014 by Valerie Madison, she merges contemporary technology with skillful artistry to create elegant designs inspired by classic styles. With her keen eye for detail and passion for individuality, her designs celebrate not only the beauty of life and love but also the natural world and the stunning gemstones that come from it. With a B.S. in Environmental Science & Resource Management, a love of the earth and sustainability has been a part of the company's DNA from day one.