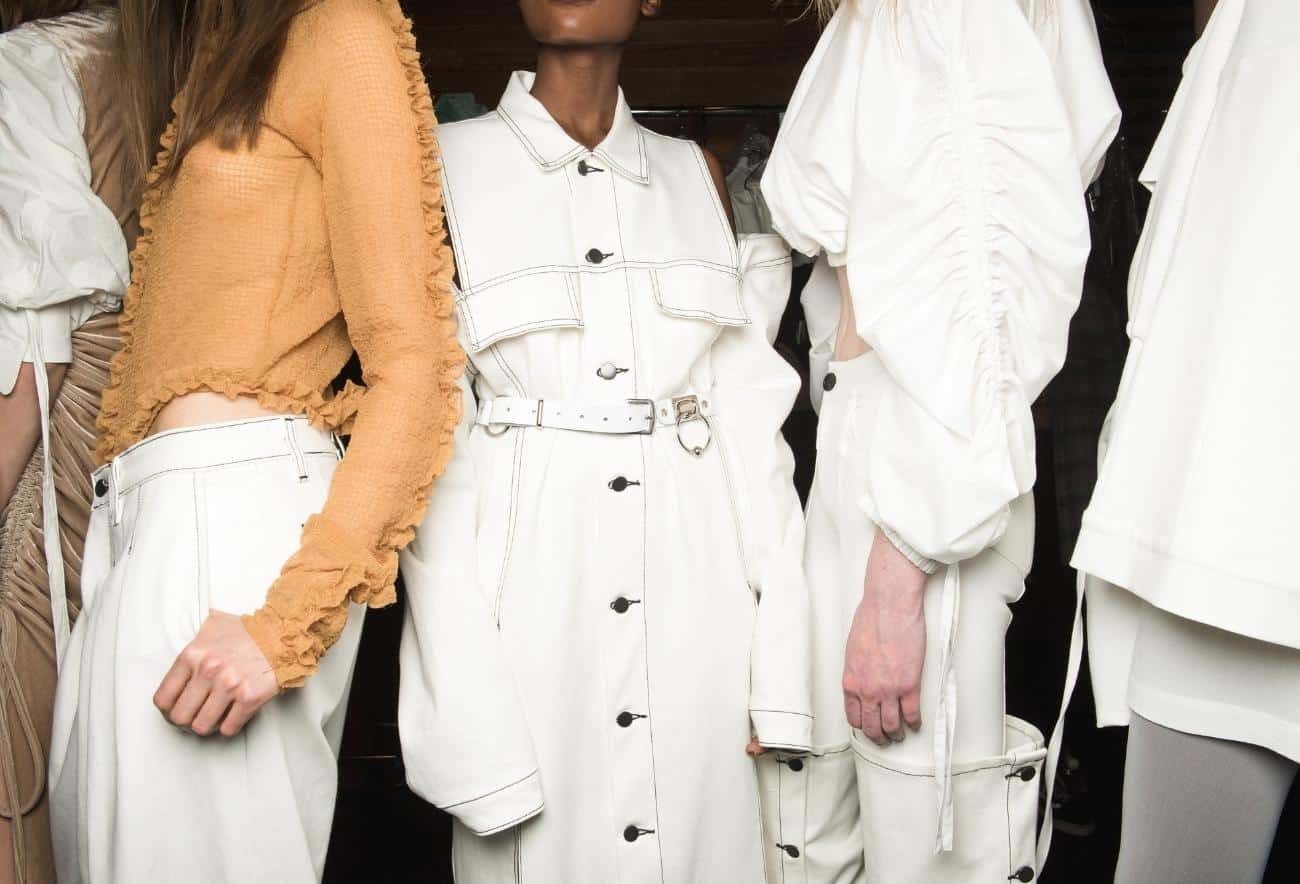 A Clothing Style Guide Inspired by New York Fashion Week Fall/Winter 2022 Trends
Sequins, maxi skirts, and feather details are just a few of the trends spotted on the New York Fashion Week Fall/Winter 2022 runways. While we believe that personal style reigns supreme, embracing a trend designed by a brand you love is one of the easiest ways to turn a trend into a wardrobe staple. Read on to explore some of our favorite pieces that encapsulate trends spotted on the runway.
For On-the-Go:
Silk Classic Trench by Cuyana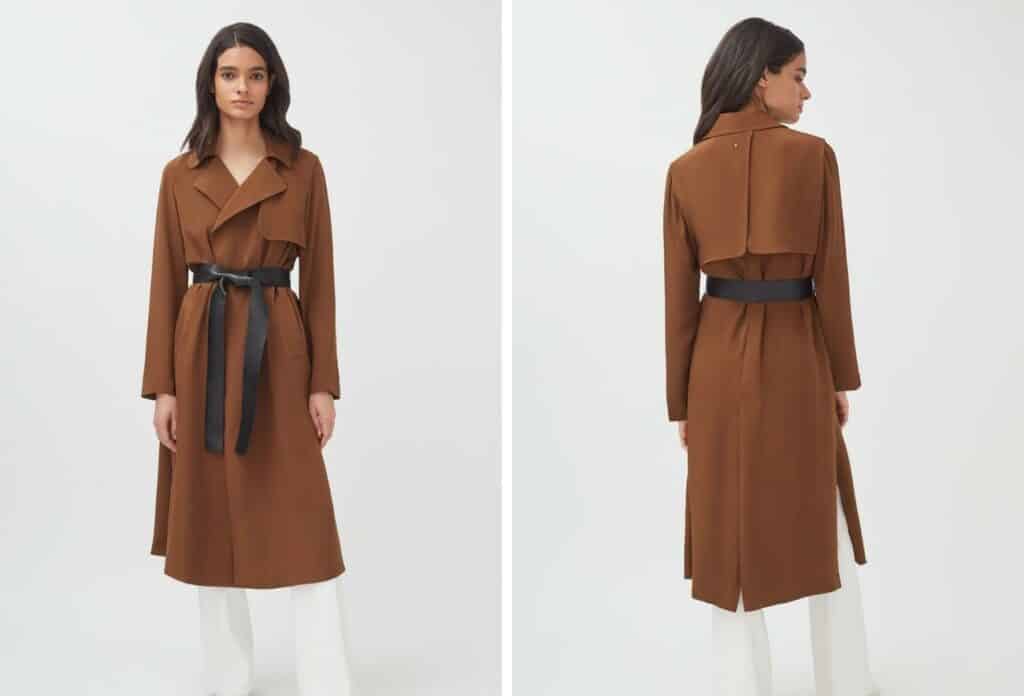 THE STYLE
A fresh take on a timeless classic, colorful silk, and dark floral trench coats graced the runway this season. This chestnut-colored trench coat is 100% silk with a black lamb leather belt. Midi length, this trenchcoat features a wrap closure and side slits, ideal for any occasion from morning to night. This garment is bluesign certified, ensuring production minimizes resource use and has the lowest possible impact on workers and the environment.
THE STORY
Karla Gallardo started Cuyana alongside co-founder Shilpa Shah with the vision of creating a global design house that inspires intentional buying through pieces that are crafted with integrity. Founded on the philosophy of fewer, better, Cuyana encourages customers to purchase fewer but better-quality pieces that they will love and treasure for years to come.
For Your Next Soirée:
Florence Strapless Metallic Gown by Bronx and Banco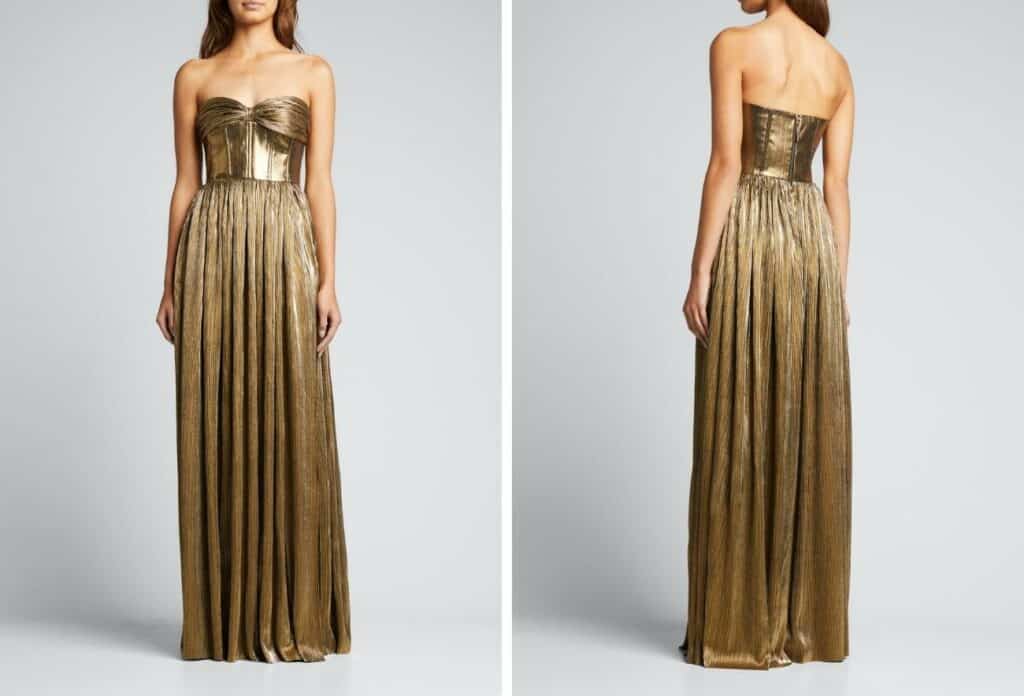 THE STYLE
Sequins and metallics were a common theme across runway collections. While sequins made their debut in cocktail dresses, blazers, and even turtlenecks, we can't get enough of this Florence strapless metallic gown by Bronx and Banco. The floor-length dress features an a-line silhouette, a strapless sweetheart neckline, and boning in the bodice.
THE STORY
Launched in 2009 by Natalie DeBanco, Bronx & Banco is an Australia-based contemporary women's fashion label. Known for its sophisticated and sexy design with a playful and daring flare, the collections are a direct reflection of the label's founder and Creative Director Natalie DeBanco's personal style inspired by global travel, exotic destinations, and cosmopolitan adventures.
For Casual Comfort:
SNIDEL Pleated Frills Sleeve Knit Pullover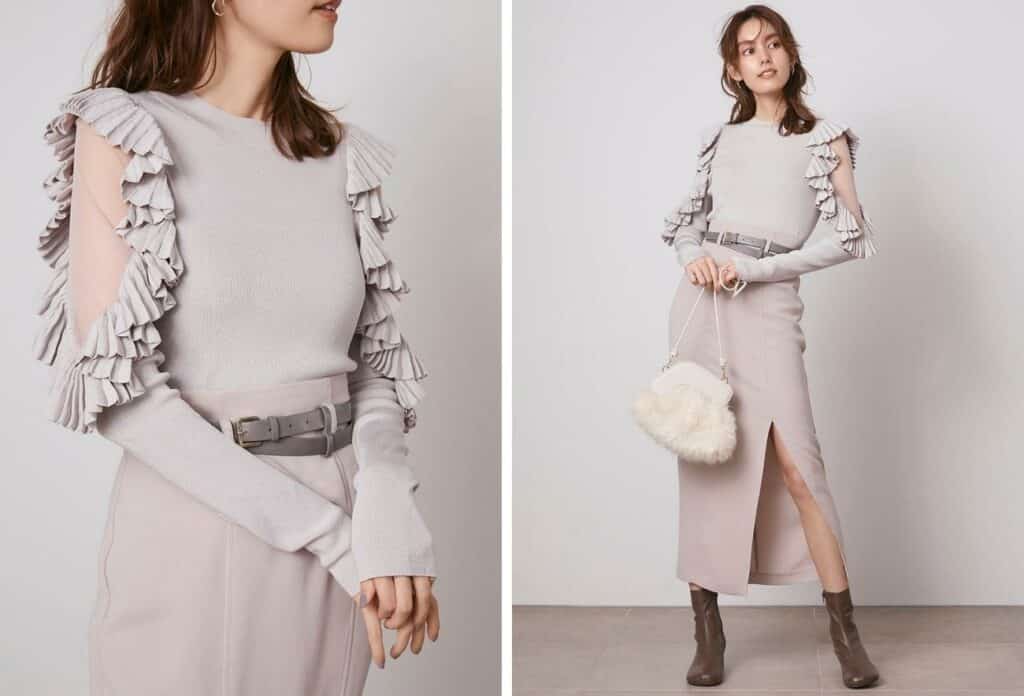 THE STYLE
Sheer dresses, skirts, and sleeves were amongst some of the season's standout pieces at Fashion Week. While designers like Christian Siriano embraced sexier looks with sheer off-the-shoulder sleeves, this Pleated Frills Sleeve Knit Pullover by Snidel is perfect for more casual everyday wear. Transition your wardrobe from winter to spring with this sweater in light grey.
THE STORY
Designed by Asami Kusugami, Snidel is a Japanese fashion brand best described as "street formal," founded on the concept of fusing street culture with elegance while offering unique styles that stand out. Paying close attention to detail, SNIDEL pieces aim to enhance the beauty of a woman's silhouette.
For Making a Statement:
Cobalt Off-The-Shoulder Draped Sleeve Mini Dress by Christian Siriano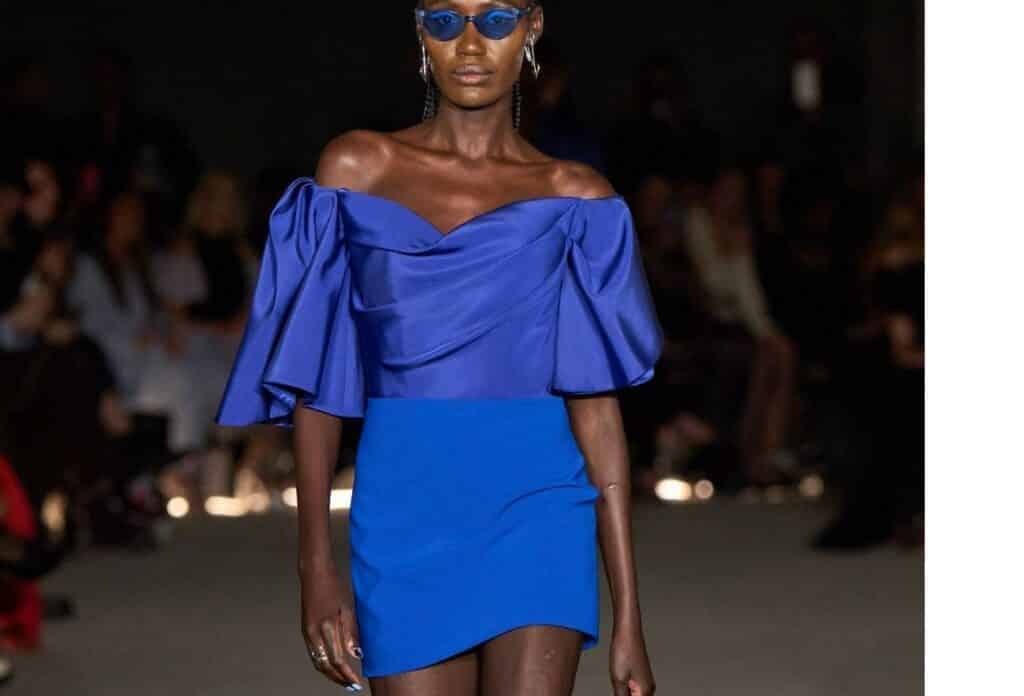 THE STYLE
Bright monochrome suits, blouses, and skirt sets made a statement on Fashion Week runways. If colorful, tailored pieces are the bold entrance you've been looking for, look no further than the Cobalt Off-The-Shoulder Draped Sleeve Mini Dress by Christian Siriano. We love the drama of the ruffle sleeves and the use of premium fabrics including Silk Faille and Wool Blend. This piece is made-to-order in New York City.
THE STORY
Following his studies in London under Vivienne Westwood and Alexander McQueen, Christian Siriano launched his eponymous collection in 2008. From fantasy evening gowns and cocktail dresses to tailored sportswear, and intricately detailed shoes and accessories, Christian Siriano is known for whimsical and show-stopping design.
For Day to Night:
'Tullius' skirt by Altuzarra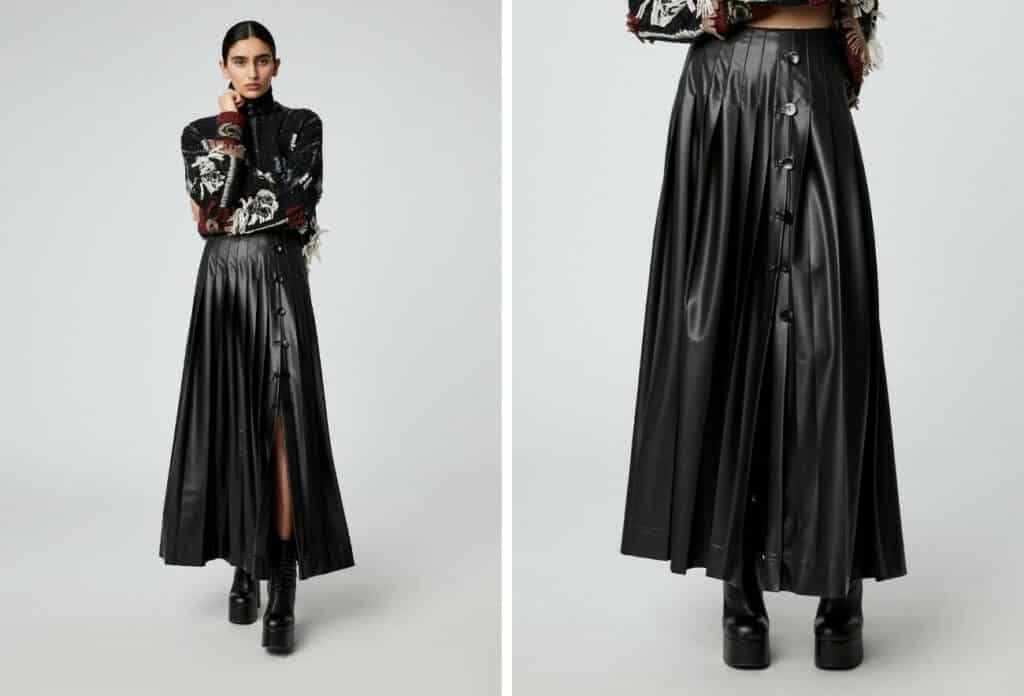 THE STYLE
Another Fashion Week trend that took runways by storm is the maxi skirt. Add an edge to your look with the 'Tullius' skirt by Altuzarra crafted in a sweeping midi silhouette from vegan leather with sharp pleats at the high-rise waist. Complete with adjustable buttons on the front, undo a button or two when day turns to night.
THE STORY
Altuzarra is a luxury women's ready-to-wear and accessories collection, launched by Joseph Altuzarra in 2008. The label's mission is to create a sophisticated, modern wardrobe, built on the principles of timelessness and uncompromising quality. Exuding seductive femininity and polish, the Altuzarra brand speaks to the power, fearlessness, and sensuality of the modern woman.
For a Night Out:
Viscose Satin Crepe Feather Hem Tux Dress by Karen Millen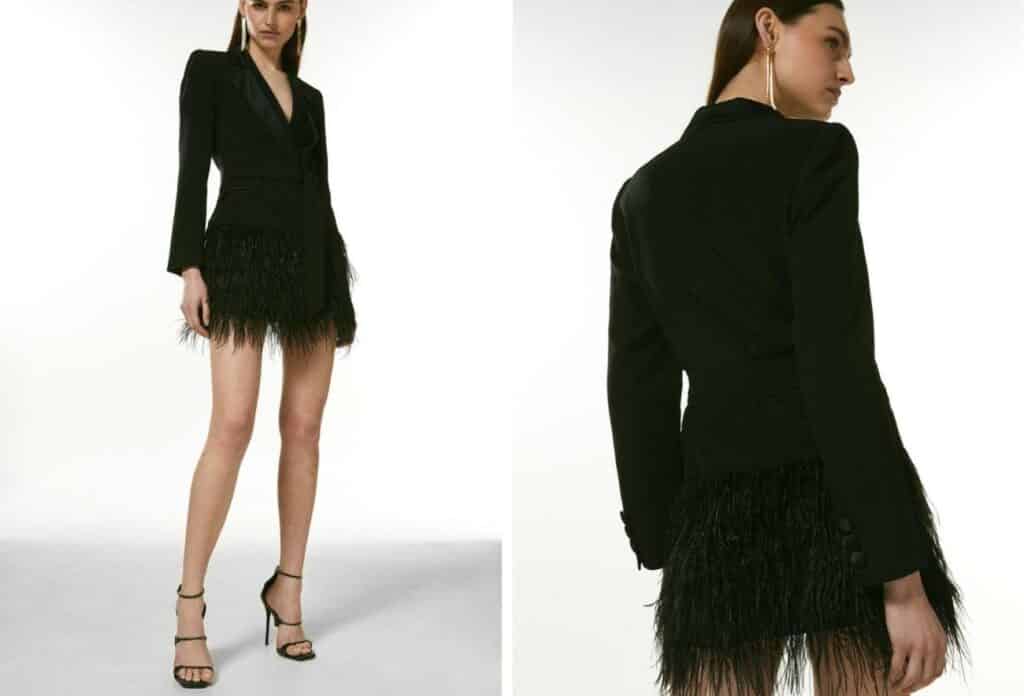 THE STYLE
Feathers were the focal point of many garments at Fashion Week, with billowing hemlines and lush accents. Dress up your evening look with this tux dress featuring a double-breasted front, waist belt, and multi-stitch detail for an extra dose of luxe. Detailed with wispy feathers at the hem, it gives a memorable finish to this piece of iconic tailoring.
THE STORY
Founded by Karen Millen In 1981, with a loan of £100, Millen bought cotton fabric and began creating white shirts to sell to friends. Four decades later, the label has evolved into a destination for thoughtful styles with exceptional design, creative talent, and premium craftsmanship. The label's design philosophy is articulated through a collection of versatile offerings that include elevated basics, elegant occasionwear, and fastidious tailoring that fits like a glove.