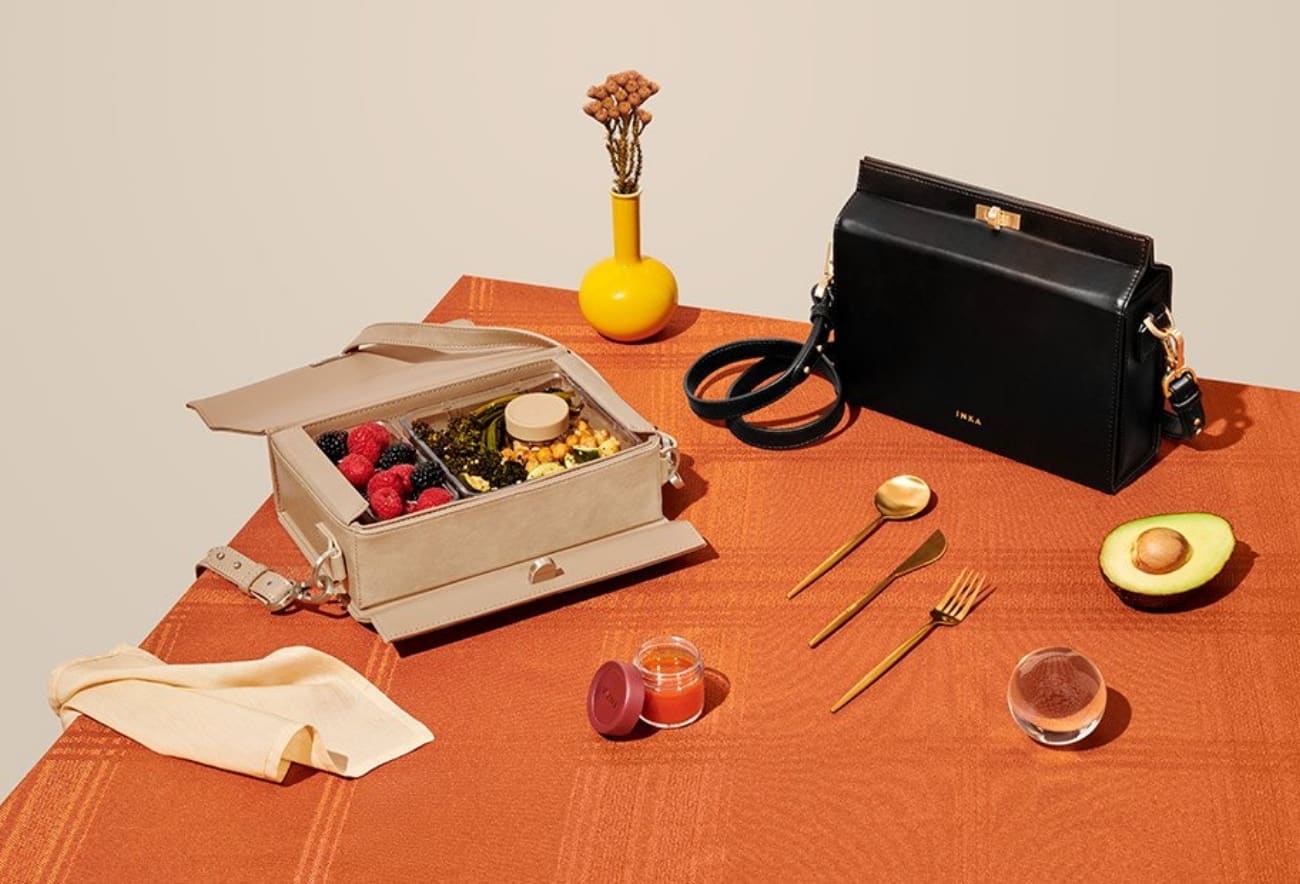 Back to the Office: Discover a Stylish and Sustainable Lunchbox
As we prepare our wardrobe and social skills for heading back into the office, gone are the days of being able to whip up a mid-day lunch in the comfort of our own kitchen. Here to save the day is The Lunch Kit from Inka, a sustainable lunchbox that proves adding a daily commute back into your workweek doesn't mean you have to ditch a healthy, homemade lunch. The best part? This compact and stylish lunch kit is not only beautiful, but it's also completely reusable and has no waste.
A Sustainable Lunchbox with Style
This sustainable lunchbox is as stylish as a purse clutch. The outside of the carrying bag is made from vegan and waterproof microfiber leather. The inside boasts silicone leather upholstery used on luxury yachts designed to withstand years of salt spray. With five beautiful color options ranging from plum to black, The Lunch Kit is always in style, from the boardroom to happy hour to the subway. With interchangeable straps, you can carry this lunch kit as a crossbody, shoulder bag, or toss it in your tote. For optimal convenience, there is an interior pocket for silverware, and even a back pocket for your phone, keys, and credit card.
A Sustainable Lunchbox with Reusuable Components
Your kit comes complete with two modular InvisiSeal food containers that are BPA-free, microwavable, and dishwasher-safe, durable stainless steel silverware, a sauce container, and napkins.
Why We Love It
We love the sustainability of this lunch kit with completely reusable containers and accessories. The kit's beautiful design and attention to detail can transform a simple lunch break into an indulgence. The portability of this kit makes it easy to pack a daily lunch on the go, and it makes a fashionable companion for any after-work plan. Finally, something to inspire Sunday meal prep.
Promising Customer Review
"Expert Lunching! I am so in love with my Lunch Kit—when I first heard about Inka, I was intrigued, but as someone who wasn't already a habitual "meal prepper," I wasn't sure it was for me. But after getting mine, I can honestly say that it has turned me into someone who is excited to bring lunch from home.
The materials are incredibly luxe and clearly extremely high quality.
I love how easy it is to clean the bag or microwave the containers (which honestly really do not leak). Saved a lot of money already and feel like I'm helping the environment with this sustainable lunchbox too. Win-win!"