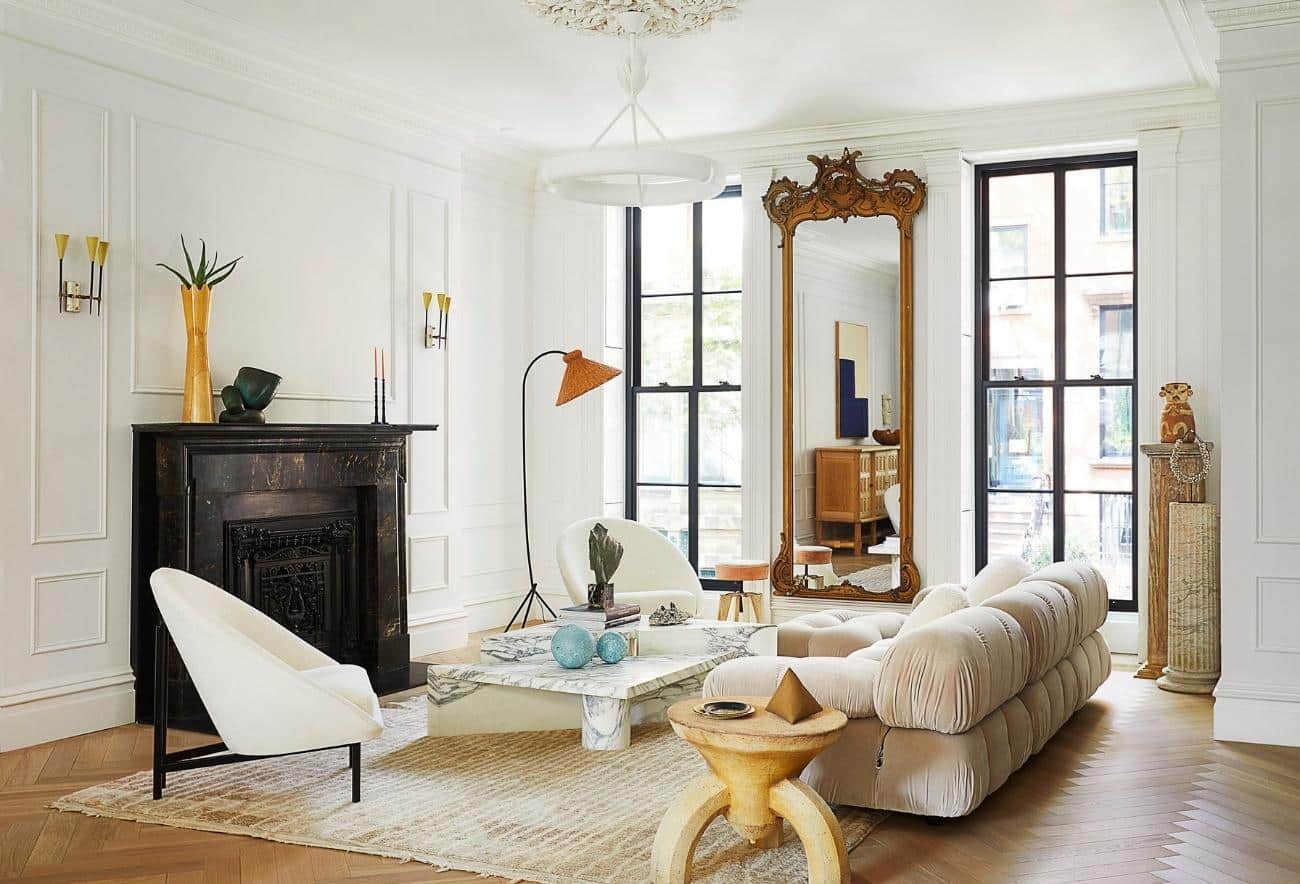 Interior Design Trends Inspired By Iconic Vintage Furniture Designs
The home decor trends of decades past are making their way back into our homes. Mid-century modern and minimalism trends are stepping aside for the lush fabrics and curves of art deco, the bold retro styles from the 70s, and the mixed textures, patterns, and luxe details of maximalism.
From the Mario Bellini Camaleonda sofa you've seen on every influencer's Instagram to the trending Anthropologie Gleaming Primrose Mirror, we explore the vintage originals that have inspired these trends and the iconic designers behind them.
1. The Modular Sofa Trend inspired by Mario Bellini
THE TREND
Modular sofas are making a comeback from the '70s. They are stylish, comfortable, and can be configured into an array of unique sitting arrangements to complement any space.
THE DESIGNER
Mario Bellini, an internationally acclaimed architect and designer from Italy, is a creative talent whose iconic designs span electronics, furniture, architecture, and cars. He has been the recipient of multiple prestigious Compasso d'Oro design awards, and more than 20 of his works are in the permanent collection of the Museum of Modern Art.
THE ICONIC PIECE
Camaleonda Sofa
Mario Bellini designed the original Camaleonda sofa in 1970 for B&B Italia (then known as C&B Italia), and the piece became an interior design must-have after it was featured in the 1972 exhibition "Italy: The New Domestic Landscape" at New York's Museum of Modern Art.
In 2020, B&B brought back the sleek design made with all recycled materials and a few modern upgrades such as interchangeable seat covers. The reimagined icon is a must-have yet again, with this sofa trending on Instagram from celebrities and designers alike.
2. The Antique Gilded Mirror Trend inspired by Matthias Lock
THE TREND
There's a new spin on vintage interior design deemed "Grand Millennial" where home interior trends are shifting away from mid-century modern minimalism to more classic interiors. ​​Think victorian furniture, floral wallpaper, and more grandeur with lush fabrics, bold colors, and gilded interiors.
A must-have home staple of this trend is a gold, gilded mirror such as the Anthropologie Gleaming Primrose Mirror that's been trending on social. A stunning gilded mirror is the focal point of any room, adding a touch of luxury and sophistication.
THE DESIGNER
The gilded mirrors of today are inspired by Matthias Lock.
Lock was an English furniture designer from the 18th century whose work you can find in the glint of English royal life. In the 1740s, influenced by the work of Thomas Chippendale, he emerged as a masterful designer and carver of the French Rococo which included elaborate hand-carved furniture and mirrors.
THE ICONIC PIECE
George II Giltwood Mirror
An example of an antique gilded mirror is a George II Giltwood Pier mirror with intricate hand-carved illustrations. The carved gilt-wood frames of Matthias Lock's designs have inspired many of the ornate scrolls and intricate details of the gilded mirrors that are popular today.
3. The Art Deco Curved Furniture Trend inspired by Eileen Gray
THE TREND
Starting in Spring 2021, Art Deco interior design elements began making an appearance with curved furniture in sumptuous fabrics and jewel-tone colors.
THE DESIGNER
The curved and streamlined furniture designs we are embracing today take cues from vintage designs by Eileen Gray, an Irish designer famous for her modern movement in the world of architecture and is known for revolutionizing the lavish home trends in the 1920s and 30s. She was one of the pioneers who created what we now call modern design. Her tubular steel furniture was revolutionary in its day and is now accepted as classic.
THE ICONIC PIECE
Bibendum Lounge Chair
One of her most well-known designs is the classic Bibendum Lounge Chair named after the Michelin Man due to the chair's tubular shape. The piece gives a classy vintage yet modern feel to any interior.
4. The Rattan Furniture Trend Inspired by Paul Frankl
THE TREND:
Rattan furniture was once the crowning jewel of every home. With texture and intrigue at the forefront of design in 2021, rattan furniture has quickly found itself to be one of the hottest decor trends this year.
THE DESIGNER
Born in 1886, Paul Frankl was a furniture designer, architect, painter, and writer from Vienna, Austria. Paul Frankl was an innovative pioneer who designed chairs and sofas with rattan frames, making rattan a vital part of home decor.
THE ICONIC PIECE
Rattan Pretzel Chair
The Rattan Pretzel lounge chair from the 1940s made rattan a common staple in interior design. Frankl was inspired by Chinese and Japanese forms and materials resulting in the curved lines and bamboo structure of this unique chair.
5. The Dark Academia Trend inspired by Josef Hoffman
THE TREND
A big shift we're seeing in interior design is soft and neutral color palettes and fabrics being traded in for darker, warm colors and rich textures like leather. While "dark academia" is primarily a fashion trend serving studious looks like plaids and tweeds, it can be applied to the shift in interior design boasting darker walls, rich woods, and leather club chairs that will make you feel like you're lost in the library.
THE DESIGNER
Josef Hoffman was an Austrian architect and designer born in 1870. In his furniture design, he favored the use of geometric forms, especially squares, and black and white surfaces, explaining later that "these forms, intelligible to everyone, had never appeared in previous styles."
THE ICONIC DESIGN
Club Chair
Modernist pioneer Josef Hoffmann designed the iconic club chair in 1910, and it testifies to the diversity of his work. Typically upholstered in rich leather or velvet, the 1910 club chair plays with our perceptions of depth and scale. Luxuriously comfortable, the classic curves and rich leather inspire us to kick back and pour a scotch.