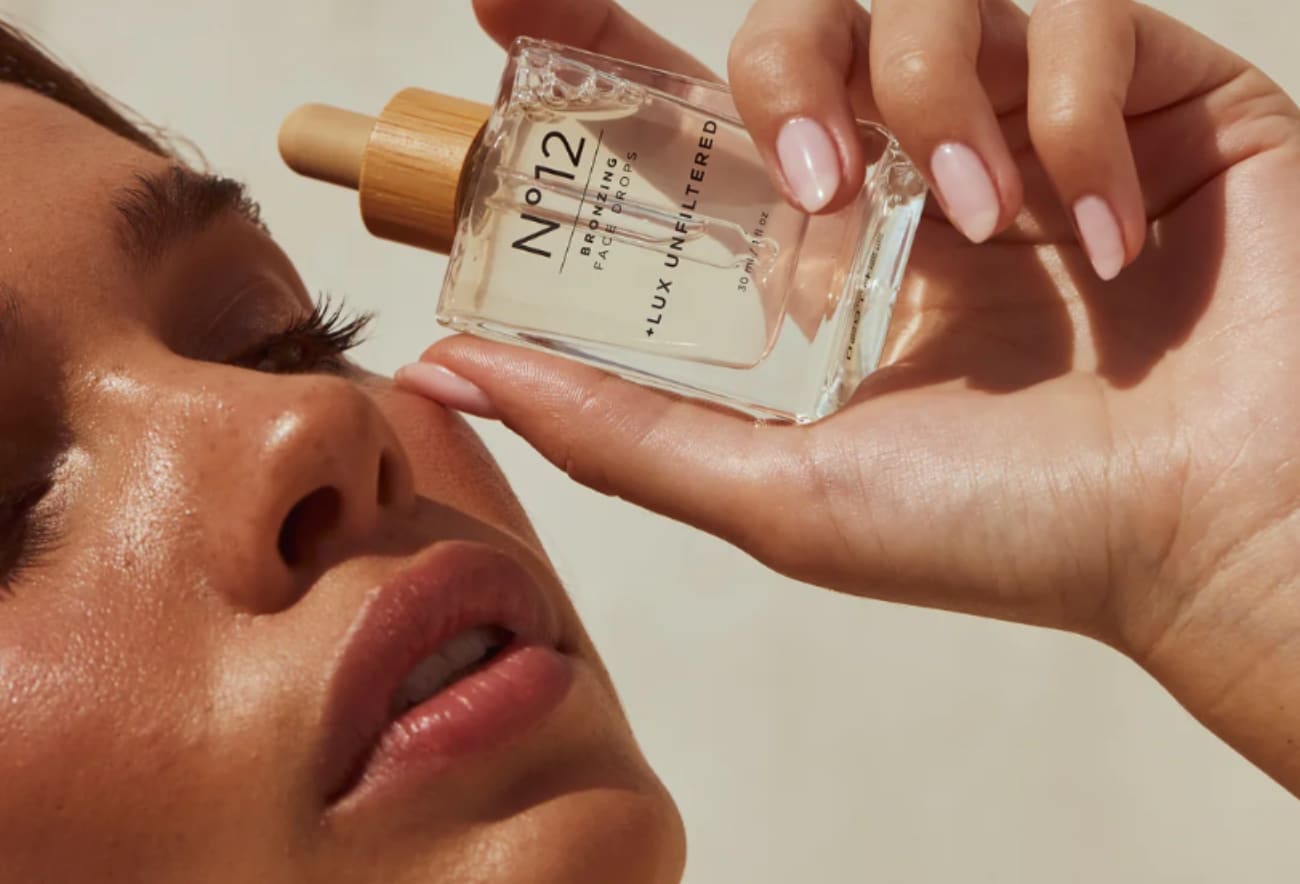 10 Best Face Bronzing Drops for a Radiant Glow
Discover the best face bronzing drops with rave reviews so you can reap the glowing benefits of these sun-kissed face bronzers.
If you are looking for a sun-kissed glow no matter the season that looks naturally beautiful, it's time to add bronzing drops to your beauty routine. Bronzing drops have taken the beauty market by storm, allowing you to customize your tan, enhance your complexion, and radiate a luminous warmth. In this comprehensive guide, we'll delve into the world of bronzing drops, discussing what they are, their benefits, and the top 10 products with rave reviews.
Already familiar with face bronzing drops? SKIP TO THE BEST FACE-BRONZING DROPS
Best Face Bronzing Drops
Whether you're looking to achieve a sun-kissed tan or simply achieve a healthy glow, face bronzing drops are a must-have addition to your beauty arsenal. Our editors curate our collections against our vetting criteria while also conducting extensive research, testing, and evaluating customer reviews. By shopping our curated collection below, you help support our publication as we may receive a portion of sales.
Editor's Pick:
WHERE TO BUY:
WHY WE LOVE IT:
We love +LUX UNFILTERED N°12 Bronzing Face Drops' effortless customizability and that it can be worn without interfering with SPF. You control your glow by adjusting the number of drops – more drops mean more radiance. The beauty of this product lies in its ability to work harmoniously with your existing skincare routine, requiring no extra steps.
N°12 is packed with potent antioxidants such as Vitamin E and Pomegranate, which protect your skin from harmful free radicals. It incorporates sodium hyaluronate, a fantastic moisturizing ingredient suitable for all skin types, and utilizes steamed coconut water, a nutrient-dense and non-irritating ingredient, ensuring your face feels thoroughly hydrated.
WHERE TO BUY:
WHY WE LOVE IT:
These drops come in three shades and are known for their even application and natural-looking tan. Enriched with Vitamin C, these Isle of Paradise bronzer drops are designed to enhance dull skin, reduce the appearance of dark spots, and promote an even skin tone. By combining these drops with your preferred moisturizer or foundation, you can achieve a naturally radiant, enduring glow that not only brightens your skin but also improves your makeup base for smooth application.
WHERE TO BUY:
WHY WE LOVE IT:
Infused with hibiscus extract, this mist gives an instant hydration boost and a streak-free tan. Giving a light to medium sun-kissed glow, this formula is infused with Hyaluronic Acid for its hydrating properties, leaving your skin feeling plump and refreshed. The addition of Hibiscus Extract, known for its antioxidant properties, helps protect the skin from environmental stressors. Lastly, Green Mandarin Water is added to refresh and revive the skin, giving it a healthy and vibrant appearance.
WHERE TO BUY:
WHY WE LOVE IT:
A favorite for their subtle radiance, these bronzer drops are perfect for achieving a sun-kissed look. Its magic lies in its ability to leave skin hydrated and luminous with a natural glow while minimizing imperfections and evening out skin tone. In just 2-4 hours, you'll see a radiant glow develop that is natural-looking, with no streaks, no smells, and no hassle. The key ingredients list is impressive, featuring Raspberry Seed Oil, rich in antioxidants, to protect your skin from environmental stressors. Vitamin E is included to nourish and soften your skin, while Aloe Vera hydrates and soothes, providing an overall comforting experience for your skin. One of the standout features of this product is the option to choose your shade based on your skin-tone, not your desired end-result.
WHERE TO BUY:
WHY WE LOVE IT:
While technically not a face tanner, these liquid-illuminating drops are a game-changer. They feel like a serum and act like a serum, but their light-reflecting pigments work to enhance your skin's natural glow. Choose between Sheer Bronzed and Sheer Golden—or better yet, mix both shades together. These shades work beautifully on almost all skin tones, evening out the appearance of uneven skin tone and imparting a radiant glow.
We love how weightless these drops are as they amp up your skin's hydration levels while boosting its elasticity for noticeably smoother skin. The formula includes peptide polyglutamic acid, also known as hyaluronic acid's more powerful relative, which can hold 4,000 times its weight in moisture. This works alongside antioxidant-rich blackberry extract to strengthen your skin's barrier. The versatility of these drops makes them a standout in our book. Wear the buildable shades solo for a natural glow, under makeup for an illuminated base, or mix them into your face makeup for a soft-focus glow.
WHERE TO BUY:
WHY WE LOVE IT:
We love this buildable formula that adds an instant bronze glow that washes off after a long day with its temporary staying power. This product is packed with antioxidant-rich compounds, such as cocoa and white tea extracts, which work to defend your skin against environmental stressors while virgin marula and black currant seed oils nourish your skin with essential nutrients. This product also has powerful anti-aging properties with Matrixyl 3000 peptide blend to reduce fine lines and promote skin elasticity and Chronocyclin, an ingredient that imitates the benefits of Vitamin D for youthful skin. This means you're not just getting a bronzing product, but a comprehensive skincare solution.
WHERE TO BUY:
WHY WE LOVE IT:
We love the skin-boosting ingredients of this formula and how easily buildable it is to achieve a natural look or a 'just off the beach" glow. They're infused with Aloe Vera, known for its soothing and moisturizing properties, and Hyaluronic Acid, a powerhouse hydrator. These ingredients work together to not only provide a flawless tan but also nourish your skin. The unique dropper applicator allows you to easily adjust the dosage to achieve your desired tan—from a soft sun-kissed glow to a deeper bronze. It's never been easier to customize your tan.
WHERE TO BUY:
WHY WE LOVE IT:
This product is a hybrid skincare, makeup, and SPF 30 serum all in one, which is why we love it. It simplifies your routine without compromising on results. What's more, it contains no DHA, the ingredient typically used in self-tanners that can cause skin irritation or an unnatural orange hue.
The universally flattering tinted tone of the Super Glow bronzes and perfects your skin instantly. It provides custom coverage that keeps your skin looking dewy and fresh all day. Whether you're going for a subtle glow or a full-bronzed look, this product has you covered. This formula also contains squalane and hyaluronic acid, two powerhouse ingredients known for their ability to hydrate and smooth the skin. The result? A radiant, healthy-looking complexion.
WHERE TO BUY:
WHY WE LOVE IT:
These bronzer drops allow you to gradually build your perfect glow. Simply apply the drops daily until you achieve your desired level of bronze. This customizable approach ensures you get a natural-looking tan tailored to your skin tone and preferences. One of the standout features of the Sublime Facial Drops is their non-sticky formula. It blends effortlessly with your favorite moisturizer, and the serum is free from added fragrance and dye, reducing the risk of skin irritation. LOREAL has also formulated the Sublime Facial Drops with Hyaluronic Acid so you can maintain well-hydrated skin for a plump, smooth complexion on A budget.
WHERE TO BUY:
WHY WE LOVE IT:
Heralded as the Best Self Tan of 2022 by Bustle, this serum has quickly become a must-have in our editors' beauty routine. Made in Australia and harnessing the power of native extracts, these tanning drops contain a natural tanning active that works its magic overnight. Just apply directly to your skin or mix with your favorite moisturizer before bed, and wake up to a radiant, sun-kissed complexion. These bronzing drops also deliver deep hydration with Australian native extracts that brighten and nourish your skin. This dual-benefit, multi-tasking formula is why it has sold out multiple times since its launch.
How to Choose the Best Face Bronzing Drops
When looking for face bronzer drops, there are several factors to consider to ensure that you choose the right one for your needs. Here are some things to look for in face bronzing drops.
1. Ingredient Quality
Look for drops with high-quality, skin-loving ingredients. Hyaluronic acid, coconut oil, and vitamin E are excellent additions for hydration and nourishment.
2. Additional Ingredients
Look for complementary ingredients that address your specific skin concerns. For example, if you have dry skin, a snail mucin cream with hyaluronic acid can provide added hydration. If you're concerned about aging, products with antioxidants like niacinamide or peptides can be beneficial.
3. Ease of Application
A user-friendly dropper or dispenser makes application a breeze, preventing accidental spills and waste.
4. Color Depth
Ensure the product offers the desired depth of color to match your skin tone or the look you want to achieve.
5. Longevity
Check for long-lasting formulas that won't fade or streak easily.
6. Brand Reputation
Choose products from reputable and well-established brands known for their quality and commitment to skincare.
7. Fragrance and Allergens
Some bronzing drops come with a fragrance. Choose one that appeals to your senses or go fragrance-free for more sensitive skin.
How to Apply Face Bronzing Drops
1. Exfoliate
Prepare your skin by exfoliating beforehand for a smoother application.
2. Mix Sparingly
Start with a few drops and gradually increase until you achieve your desired shade.
3. Blend, Blend, Blend
Ensure even application by blending thoroughly, especially around the hairline, jawline, and neck.
4. Wash Hands
Immediately wash your hands after application to avoid staining.
5. Maintain
To prolong your tan, moisturize daily and avoid excessive exfoliation.
With the right bronzing drops in your beauty arsenal and these tips in mind, you'll be on your way to achieving a radiant, sun-kissed look that will turn heads wherever you go. Experiment, have fun, and embrace the glow that bronzing drops can offer to enhance your beauty routine.