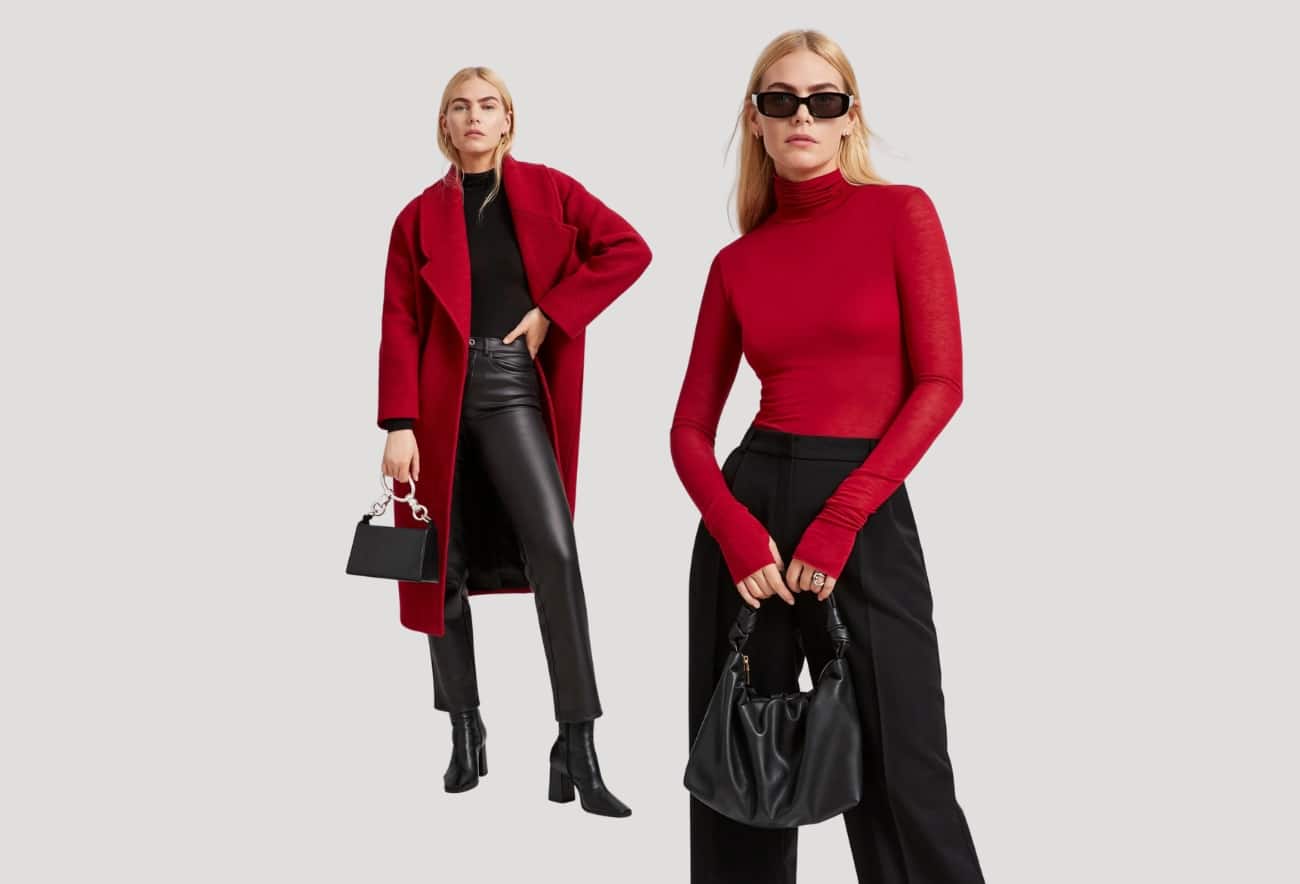 10 Key Pieces to Master the 2023 Fall Red Fashion Trend
Discover the best red clothing and accessories for fall so you can update your wardrobe with the 2023 fall red fashion trend.
As nature's canvas erupts in fiery hues, it's time for us to transition into our fall wardrobes, with red fashion taking center stage this season. Heralded as the 'It' color for Fall 2023, red was everywhere on the fall runways. Designers like Ferragamo and Bottega Veneta, showcased the power of red in their collections. From bright scarlet to deep crimson, red hues graced the catwalks in a variety of forms – from luxurious coats to sultry evening gowns.
It was a symphony of shades that demonstrated the versatility of this timeless color – truly a masterclass in "how to wear red" this season. Read on to explore how to incorporate this captivating hue into your fall and winter wardrobe. We've curated a selection of must-have red clothing and accessories that will help you master red fall outfits this season.
Our editors curate our collections against our vetting criteria while also conducting extensive research, testing, and evaluating customer reviews. By shopping our curated collection below, you help support our publication as we may receive a portion of sales.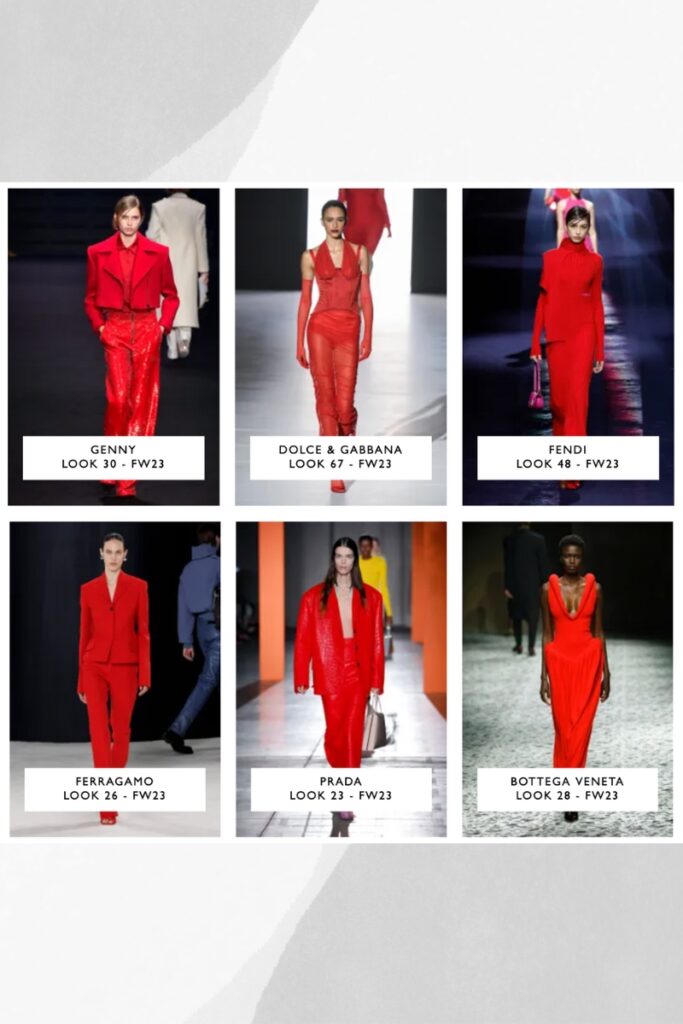 Best Fall Red Fashion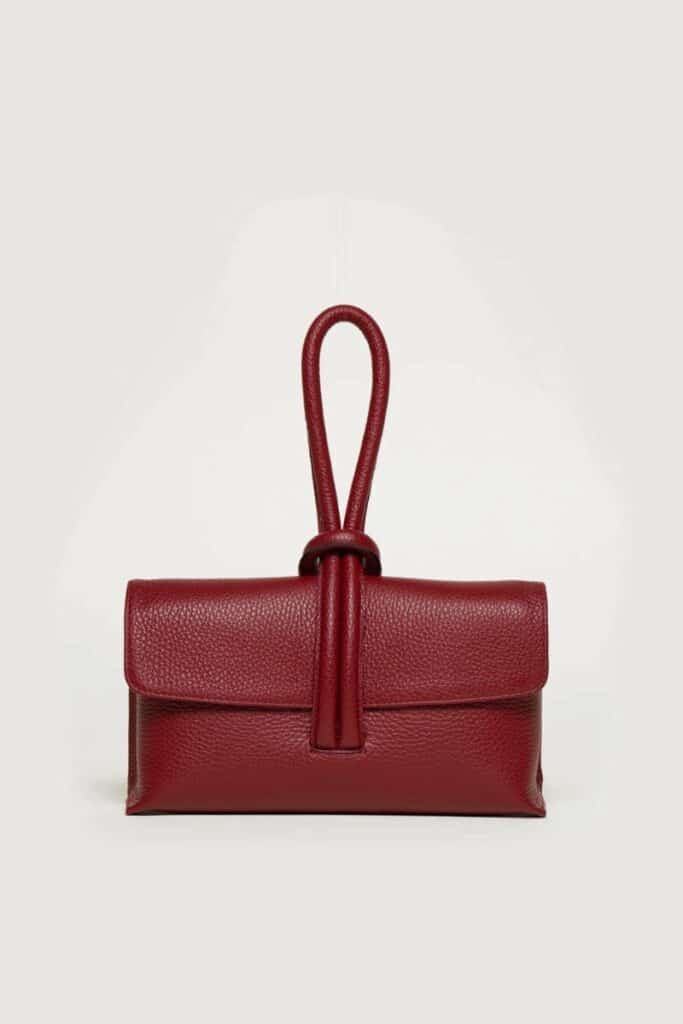 The Francesca Burgundy Bag
In the realm of red fashion, versatility is key, and the M. Gemi Francesca Leather Handbag embodies it perfectly. This convertible clutch is not only simple and elegant but also undeniably fun. It features a tubular strap that allows you to loop it around your wrist, leaving your hands free for whatever the day (or night) may bring.
Crafted from sumptuous Italian tumbled calf leather, the Francesca handbag oozes sophistication, adding a vibrant touch to your red outfits. The two interior pockets offer practicality without compromising on style, allowing you to keep your essentials organized and accessible.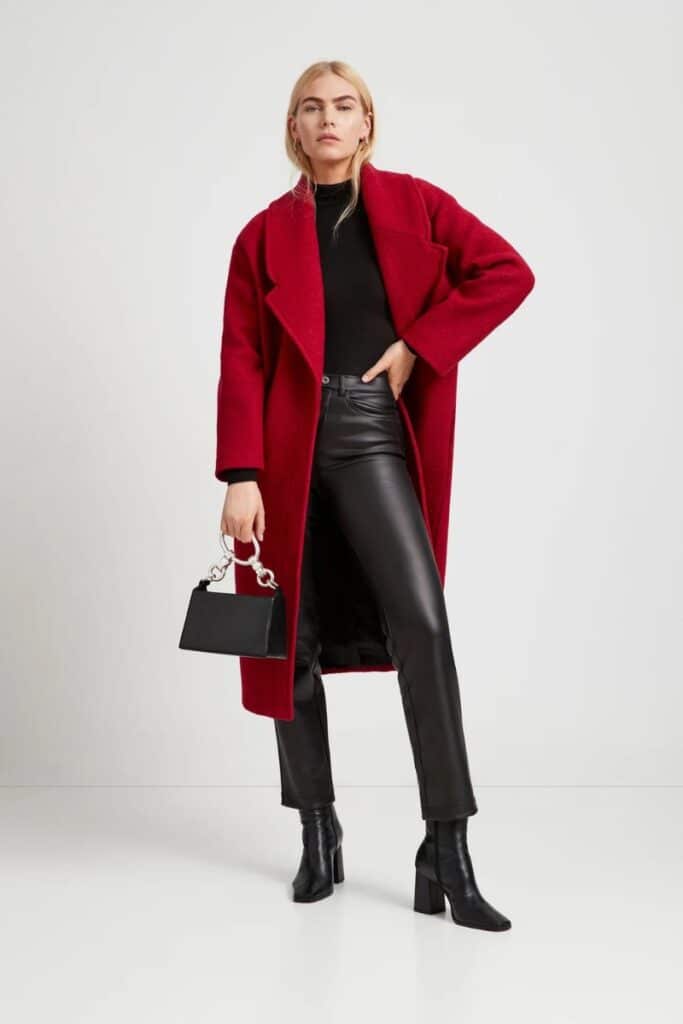 Elizabeth Red Coat
As the weather turns colder, a coat becomes your most trusted companion and the Marcella New York Elizabeth Coat is the undisputed must-have red jacket of the season. Crafted from 100% Italian virgin wool, this coat is made with premium quality offering both warmth and style in equal measure.
The Elizabeth Coat offers an edgy take on the essential trench coat, with its oversized, relaxed fit, boxy silhouette, roomy sleeves, and dramatic length. We love this coat's generous cut, which allows for effortless layering. Wear it over casual jeans and a sweater, a cozy knit dress, or even business attire without sacrificing style for practicality. Whether you're commuting to work, strolling through the park, or simply running errands, the Elizabeth Coat will keep you snug and stylish throughout the season.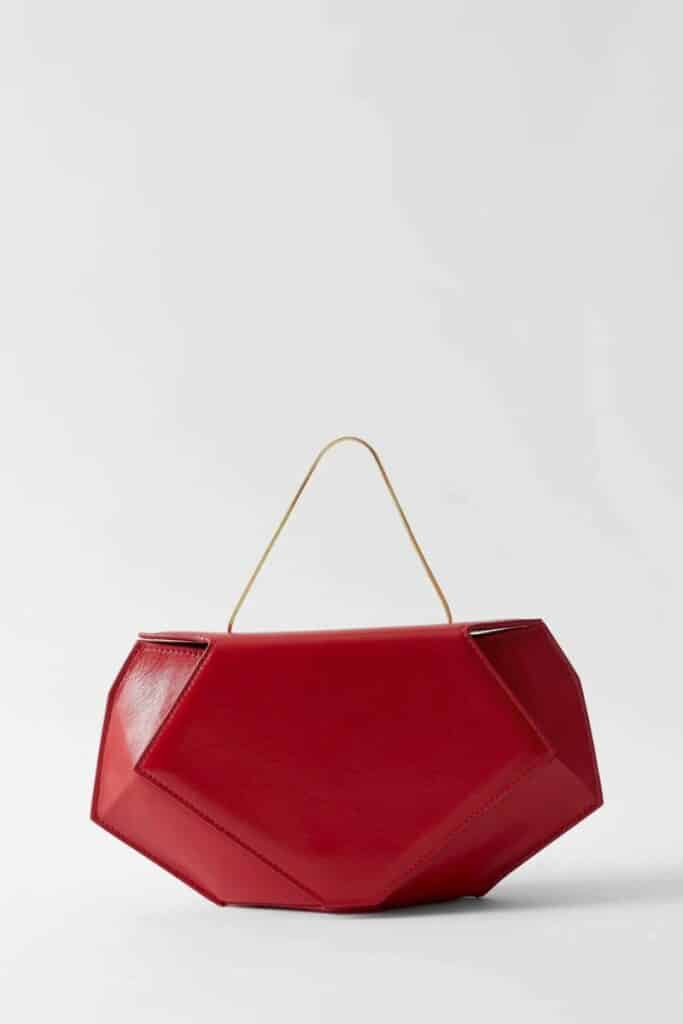 Mae Red Leather Handbag
This season we are loving the Mae Leather Handbag from The Row. This scarlet-red statement piece is a testament to modern architectural influences and the label's commitment to artful design. Crafted from luxurious leather, the Mae handbag boasts an angular profile that exudes a sleek and sophisticated edge.
For the perfect red fall outfits, Pair it with an all-black ensemble or make a statement with a monochrome red outfit. With The Row's impeccable craftsmanship, this handbag is a timeless investment that will continue to turn heads for seasons to come.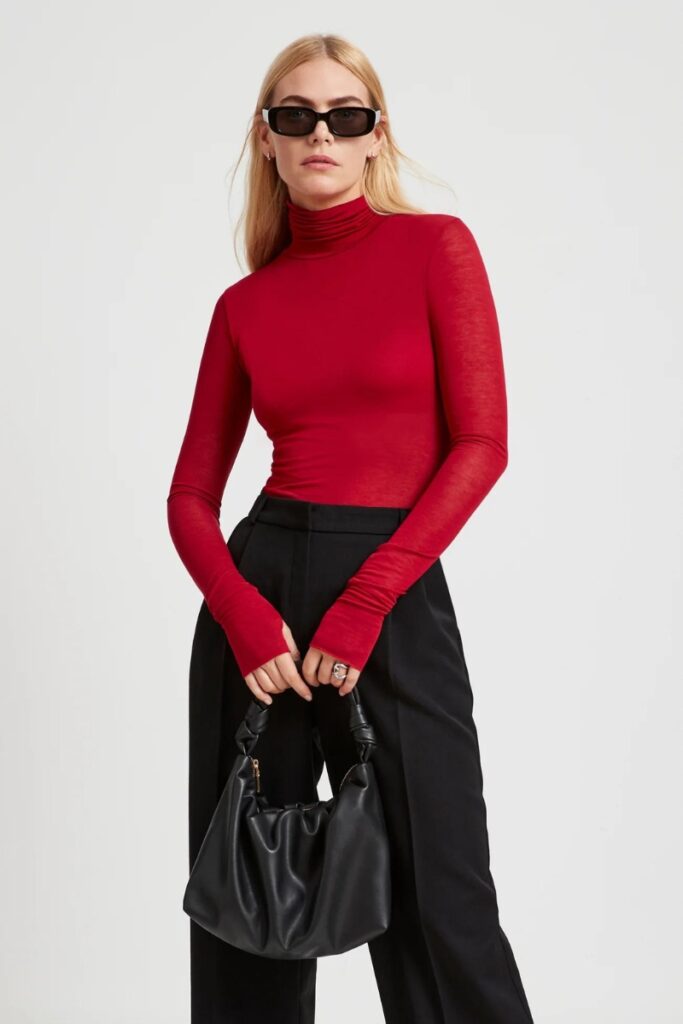 Eloise Red Sheer Turtleneck
The Eloise Sheer Red Turtleneck is a fall wardrobe essential that's perfectly poised to embrace the red fashion trend of the season. Eloise boasts a versatile silhouette with signature Marcella details, such as thumbhole sleeves and extended torso length, ensuring a unique touch to your autumn look. Expertly crafted from European sheer jersey, it offers an ultra-light, body-hugging fit that effortlessly complements the season's trend. Whether you choose to dress it up with black trousers or a matching red maxi skirt or keep it casual with jeans and boots, Eloise is your go-to staple for capturing the essence of red fall fashion.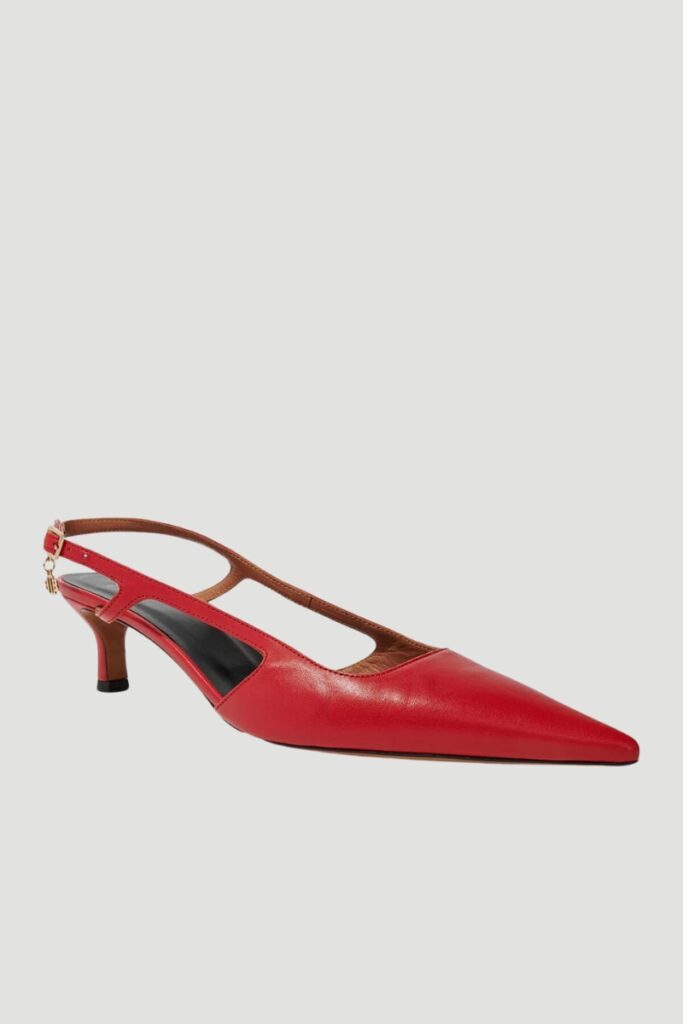 Fayna Red Kitten Heel
Maje
Crafted with the utmost attention to detail, these pumps boast a timeless and sophisticated design. The pointed toe adds a touch of refinement, making them versatile enough to accompany you from the office to your evening rendezvous. Standing at a chic 1.96″ wrapped heel, these pumps provide just the right amount of lift, allowing you to walk confidently through the season's festivities. Designed and made in Portugal, these pumps combine European flair with a classic silhouette, resulting in a piece that effortlessly embodies elegance and trendiness. Whether you're pairing them with your favorite tailored trousers for a polished daytime look or adding a touch of red to your evening ensemble, Maje's Fayna Slingback Pumps are the ultimate choice to capitalize on the red fall fashion trend.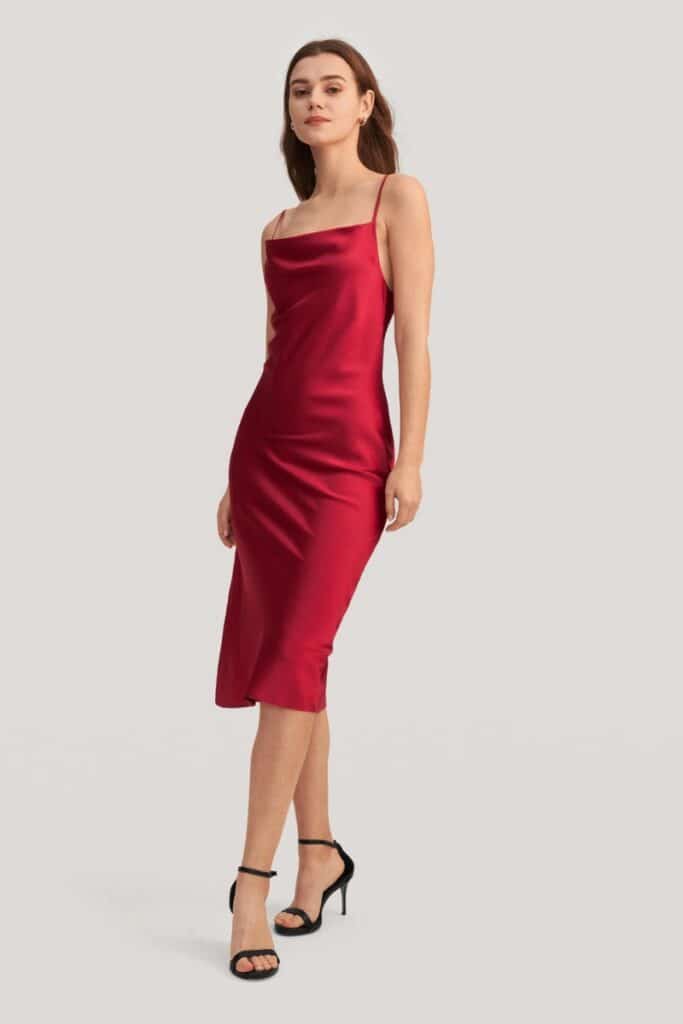 Red Silk Slip Dress
Crafted in luxurious silk, this red dress will not only fit you like a glove but ensure you are the epitome of elegance. Perfectly suited to be worn solo or under a chunky red sweater, this dress is the ideal addition to master red fashion this fall.
The flattering cowl neck and side split of the Lilysilk Silk Dress make it perfect for a date night or a glamorous party. The silk fabric adds a touch of luxury and sensuality to your winter red outfits. Dress it up with a blazer and your favorite accessories or dress it down by layering it under a chunky red sweaty with boots. Whether you're attending a winter wedding or layering this piece under your favorite red fall accessories, the Lilysilk Cowl Neck Silk Dress will make you the center of attention.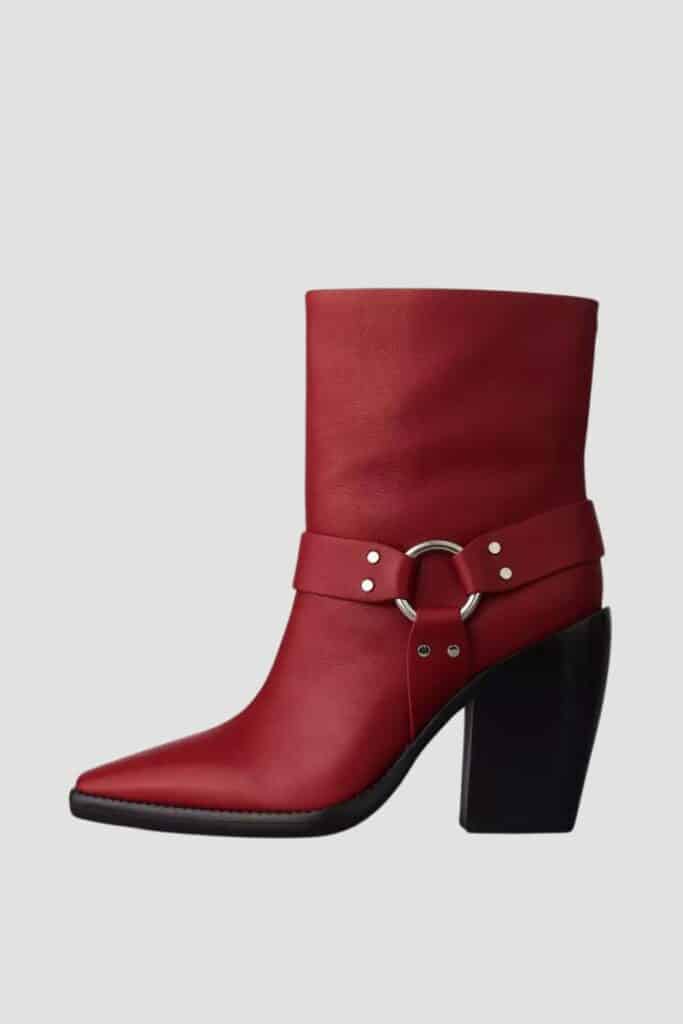 Rio Red Western Boot
Crafted from premium cow leather and adorned with sleek metal hardware, these boots are a testament to modern Western chic. The 4″ stacked leather heel elevates your style, providing a perfect balance between sophistication and boldness. The soft pointed toe adds a touch of refinement, while the harness, featuring an eye-catching O-ring and grommets, injects just the right amount of edgy attitude.We love this boot's fusion of classic and contemporary styles. Whether you're pairing them with your favorite denim for a casual daytime look or adding a touch of red to a sleek evening ensemble, these boots are designed to be your go-to choice for the fall season.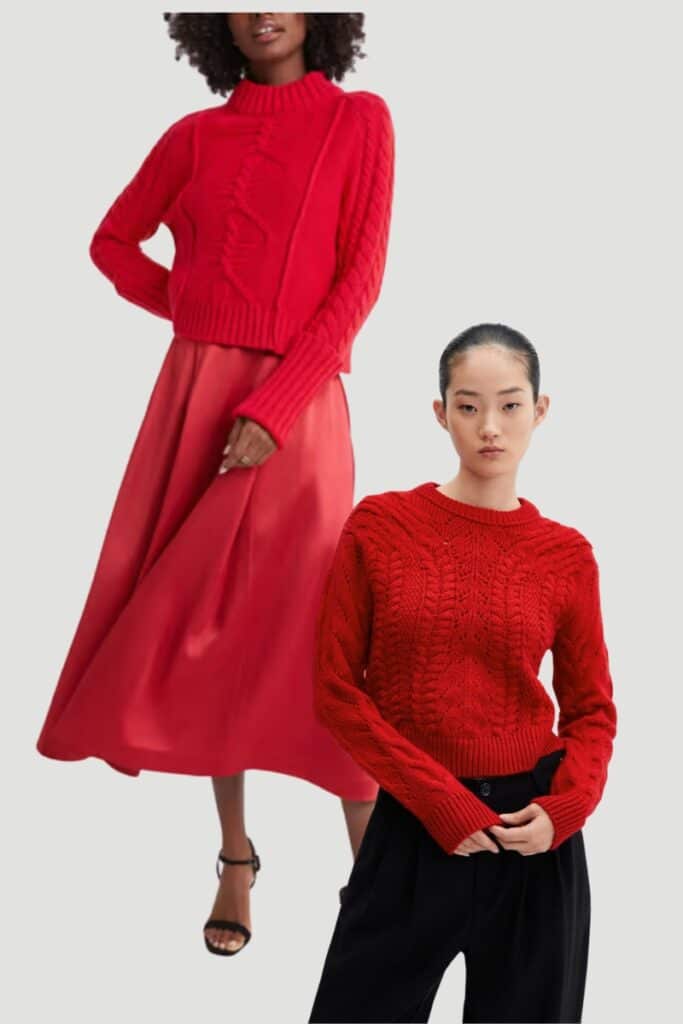 Red Cable Knit Sweater
Indulge in the epitome of comfort and style with Valenzuela's Red Merino Wool Cable Knit, expertly crafted in the heart of Italy. We love the 100% merino wool composition that will keep you warm and cozy as you explore its limitless pairing possibilities. For those casual errand runs, it effortlessly elevates a pair of classic blue jeans. Picture it adding warmth and flair to a cozy night in paired with your favorite sweater pants or layer it over your favorite silk maxi skirt for a dressy look. 
For a more affordable red sweater, this $79 red knitted cardigan from Mango does the trick for mastering the red fall fashion trend.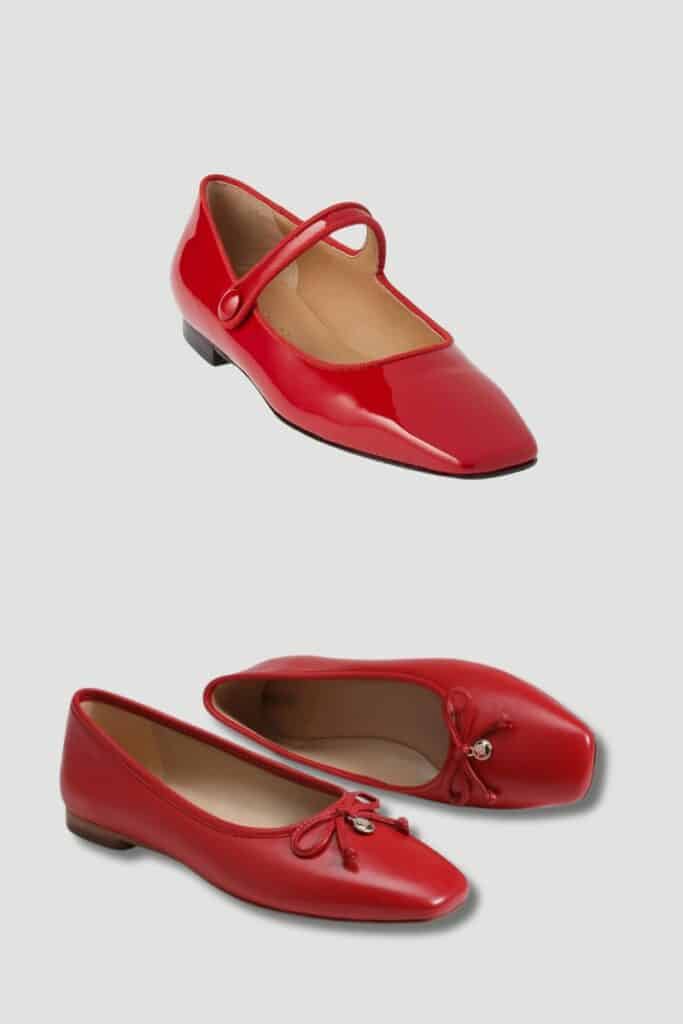 Red Mary Jane or Ballet Flat
Tamara Mellon's Red Patent Leather Mary Jane is the ultimate choice for those looking to make a stylish statement while staying on-trend with the red fall fashion craze.These Mary Janes boast a heel height of 0.39 inches (10 mm), offering a perfect blend of comfort and elegance for your everyday wear. Made in Italy, these Mary Janes are a testament to both style and quality. The deep red hue of the patent leather complements the season's palette, making them the ideal choice to infuse a pop of red into your fall wardrobe. For a classic ballet flat, the $130 Meadow red ballet flats from Sam Edelman strike the perfect balance between comfort and style. The square pointed toe adds a touch of refinement, elevating your look effortlessly. Crafted from a combination of leather and fabric, they offer breathable all-day comfort.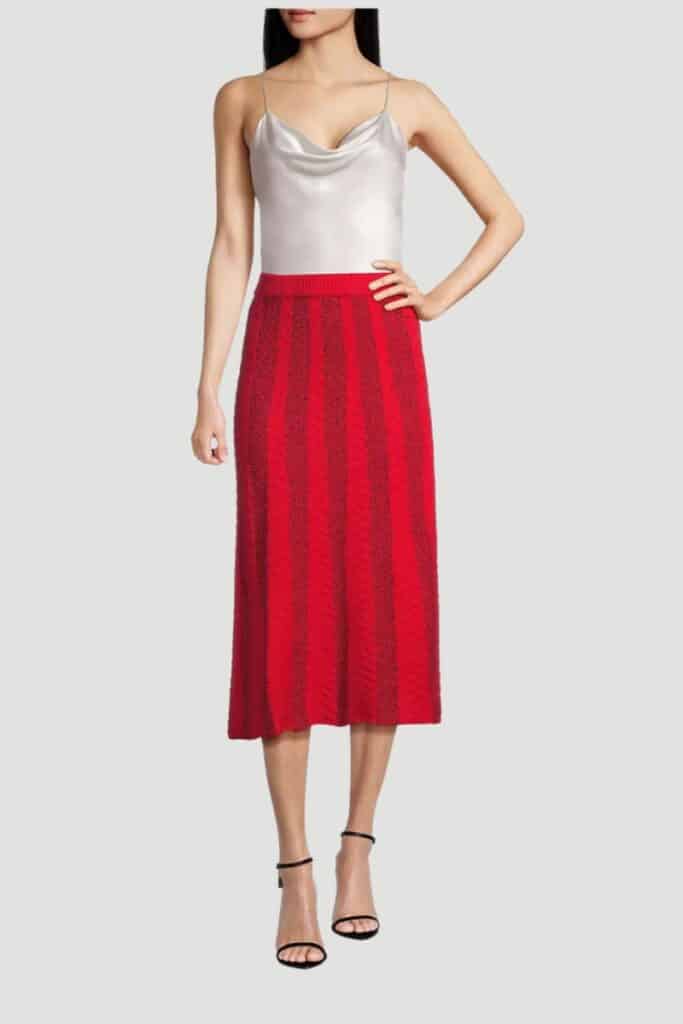 Textural Striped Midi Skirt
This skirt boasts a flattering flared silhouette that effortlessly enhances your figure, adding a touch of graceful movement to your every step. The alternating textural striped design adds depth and visual intrigue to your ensemble, making it a versatile piece for various occasions.The banded waist adds a touch of refinement, making it the ideal choice to pair with your favorite blouses, sweaters, or tucked-in tops.
How to Master the Fall Red Fashion Trend
When looking for an all-in-one makeup palette, there are several factors to consider to ensure that you choose the right one for your needs. Here are some things to look for in an all-in-one makeup palette:
1. Mix & Match
Don't be afraid to mix different shades of red as well as different patterns and textures. A knitted red sweater paired with a silk red maxi skirt will add interest to your outfit.
2. Balance with Neutrals
If an all-red outfit feels too overwhelming, balance it out with neutral pieces. A red coat over a white blouse and black pants, for instance, can be a chic and sophisticated look.
3. Accessorize Wisely
Red accessories can add a pop of color to a monochromatic outfit. Consider a red handbag, belt, or shoes to incorporate the trend in a subtle way.
4. Choose Timeless Staples
While the red fashion trend for fall is taking over, red is a timeless color that always has a place in your wardrobe no matter the season. Choose classic silhouettes and materials that will outlast trends. This doesn't mean you can't purchase a funky red statement piece. Quite the contrary. Just make sure you will continue to love it for seasons to come.
5. Consider your Skin Tone
When choosing a shade of red, consider which shade best complements your skin tone. If you have warm undertones (yellow or golden), consider warm shades of red like tomato red, coral, brick red, or true red. If you have cool undertones (pink or blue), opt for cool shades of red such as berry red, cherry red, raspberry, or burgundy. These colors can enhance the coolness in your complexion and create a flattering contrast.
Fall Red Fashion Trend Frequently Asked Questions
What color is the fall 2023 fashion trend? 
One trend that has undeniably taken center stage for Fall 2023 is the color red. From deep crimsons to bright scarlets, designers have fully embraced the fiery hue, incorporating it into their collections in innovative and striking ways.
Key pieces that embody this trend include dresses, suits, coats, pants, and skirts. A standout piece was the ruby red satin dress showcased by Valentino, with its elegant silhouette and bold hue exuding a sense of power and allure. In contrast, Givenchy presented a sleek, scarlet suit that was both striking and sophisticated, demonstrating the versatility of the color.Materials and fabrics played a significant role in bringing this trend to life. Silk and satin were  popular choices, its glossy finish adding a luxurious touch to the red garments. Woolen items provided a more subdued take on the trend, with the soft fabric offering a cozy yet chic look. Leather pieces, such as the burgundy biker jacket by Saint Laurent, added an edgy twist to the trend.Designers who featured red prominently in their collections include Valentino, Givenchy, and Saint Laurent. Valentino's use of vibrant reds in flowing gowns and sleek jumpsuits captivated audiences, while Givenchy's structured suits and fitted dresses in varying shades of red demonstrated the color's adaptability. Saint Laurent brought a rebellious edge to the trend with red leather jackets and skinny pants.