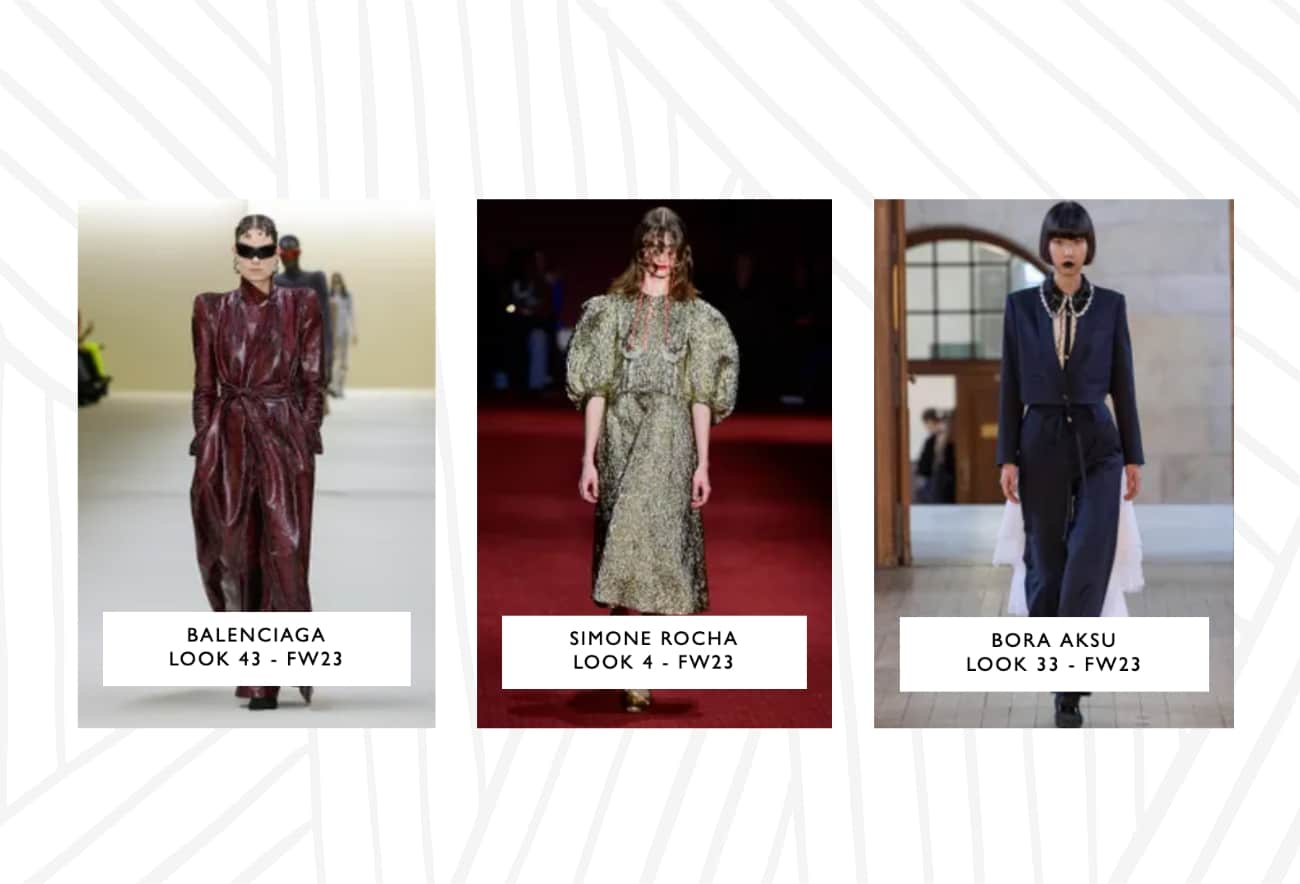 Fashion Forecast: 2023 Fall Fashion Trends According to Fall Fashion Week 
Discover the top 2023 fall fashion trends according to fall 2023 Fashion Week runways.
As the crisp autumn breeze starts to replace summer's sunny days, the world of fashion is gearing up for its own seasonal shift. It's the time of year when we eagerly update our fall/winter wardrobes just in time for pumpkin spice season. Creating a fashionable fall wardrobe is all about combining classic staples with the season's latest trends. The backbone of any fall wardrobe lies in its warm textures, comfortable layering pieces, and chic outerwear, all of which embody the essence of the season.
If you are looking to spice up your fall/winter wardrobe with the season's latest trends,  we've compiled a list of the top trends for fall 2023 that dominated runways. 
Keep scrolling for the top fashion trends of 2023.
Fall 2023 Fashion Trends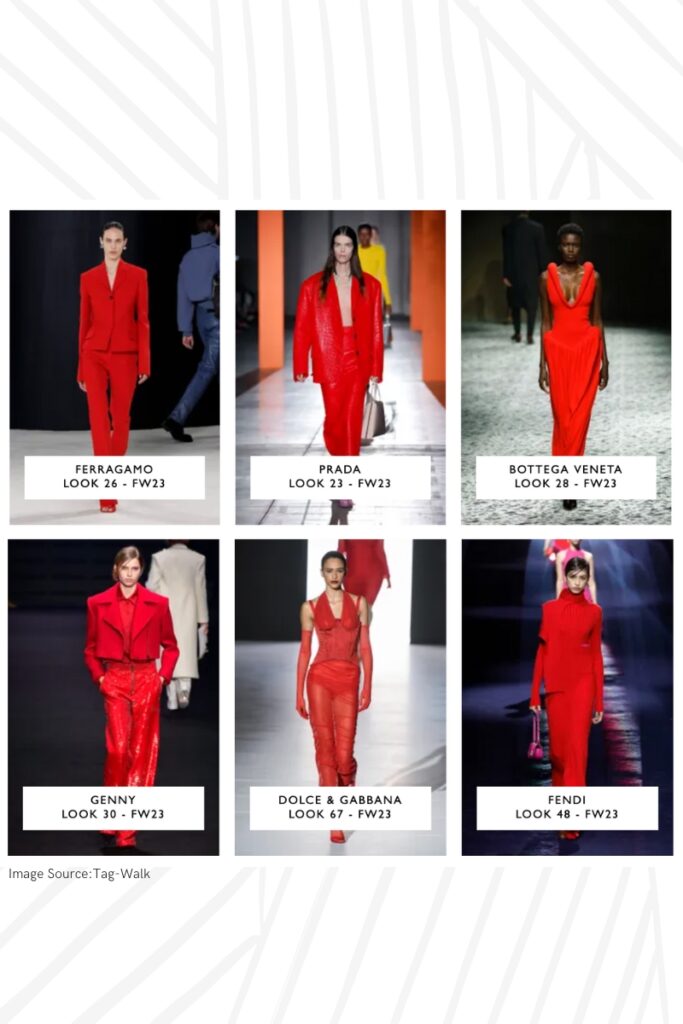 All-Red Everything
Red has emerged as a standout trend for fall 2023, and it's making a bold statement. This vibrant hue made a striking appearance in numerous designer collections showcased during the season's fashion weeks around the globe. At the Ferragamo Fall/Winter 2023 runway show, the iconic Italian brand led by Creative Director Maximilian Davis showcased red in sleek silhouettes infusing a sense of timeless glamor into the runway.
At the Prada show, Creative Director Miuccia Prada & Raf Simons incorporated rich, deep reds into their collection, making a powerful statement with tailored suits and luxurious leather accessories. Red is the season's must-have color, evoking warmth and confidence as we embrace the autumnal months and attempt to brighten our winter.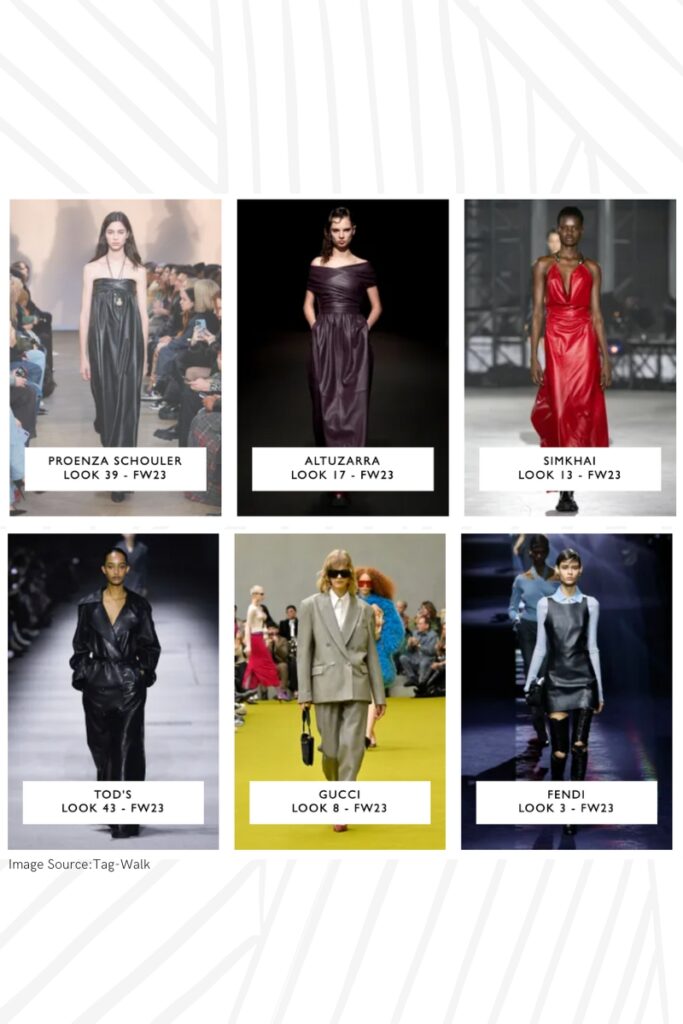 Luxe Leather
Leather has always been synonymous with fall fashion, but for fall 2023 fashion trends, designers are pushing the boundaries with unconventional leather pieces that merge elegance with edge.
From ALTUZARRA to SIMKHAI and TOD's, Fall/Winter 2023 collections featured leather ensembles that exuded sophistication with a subtle edge. Leather jackets, leather midi dresses, tailored leather blazers, and sleek leather trousers made a bold statement on the runway. The collections showcased how leather can be both refined and rebellious, creating a powerful contrast.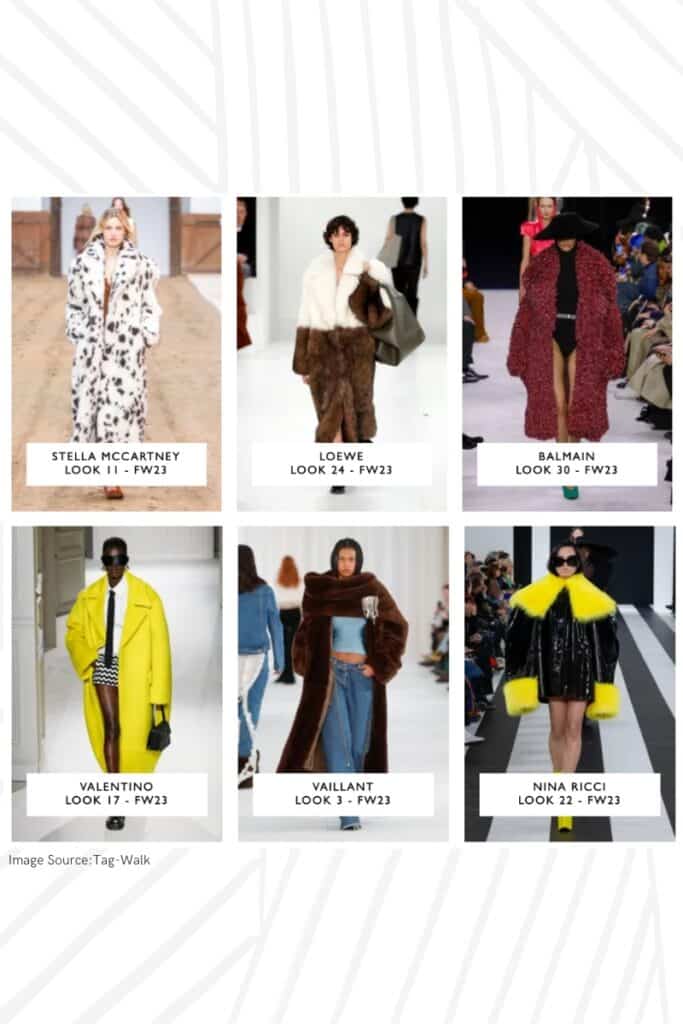 Oversized Outerwear
Comfort meets style for fall 2023 fashion trends with oversized outerwear. Designers are embracing cocoon-like silhouettes, offering a sense of warmth and security as the temperatures drop.
At the Loewe show, Jonathan Anderson showcased oversized coats and jackets that enveloped the models while Valentino led by Pierpaolo Piccioli showcased oversized outwear in more structured silhouettes. The exaggerated proportions and lush textures such as fur created an irresistibly cozy aesthetic. This trend is perfect for those who wish to stay warm without compromising on style.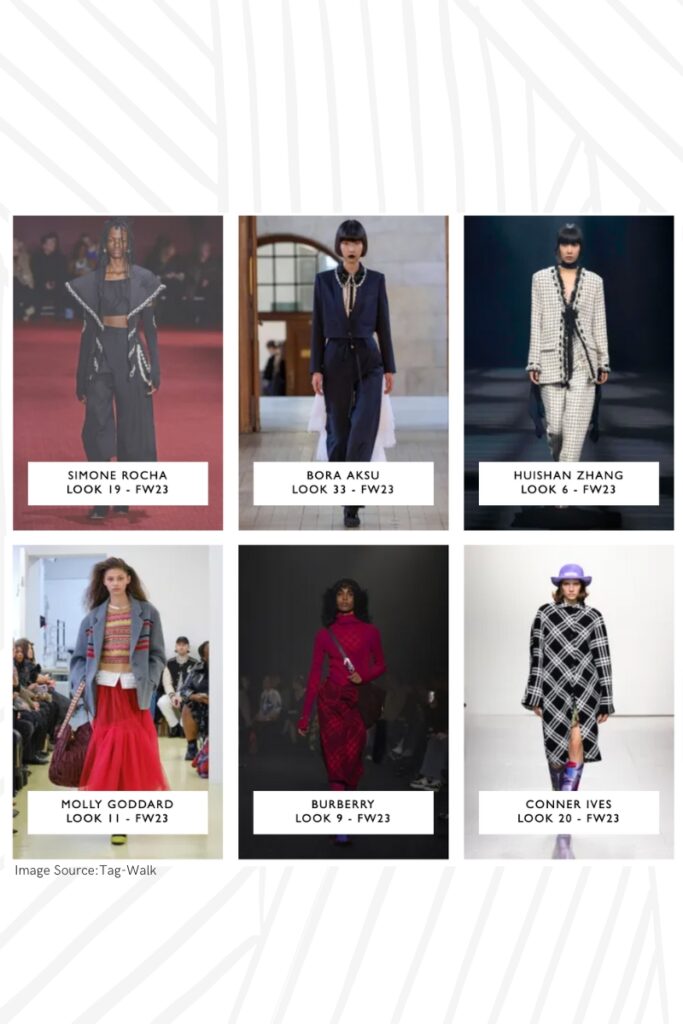 Preppy in Refined Patterns
Preppy fashion is experiencing a triumphant revival as a fall 2023 fashion trend with several high-profile designers giving us a fresh take on the return of this iconic style. Plaid and checks are also back with a vengeance this fall with designers across the board experimenting with these patterns, redefining their aesthetic and giving them a contemporary edge.
The Burberry Fall/Winter 2023 collection was dominated by an array of plaid patterns. Classic Burberry trench coats, wrapped in oversized checks, were a highlight, appealing to those seeking a blend of tradition and innovation. The collection also featured plaid knits and suits giving tailored ensembles a playful twist.
Molly Goddard gave us chic layering of mixed patterns that brings almost a bohemian chic aesthetic to this preppy trend that inspires creativity in our own fall wardrobes.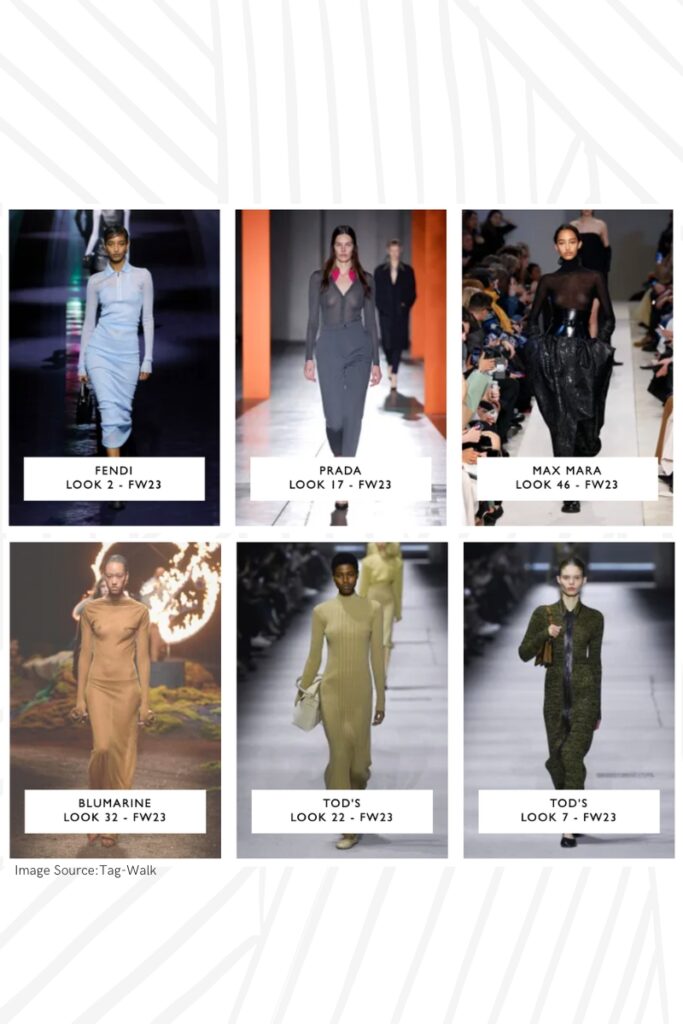 Fine Knits
Fine knits redefined cozy elegance on the fashion week runways with designers across the globe embracing the versatility and sophistication of finely crafted knitwear. At the Fendi Fall/Winter 2023 show, delicate knit dresses and skirts were the epitome of understated luxury, showcasing the brand's commitment to impeccable craftsmanship.
Max Mara's collection featured finely knit turtlenecks creating a sense of effortless chic that resonated with modern minimalism. This trend not only provides comfort but also exemplifies the artistry behind fine knits, making them an essential component of a fall wardrobe.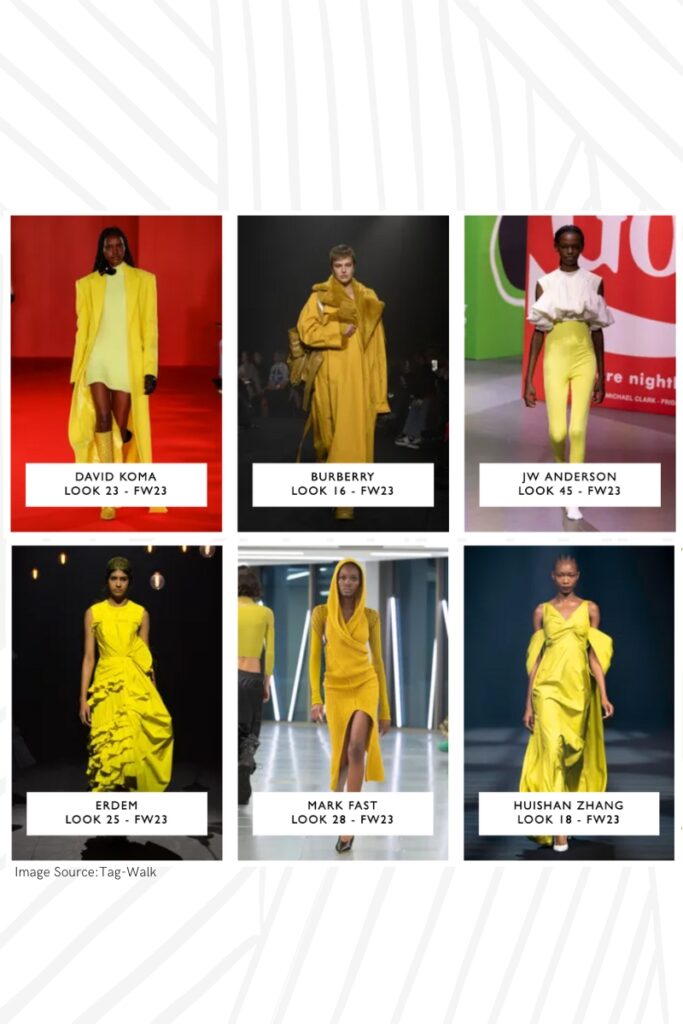 Bold Yellow
Yellow has emerged as a surprising and delightful fashion trend for fall, bringing a burst of warmth and optimism to the season. From David Koma to Huishan Zhang, designers showcased this vibrant hue in innovative and unexpected ways with yellow leather trench coats, boldly tailored suits, and shimmering evening gowns, demonstrating how this color can radiate confidence and luxury.
This surprising and refreshing fall trend brings a ray of sunshine to the cooler months proving that it's a shade worth embracing beyond the summer season.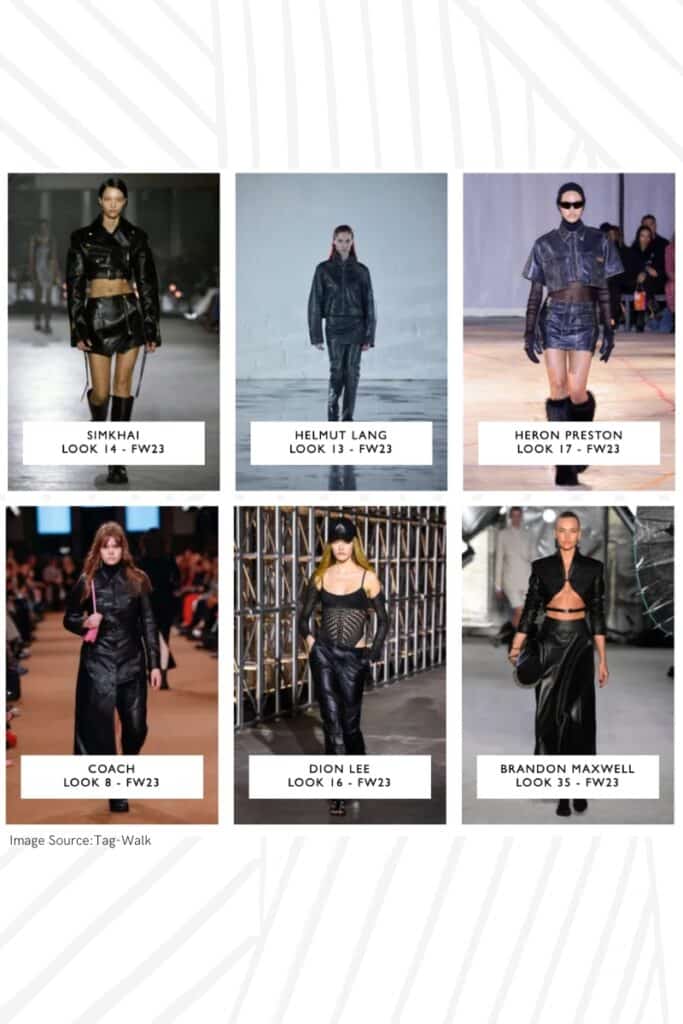 Biker Chic
The biker trend is roaring back onto the fashion scene for fall, injecting a dose of rebellious attitude into the season's looks. Fashion week runways witnessed the resurgence of this edgy aesthetic, with designers offering their own interpretations of the iconic biker style. From SIMKHAI to Heron Preston and Brandon Maxwell, cropped leather biker jackets stole the spotlight, embodying the spirit of urban chic. 
Leather trousers paired with biker-inspired boots and oversized jackets, showcase how this trend can seamlessly blend toughness with high-fashion sensibilities. With nods to the classic moto silhouette, fall 2023's biker trend offers a contemporary take on this enduring style.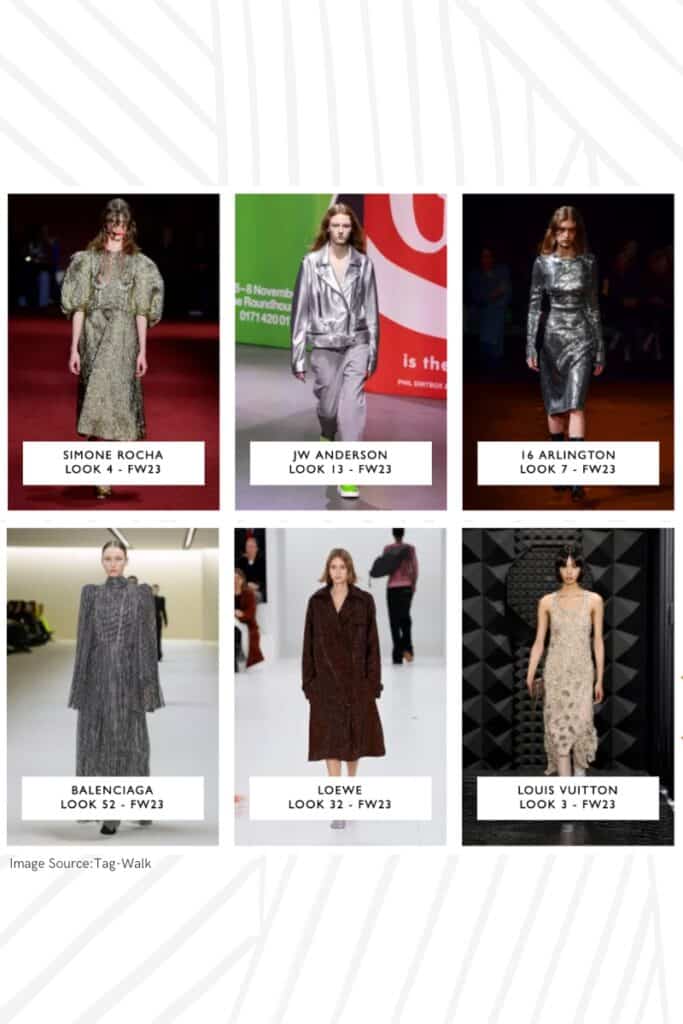 Metallics
Metallics are set to shimmer and steal the spotlight in the fall fashion landscape, showcasing a dazzling and futuristic allure on fashion week runways. Designers have embraced this trend with creative fervor, offering a glimpse into a world of high-octane glamor.
From Simone Rocha to Loewe, head-to-toe metallic ensembles and gold sequined dresses exuded a sense of opulence and extravagance. Metallic elements were also woven into classic tweed suits and accessories, blending tradition with a futuristic twist. The prevalence of metallics in these runway collections highlights their transformative power, making them an essential choice for those who wish to make a bold and unforgettable statement in the upcoming season.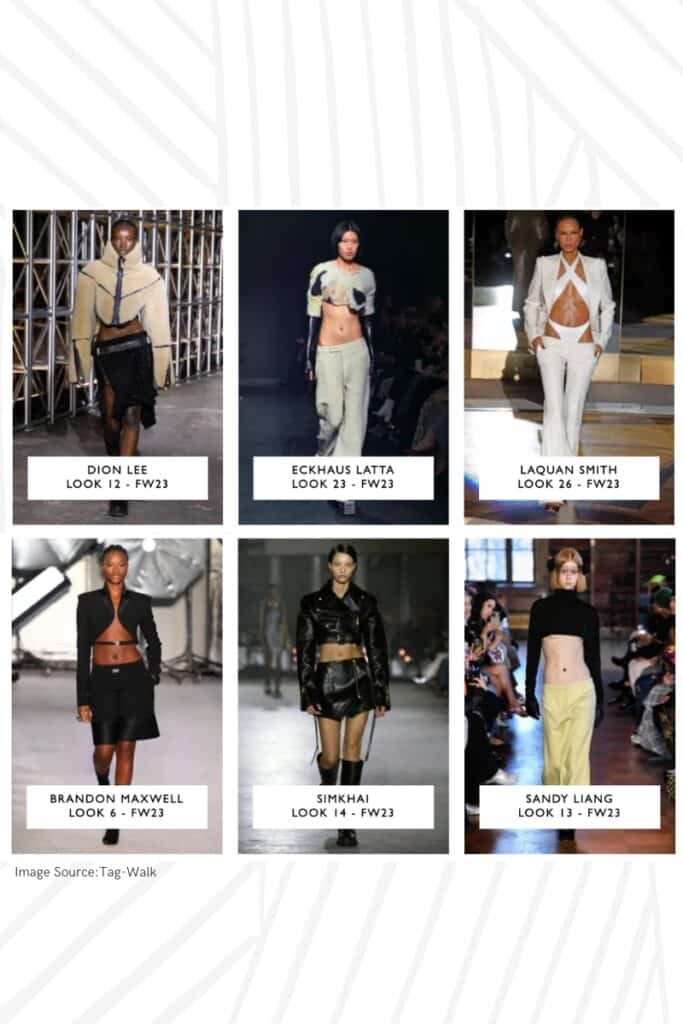 Low-Waist 2000s Era Fashion
Low-waist pants and skirts, a quintessential 2000s fashion statement, are making a nostalgic yet modern comeback in fall. Fashion week runways paid homage to this trend, revealing how it can be reinvented for the contemporary wardrobe. At the Dion Lee Fall/Winter 2023 show, he brought back the low-rise silhouette with confidence, featuring a range of low-waist ensembles paired with crop tops and statement belts, recalling the era of iconic pop stars and supermodels. Other designers incorporated low-rise pants into its collection, combining them with oversized coats and luxurious accessories, proving that this trend can seamlessly transition from casual to high fashion. 
As we revisit the sartorial aesthetics of the 2000s, the low-waist pants trend for fall offers a playful and daring twist, encouraging us to embrace a touch of nostalgia while keeping their style contemporary and fresh.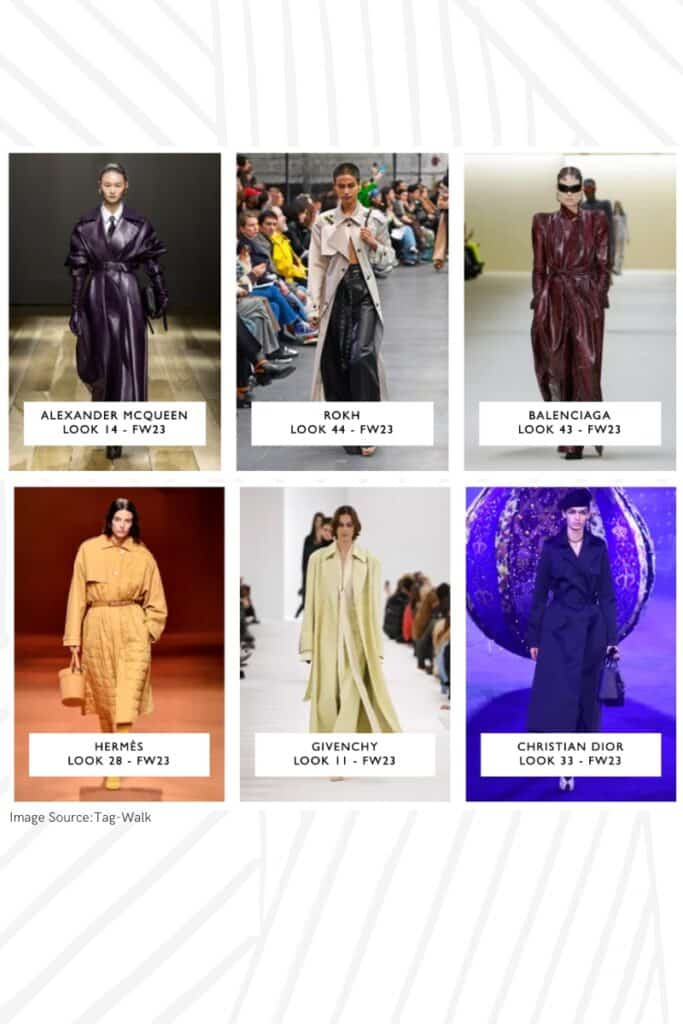 Trench Coats
Trench coats are undeniably the iconic centerpiece of the fall fashion scene, with designers at various Fashion Week runway shows reimagining this classic piece in diverse and compelling ways. Leather trench coats made a powerful statement, as evidenced by the sleek and edgy creations seen at Alexander McQueen's Fall/Winter 2023 runway show.
The incorporation of luxurious leather added an alluring twist to the timeless silhouette. Quilted trench coats emerged as another standout trend, with the Hermès runway featuring quilted versions that blended comfort and elegance seamlessly. Oversized trench coats took center stage, exemplified by Givenchy's Fall/Winter 2023 collection, where the exaggerated proportions added an avant-garde and modern flair to a traditionally structured garment. Whether leather, quilted, or oversized, trench coats for fall 2023 are a versatile and stylish outerwear option for the cooler months ahead.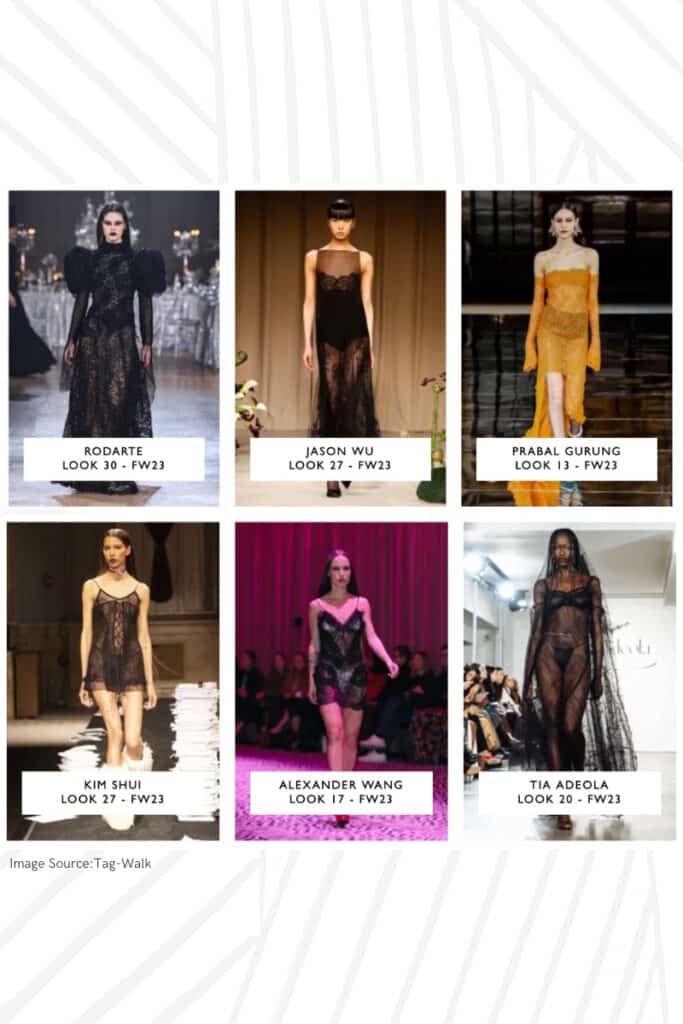 Lace
Lace is poised to be a captivating fall 2023 fashion trend, infusing a sense of delicate sensuality and timeless elegance into the fashion week runways. Designers have reinvented this classic fabric, breathing new life into its intricate patterns and ethereal charm.
From lace dresses with intricate detailing and romantic silhouettes to sheer lace gowns and tailored lace-trimmed separates, this fall trend exudes effortless femininity and sophistication emphasizing the fabric's enduring appeal. The fall 2023 lace trend celebrates the beauty of craftsmanship and artistry, encouraging us to embrace a sense of romance and refinement in our autumn wardrobe.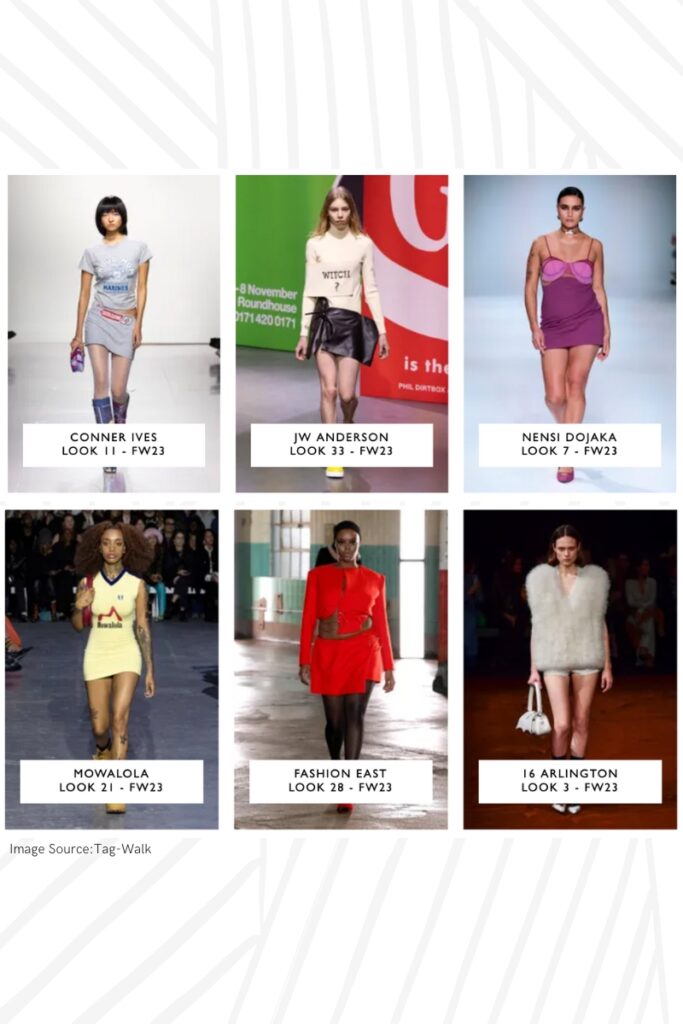 Mini Skirts & Dresses
Mini skirts and dresses are set to add a touch of playfulness and youthful flair to fall 2023 fashion, as demonstrated on the fashion week runways. Designers have reimagined these iconic silhouettes, making them suitable for the cooler months. One standout piece was a leather mini skirt from JW Anderson with an asymmetrical zipper closure, which exuded a sense of edgy sophistication.
Anderson also played with contrasting textures, pairing woolen mini skirts with chunky knit sweaters to create a chic, layered effect that's perfect for the autumn season.  Fashion label 16 Arlington incorporated short shorts into their lineup paired with oversized, furry vests. 
When paired with knee-high boots shorter hemlines can be both stylish and cozy for fall so you can embrace a sense of daring chic in your fall wardrobe even as the temperatures drop.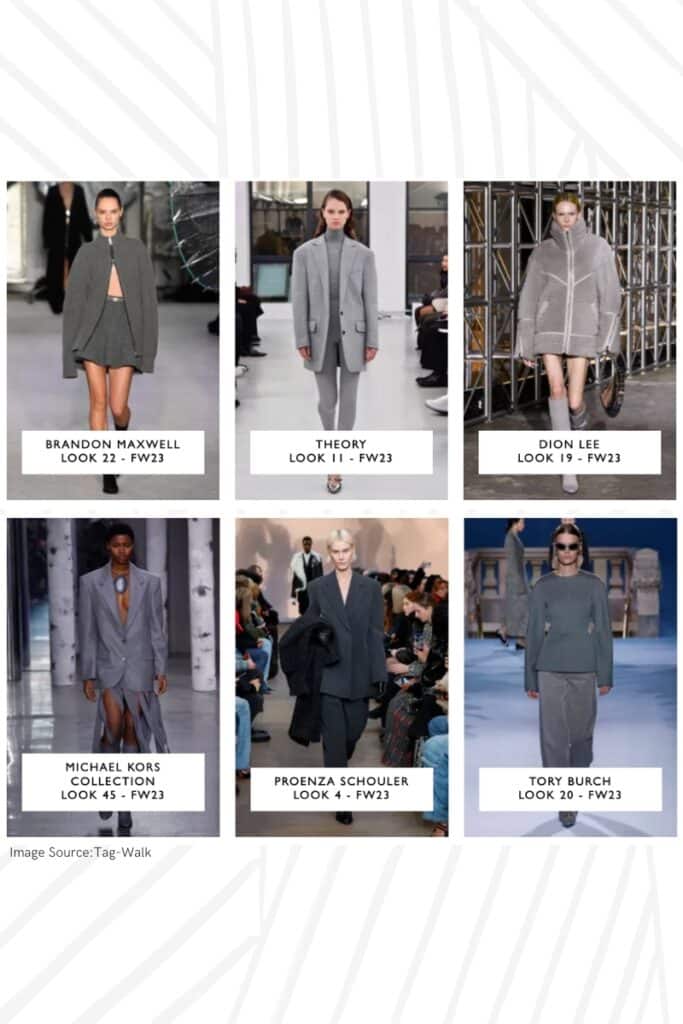 Monochromatic Grey Outfits
A stark contrast to the bold red and yellow colors of the season, monochromatic grey ensembles are undoubtedly a standout trend for fall 2023, as showcased by designers like Proenza Schouler and Theory on the fashion week runways.
Proenza Schouler's Fall/Winter 2023 collection masterfully incorporated various shades of grey into its designs, from tailored suits to oversized sweaters, illustrating the color's ability to blend sophistication with urban appeal.
Meanwhile, at the Theory runway show, the brand embraced grey with minimalist precision, featuring sleek grey suits and cozy knits, highlighting the versatility of this neutral hue for both workwear and everyday style. The presence of grey in these influential collections affirms its status as the go-to color for monochrome outfits in the upcoming fall season.