The Colorful Inspiration Behind Sophie d'Agon Jewelry with Founder Sophie Lepourry
UNCOMMON CREATOR SERIES
Sophie Lepourry shares the creative process and inspiration behind her jewelry collections at Sophie d'Agon. This interview is a part of our Uncommon Creators series that highlights unique and exceptional artists, designers, and creators who are pushing boundaries and innovating their fields.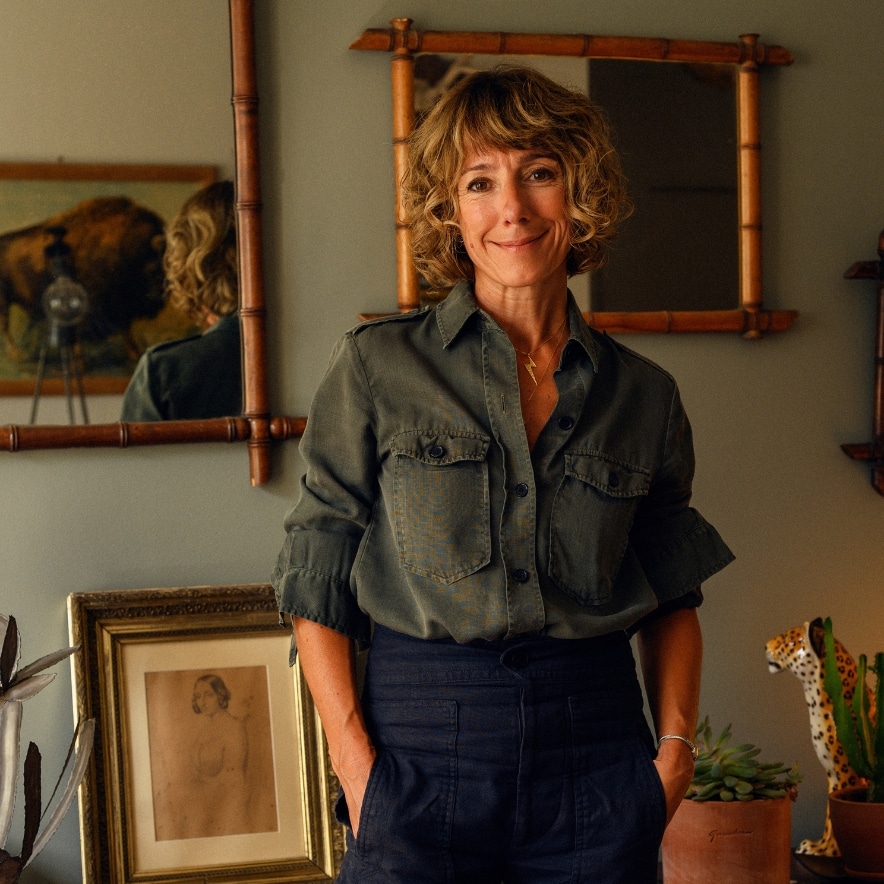 Meet Sophie Lepourry, Founder of Sophie d'Agon Jewelry.
Sophie Lepourry is the Founder of Sophie d'Agon, an artful jewelry brand embodied by captivating designs featuring colorful, precious stones that spark emotion. Sophie has worked for some of the biggest names in fashion including Prada for six years before moving on to Saint Laurent where she honed her skills for over 14 years to become the head of worldwide purchasing in 2012.
In 2015, inspired by memories of her uncle's jewelry shop, she embraced her entrepreneurial desire, and Sophie d'Agon was born. Self-taught and intuitive, she draws on her love of art, her childhood memories, and her knowledge of women to create stunning jewelry collections that are both unique and timeless.
We sat down with Sophie to discuss her entrepreneurial journey, her creative process, and what inspires her collections.
Tell us a little bit about your career path in accessories and what eventually inspired you to start your own brand.
I began my career at Hermès in their legendary first boutique at 24 Faubourg Saint Honoré, and this experience was a real turning point in my career. This role fulfilled my passion for beauty and craftsmanship, and I knew that this was the sector I wanted to pursue.
I then moved on to Prada as an accessories buyer for France and the UK where I was truly inspired by the amazing creative talent. This experience also showed me the power of marketing and visual merchandising – Prada at that time invented the "it" bag concept, let us not forget.
Next, came the exciting Saint Laurent years, where I worked for Tom Ford, Stéphano Pilati, and Heidi Slimane. I was in charge of worldwide retail merchandising, and that opened up my knowledge of international markets.
All of these experiences enriched me in some way and have since served me enormously in launching my brand and my collections. If I had to sum up what I've learned and what I keep in mind every day, it's that you can have the best product in the world, but if nobody knows about it, nothing will happen. Communication is the key to a successful brand and we work very hard on it every day.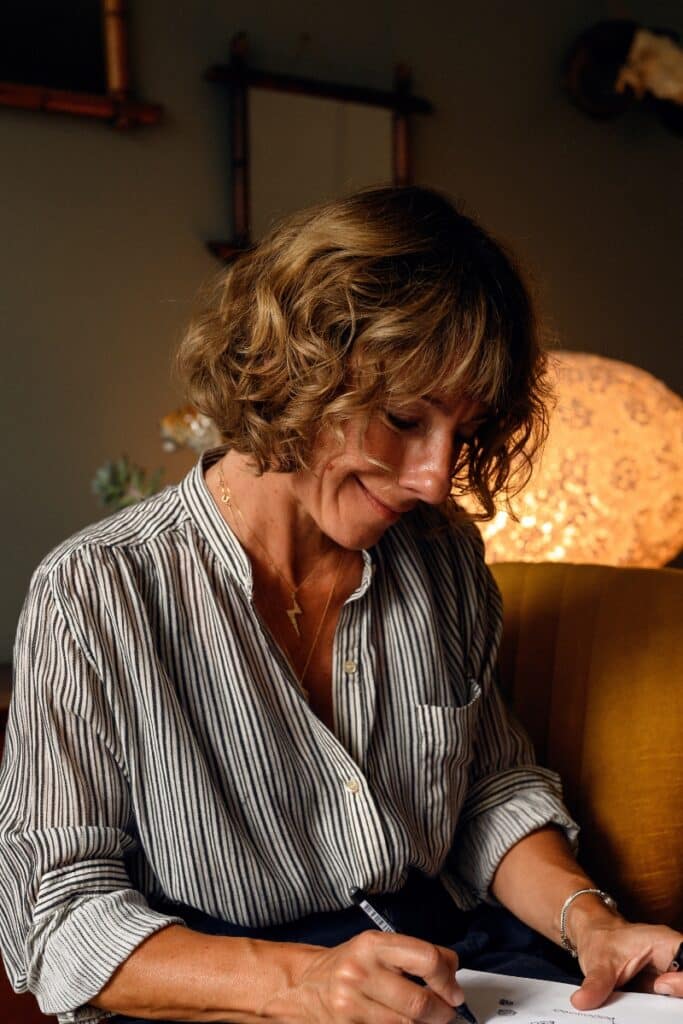 Where do you draw your creative inspiration for the Sophie d'Agon jewelry collections?
Sometimes it's very precise and I know exactly where it comes from, but very often it's much more diffuse. I think it's the assimilation of everything that surrounds me, the vegetal world, and especially flowers.
Antique jewelry also has a big influence on my work and I have a big passion for the Victorian, Georgian, and Edwardian eras.
I also draw inspiration from a lot of paintings by artists like Sonia Delaunay and Vasarely. In fact, I've just launched a capsule collection with the painter Nina Koltchitskaia. The collection is called "Les bijoux-poèmes" with poetic jewelry pieces that make her drawings come to life through the brilliance of stones and gold. The collection also includes a beautiful silk scarf featuring her artwork.
Tell us about your creative process from start to finish for a piece of jewelry.
I need peace and quiet to design the new collections, so I work either from home in Paris or from Agon Coutainville in Normandy in our little vacation home. I "draw" my models in PowerPoint, I assemble the stones, and I test the color mixes. This tool is my best friend even if it always surprises people when I tell them I design in PowerPoint.
I then send the drawings to the workshop which will transform them into 3D. There are a few back and forths until the technical drawing and the volumes correspond perfectly to what I have in mind. We then launch a prototype. If the new model is very different from what I usually make, I ask to see the resin model before launching the prototype.
I regularly go to the workshop to follow the manufacturing process and chat with the craftsmen. I love spending time in the workshops and I never tire of it – their work is so incredible.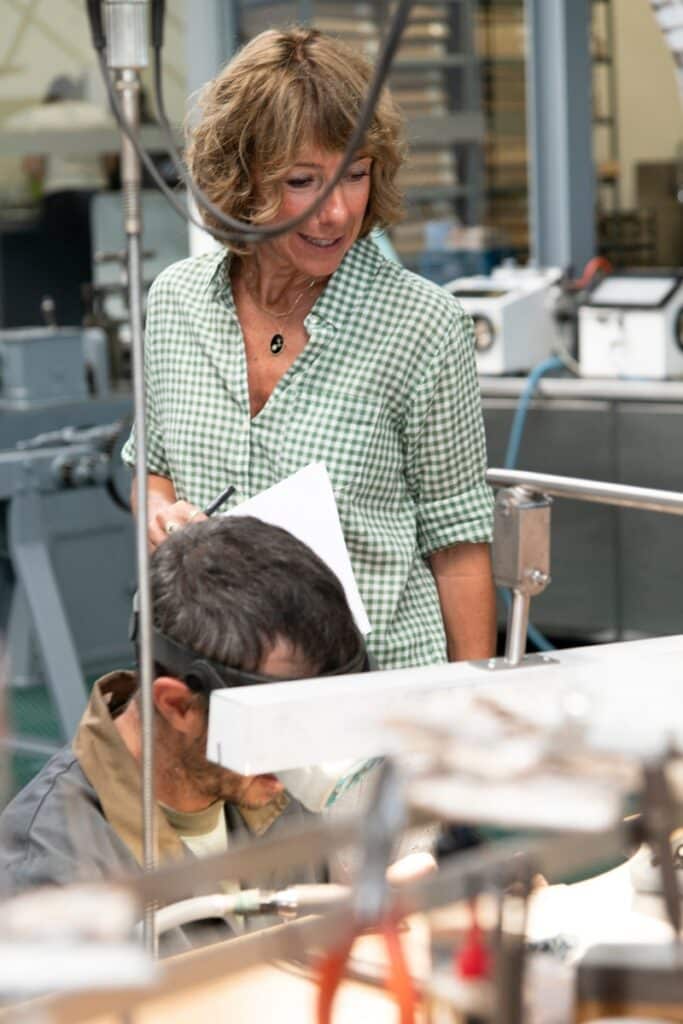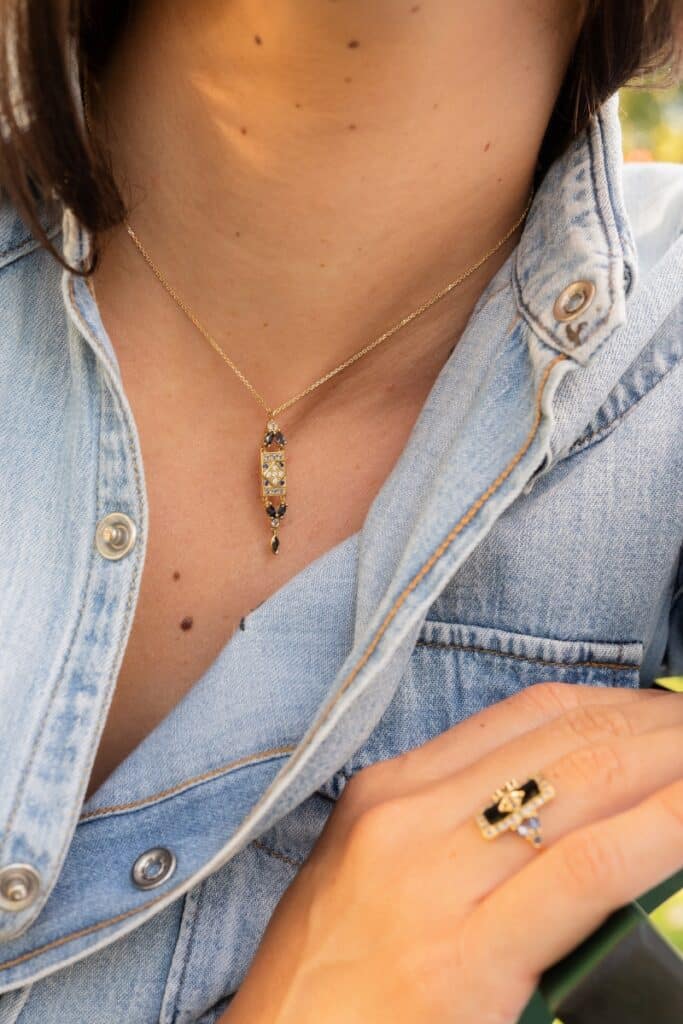 We absolutely love The Geometrics jewelry collection. Tell us more about the inspiration behind these designs and your creative process for this collection.
The Yellowstone collection's round shapes are inspired by the volcano in the eponymous park and echo the circles and colors of nature's miracle.
The rectangular shapes are a reference to antique jewelry, and more specifically to a ring I'd found at a flea market. I noticed quite quickly in the boutique that women very rarely hesitated between round and square or rectangular shapes, so I looked into the symbolism of the shapes and what made them so alluring.
The Paloma collection is directly inspired by artist Vasarely, using the shapes that adorn the entrance to his foundation in the south of France.
What's so appealing about geometrics, beyond the shapes, is the mosaic aspect and the accumulation of all those little precious stones.
You have unique collections curated by different emotions such as joyful, romantic, and audacious. Tell us more about the idea to create collections around emotion.
Precious jewels arouse a lot of emotions in themselves, as they are often linked to a happy moment in life, such as a wedding, a birth, and so on.
The emotions in my jewelry are conveyed through color. Colored gemstones are so bewitching, they're all different, and their little natural "flaws" – the inclusions – are very touching to me. In the case of emeralds, the numerous inclusions can resemble a beautiful garden. These inclusions are a reminder that these marvels were created thousands of years ago by nature.
White diamonds, for example, inspire me much less; they've become very statuesque.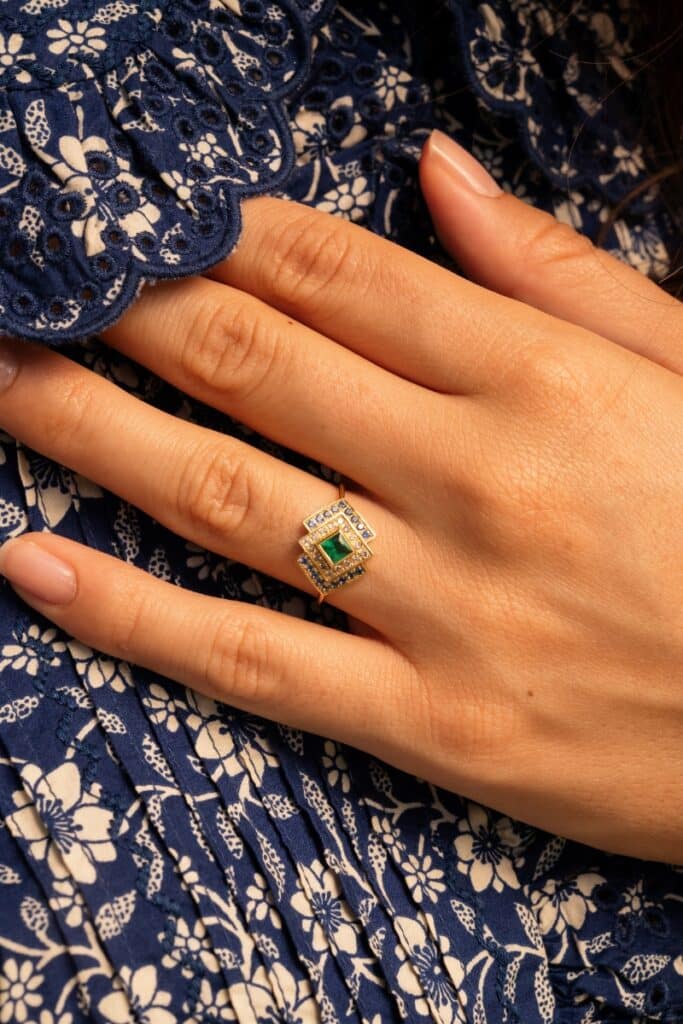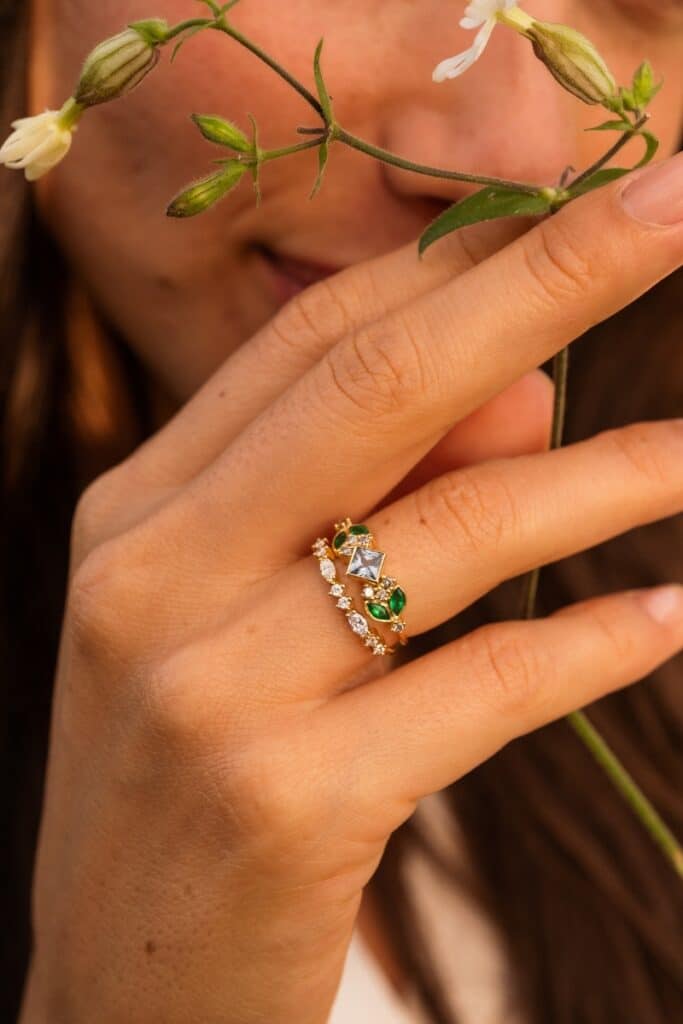 Your brand works with recycled gold and prioritizes working with second-hand materials. How have sustainability and ethical sourcing shaped your brand?
All our jewelry is made from recycled gold, and that's very important to me. Gold is an incredible material because it can be recycled ad infinitum while retaining 100% of its virtues, so we don't need to keep digging up the earth – there's enough gold already extracted to cover our needs for the next 50 years.
I'm also very careful about where my stones come from, and I only use stones whose origins I know, even if it's not an easy task for colored gemstones.
I'm very careful about the environment in general, and I keep paper printing and packaging to a minimum. Again, it's not always easy, as we have to find the right balance between our customers' expectations in terms of the quality of the service they expect and the protection of our planet.
The Final Five
Uncommon and Curated wraps up every interview with these five "food for thought" questions.
1. What song is always on repeat on your playlist?
I often rotate between Elvis Presley and Beyoncé.
2. What is the most impactful book you have read?
The Great Gatsby by Scott Fitzgerald, I've read everything by this author.
3. What's a brand you absolutely love and why?
Doên. I love their romantic, easy-to-wear clothes and their aesthetic. It makes me want to live in California with a whole slew of kids playing on the beach at sunset.
4. What is a ritual or routine that brings you joy or keeps you grounded?
Playing tennis with my husband and then going for a swim in the Channel Sea at 16 degrees.
5. What are your words to live by?
Life is about friends, family, and travels.