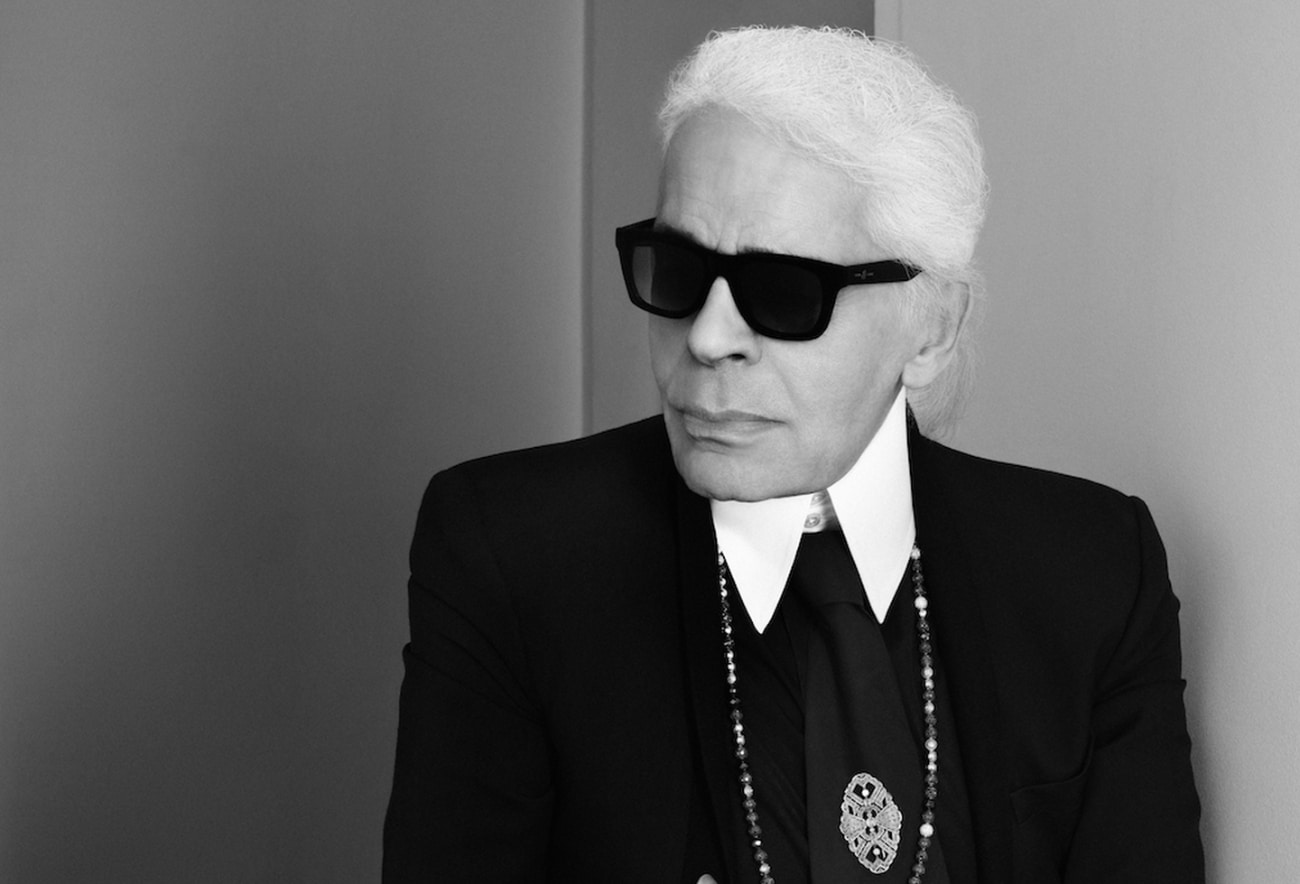 The History of Karl Lagerfeld, The Man Behind the Met Gala 2023 Theme
What you need to know about Karl Lagerfeld, the man behind The Met Gala 2023 Theme "Karl Lagerfeld, A Line of Beauty."
The Met Gala is one of the most highly anticipated events in the fashion calendar. Held annually on the first Monday in May, the gala brings together celebrities, fashion icons, and art world luminaries for a night of glamour and fundraising. The event features a red carpet that is nothing short of spectacular, with attendees dressed in some of the most daring and innovative fashion of the year. Inside, the Met Gala is a wonderland of art, fashion, and creativity, with stunning installations and exhibitions on display throughout the museum. The evening includes a lavish dinner and entertainment, with live music performances and celebrity appearances. The Met Gala is more than just a party, however, as it serves as a fundraiser for the Costume Institute's exhibitions and acquisitions, supporting the preservation and celebration of fashion history.
This year The Met Gala 2023 theme is "Karl Lagerfeld, A Line of Beauty." The dress code? Honor Karl Lagerfeld to celebrate the opening of the Costume Institution exhibit boasting the same name. While most coverage of The Met Gala 2023 will focus on showcasing the stunning looks that dotted the red carpet, here we explore the history of Karl Lagerfeld, the fascinating man behind the theme, and why exactly he's a legend worth honoring.
History of Karl Lagerfeld
Karl Lagerfeld was a fashion icon who made an indelible mark on the fashion industry. From his signature white hair, black sunglasses, and high-collared shirts to his innovative designs, Lagerfeld was a true creative visionary. Throughout his illustrious career, Lagerfeld was renowned for his relentless work ethic, his love of art, and his unique fashion aesthetic.
World-renowned in the fashion industry, Karl Lagerfeld was much more than meets the eye. Behind the carefully curated public image, he was a remarkable person with exceptional qualities. He possessed extraordinary perceptiveness, a brilliant intellect, and a talent for storytelling that left his listeners captivated. Karl Lagerfeld's passion for photography, literature, architecture, and interior design resulted in unprecedented artistic creation and innovation. Read on to explore Lagerfeld's life, his contributions to fashion, and his legacy.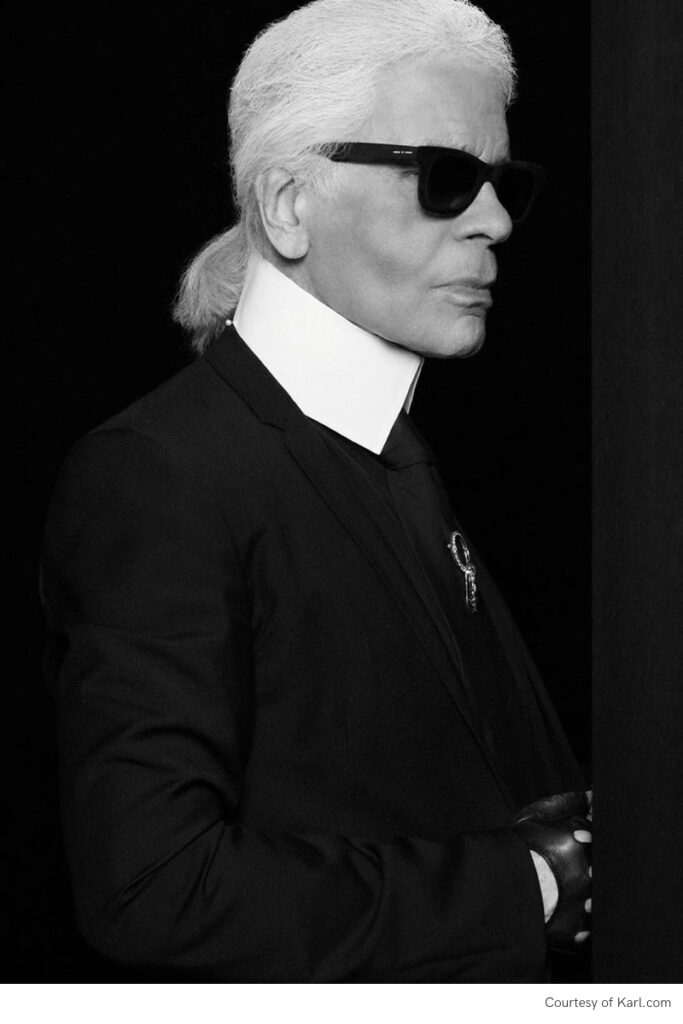 Life & Early Career
Karl Lagerfeld was born on September 10, 1933, in Hamburg, Germany. His father, Otto Lagerfeld, was a businessman, and his mother, Elisabeth Bahlmann, was a lingerie saleswoman. Lagerfeld grew up in a privileged environment, and from a young age, he showed an interest in fashion and design. At the age of 14, Lagerfeld moved to Paris with his family and began attending a prestigious private school.
Karl Lagerfeld's life was built on a foundation of design, driven by an insatiable need to express his boundless creativity. Surprisingly, his career in fashion began almost accidentally as he had initially planned to pursue a career as an illustrator. However, fate intervened when he entered the 1954 International Woolmark Prize at the young age of 21 and emerged as the winner for his innovative coat design, thus launching his career in the world of fashion. For the next 65 years, Lagerfeld remained steadfastly dedicated to fashion, even as he continued to explore other design disciplines. His work was a product of an unrelenting mind and a wealth of inspiration, drawing from people, places, art, and pop culture.
In the 1950s, Lagerfeld began his career in the fashion industry. He started as an assistant to Pierre Balmain, a renowned French fashion designer. Lagerfeld quickly made a name for himself and became known for his innovative designs and unique aesthetic. In 1958, Lagerfeld joined Jean Patou, a luxury fashion house, as a designer. It was during this time that Lagerfeld began to develop his signature style, which combined traditional elegance with modernity.
In the 1960s, Lagerfeld worked for several high-profile fashion houses, including Fendi and Chloé. At Fendi, Lagerfeld was responsible for modernizing the brand's fur collection and creating the iconic double-F logo. At Chloé, Lagerfeld introduced a bohemian-inspired aesthetic that was ahead of its time.
An Illustrious Career at Chanel
In 1983, Karl Lagerfeld was appointed as the creative director of Chanel, one of the most iconic and influential fashion houses in the world. Lagerfeld took over the reins of the brand after the death of its founder, Coco Chanel. At the time, Chanel was struggling to remain relevant, and Lagerfeld was tasked with revitalizing the brand and bringing it into the modern age.
Lagerfeld's first collection for Chanel was a resounding success. He reimagined the brand's signature tweed suits and introduced new, contemporary designs that appealed to a younger generation. Lagerfeld also modernized the brand's advertising and marketing campaigns, using social media and other digital platforms to reach a wider audience.
Over the years, Lagerfeld continued to innovate and push the boundaries of fashion at Chanel. He introduced new materials, such as denim and vinyl, and incorporated streetwear elements into his designs. He also created elaborate runway shows, which became one of the highlights of the fashion calendar. Lagerfeld's signature designs for Chanel included the iconic quilted handbag, the two-tone shoes, and the interlocking CC logo.
His Legacy
Karl Lagerfeld was one of the most innovative and prolific designers of the 20th and 21st centuries, and his contributions to the world of fashion are numerous. Here are some of Lagerfeld's most significant innovations in fashion:
Modernizing Chanel: When Lagerfeld took over as creative director of Chanel in 1983, he revitalized the brand by modernizing its signature tweed suits and introducing new, contemporary designs that appealed to a younger generation.
Innovative Accessories: Lagerfeld was known for his ability to create innovative and iconic accessories, such as the quilted Chanel handbag and the two-tone shoes.
Incorporating Streetwear: Lagerfeld was a master at seamlessly incorporating streetwear elements into high-end fashion. He introduced new materials, such as denim and vinyl, and created designs that appealed to a younger, more urban audience.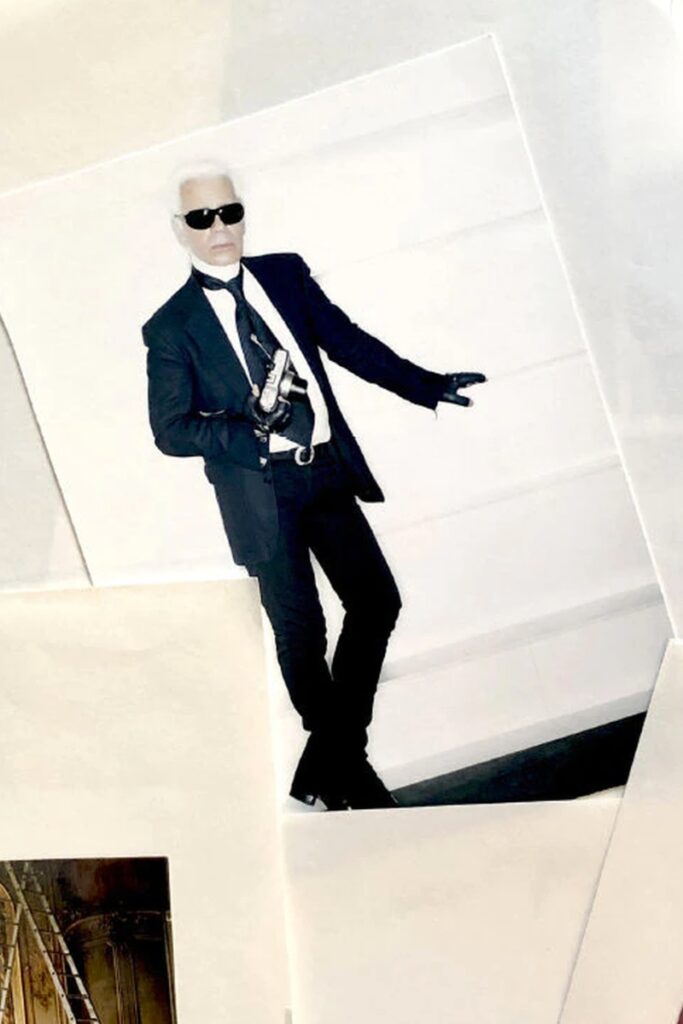 Elaborate Runway Shows: Lagerfeld was famous for his elaborate runway shows, which were often the highlight of the fashion calendar. He created immersive experiences that transported audiences to different worlds, incorporating elaborate sets, music, and lighting.
Using Technology: Lagerfeld was one of the first designers to embrace technology in fashion. He incorporated LED lights into his designs and used digital printing to create intricate patterns and designs.
Collaboration with High-Street Brands: Lagerfeld was one of the first high-end designers to collaborate with high-street brands, such as H&M and Macy's. These collaborations made high-end fashion more accessible to a wider audience and helped to democratize the industry.
Reinventing Classic Designs: Lagerfeld was a master at reimagining classic designs in fresh, new ways. He introduced modern twists to iconic pieces, such as the Chanel tweed jacket.
Iconic Logos: Lagerfeld created some of the most iconic fashion logos, including the interlocking CC's for Chanel and the stylized "K" for his own eponymous brand.
Influential Photography: Lagerfeld was a talented photographer and used his skills to create some of the most influential fashion photography of his time.
Lagerfeld's impact on the fashion industry can still be felt today. His designs continue to inspire new generations of designers, and his influence can be seen in the work of many contemporary fashion brands.
More Than Just a Fashion Icon
Lagerfeld's legacy also extends beyond fashion. He was a cultural icon and a symbol of modernity and innovation. Lagerfeld was an avid collector of books, owning over 300,000 volumes in his personal library. He was also a prolific photographer, with his work being exhibited in galleries around the world. As every artist has their muse, he was also known for his love of cats, and his cat Choupette was a constant companion and muse to him.
Whether Lagerfeld was a renaissance man or a mystery that's so much more than meets the public eye, one thing can be for certain: Lagerfeld was a master of reinvention, constantly evolving his style and designs throughout his career, cementing his place as one of the most innovative and influential designers of all time.