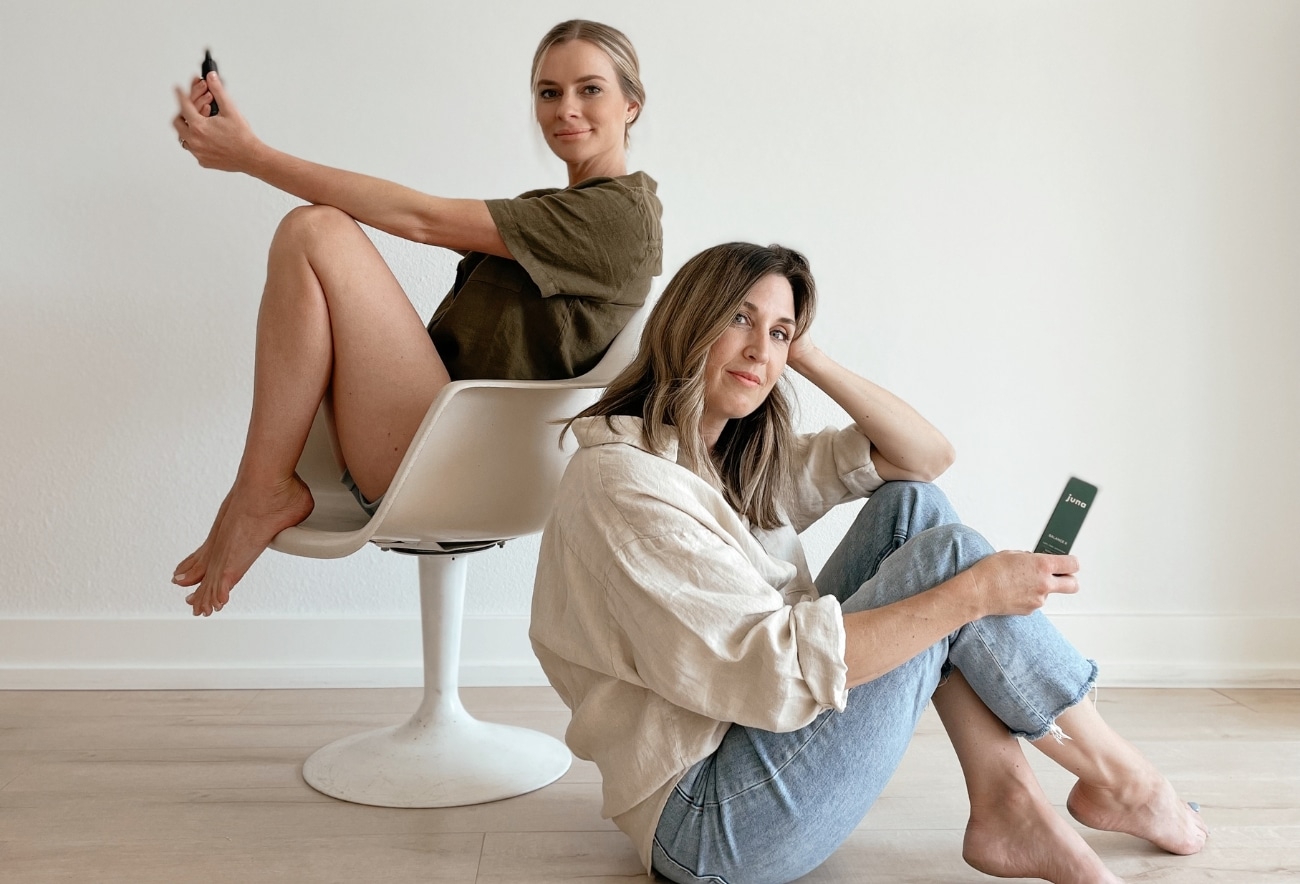 Juna Founders Discuss Women's Wellness and The Science Behind Their Plant-Powered Products
This interview is a part of our Female Founder Series where we explore the journey of female entrepreneurs and what makes their brand unique.
How have your backgrounds influenced the ethos of Juna and brand development?
TAYLOR: Women everywhere are juggling more than ever before and it's causing increased levels of stress, gut issues, anxiety, tiredness, overwhelm, and mood imbalance. As female founders and mothers, we experienced this first-hand, and it was a true necessity that led us to the creation of Juna because we ultimately were looking for relief but didn't want to turn to prescriptions and pharmaceuticals.
Created by women for women is a large part of Juna's identity.
Based on our research findings, we've worked with top functional medicine doctors, herbalists, and chemists to design a highly targeted system of solutions that help women become more resilient to their unique stressors, optimize their body (gut) and mind (sleep), and seamlessly fit into their daily routines.
Can you describe the thought and science behind the formulation of Juna's products?
JEWEL: The human body is an interconnected orchestra of systems, chemical reactions, and responses. When individual parts of our body aren't functioning optimally, the effects influence our mood, productivity, hormones, and immunity, as well as take a toll on our sleep and gut health. When creating our formulas, it's important for us to acknowledge this entire system and how ingredients play their part. Our gummies use a combination of plants that activate different pathways in the body, making it more likely to work for everyone vs just a few.
the science behind our sugar-free formula provides accessory benefits to sleep by calming our nervous system at night, supporting gut health, and helping to regulate cortisol in the morning. As a comparison, so many sleep products prioritize the "knock-out effect" and simulate ambien which leaves people waking up feeling groggy and unrested. We consider all the stages of sleep from falling asleep and staying asleep to quality of sleep with a focus on prolonging stage three (deep sleep) so women can wake up feeling refreshed.
We also worked hard to ensure that all of Juna's products are clinically formulated with ingredients that are 100% clean and scientifically proven to work. We always prioritize organic and have zero tolerance for fillers, additives, GMOs, heavy metals, bacterial contaminants, and pesticides as well as all of our ingredients and final products are 3rd-party tested for potency and purity.
The brand is highly conscious of its impact not just on people, but the planet and society, with regenerative practices and non-profit support.
With so many avenues for solutions for anxiety and sleeplessness, why plant-powered?
TAYLOR: Instead of turning to functional remedies that restore the body and mind, consumers have long been resorting to quick-fix pharmaceuticals and unregulated synthetic supplements that provide a band-aid effect by blocking receptors in the body … this doesn't address the root of the problem. Unfortunately, these options are often causing more harm and have dangerous side effects.
Even when people think they are choosing healthy "supplements" over 30% don't actually contain what they say they do. Even the majority of melatonin on the market is synthetic and the dosage is 5x higher than the optimal amounts. Plants are the future of wellness and truly heal as opposed to just masking the issue. Juna gets to the root of your problems and heals with targeted, science-backed botanical formulations.
JEWEL: Plants are highly regarded for their medicinal and therapeutic properties, flavor, and aroma. Some have as many as 80 identified activities, including antioxidants (flavonoids), vitamins, minerals, omega fatty acids, and other essential nutrients that benefit acute and long-term health.
One product that really showcases the power of plant-based ingredients is our Juna Nightcap Gummies which feature phytomelatonin — a melatonin derived from St John's Wort, the first of its kind. A micro-dose (0.24mcg) backed by an MIT study encourages the body to produce what it needs. These gummies also contain calming passionflower, hops, chamomile, and jujube which trigger changes to our GABA and serotonin to help us fall asleep easier.
We also have a new product launching in June called Gut Therapy that nourishes and repairs the gut while strengthening the gut-brain axis. It features two of my favorite adaptogens — rhodiola and panax ginseng. Adaptogens are known to increase resilience to stress, decrease sensitivity to stressors, and serve as stress protection creating a higher level of equilibrium and helping to balance cortisol. This results in better sleep, less brain fog and inflammation, healthier metabolism, and optimal overall health.
Being a founder comes with its challenges. What challenges did you face when starting Juna, and what advice would you give to a fellow entrepreneur starting their own company?
TAYLOR: Our advice would be to make sure your product A. solves a clear problem/need, B. truly is effective and can enhance someone's life, C. can fit into your customer's routine, and D. that your brand resonates with a specific target demographic. This is the formula we follow when developing new products and new product categories. When it comes to branding and brand voice, we always aim to be authentic and honest. Since we are both within Juna's target demographic, it makes it a bit easier to always step back and ask ourselves if it resonates with us on an emotional level – did we laugh, learn, or connect with it? And ultimately, is it something we would want to share with our friends?
JEWEL: As a founder, passion and perseverance are absolutes. Know your numbers inside and out and get crystal clear on your messaging. Do whatever it takes to continue learning and work to be an expert in your industry. Always hire the best people you can find to execute your vision and work efficiently. Trust your instincts, they never lie. Take care of yourself, find balance, and enjoy the journey.
The Final Five
Uncommon and Curated wraps up every interview with these five "food for thought" questions.
1. What song is always on repeat on your playlist?
TAYLOR: My daughter Blake makes us listen to "9 to 5" by Dolly Parton at least three times a day. I also love to workout to "Do It Like A Girl" by Morgan St. Jean. She's awesome.
JEWEL: Lately, I've been loving "Let the Light In" By Lana Del Rey and Father John Misty.
2. What is the most impactful book you have read?
TAYLOR: That is such a hard question to answer because my list is pretty long, but here are a few of my favorites:
The Happiness Advantage. In my opinion, this book should be added to the required college curriculum.
Bold: How to Go Big, Create Wealth, and Impact the World. This book taught me that if you want to make a billion dollars, then you need to solve a billion people's problems.
Hooked: How to Build Habit-Forming Products. This book is great for anyone looking to launch a brand.
The Singularity Is Near. This is a very compelling book about the future of technology.
JEWEL: Atomic Habits. I loved this book. It's so simple yet it is a highly effective way to optimize your life.
3. What's a brand you absolutely love and why?
TAYLOR:
Aime Leon Dore. Everything they do is next level.
Merit. I love their products, packaging, and branding.
JEWEL: Agent Natuer. The founder is obsessed with clean, effective ingredients formulated to work. I especially love their Holi (Bright) Resurface Glass Face Mask. It's active, but also very soothing.
4. What is a ritual or routine that brings you joy or keeps you grounded?
TAYLOR: I start every single morning with Detox Drops. They are minty fresh and help set a healthy intention for my day. Bonus: they totally help keep me regular.
JEWEL: I meditate every day. Between juggling work and kids this moment helps me calibrate my sensory overload and switch from founder to mom. Like Taylor, I also start every single morning with Detox Drops and actually drink them throughout the day. They keep me hydrated and debloat on demand.
5. What are your words to live by?
TAYLOR: Don't Be A Dick – even made a hat that says it.
JEWEL: My kids will tell you. Before you speak, ask yourself three questions: Is it kind? Is it necessary? Is it true?
Uncommon and Curated is proud to be an independent publication supported by its readers. You can help support our publication by shopping through the links in this story as we may receive a portion of sales for some items.