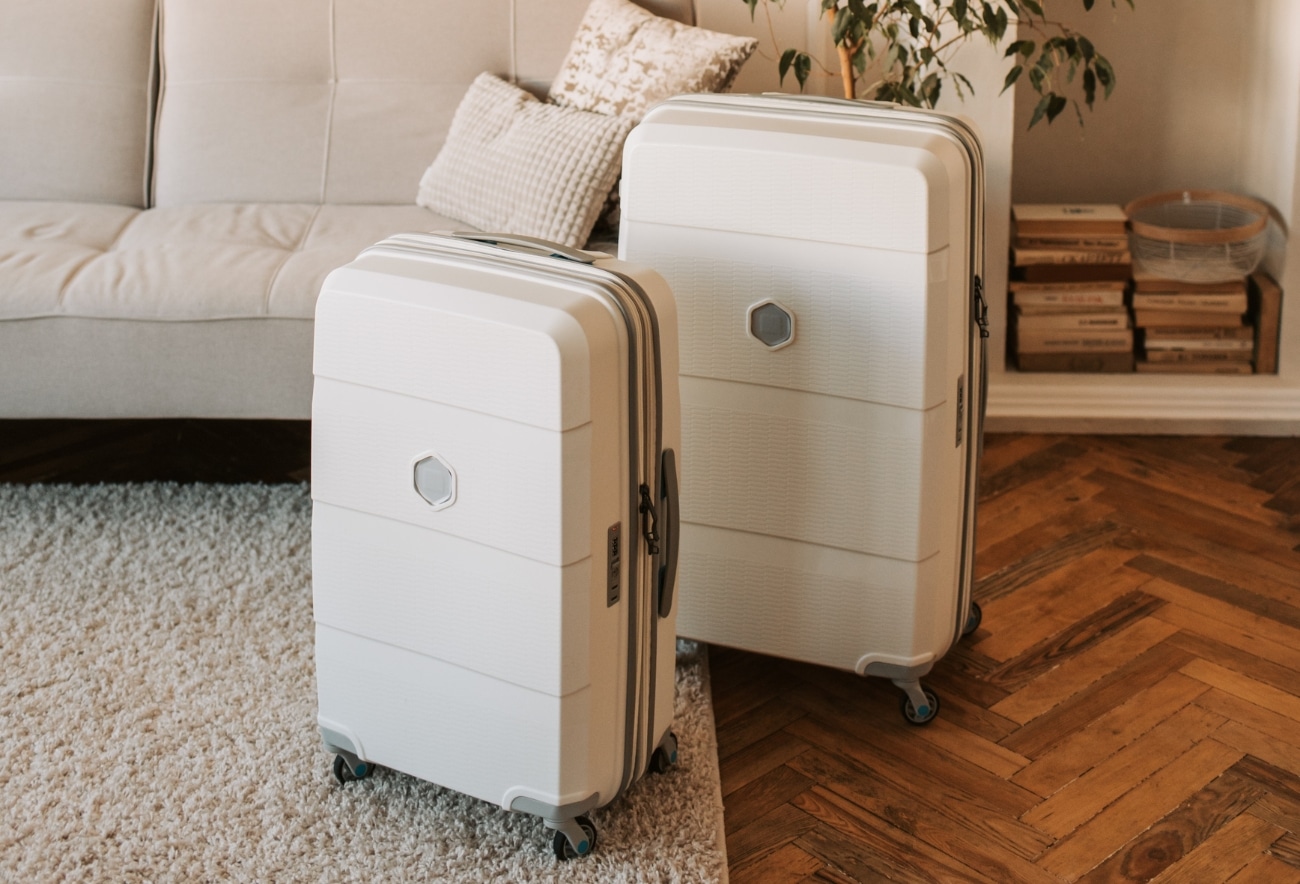 Luggage & Suitcase Buying Guide: What to Know to Make the Best Purchase
INTENTIONAL SHOPPING GUIDE
This luggage and suitcase buying guide is a part of our Intentional Shopping series focused on helping our readers make more thoughtful and quality purchases.
If you're planning a trip, the last thing you want to worry about is your luggage. Whether you're traveling for business or pleasure, having the right luggage can make all the difference. But with so many options on the market, how do you know which one to choose? In this intentional shopping guide, we'll provide you with a comprehensive luggage-buying guide to help you select the best luggage for your needs.
To help simplify the process, here are some key factors to consider when shopping for the perfect luggage or suitcase.
1. Travel Needs
The first step in buying luggage is to examine your travel needs. Consider the types of trips you take most often and the average trip length and how much you typically need to pack. If you typically take short weekend getaways, a small carry-on suitcase may be all you need. If you typically take longer trips or need to pack more items, a larger suitcase may be necessary. Consider also the mode of transportation you typically use – will you be flying, driving, or taking a train? Different types of luggage may be more suitable for different modes of transportation.
Pro Tip:
It's best to have luggage for every travel need. Ensure you have a lightweight carry-on for shorter trips and weekend getaways and that you have durable, lightweight luggage for more extensive trips and international travel. For the most savings, it may be best to invest in a luggage set rather than buying your luggage individually.
2. Luggage Type
There are several types of luggage to choose from, including carry-on bags, checked bags, duffel bags, backpacks, and garment bags. Each type has its advantages and disadvantages, so it's important to determine which one is best for your needs.
Carry-on bags: Ideal for short trips or when you want to avoid checking your luggage, it's critical to consider the size of your carry-on bag since it needs to meet airline size restrictions. Typically, a carry-on bag should be no larger than 22 inches x 14 inches x 9 inches (56 cm x 36 cm x 23 cm) including handles and wheels. Look for bags with multiple compartments to help you stay organized on the go. Having separate compartments for your laptop, toiletries, and other items makes packing and unpacking easier. You also want to consider maneuverability since your carry-on bag will stay with you at all times when you travel. Consider bags with four, smooth-rolling wheels for the smoothest experience.
Large suitcases: Better suited for longer trips or when you need to pack more items, it's important to look for a large suitcase made from durable materials like polycarbonate, ballistic nylon, or hard-sided ABS plastic that can withstand the wear and tear of travel. The quality of the zippers and wheels are also important factors to consider for ease of use. Finally, look for a suitcase with a secure locking system to keep your belongings safe once you check your suitcase.
Duffel bags: Great for weekend getaways or when you need to carry bulky items, make sure you prioritize material and size when selecting the right duffel bag for you. Duffel bags are made from a variety of materials, including nylon, canvas, leather, and polyester, so it's important to consider the durability and weight of the material to ensure it meets your needs. It's also important to consider the strap length and handles when choosing a duffel bag. Look for a duffel bag with comfortable and sturdy shoulder straps or carrying handles to ensure comfortable carrying.
Backpacks: Ideal for outdoor activities or when you need a hands-free way to carry your belongings, it's important to prioritize comfort when choosing a backpack. Look for a backpack with comfortable straps that are adjustable to fit comfortably over your shoulders and chest. Backpacks with padding on the straps will also add extra comfort when carrying heavier items. For maximum convenience, you also want to consider a backpack with multiple compartments and pockets to help you stay organized. Some backpacks also have additional features like water bottle holders, padded laptop sleeves, or detachable daypacks.
Garment bags are designed to keep your clothing wrinkle-free and are best suited for business trips or special occasions.
Pro Tip:
When shopping for luggage, you can save money and make your life more convenient by shopping for 2-for-1 luggage styles. For instance, there are duffel bags that have built-in garment bags and carry-on rolling suitcases that double as a backpack.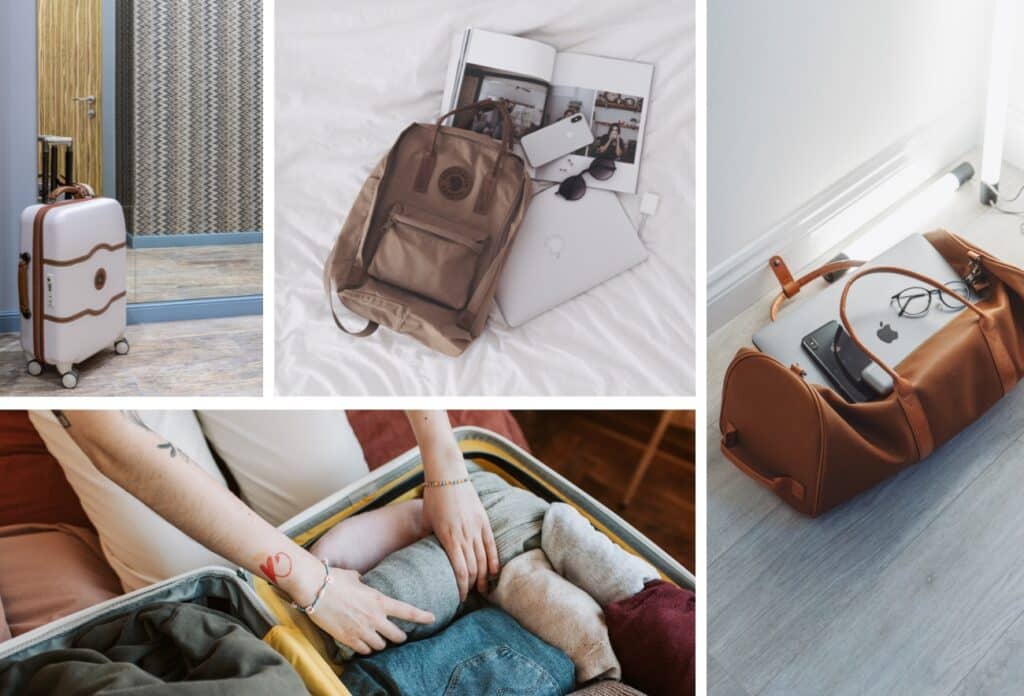 3. Size & Versatility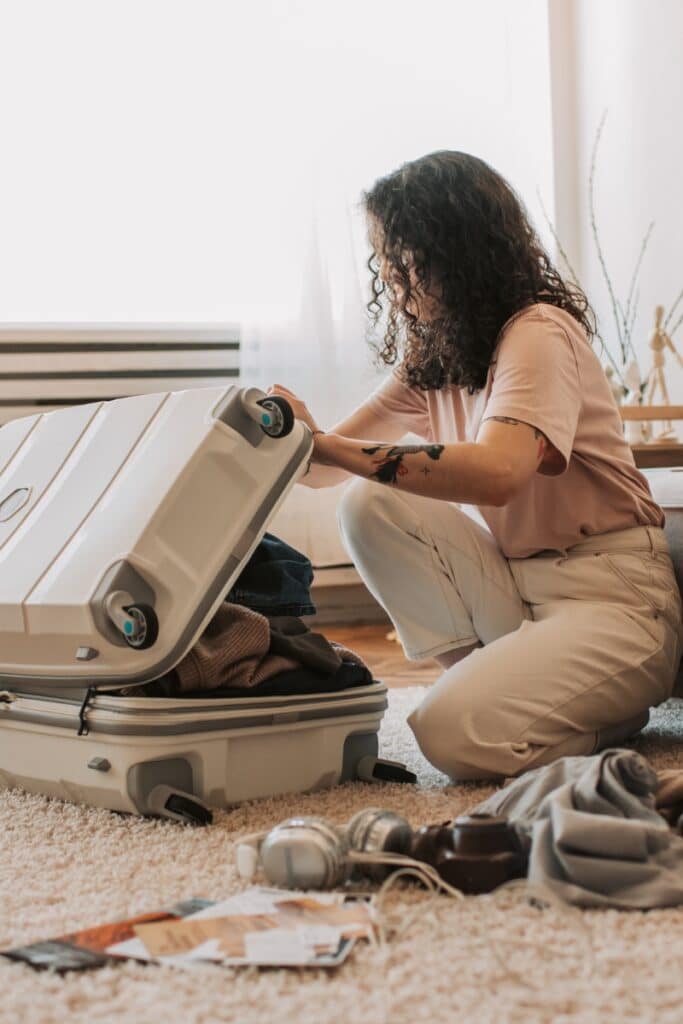 When choosing luggage, size matters. Most airlines have size and weight limits for carry-on and checked luggage, so it's important to choose luggage that meets these requirements. If you plan to use your luggage for multiple trips, consider investing in a size that is versatile and can be used for both short and long trips.
For maximum versatility, choose expandable luggage that can be expanded or contracted in size, depending on your packing needs. This is accomplished through the use of a zipper or set of zippers that can be opened to allow the bag to expand and closed to compress the bag back to its original size.
Pro Tip:
If you always find yourself coming back from your travels with more luggage and souvenirs than when you arrived, consider a tote bag that folds away to bring with you on your travels. Lightweight and compact, you can easily pack the tote in your suitcase and use it as a separate carry-on when you return home.
4. Material & Weight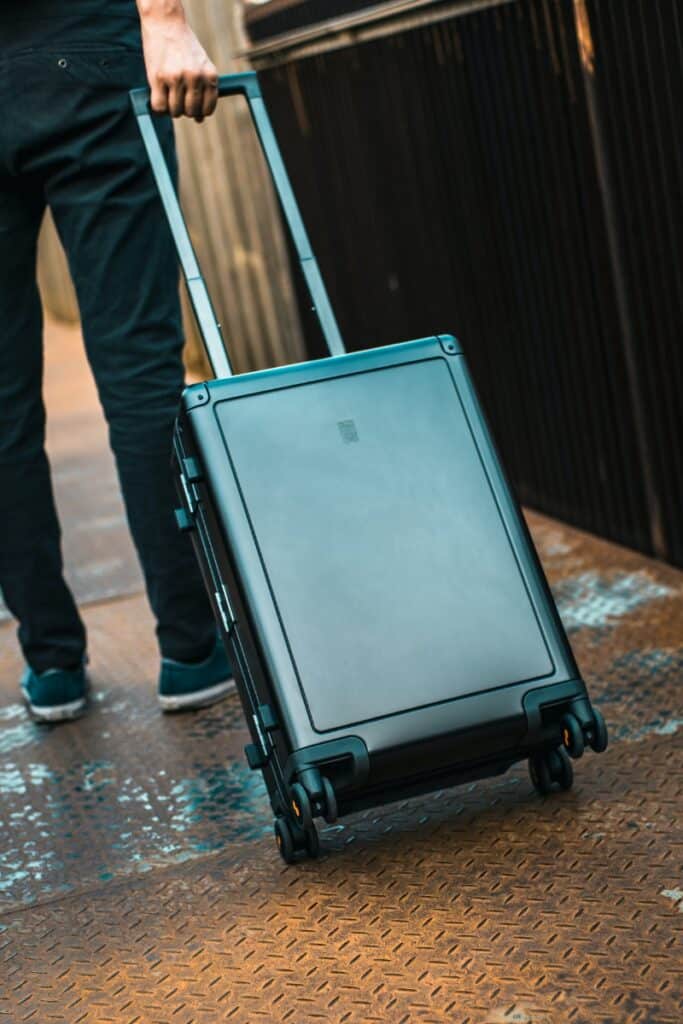 First and foremost, you should check the weight restrictions for the airline you travel most frequently or the airline for your upcoming trip. Most airlines have a limit on the weight of checked luggage, and exceeding this weight limit can result in expensive fees. Knowing the weight restrictions can help you determine the maximum weight for your suitcase.
The weight of your suitcase will largely depend on what you typically pack. If you frequently travel to colder destinations, winter and fall clothes tend to be heavier than spring and summer garments. Heavy items such as books, electronics, and shoes can also quickly add up and make your suitcase overweight. If you tend to travel with heavier items, it may be best to look for a lightweight suitcase to offset the overall weight of your luggage.
Next, the material of your luggage is also important. Hard-shell suitcases are durable and offer excellent protection for your belongings, but they can be heavy and difficult to maneuver. Soft-shell suitcases are lighter and more flexible, but may not provide as much protection for your belongings.
Each material has its own advantages and disadvantages, and the best choice will depend on your specific needs and preferences.
Hard-shell or Polycarbonate: Hard-shell luggage is made from materials such as polycarbonate or ABS plastic and provides excellent protection for your belongings. It is also resistant to scratches and punctures, so it's best for checked luggage and longer, international journeys. The drawback of hard-shell luggage is it can be heavy and may not offer as much flexibility as soft-shell luggage. The weight of an empty hard-shell suitcase typically ranges from 4 to 8 pounds (1.8 to 3.6 kg).
Soft-shell or Nylon: Soft-shell luggage is typically made from nylon or polyester fabric and is more flexible than hard-shell luggage. It is also lightweight and easy to maneuver making it best for carry-on luggage and those always on the go. The drawback of a soft-shell suitcase is it may not offer as much protection for your belongings and can be more susceptible to tears and rips. The weight of an empty hard-shell suitcase typically ranges from 4 to 8 pounds (1.8 to 3.6 kg).
Hybrid: Hybrid luggage is a combination of hard and soft-shell materials. It offers the durability and protection of hard-shell luggage with the flexibility and lightweight design of soft-shell luggage. The weight of an empty hybrid suitcase can vary widely but generally falls within the range of 5 to 9 pounds (2.3 to 4 kg).
Leather: Leather luggage is known for its durability and classic, timeless look. It is ideal for business trips or special occasions. However, it can be heavy and requires more maintenance than other materials. The weight of an empty small leather suitcase typically ranges from 5 to 10 pounds (2.3 to 4.5 kg) while medium leather suitcases can range from 10 to 15 pounds (4.5 to 6.8 kg).
Pro Tip:
If you travel frequently and long distances, you may want to invest in a luggage scale to ensure you stay within airline weight restrictions. While a regular scale will be less accurate, this is also a way to get a rough estimate of your luggage weight before you arrive at the airport.
5. Features & Compartments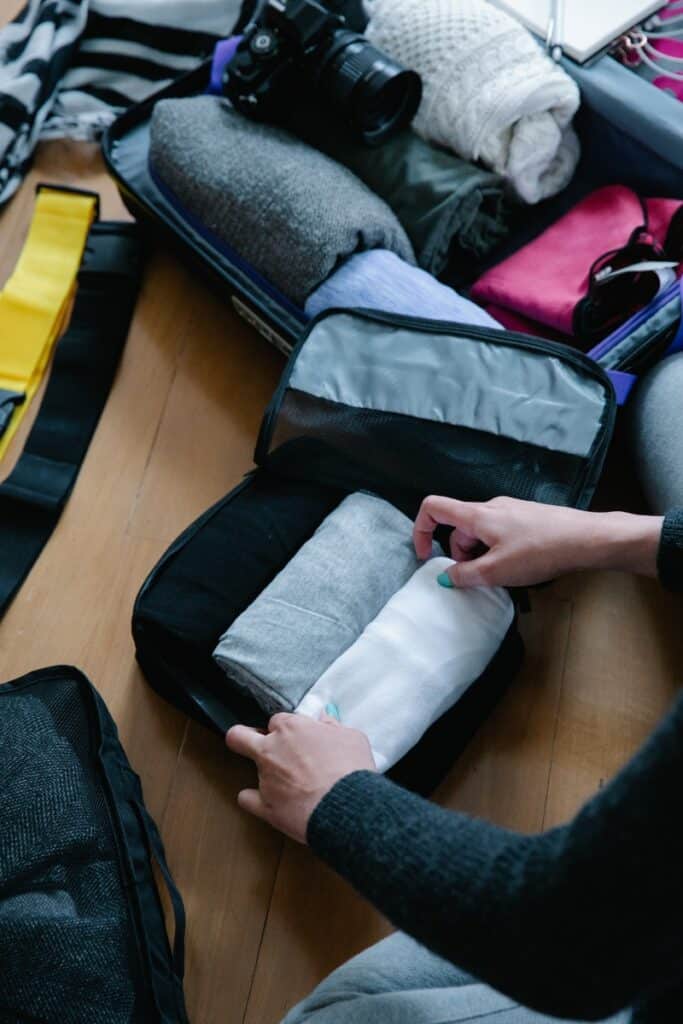 When buying luggage, it's important to look for features that will make your trip easier. Features to consider include wheels (spinner or inline), handles (telescoping or fixed), pockets (interior or exterior), and zippers (lockable or not). You may also want to look for luggage with built-in chargers or other technological features.
Spinner vs inline wheels: Spinner wheels are attached to the bottom of the suitcase and can rotate 360 degrees. This allows the suitcase to be moved in any direction without being tilted or dragged behind. Spinner wheels provide a high level of maneuverability, making it easier to navigate through crowded areas such as airports or train stations. Spinner wheels are often found on larger suitcases, such as checked luggage. On the other hand, inline wheels, also known as roller wheels, are attached to the bottom of the suitcase in a linear fashion, with two wheels on each side of the suitcase. These wheels only move in a straight line, requiring the suitcase to be tilted and dragged behind the traveler.
Telescoping vs fixed handle: Telescoping handles are the most common type of handle found on suitcases. They are designed to slide up and down, allowing you to adjust the height of the handle to your comfort level. Fixed handles are more traditional handles that cannot be adjusted making them overall less convenient.
Pockets & Compartments: For optimal convenience look for luggage with laptop compartments, zippered pockets, shoe compartments, and a separate compartment for dressy garments if you travel often for business.
Built-in Chargers: Many modern suitcases come with built-in chargers that allow you to charge your electronic devices on the go such as smart suitcases from brands like Away and July.
Pro Tip:
While the built-in compartments of a suitcase can help you stay organized, packing cubes are a great way to stay organized when you travel and are compatible with any suitcase.
6. Security Features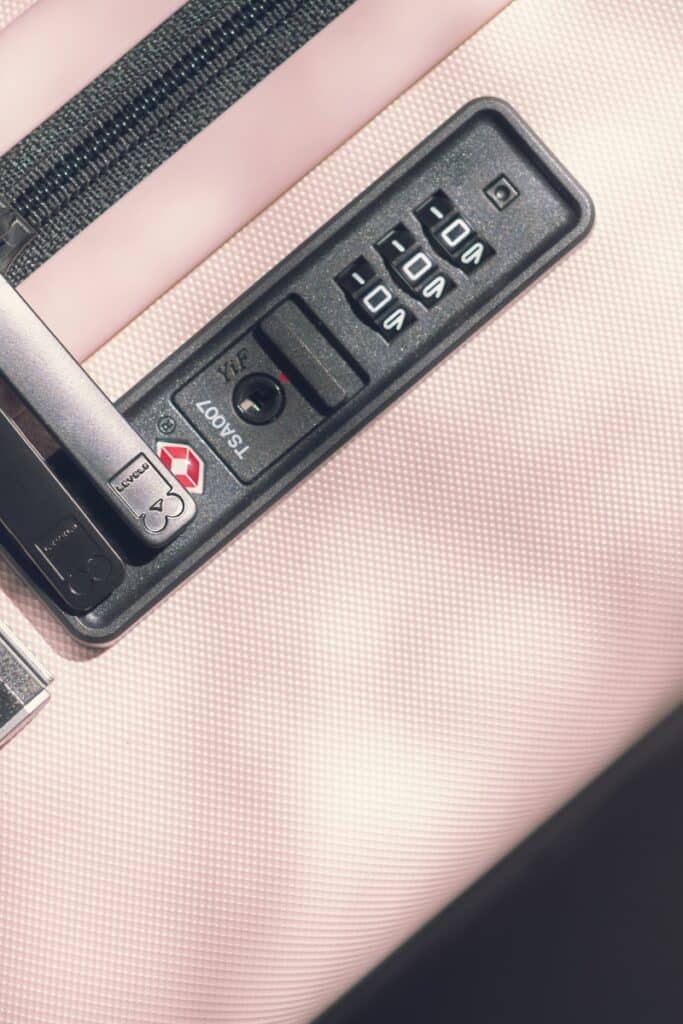 The best security features for your suitcase will depend on your personal preferences and travel needs. Consider what types of belongings you'll be carrying and where you'll be traveling, and choose a suitcase with features that will help keep your belongings safe and secure. When it comes to choosing a suitcase with good security features, here are some of the best options to consider:
Locks: Having a lock on your suitcase is essential for keeping your belongings safe. Look for suitcases with built-in locks or ones that come with a separate lock that can be attached to the zippers.
TSA-approved locks: If you're traveling to or within the United States, it's recommended to have a TSA-approved lock on your suitcase. These locks can be opened by TSA agents if they need to inspect your suitcase, without damaging the lock or the suitcase.
Hardshell construction: A suitcase with a hardshell construction provides an extra layer of protection for your belongings. Look for suitcases made from materials like polycarbonate or aluminum, which are durable and can withstand impacts.
Anti-theft zippers: Suitcases with anti-theft zippers are designed to prevent unauthorized access to your belongings. These zippers are typically more difficult to open and can only be accessed from certain angles.
GPS tracking: Some high-end suitcases come with GPS tracking technology built-in, allowing you to track the location of your suitcase in real time. This is a great feature for travelers who want to keep a close eye on their luggage.
RFID-blocking pockets: If you're carrying important documents like passports or credit cards, look for suitcases with RFID-blocking pockets. These pockets are designed to prevent identity theft by blocking RFID signals that can be used to steal your personal information.
Pro Tip:
If you buy luggage that doesn't have a built-in GPS tracker, you can simply place a GPS tracking tag on your luggage so you always know its location. This is especially useful if you are checking a bag.
7. Brand & Price
Finally, consider the brand and price of your luggage. Use this guide as a resource when determining your needs and preferences and be sure to read reviews or steer towards brands that have been vetted by someone you know or an online publication.
Pro Tip:
If you want to invest in quality luggage that will last a lifetime but you are on a budget, sign up for the email list of the brand of choice so that you are alerted of discounts and upcoming sales.
Choosing the right luggage is an important part of any trip. By considering your needs, determining the type of luggage, choosing the right size, checking the material, looking for the right features, and considering brand and price, you'll be well on your way to finding the perfect luggage for your next adventure.