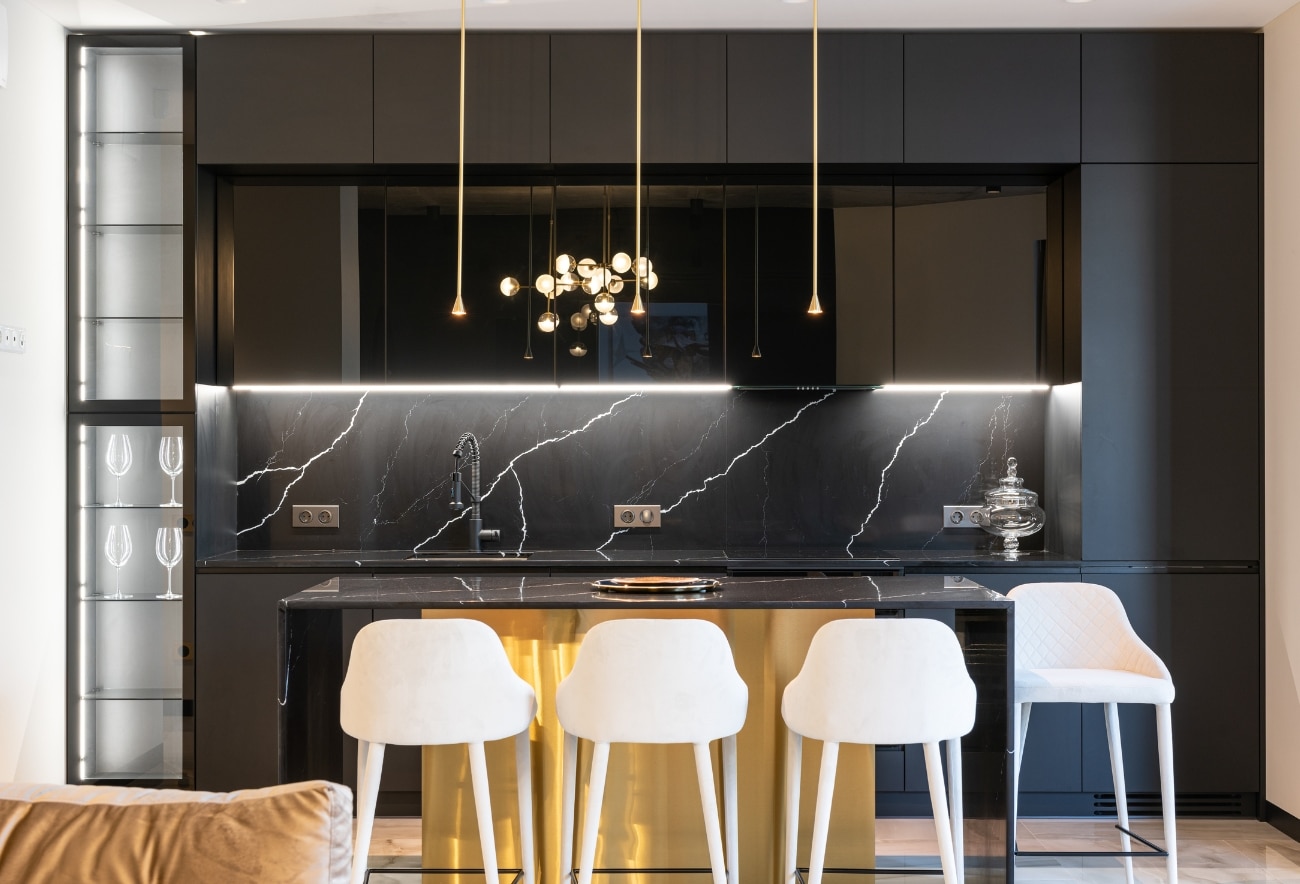 The Rise of the Black Kitchen: Dark Ambient Kitchens are Trending
Why black kitchens and dark accents are replacing the all-white kitchen trend.
While a white and bright kitchen will always be classic, home decor enthusiasts anxiously look forward to the new trends predicted to dominate the scene. One of these anticipated trends is the rise of the black kitchen, characterized by dark accents and details that create a striking, modern look. 
If you're planning a kitchen remodel or simply looking for ways to update your space, embracing black accents and a warm color palette could be the perfect solution. These can range from black cabinetry, countertops, appliances, and hardware to more minor additions like matte black door knobs or decorative lighting fixtures.
The Shift Away from All-White Kitchens
The rise of the black kitchen is not surprising given the current mood in interior design. In recent years, we've seen a significant shift away from the all-white kitchen towards more personalized, warmer spaces that reflect the individuality of their owners. The black kitchen trend is an extension of this movement, as it adds a touch of drama and sophistication without sacrificing functionality.
From matte black cabinets to dark hardware with gold details, there are many ways to incorporate this color into your kitchen design. You can also add warmth to the space by combining black with natural wood finishes, or create a cozy atmosphere with black cabinetry and lighting.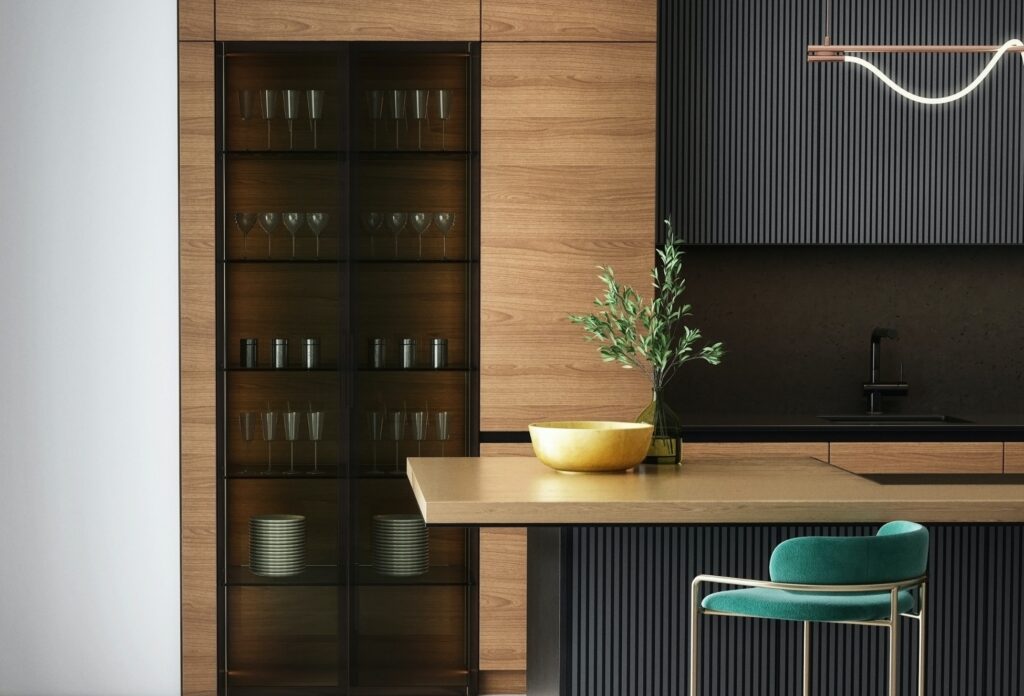 A Dark Kitchen is Versatile with Many Design Styles
One of the most appealing aspects of the black kitchen trend is its versatility. Whether you prefer a sleek, minimalist look or a more eclectic bohemian style, black accents can be incorporated in a variety of ways. For example, you might opt for black hardware and fixtures, cabinetry, or a black backsplash. This versatility means anyone can embrace this trend and make it their own.
Dark Accents Create Contrast and Balance
Another reason why the black kitchen is on the rise is that it pairs so well with other design elements. For instance, if you're a fan of natural materials like wood and stone, black accents can provide a striking contrast that emphasizes their beauty. Similarly, if you love bold, bright colors, black can be used as a grounding element that helps balance the palette. Ultimately, dark accents in the kitchen are gaining traction because it appeals to a wide variety of design sensibilities.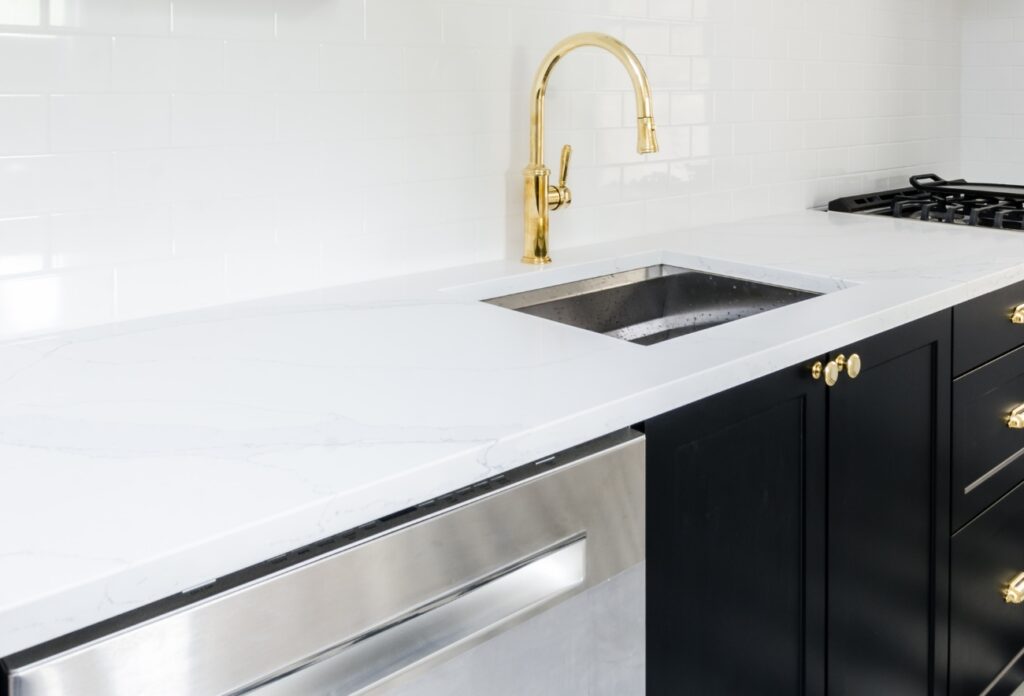 The Drawbacks of a Black Kitchen
Of course, there are some potential downsides to choosing a black kitchen. For example, black surfaces can show fingerprints, smudges, and scratches more easily than lighter colors, which may require more upkeep. Additionally, black can sometimes make a space feel smaller and more confined, which might not work in every home. However, with careful planning and consideration, these potential drawbacks can be mitigated.
Elements of a Black Kitchen
Adding black and dark accents to your kitchen can take shape in many ways. From black cabinetry, countertops, kitchen sinks, and hardware to smaller additions like matte black door knobs or decorative lighting fixtures, there are both bold and subtle ways you can update your kitchen with a black color palette.
Black Kitchen Cabinets
Black kitchen cabinets are becoming an increasingly popular home decor trend. Not only do they make a bold statement, but they can add a high-end feel to any kitchen. Black cabinets can be used to create contrast with lighter colors and can be easily paired with different materials such as stainless steel appliances or natural wood countertops for an added touch of luxury.
Black Kitchen Island
Adding a black kitchen island to your home can be a great way to add a modern and exclusive look. Invite texture into your space with reclaimed wood or other materials that contrast nicely with the black island. This will add depth and interest to the overall look of the room. Invest in black stools for a seamless finish. This will help tie the look together and create a cohesive design.
Black Kitchen Hardware
Black kitchen hardware is having a moment in the world of design. Its sleek, modern look adds a touch of sophistication to any space, while its versatility allows it to blend seamlessly with a variety of styles. 
For a timeless look, opt for traditional black cabinet knobs or handles with a matte finish. These are perfect for creating an elegant and sophisticated atmosphere in your kitchen. If you want something more modern and edgy, try black bar pulls with clean lines and minimal detailing. This style will add an industrial feel to any room while still keeping things chic and stylish.
For those who prefer something more ornate, there is plenty of decorative black drawer pulls available as well. From intricate designs to bold geometric shapes, these pieces can add texture and depth to any space.
Black Kitchen Sink
Black sinks are becoming more and more popular as they are the perfect way to add a modern touch to your kitchen, while still maintaining a classic style. Black sinks come in a variety of shapes, materials, and designs, so you can find one that fits your style and budget. Whether you're looking for an undermount sink, drop-in sink, or apron front sink, there are plenty of options available in black.
Black Kitchen Faucet
Due to the sleek and modern look they bring to any kitchen, matte black kitchen faucets are rising in popularity. For a classic look, choose a two-handle design with a high arc spout. This style will give your kitchen a timeless feel that will never go out of style. For something more modern, opt for a pull-down sprayer or even a touchless option. These are perfect for busy households, as they make it easy to keep your sink clean without having to touch the handle every time you use it.
As the shift away from minimalism continues towards maximalism in interior design, we can expect to see more and more homeowners embracing this look and experimenting with new ways to incorporate black accents and details into their kitchens. Whether you go all-in with black cabinetry or simply add a few black fixtures, this trend offers endless possibilities for personal expression and style.
Social Inspiration