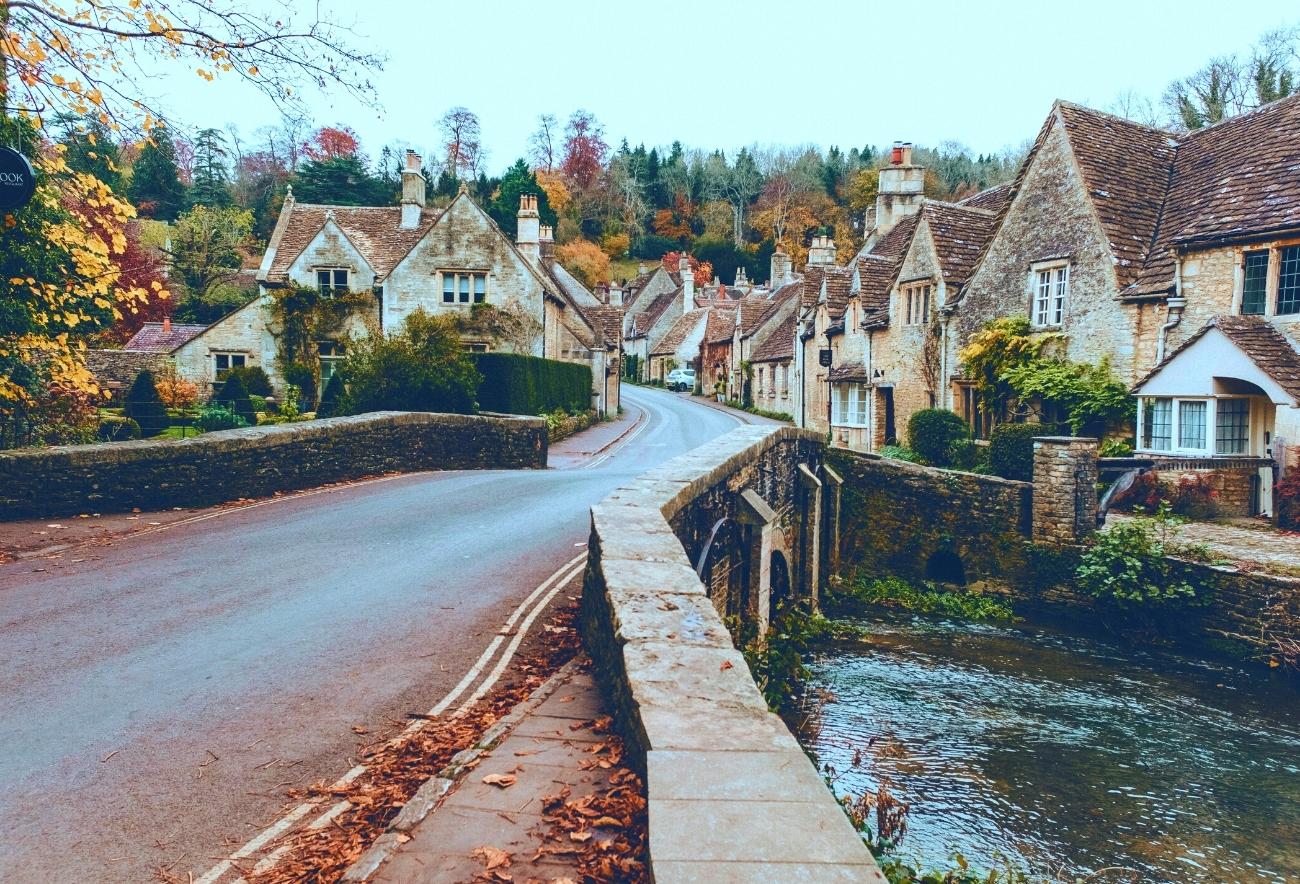 10 Best Villages in the Cotswolds You Must See
The Cotswolds are iconic for having picturesque villages, rolling hills, and unique attractions. Located in southern England, the Cotswold Villages cover 787 square miles of breathtaking and peaceful landscapes. These beautiful villages are filled with historical buildings, old-fashioned markets, and honey-colored thatched cottages that will make you feel as if you've stepped into a storybook.
Getting to the Cotswolds
The Cotswold Villages are just a short drive from London, making it the perfect destination for a day trip or spending the weekend wandering these picturesque Cotswold villages. While the Cotswolds villages are just a stone's throw from London, you'll feel worlds away when you set foot in some of the prettiest Cotswold villages overflowing with historic charm and hidden gems. Read on to discover the best Cotswold villages worth exploring.
TABLE OF CONTENTS
Best Villages in the Cotswolds
(click to skip to a village or keep scrolling to read the full article)
1. Bibury
Bibury has often been regarded as "the most beautiful village in England" and it's easy to see why. With gorgeous cottages tucked into scenic landscapes, Bibury is like a picture-perfect town straight out of a fairytale.
Arlington Row
One of the main reasons Bibury is deemed one of the prettiest Cotswolds villages is that the village is home to Arlington Row, a street lined with charming cottages that carry a rich history in their golden stones. Owned by the National Trust, these cottages were originally built around 1380 and used to store monastic wool. They were later converted to weaver cottages in the late 17th century.
Church of St Mary
Another sight to see in Bibury is the Church of St. Mary. Constructed in the 11th century, this Anglo-Saxon church has amazing architectural features including magnificent stained-glass windows. If you find yourself roaming around Bibury, you must visit the Church of St. Mary and witness first-hand the beauty in this building.
Bibury Trout Farm
We can't forget to mention the Bibury Trout Farm, a trout farm that dates back to 1902. This farm produces millions of rainbow trout annually. When you visit this farm, you can buy freshly caught or smoked trout, or you can opt to catch your own trout at the farm's fishery.
Bibury Hidden Gems to Uncover
More than just one of the prettiest villages in the Cotswolds, Bibury is also home to rare gems. Located on the enchanting banks of the River Coln, The Swan Hotel offers the ultimate haven for a serene escape in the former Cotswold coaching inn. You can gaze at beautiful swans drifting by on the River Coln as you relax on the hotel grounds. Settle in a cozy armchair with your favorite cocktail next to a crackling fire at the Swan Bar, or indulge in a gourmet dinner at the Swan Brasserie. One of the coziest pubs in the Cotswolds villages, be sure to also check out the Catherine Wheel Pub serving delicious fare just minutes from Arlington Row. The pub features outdoor seating in summer.
The Swan Hotel
Catherine Wheel Pub
Bibury at a Glance
Pros
– There are numerous sights to see in this tiny village, including the famous Arlington Row, Church of St Mary, and Bibury Trout Farm
– Located close to other charming villages in the Cotswolds
– One of the most beautiful Cotswold villages
Cons
– Parking can be limited in this town, so make sure to get there early for a spot
2. Bourton-on-the-Water
Considered to be the "Venice of the Cotswolds", Bourton-on-the-Water is filled with beautiful 18th-century stone bridges that extend over the River Windrush. These gorgeous arched bridges, the dazzling river, and rows of honey-colored stone cottages create a charming scene that you won't soon forget.
Model Village
One of the most unique sights in Bourton-on-the-Water is the model replica of the village. Built in the 1930s, this model village is 1/9th scale of the actual village. Inside this replica, you will see the Church of St. Lawrence, the river, its six bridges, as well as the beautiful trees seen around the village. The model replica even has its own model replica, built to the same 1/9th scale as the original.
Birdland Park and Gardens
Bourton-on-the-Water is also home to Birdland, a zoo for birds that have been around since 1957. Len Hill was the creator of this amazing zoo which houses hundreds of bird species including penguins, flamingos, and toucans.
Bourton-on-the-Water Hidden Gems to Uncover
No visit to Bourton-on-the-Water would be complete without a visit to the Cotswold Perfumery and the Cotswold Brew Co. Whether you are in the mood to discover unique fine fragrances or simply sip a pint of lager before a behind-the-scenes tour of the brewery, these local gems bring even more charm to this pretty Cotswold village.
Cotswold Perfumery
Cotswold Brew Co
Bourton-on-the-Water at a Glance
Pros
– Has unique sights to see in the village, such as the model village, Birdland zoo, Cotswold Perfumery, and the Cotswold Brew Co
– The River Windrush provides a beautiful and relaxing scene as you walk through the village
Cons
– This riverside village is one of the most popular villages in the Cotswolds during summer and becomes very busy with tourists during this time
3. Castle Combe
Castle Combe is another gorgeous village that is part of the Southern Cotswolds. This picturesque Cotswold village is often called "the prettiest village in England." This medieval village appears to be frozen in time. The quaint cottages in this Cotswold village date back to the 14th century, creating an idyllic setting that you won't want to leave.
St Andrew's Church
Once upon a time, there was a real castle in this village, but it was eventually destroyed. However, Castle Combe has no shortage of stunning buildings to visit. The Church of St. Andrew's was built in the 13th century and restored in the 19th century. This gorgeous stone building has a soaring tower that displays the beautiful medieval architectural style used during its construction. The church also contains a historic faceless clock that is one of the oldest working clocks in England.
Manor House Hotel & Garden
Castle Combe is also where you can find the Manor House, a beautiful and sprawling14th-century manor that is now a 5-star hotel and golf club. With exquisite architectural details and an ivy-covered outside, this building is a sight you won't want to miss.
Castle Combe Hidden Gems to Uncover
Of course, there is so much to do in the village itself. This historic village has The Old Rectory Pop-Up Tearoom, which is the perfect place to enjoy some afternoon tea in an intimate atmosphere. This tearoom only does private dining by reservation with at least 24 hours' notice required. You can also visit The Salutation Inn, a traditional Cotswolds pub complete with beams and a stone fireplace in the bar and a timbered barn-style restaurant. This cozy restaurant serves traditional English pub food with a gourmet twist. Before you depart, be sure to stroll through this adorable village and visit the charming antique shops.
Old Rectory Tea Room
The Salutation Inn
Castle Combe at a Glance
Pros
– One of the prettiest Cotswolds villages you can visit
– Home to many beautiful and historic buildings including St Andrew's Church and Manor House Hotel and Garden
– The village has an outstanding natural beauty that is hard to match
Cons
– Castle Combe has narrow streets that can be difficult to navigate in a car
– It can be difficult to find parking spaces, especially in the busy season
4. Chipping Campden
Chipping Campden is one of the largest Cotswold villages, and there is plenty to do in this picturesque village. Enjoy this Cotswold village by taking a stroll down High Street. See the beautiful architecture, the enchanting river views, and the rich history that surrounds it.
Kiftsgate Court Gardens
Another popular tourist spot is the Kiftsgate Court Gardens, cultivated for three generations by female gardeners. This garden is filled with breathtaking views. The gorgeous stone building is surrounded on every side by romantic and lush flowers and plants. They also have a tearoom where you can sit to enjoy teas, cakes, and other snacks.
St James' Church
Don't miss out on visiting St. James' Church. This majestic building was a wool church constructed in the 15th century. The tower is over 100 feet tall and can be seen for miles around. The inside is filled with incredible architecture, embroidered tapestries, and gorgeous stained-glass windows.
Cotswold Way
Chipping Campden also marks the start of the Cotswold Way, a 102-mile hiking path that passes through over two dozen villages and leads you to the town of Bath. This walk is famous for scenic views of Cotswold cottages as well as luscious fields, hills, and forests.
Chipping Campden Hidden Gems to Uncover
Discover The Erbington Arms, a beautiful 17th-century inn with a cozy pub complete with a roaring fire in the winter months and an award-winning culinary experience. To truly soak in the charm of Chipping Campden, take a stroll among the many walking paths to uncover sweeping views, rolling hills, and furry friends.
The Erbington Arms
Walking Paths
Chipping Campden at a Glance
Pros
– One of the largest villages with dozens of activities and sites for visitors including Kiftsgate Court Gardens, St James Church, and the start of the famous Cotswold Way
– Bursting with culture from the British Arts and Crafts movement that was a large part of the village's history
– Many places to park and parking is usually free
Cons
– There are currently no charging stations for electric cars
– This village can become crowded with tourists during busy months
5. Broadway
Known as the "jewel of the Cotswolds," Broadway's inviting main street is dotted with honey-colored cottages, quaint antique shops, cozy tearooms, art galleries, and luxurious hotels. From the most popular attractions to hidden gems, we recommend spending the day exploring this pretty Cotswold village.
Broadway Tower
Standing at nearly 65 ft tall, the Broadway Tower is a must-see for any visitor to the villages in Cotswolds. Originally built in the 18th century by renowned architect James Wyatt, today the Broadway Tower houses a café, gift shop, and offers stunning views of the Cotswold countryside. Set within a 200-acre estate of parkland, you can explore the Tower Museum with roof platform, the Deer Park, or enjoy a picnic on the walking grounds.
Stratford Gallery
The Stratford Gallery is the perfect place for art lovers, as it represents some of the best contemporary painters, studio ceramicists, and sculptors from both the UK and internationally. A truly unique art gallery in the Cotswolds villages, the gallery also specializes in Japanese ceramics with an entire floor dedicated to imported works.
The Lygon Arms
Steeped in over 600 years of fascinating history, The Lygon Arms Hotel, one of the most famous hotels in the Cotswolds villages, has been host to royalty and notable figures throughout centuries. You'll be greeted by a roaring fireplace in the hotel's cozy lounges, the locally sourced decadent fare at Lygon Bar and Grill, and a relaxing spa to unwind with a soothing treatment or massage. After a long day exploring Broadway, we recommend a nightcap in the Lygon Lounge and Cocktail Bar.
Broadway Hidden Gems to Uncover
Broadway's Millennium Garden is a hidden treasure that many visitors miss. It is a small enclosure located next to the Broadway Museum on High Street and was built to commemorate the new millennium, hence its name. Be sure to capture a glimpse of this cute enclosure while strolling this picturesque village. Finally, you can't visit Broadway without trying Sunday lunch at The Fish Hotel, a collection of quirky huts nestled in a hillside within a 400-acre private estate. You can indulge in everything from rich, slow-roasted pork belly to fresh, locally-sourced seasonal veggie dishes.
The Fish Hotel
Fish Hotel Unique Accommodations
Broadway at a Glance
Pros
– Home to the iconic Broadway Tower, one of the most popular attractions in the Cotswolds villages
– One of the most picturesque villages with cafes, galleries, and boutiques at every turn
– One of the must-see Cotswolds villages due to the iconic luxury hotel the Lygon Arms
– Enjoy a refreshing change of pace with an outdoorsy retreat at The Fish Hotel or simply make a reservation to indulge in Sunday lunch
Cons
– Like some of the other more popular villages in the Cotswolds, reservations are needed for many of the dining options
6. Stow-on-the-Wold
Located at the peak of an 800-ft hill known as Stow Hill, this is the highest of the Cotswold villages. Stow-on-the-Wold was the heart of the wool trade during the 15th century and is still steeped in history.
Today, Stow-on-the-Wold is a market town well-known for having excellent antique shops, art galleries, and cafes. The village is overflowing with intriguing architecture and adorable Cotswold cottages. In the market square sits the medieval stocks that were once used as a form of punishment.
St Edward's Church
St. Edward's Church is an exceptional building with unique architectural features including its whimsical door said to be the inspiration for the 'Doors of Durin' door into Moria in Lord Of The Rings. First built in the 11th century, this historic church has undergone several renovations resulting in the building having a blend of architectural styles. The church also has a peaceful garden where you can take a stroll and enjoy the lovely yew trees.
The Porch House
During your visit, don't forget to stop by The Porch House, England's oldest inn. This charming inn is a thousand years old and built with the iconic golden stones synonymous with the Cotswolds. It has a cozy, inviting interior and an incredible restaurant that uses fresh, local ingredients.
Stow-on-the-Wold Hidden Gems to Uncover
While exploring the storied streets, sip and savor a cup of cream tea at Lucy's Tearoom while relaxing outside in the idyllic courtyard or inside the 300-year-old cozy cottage complete with exposed beams and historic charm. Indulge in a hearty breakfast, lunch, or afternoon tea.
No trip to Stow-on-the-Wold is complete without soaking in art and culture at the Fosse Gallery located at the top of Market Square. The Fosse Gallery is home to world-renowned contemporary British art that shouldn't be missed.
Lucy's Tearoom
Fosse Gallery
Stow-on-the-Wold at a Glance
Pros
– The village has amazing views of the Cotswolds villages and the surrounding landscapes
– There are unique architectural and historical attractions including St Edward's Church and The Porch House, England's oldest Inn
– This village has family-friendly attractions in the village and nearby villages
– Quaint local spots to discover such as Lucy's Tearoom and rich culture to explore at renowned galleries such as the Fosse Gallery
Cons
– This charming village has very narrow roadways and is best explored on foot
– The village is a popular market town, so it can become very crowded at times
7. Snowshill
Another town tucked away in the picturesque Cotswolds is the small village of Snowshill. This charming town, which played backdrop to the winter scenes in the film "Bridgette Jones's Diary," is often overlooked by tourists, but those in the know realize that Snowshill is one of the prettiest villages in the Cotswolds, a hidden gem not to be missed.
Snowshill Manor
The perfect place to start your exploration of Snowshill is at the Snowshill Manor. This historic home was once owned by Charles Paget Wade, an accomplished architect, artist, poet, and collector. Wade amassed an impressive collection of art and artifacts from around the world, which are on display for visitors to enjoy.
Cotswold Lavender Farm
One of the most Instagrammable places to explore in Snowshill is the beautiful Cotswold Lavender Farm. In the summer months, guests can tour 20 acres brimming with endless rows of lavender for you to enjoy. The farm welcomes you to wander, relax, and even picnic on their beautiful grounds while soaking in the enchanting aroma and scenery.
Snowshill Hidden Gems to Uncover
No visit to Snowshill would be complete without stopping by Tisanes Tea Room. This cozy little tea room occupies a 17th-century Cotswold stone building serving old-world charm and delicious homemade scones, cakes, and sandwiches. It's the perfect place to grab a bite to eat or a cup of tea after exploring all that Snowshill has to offer. If you're craving a pint, then visit Snowshill Arms, a cozy traditional inn that dates back to the 15th century serving crafted ales straight from the barrel.
Tisanes Tearoom
Snowshill Arms
Snowshill at a Glance
Pros
– Home to the famous Snowshill Manor where you can explore rare art and treasures complete with a beautiful garden
– Offers a stunning Lavender farm to explore and take some of the most Instagram-worthy pictures you will capture in all the villages in the Cotswolds
– Featured in "Bridget Jones's Diary" so you can relive the iconic winter scenes in the film
Cons
– Parking can be difficult with narrow streets
8. Minster Lovell
This sleepy village is like something out of a dream. Minster Lovell is in Oxfordshire and sits along the River Windrush. This village is made up of three parts: the Old Minster, Little Minster, and New Minster.
Minster Lovell Hall Ruins
Old Minster is home to Minster Lovell Hall, a manor home that was built in 1430 and has since turned to ruins. Even as ruins this historical manor is still a sight to behold; a beautiful and old building where you can see the remnants of the hall, tower, and a dovecote. Next to the ruins of Minster Lovell Hall, you will find the parish church, another 15th-century building with elegant details that are even more breathtaking in person.
Old Swan Inn
Spend time wandering around this perfectly picturesque village, enjoying the golden Cotswold stone and the beautiful river. Stop by the Old Swan Inn (featured in Downton Abbey), a charming 15th-century English pub and inn surrounded by gorgeous foliage and decorated with ivy. The rooms are stunning with features like high ceilings, wooden beams, and stone fireplaces. The Old Swan's sister property is Minster Mill, a luxury hotel and spa complete with a restaurant, bar, and an outside terrace with an amazing view of the river.
Minster Lovell Hidden Gems to Uncover
After a long day wandering this quaint village, don't miss out on dinner at the Horse and Radish, a beautiful country pub serving fresh, seasonal dishes with culinary excellence.
The Horse & Radish
Minster Lovell at a Glance
Pros
– A history-rich village with romantic views
– Historic attractions such as the Minster Lovell Hall ruins
– Amazing hotels, restaurants, and bars where you can relax and enjoy the rural countryside
Cons
– The attractions may be less appealing to families with younger children
9. Moreton-in-Marsh
One of the most overlooked villages in the Cotswolds, Moreton-in-Marsh is a beautiful, quiet village that is well worth a visit.
When visiting Moreton-in-Marsh, be sure to explore the quaint and unique shops on High Street. This is the heart of the town and has been used as a marketplace for centuries. You will find a variety of shops and cafes here, as well as the Town Hall and St. David's Church.
Moreton-in-Marsh Street Market
Every Tuesday, Moreton-in-Marsh hosts the largest street market in the Cotswolds with many local vendors selling everything from fish and produce to leather goods, books, and clothing.
Bourton House Garden
The Bourton House Garden is a must-see attraction amongst all the villages in the Cotswolds. This garden is one of the most popular tourist destinations in the idyllic countryside, and for good reason. The garden is home to a wide variety of plants and flowers, as well as a number of beautiful ponds and waterfalls. Here you'll discover a topiary walk and a raised 18th-century walk that provides an enticing vantage point of the Cotswold landscape beyond.
Moreton-in-Marsh Hidden Gems to Uncover
After exploring High Street and the Bourton House Garden, take some time to stroll around Moreton-in-Marsh's picturesque streets. This is a great way to get a feel for this charming Cotswold village and all it has to offer. As you wander, keep an eye out for some of the town's notable landmarks, such as The Bell Inn (a pub that inspired the Prancing Pony in Lord of the Rings) and the Wellington Aviation Museum to explore a trove of Royal Air Force memorabilia and aviation art housed in an old Victorian school building. The museum is only open on Sundays from 10 am to 4 pm.
The Bell Inn
Wellington Aviation Museum
Moreton-in-Marsh at a Glance
Pros
– Charming shops and attractions to explore on the High Street
– Largest street market in the Cotswolds Villages every Tuesday
– Location of the Bells Inn which was the inspiration for Prancing Pony in Lord of the Rings
Cons
– The village can get busy on weekends so it's more difficult to find parking
10. Upper Slaughter
If you find yourself in the Cotswolds, be sure to detour to the charming village of Upper Slaughter. Just a short drive from Bourton-on-the-Water, this picturesque spot is home to historic sites, scenic walks, and more. While the village name may sound a bit spooky, the name comes from old English 'Slohtre', which simply means 'Muddy place'. Today the village is anything but muddy, boasting idyllic scenery and country charm. While the neighboring village of Lower Slaughter tends to be more popular, we've included Upper Slaughter due to its seclusion from busy crowds.
St Peter's Church
A visit to St. Peter's Church is a must while you're in Upper Slaughter. This historic church dates back to the 12th century and is renowned for its beautiful architecture. Be sure to take a look at the stained glass windows – they're truly stunning!
Upper Slaughter Manor
Explore Upper Slaughter Manor which was owned by the Slaughters family in the 12th century. Today, this stunning manor is a private home that is a part of the Historic Houses Association that allows tours at select times throughout the year.
The Lords of the Manor Hotel
Have Afternoon Tea at The Lords of the Manor Hotel, a luxurious hotel located in Upper Slaughter. While soaking in the history of the hotel, treat yourself to an English tradition and enjoy afternoon tea in their picturesque gardens for an experience you won't soon forget.
Upper Slaughter Hidden Gems to Uncover
While not quite a hidden gem, immerse yourself in natural beauty by visiting Upper Slaughter's ford. The ford crosses the River Eye and offers visitors lovely views of the surrounding countryside. Finally, venture down to Lower Slaughter which is home to several historic sites, including a mill. The Old Mill at Lower Slaughter was built in the 18th century and today is a popular tourist attraction. It's easy to see why people are drawn to its picturesque surroundings – the mill is surrounded by beautiful gardens and offers lovely views of the river below.
Upper Slaughter Ford
The Old Mill Lower Slaughter
Upper Slaughter at a Glance
Pros
– Off the beaten path so there are fewer crowds and tourists
– Home to unique attractions such as Upper Slaughter Manor, St Peter's Church, and the Upper Slaughter Ford
– Home to esteemed Lord's Manor Hotel
Cons
– Not enough to do to fill a full day's itinerary, so recommend combining with Lower Slaughter and other villages in the Cotswolds
The Cotswolds villages offer an amazing and unforgettable experience to all who visit. These tranquil villages are bursting with history, culture, and stunning scenery from magnificent buildings to rolling green hills. If you plan to visit the villages in the Cotswolds anytime soon, be sure to thoughtfully curate your itinerary to immerse yourself in everything these beautiful villages have to offer.