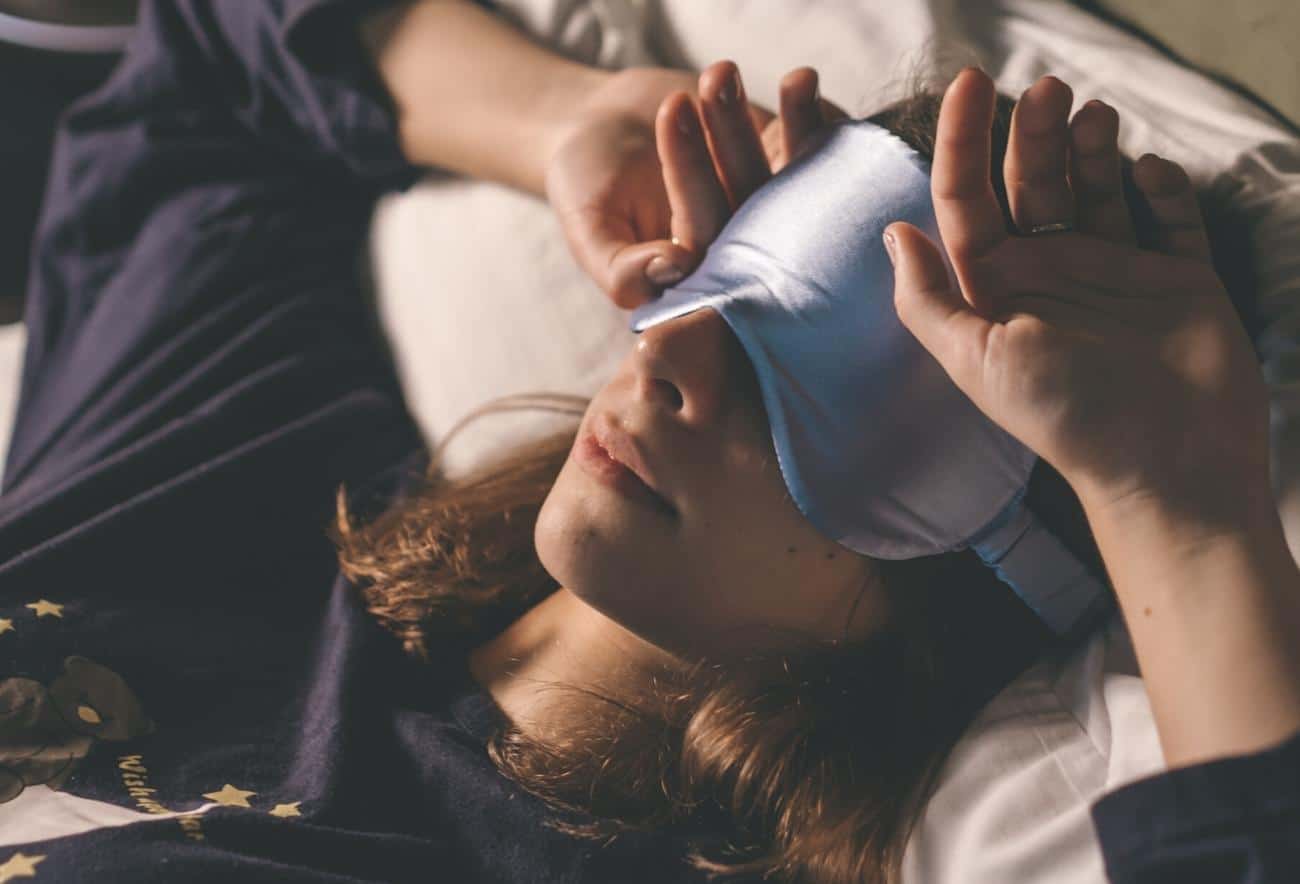 The Best Weighted Eye Masks for Deeper Sleep
If you've been seeking solutions for better sleep and simple ways to reduce stress, a weighted eye mask is a little luxury that can give you the best, stress-free sleep of your dreams. While you may already be familiar with the benefits of weighted blankets for relaxing and destressing, weighted eye masks utilize the same pressure stimulation to improve sleep, reduce anxiety, and even help alleviate headaches and sinus pressure.
What is a weighted eye mask?
A weighted eye mask is typically filled with microbeads, natural flaxseed, or sand that helps block light and provides deep pressure stimulation to the eyes and surrounding pressure points to engage the parasympathetic nervous system which calms the body. This also helps reduce stress hormones and produce serotonin and melatonin which can result in better sleep and even a better mood.
How does a weighted eye mask help you sleep?
The main benefit of a weighted eye mask is a better quality of sleep. The weighted sleep mask blocks out light which can disrupt melatonin production and limit your ability to fall asleep. According to a scientific sleep study, ten healthy sleepers underwent two polysomnography (PSG) sessions, one with the lights off and one with the lights on. During the lights-on session, the group experienced "shallow sleep and frequent arousals." This furthers the point that the light-blocking benefits of a weighted eye mask can potentially result in deeper, undisturbed sleep.
On the other hand, pressure from the weighted sleep mask also stimulates the parasympathetic nervous system which calms the body and reduces stress for a more relaxed, restful sleep.
Weighted Eye Mask Benefits
Here are four reasons why a weighted sleep mask might be a good addition to your bedtime routine.
1. Weighted sleep masks provide gentle pressure that can help you relax.
When you wear a weighted sleep mask, the gentle pressure of the weight on your eyelids can help to signal your brain that it's time to relax and sleep. This is because the pressure activates the release of serotonin, a neurotransmitter that helps to promote relaxation and sleep.
2. Weighted sleep masks can help to reduce stress and anxiety.
If you struggle with stress or anxiety, a weighted sleep mask can be a helpful tool for managing your symptoms. The gentle pressure of the weight can help to relax your mind and body, which can reduce the amount of stress and anxiety you feel.
3. Weighted sleep masks can help to ease headaches and migraines.
If you suffer from headaches or migraines, weighted masks can help to provide relief. The added pressure can help to release tension and relieve pressure including sinus pain.
4. Weighted sleep masks can improve your sleep quality.
And last, but not least, if you have trouble sleeping, a weighted sleep mask can help you get the rest you need. The pressure of the weight can help to relax your mind and body, which can lead to improved sleep quality. Weighted eye masks have also been shown to reduce the amount of time it takes to fall asleep. The added bonus is better quality sleep can result in lower blood pressure, improved immunity, memory, and even weight management
Best Weighted Eye Masks  
There's something about a weighted sleep mask that just makes you feel like you can finally catch some zzz's. Maybe it's the way it gently wraps around your head and blocks out all the light, or maybe it's the weight itself that feels reassuring. Either way, whether science or simple luxury, there are many reasons to love a weighted mask.
We've curated a list of our favorite weighted sleep masks including silk sleep masks, aromatherapy sleep masks, and strapless sleep masks, so you can find the perfect mask for the perfect night's sleep. You can help support our publication by shopping through our links as we may receive a portion of sales.
Best Silk Weighted Eye Masks
Besides the old Hollywood glamor of indulging in a silk sleep mask, investing in a silk sleep mask has many practical benefits. Silk is a natural protein fiber that contains 18 different amino acids. These amino acids work together to keep the skin hydrated and help reduce inflammation. Overall, silk fabric absorbs less moisture than cotton, so not only does your skin stay more hydrated, silk helps prevent wrinkles and reduce dark circles. Silk also has a smooth surface which can help prevent friction and damage to the delicate skin around the eyes. A natural heat regulator, a silk eye mask can also have a calming and cooling effect. Here are two of our favorite silk weighted sleep masks.
Best for:
People with sensitive skin
Lunya Silk Weighted Sleep Mask | $88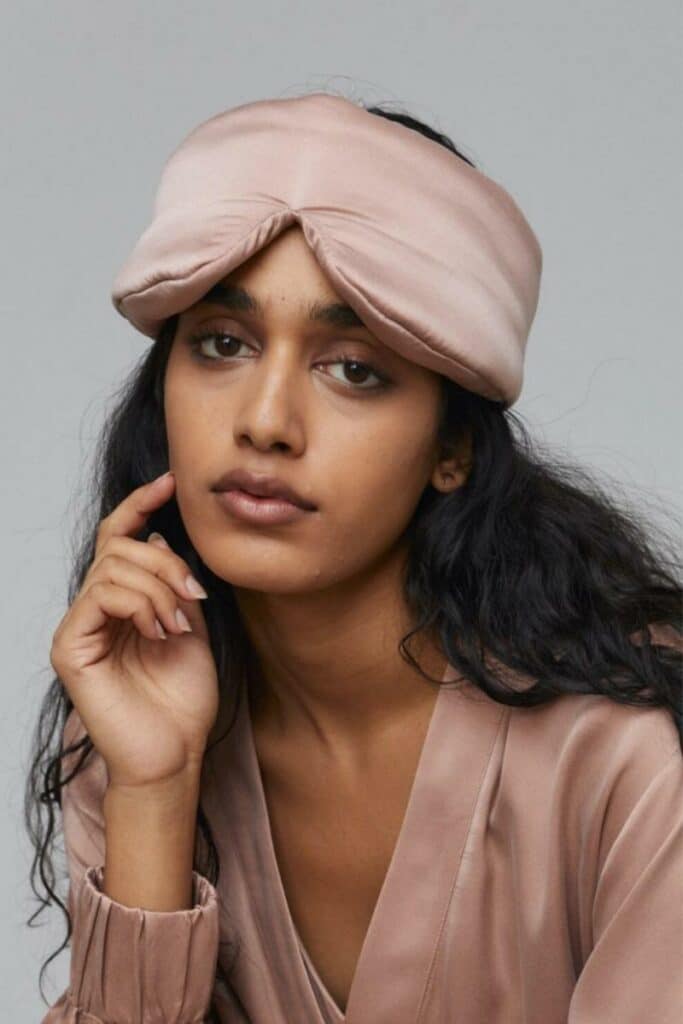 This mask is made with 100% washable silk for a deep night's sleep that is gentle on your skin. Filled with sustainable glass beads, you can store this weighted sleep mask in the freezer for a delightful cooling-off treat (or when you need some depuffing magic). Crafted to be noise-reducing, you can drift to sleep in quiet bliss before waking up relaxed and refreshed.
What we love:
– The brand's unique bluesign® SYSTEM ensures that products are manufactured with responsible resources and components with the lowest possible impact on people and the environment
– The wide elasticized band prevents hair creases
– Soft silk that can be washed by hand
---
---
Asutra Silk Weighted Sleep Mask | $22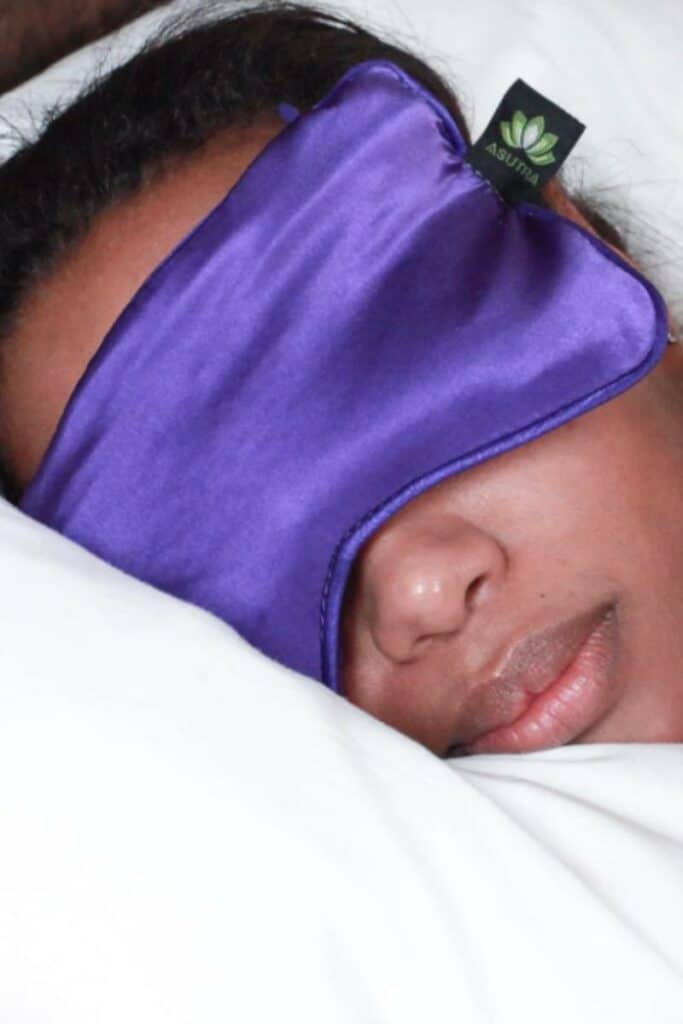 This 100% silk-weighted sleep mask is filled with natural flaxseeds and lavender accompanied by a gel eye mask. It comes with a zippered insert as well as extra flaxseed and lavender so you can easily adjust the weight or add more lavender to heighten the soothing aromatherapy. This weighted mask can be heated for more relaxation or cooled using the gel eye mask to reduce the appearance of puffy or tired eyes.
What we love:
– Adjustable weight for the perfect fit
– Soothing lavender aromatherapy
– Can easily be heated or cooled with the complimentary gel eye mask
---
---
Best Aromatherapy Weighted Eye Masks
If you want a weighted mask that feels more like a spa experience, explore aromatherapy or crystal therapy weighted eye masks. An aromatherapy eye mask can help further reduce stress and promote relaxation when you need it most. Soothing scents such as lavender and chamomile can also help to alleviate headaches and reduce eye strain. On the other hand, a crystal therapy eye mask creates soothing energy that can lull you to sleep. Here are two of our favorite weighted masks with aromatherapy and crystal therapy.
Best For:
People with frequent headaches and migraines
KITSCH Lavender Weighted Sleep Mask | $24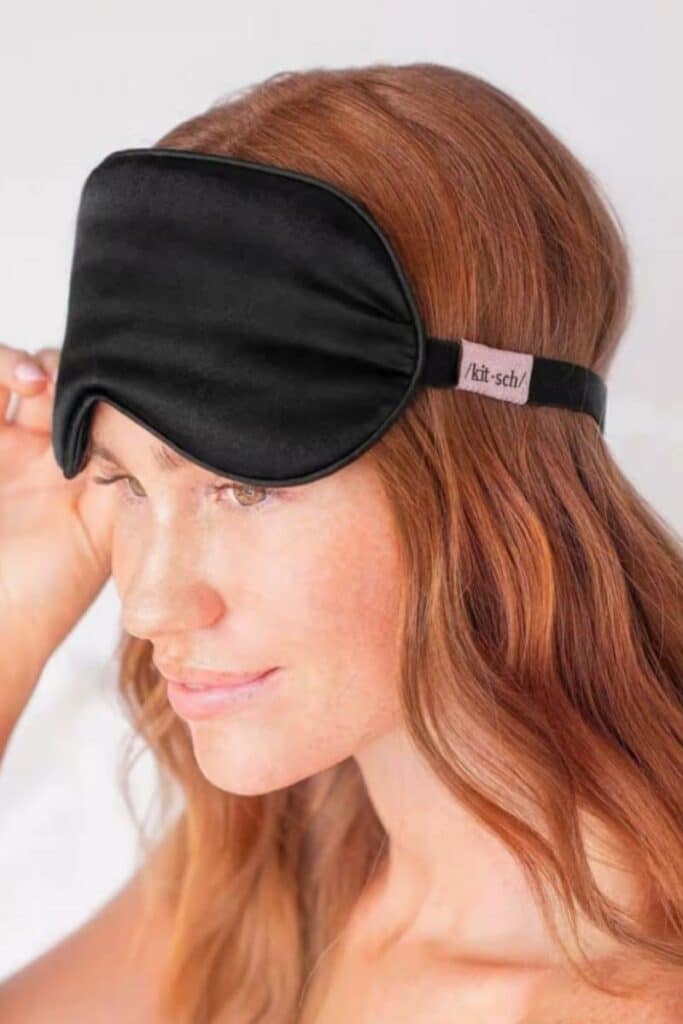 This luxurious eye mask is perfect for anyone looking to relax and rejuvenate. Made from satin fabric, this weighted mask is designed to be delicate on the skin and help you sleep comfortably. The soothing scent of the real dried lavender seed filling will help you slip into the sweetest dreams. The eye mask also includes an adjustable fit elastic strap.
What we Love:
– Calming real dried lavender filling
– Smooth satin that is gentle on all skin types
– Variety of colors and designs
---
---
Sunday Citizen Weighted Sleep Mask | $40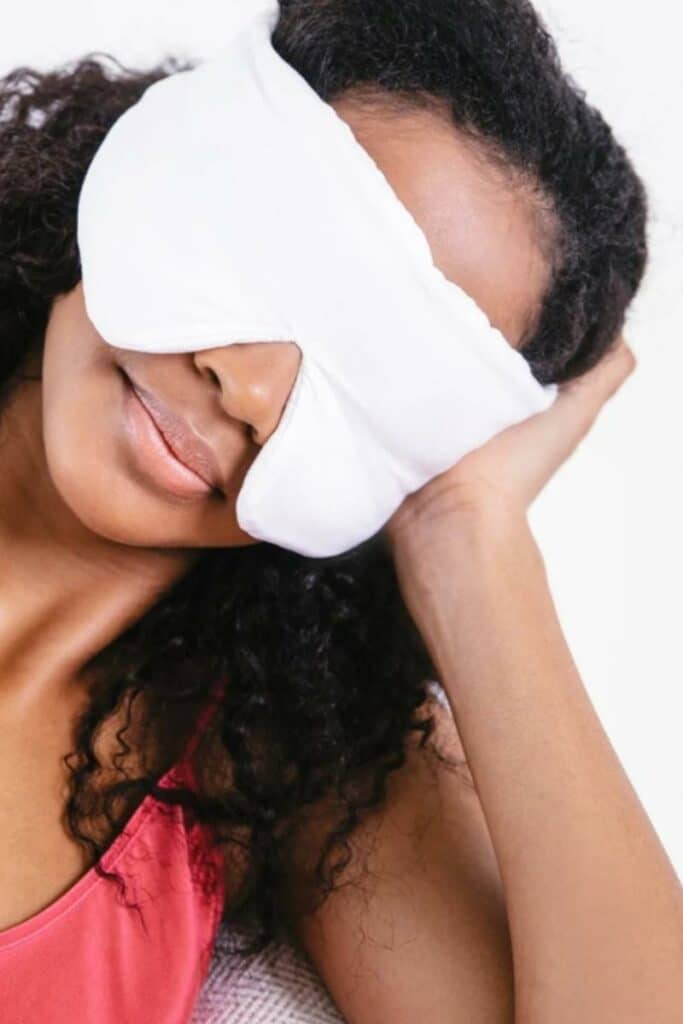 While not exactly aromatherapy, this soft machine washable eye mask is filled with tiny natural crystals including amethyst, clear quartz, and rose quartz that radiates soothing energy for better sleep. Made from eco-friendly viscose from bamboo, this weighted sleep mask features a stretchy, elasticated band that fits snugly around your head, with extra-wide ear covers for added noise reduction. Made from antibacterial, hypoallergenic material to keep you serenely comfortable all night long.
What We Love:
– Crystal filling for soothing energy
– Antibacterial and hypoallergenic material that is also eco-friendly
– Noise reduction design
---
---
Best Strapless Weighted Eye Masks
A strapless sleep mask is a great option for people who find the straps of traditional sleep masks uncomfortable. A strapless weighted sleep mask gently rests on your eyes without straps, which can make it more comfortable to wear. Here are two of our favorite strapless weighted masks.
Best For:
People who find straps uncomfortable
Nodpod Strapless Weighted Eye Mask | $34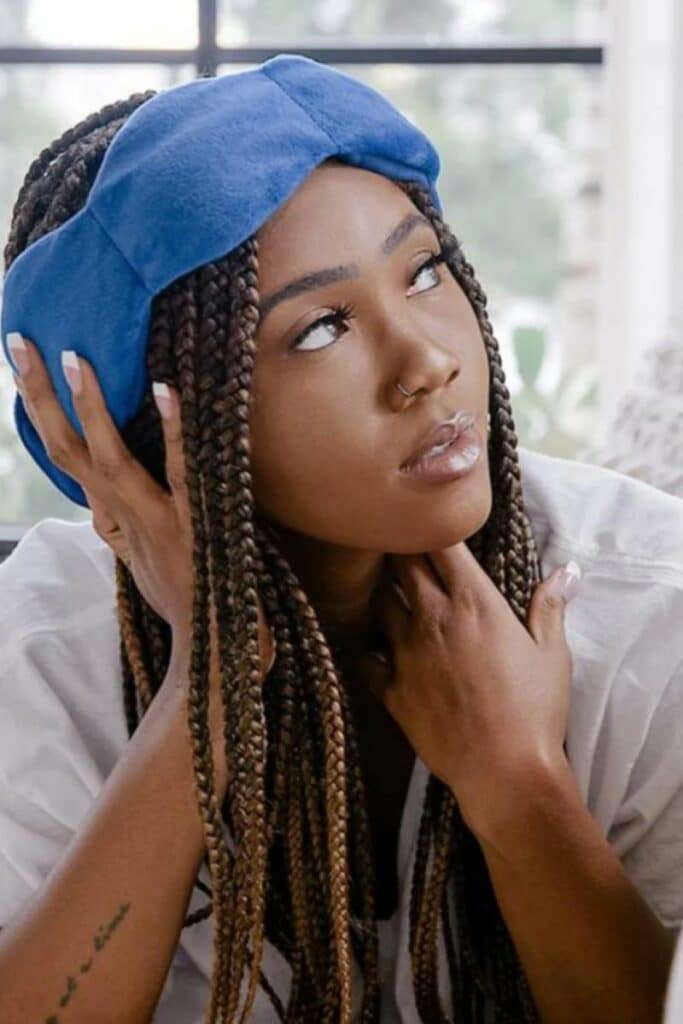 Nodpod's strap-free design equally distributes weight across key pressure points to help calm the nervous system, relieve headaches, and block out light for a more restful night's sleep. The strapless design allows you to simply drape the mask over your face or loop through the slit for a snug fit and extra cozy sleep. Filled with BPA-free polyethylene beads, Nodpod can be put in the freezer for a cooling effect that lasts. Plus, with one side made of cooling jersey cotton, and the other side made of warm microfiber, it's perfect for any season.
What We Love:
– Strap-free design with hollow ends for head resting comfort in any sleeping position
– The dual-sided fabric of cotton and microfiber for the perfect temperature in winter and summer
– Easily machine washable
---
---
Ardent Goods Lavender Eye Pillow | $38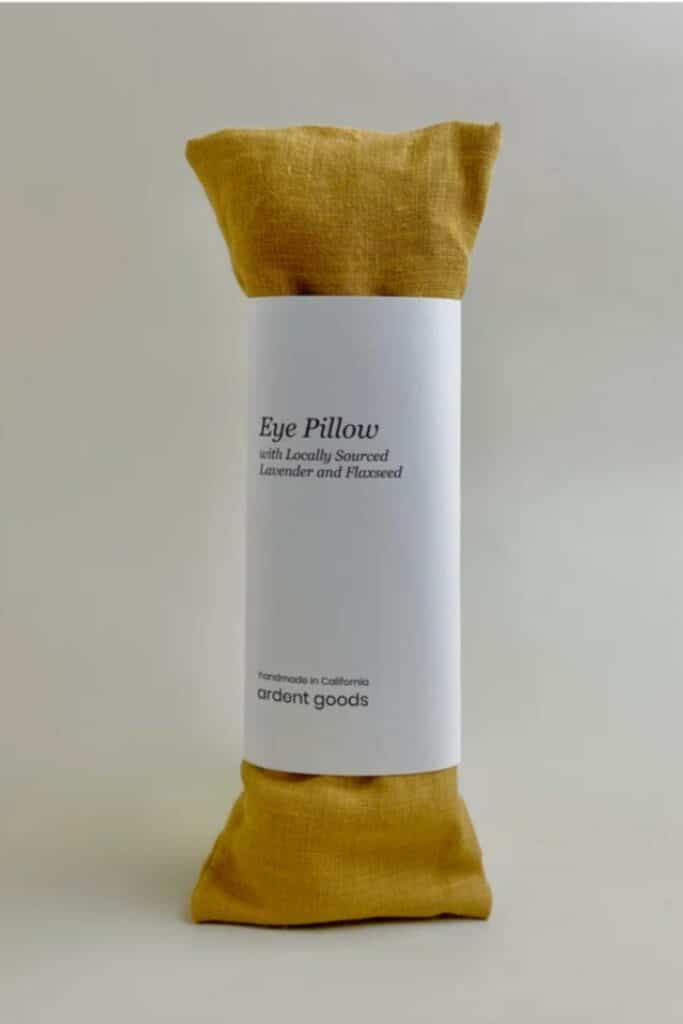 Relax puffy eyes and relieve stress with this lavender eye pillow filled with locally-sourced dried lavender flowers and flaxseeds. The natural ingredients used to make this weighted eye pillow help with relaxation without artificial fragrances or synthetic ingredients. Each pillow is handmade and comes with a linen slipcover and muslin cotton pillow insert so that the exterior can be washed and renewed. Made of 100% linen that is tested for over 100 harmful chemicals and toxins and made with AZO-free, European reactive dyes.
What We Love:
– Handmade with all-natural ingredients
– Infused with lavender for aromatherapy
– The benefits of a weighted sleep mask without the strap
---
---

Finding the Right Weighted Eye Mask For You
When shopping for weighted eye masks, it's important to consider the fabric, fill, weight, strap, and unique features of each weighted sleep mask you are considering. Below are the top considerations when choosing the right weighted eye mask for you.
1. Fabric
Weighted eye masks are made with a variety of fabrics including, cotton, silk, polyester, satin, and fleece. If you have sensitive or delicate skin you may want to consider a weighted sleep mask in silk. Fleece-weighted eye masks can be soothing in winter months, while cotton is highly breathable and easily washable.
2. Fill
The inner fill of a weighted eye mask is typically flaxseed, sand, or most commonly, microbeads. If you are looking for a fill that is more organic, choose a weighted sleep mask with a natural fill such as flaxseed.
3. Weight
Weighted eye masks typically range from 4-16 ounces. If your main goal is to block out light and simply relax, consider a lighter-weighted sleep mask. If you frequently receive acupuncture, already own and love a weighted blanket, or wish to reduce headaches and sinus issues, a heavier weighted sleep mask may be more beneficial. Some weighted eye masks will come with adjustable filler so you can alter the weight to your liking after purchase.
4. Strap
Most weighted sleep masks feature an adjustable band designed to fit all head sizes. When choosing a weighted sleep mask, make sure that the strap can accommodate your most frequent sleeping positions. For instance, if you often sleep on your back you may not need a tightly secured strap, while if you sleep on your side, you will need a weighted eye mask with a more secure strap.
5. Aromatherapy
Essential oils like lavender can be infused into the materials of a weighted sleep mask to help create a sense of calm and help you fall asleep faster. If aromatherapy works well for you or is simply something you wish to experiment with, consider a mask with natural aromatherapy.
6. Temperature Control
Some weighted eye masks can be heated in the microwave and cooled in the freezer to provide additional soothing benefits. This can help reduce inflammation and relieve tension, migraines, and sinus pain. If this feature is a priority for you, ensure that the weighted sleep mask you choose can be both heated and cooled, otherwise, you risk damaging your weighted sleep mask.