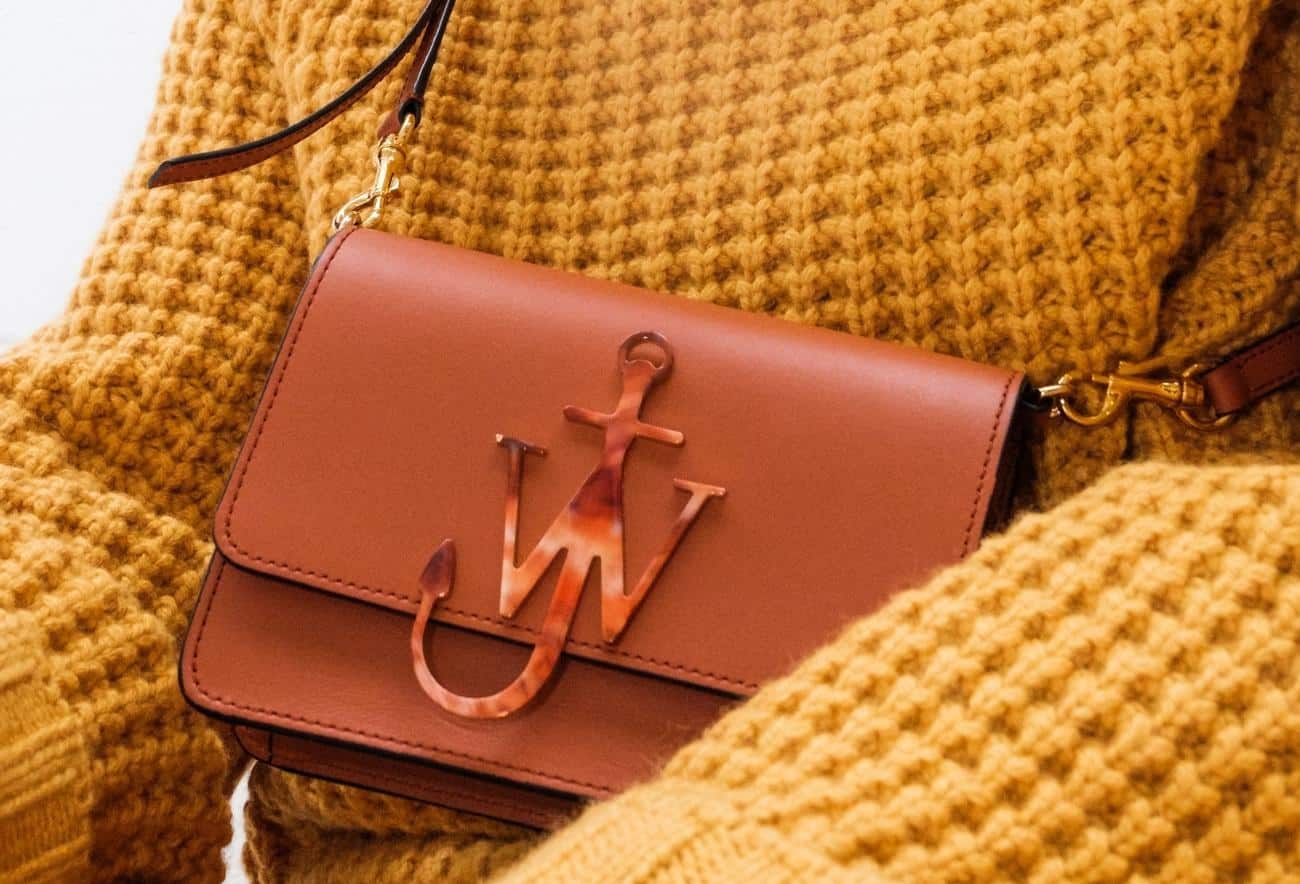 8 Unique Handbags for Every Season
A simple way to upgrade any wardrobe is to invest in quality handbags that make a statement. Handbag brands that embrace unique design with rich fabrics and textiles can take any outfit from boring to bold, no matter the season. From this unique handbag from Léo et Violette to this stunning clutch from Cult Gaia, if you are on the hunt for some arm candy with substance, these unique handbags won't disappoint.
1. The Opera Crossbody by Boldrini Selleria
THE STYLE
'Opera' in Italian means 'masterpiece', a fitting name for the iconic Opera crossbody by Boldrini Selleria. This beautifully crafted work of art is indeed a masterpiece, entirely handmade in Tuscany where outstanding craftsmanship has been passed down through generations since 1955. The bag has a soft and glossy appearance that takes on a uniquely beautiful vintage finish over time. Every Opera handbag is truly one-of-a-kind, the epitome of both Italian excellence and elegance.
THE STORY
Boldrini Selleria was founded in Tuscany in 1955, when Scandiano Boldrini opened a small handbag workshop in a little town, Chiesina Uzzanese. A pursuit of excellence passed down the generations, this little family-run Tuscan shop has grown into a world-class brand, synonymous with craftsmanship, leather, and superior quality. Every bag is handcrafted and one of a kind. Take a two-minute coffee break, and see for yourself how this beautiful masterpiece is made.

---
OPERA CROSSBODY $564
---
2. The Nano Montreal by Demellier London
THE STYLE
A fresh take on the micro-bag trend, DeMellier delivers true contemporary craftsmanship with the Nano Montreal Bag. This luxury handbag is crafted from supple cowhide in a petite structured silhouette featuring show-stopping gold-tone hardware, a removable cross-body strap perfect for day-time errands, and a tubular top handle to carry as a clutch for a night out on the town.
THE STORY
Demellier London uses real leather of the highest quality, sustainably sourced exclusively in Italy and Spain, and complying with the highest EU regulations and standards. Their suppliers are certified by the European Leather Working Group, guaranteeing the highest standards of sustainability and sourcing.

When shopping with DeMellier, you are giving back while adding fresh staples to your wardrobe. DeMellier London is an inspiring brand that lives by three core values: by women for women, made with integrity, and giving back through their charity initiative A Bag, A Life where every item DeMellier sells funds life-saving vaccines and medical treatments aimed to save the life of a child in need, in collaboration with international charity SOS Children's Villages and local vaccine providers.
---
THE NANO MONTREAL $395
---
3. GRACE Handbag BY NOIRANCA
THE STYLE
GRACE is a fresh new take on the handbag silhouette with its distinctive triangular cut-out, adding a polished touch to any outfit. This vegan leather handbag is all about versatility with its double top handle to wear as an effortlessly chic clutch and adjustable strap to wear as a crossbody.
THE STORY
A delicate portmanteau of "Noir" and "Bianca", NOIRANCA embodies the beauty of contrast and is a reminder of the untold complexity in women of all colors. The brand was built around the mantra that we are all beautiful regardless of our race, views, physique, and imperfections.
From selecting materials to creating designs, NOIRANCA challenges itself to be different with an underlying mission to help free women from preconceived standards.
The brand's first designs were inspired by the powerful black-and-white portraits by American photographer Robert Mapplethorpe, who extracts the originality and beauty of women.
Each NOIRANCA design is a demarcation of light and darkness, forming remarkably strong contours and fluid silhouettes.
---
GRACE HANDBAG $190
---
4. Valise Handbag by Paraval
THE STYLE
Inspired by train travel and the steamer trunks of days gone by, this elegant handbag will play the perfect supporting role to casual weekend excursions in jeans and a t-shirt or more formal affairs that call for flowy florals. Sumptuous details make the Valise a standout wardrobe staple with leather-wrapped handles, custom hardware, a removable shoulder strap, and an interior slip pocket that makes the Valise a practical companion without sacrificing style. Paraval is also certified by the European Leather Working Group and the Valise handbag is made from fine cotton canvas, a natural fiber and renewable material.
THE STORY
Co-founders Indré Rockefeller and Andy Krantz started Paravel to reimagine travel, creating travel goods that feature a timeless aesthetic, exceptional functionality, and forward-thinking sustainability. Paraval eco-friendly luggage, bags, and organizers are crafted so you can make better choices for your adventures, without sacrificing design, price, or quality. They have upcycled over 2 million plastic water bottles to date, offset 8,150 tonnes of C02 through our carbon-neutral shipping program, and planted over 35,000 trees through Eden Reforestation Projects.
---
VALISE HANDBAG $225
---
5. Loel Mini Crossbody Bag By Angela Valentine
THE STYLE
A more whimsical take on the micro-bag trend, the Loel Mini Crossbody Bag embraces a modern silhouette with vintage details in a small structured chain bag. Our favorite is the rich emerald green leather, which brings a touch of glamor to any ensemble day or night. A signature of the brand, light gold bees adds a charming and playful touch. You can wear this unique bag three ways: with the sliding chain long, doubled up as a shoulder bag, or tucked in for a clutch.
THE STORY
Each Angela Valentine Handbag is crafted one at a time using top-quality, smooth drum-dyed leather. Like the stunning emerald green Loel bag, they source colors you won't find anywhere else to accentuate their innovative designs. Finished with quality hardware and exceptional details, this distinctive collection exclusively from Angela Valentine Handbags offers stylish silhouettes for years to come.
---
LOEL MINI CROSSBODY $198
---
6. bebebark Convertible Cork Purse by LaFlore Paris
THE STYLE
bebebark is an eco-friendly handbag made from vegan cork leather that can be worn as a crossbody bag, shoulder bag, mini backpack, or as a clutch. The cork material allows for a purse that is much lighter than traditional leather. It is easy to clean, incredibly durable, and completely waterproof.
This handcrafted, sustainable handbag combines timeless Parisian elegance and a sleek, classic square proportion that delivers versatility to complement any outfit or lifestyle. Beautiful inside and out, this unique purse is lined with recycled cotton featuring 11 delicately stitched compartments to keep you organized on the go.
THE STORY
Founded by father-daughter duo Elie and Natacha Seroussi, LaFlore Paris promises to provide luxurious sustainable pieces that help contribute to a greener earth, creating products that are sustainably sourced, cruelty-free, vegan, packaged in plastic-free & recyclable packaging, PVC-free, and handmade from ethically harvested cork.
---
BEBEBARK $259
---
7. Chain Baguette Anchor Bag by JW Anderson
THE STYLE
Made in Spain, this leather baguette features a chunky chain-link design on the strap complemented by a bold anchor logo, a nod to the Northern Ireland coast where JW Anderson was raised. Take any outfit to the next level with this statement bag featuring a convenient exterior slip pocket to quickly grab essentials on the go and a magnetic snap closure that keeps your belongings secure.
THE STORY
JW Anderson is a British fashion brand founded by Jonathan Anderson. Anderson lived in Northern Ireland during his youth before establishing JW Anderson in 2008 and launching his fashion house in London. The brand initially focused on menswear, before moving into womenswear in 2010.
Thoughtfully blending masculine and feminine elements is JW Anderson's superpower. In 2015, it became the first-ever brand to win both men's and women's "Brand of The Year" at the British Fashion Council's The Fashion Awards. Founder Jonathan Anderson initially pursued a career in acting, which led to an interest in costume design and eventually fashion.
---
CHAIN BAGUETTE ANCHOR BAG $950
---
8. Crossbody Bag by Senreve
THE STYLE
For a casual day out or an evening to remember, this Italian leather Crossbody bag has you covered. This bag comes with interchangable chain and leather straps, a paneled clutch, and a removable Bracelet Pouch. The main compartment fits up to an iPad Mini.
For a fresh and unique look, swap out the removable Bracelet Pouch for another color.
THE STORY
SENREVE is derived from the French words for "sense" and "dream", a name inspired by women who do it all. SENREVE bags are meant to multitask just like the women who wear them with a focus on elegant design, impeccable quality, and innovative construction.
The bags are made from 100% genuine full-grain Italian leather with a pebbled finish. Each bag is expertly handcrafted to look and feel soft and supple, structured yet lightweight, and durable and water-resistant with micro-suede lining. Craftsmen constructing SENREVE bags today have worked with top luxury brands for over 50 years. They employ a difficult inside-out technique that only a few workshops in the world are able to do.
---
CROSSBODY BAG $625
---