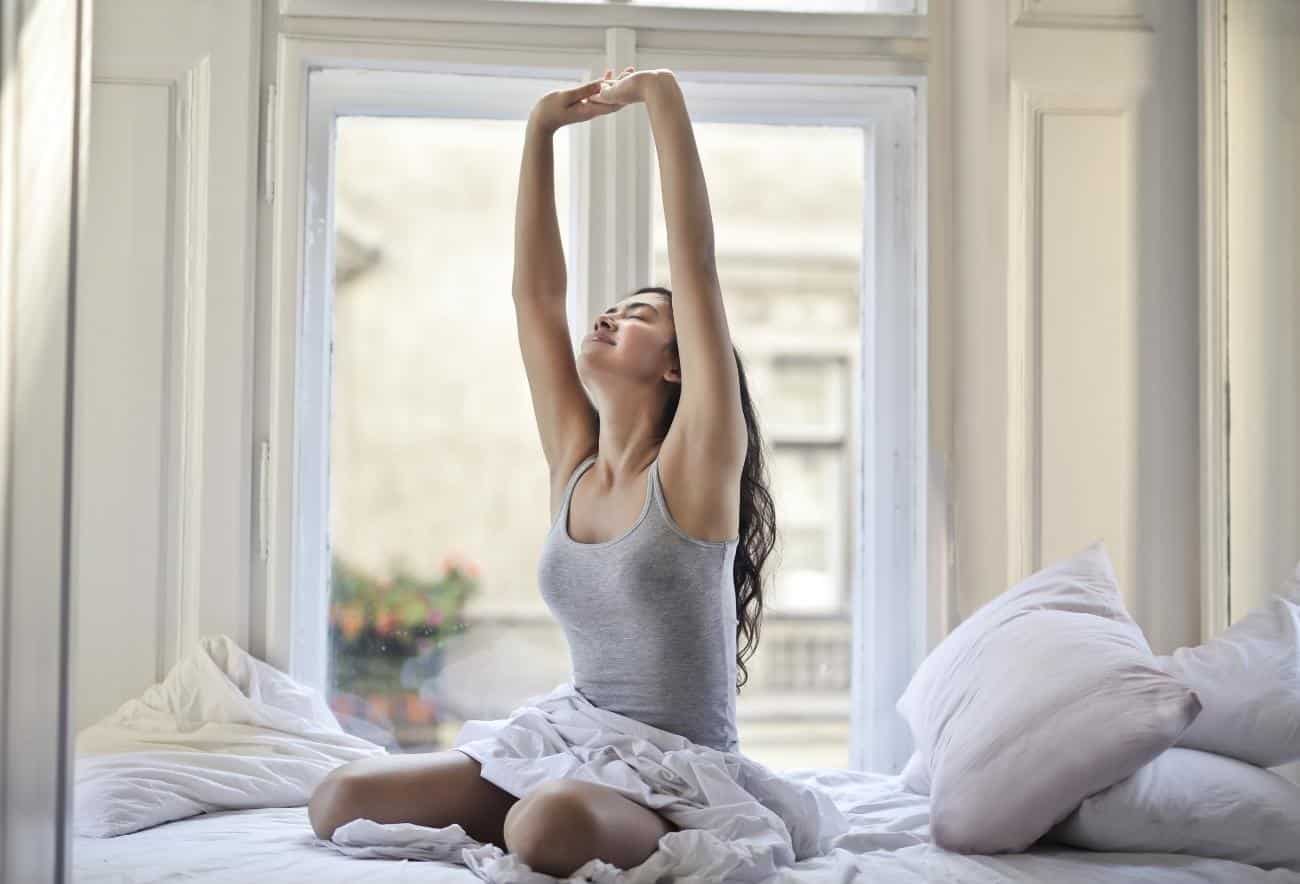 Mindful Moments: 10 Ways To Enhance Your Morning Routine
Our Mindful Moments series focuses on ways we can savor the small things in our everyday lives. It's no secret that how you start the morning sets the tone for your day. That's why this first edition focuses on finding little ways to enhance your morning and make it more intentional. Whether your morning routine is simply get up and go or you adhere to a strict morning ritual that begins before sunrise, below are ten ways you can bring more joy into your morning.
1. For those seeking to start their day with a fresh face:
Kick-start your day with a glow-boosting facial mask to brighten, soften and improve skin clarity. The Morning Expert Vitamin C Power Mask is an exfoliating mask with 10% Vitamin C and Jojoba to smooth, cleanse and revitalize dull skin. What better way to enhance your morning routine than with this invigorating face mask while your coffee is brewing? Check emails, read the news, or simply apply the mask and hit snooze for ten more minutes of sleep. A spa-like replacement for your morning face wash, make your dull skincare routine a bit brighter. If you wake up early enough, you can even treat yourself to a full at-home facial.
The Morning Expert Vitamin C Mask
2. For Those Cutting Back on Caffeine:
Giving up coffee is impossible hard. But for some, too much caffeine can heighten anxiety, cause headaches, and spur insomnia which can make sipping that morning cup of coffee more harmful than it's worth. If you've been meaning to give coffee the boot, but need something to savor in its place, Mud WTR might be the gift from the universe you've been waiting for to enhance your morning routine.
Does it taste just like coffee? No. Is it delicious? Yes. It tastes like chai and hot cocoa had a love child. It also gives you the energy and the deep focus you need with 1/7th the caffeine of coffee. Mud utilizes ayurvedic herbs, adaptogens, and cacao to give you natural energy, focus, and immune support without having to worry about jitters or sleeping at night.
If caffeine is impacting your quality of life, Mud WTR gives you a reason to get out of bed each morning and the energy to send that email.
Mud WTR
3. For Those Seeking a More Positive Mindset:
While finding time to journal in the morning seems like a distant dream to most, we highly recommend you wake up 15 minutes earlier to carve out time in your morning routine to check in with yourself and start each day with a fresh mindset. With the Papier Wellness journal, you can help balance your mental and physical wellbeing by easily setting intentions and taking note of the things that make you feel good. Inside, there are 12-weeks of pages for reflecting on your mindful goals, habits, meals, water intake, sleep, and the things you're grateful for. It takes just 10-15 minutes to set a positive mindset that will shape the rest of your day.
Papier Wellness Journal
4. For the busy smoothie lover:
If you love starting the morning with a healthy smoothie to energize your day, but can rarely find the time to grocery shop, now you can make a delicious, nutrient-packed smoothie in under one minute with Kencko breakfast smoothies. Kencko features organic fruits and veggies with a rainbow range of 15+ smoothies so you can personalize your box. Ditch the blender, and skip the clean-up so you can spend your morning doing the things you love. All packaging is compostable and all fruits and veggies in the blends are certified organic. Each subscription membership gives you access to a dedicated nutritionist where you can check in by phone, text, or email whenever you need advice or support from a healthy eating expert.
Kencko Breakfast Smoothies
5. For the coffee lover in search of a better brew:
When we say "better brew" we mean better beans, better for the environment, and better for you. LIfe Boost Coffee uses sustainable farming methods, protects the surrounding wildlife of their farms, and 3rd party tests their beans for mycotoxins, molds, bacteria, pesticides, heavy metals plus 400 other toxins.
For a dark and robust flavor try the Double Dark Mocha Blend. The organic beans for this coffee blend are low-acid for better gut health and are individually hand-selected for premium quality. The beans are lovingly cultivated by local farmers after being grown slowly to full maturity in mountain shade. They are then fermented for 26 hours so the skin can be carefully removed without damaging the seed. Next, your beans are spring water washed, then slowly sun-dried until they have the perfect humidity content of 11.5%. Finally, your beans transition into a 30-day "rest" period, which allows the beans to slowly complete their taste-enhancing richness. Thankfully, the flavor is as complex as the process.
Life Boost Coffee
Pour-over, french press, and cold-brew, oh my.
For a truly better brew try The Goat Story Gina Coffee System. This sleek and scientific design doesn't make you choose how you prepare your morning coffee. Combining a pour-over dripper, french press, cold brew, and a built-in scale, it gives you the versatility of four different tools in one package. Bluetooth capabilities allow you to link up to an app on your smartphone or tablet where a library of recipes can help you master every method. A rechargeable battery gives 20 hours of mobility and can be easily powered up with a USB charger.
The Goat Story Gina Coffee System
6. For the morning multi-tasker wishing their coffee would stay hot:
If you wake up bright and early to pour a cup of coffee and 10 emails later you remember to take a second sip leaving your coffee lukewarm, you are not alone. With the Ember Mug 2.0, you can keep your cup of coffee hot while knocking items off your morning to-do list. Ember allows you to set your preferred drinking temperature, so you can enjoy your hot drink—just the way you like it— from the first sip to the last drop.
Ember 2.0 Coffee Mug
7. For those who prefer the perfect morning tea:
If tea is your morning beverage of choice, a flavorful loose leaf tea can change the day.
First, find the perfect loose leaf tea. Art of Tea is a tea importer and wholesaler based in Los Angeles, California. They hand blend and custom craft the world's finest organic teas and botanicals and their teas are carefully selected directly from growers, each one offering a unique story. Try their classic English Breakfast tea, or up your morning vibration with their Happy tea. Open a bag, breathe in the aroma, repeat.
Art of Tea
A perfect cup of tea calls for the right temperature.
Next, make sure your tea is steeped at the right temperature. We mean it. Steeping tea is a science, and steeping your tea of choice at the required temperature impacts the flavor. This elegant Stagg EKG Electric Kettle with variable temperature control is the perfect solution to brew your tea just right. If brewing the perfect cup of coffee is more your thing, this electric kettle will give you the pour-over coffee of your dreams.
Stagg EKG Electric Kettle
Steep it in Style.
Finally, Steep your loose leaf tea in style with this contemporary tea steeper made in London by Tom Dixon. A fresh take on the traditional British teatime tool, a stainless steel strainer with a minutely etched surface is formed into a neat cone shape to infuse the perfect cup of tea. Hung on a metal string with a circular tab, the bottom of the cone delicately slides open for ease of use and cleaning. You can use it inside a teapot or simply steep a single cup.
8. For those seeking to quiet the morning madness:
From reducing stress and anxiety to improving brain concentration, meditation can improve our lives in many ways. If you are new to meditation, there are great meditation apps like Inscape to guide you through the process. An easy way to add meditation to your morning routine is to start your meditation practice as soon as you wake up from the comfort of your bed to help you ease into your day. From morning affirmations to morning breathing exercises, you can choose guided meditations that are as short as 5 minutes.
If you want to take your morning meditation to the next level, we recommend using the power of scent to calm your nerves, boost your energy, and enhance your mood with an aromatherapy diffuser. The NEOM Wellbeing Pod Essential Oil Diffuser is designed to deliver the perfect amount of scent in minutes to create the ultimate calm zone. Indulge in the complete bliss essential oil fragrance that is a modern blend of Moroccan blush rose, fresh lime, and punchy black pepper to enhance your meditation and breathing practice. The diffuser features a timer, calming LED light, and even humidifies the air.
NEOM Wellbeing Pod Essential Oil Diffuser
9. For the morning yogi seeking a more organic experience:
A morning yoga practice can also reduce stress, improve focus, and can even help improve circulation and reduce inflammation. Bring Yoga back to its organic roots with a natural yoga mat. Oko Living Herbal mats are hand-loomed cotton mats that are herbal dyed using an ancient method of Ayurvedic herbal dying. It takes a full day to hand weave each rug plus several days prior for cotton spinning, prepping, and dying. You will love the soft, cushy feel, herbal aroma, and natural beauty of this mat. The herbal mix used to dye each rug was selected by an Ayurvedic Doctor for its antibacterial, antifungal, immune support, skin-soothing, and anti-stress properties. We love the soothing colors of the Chakra Energy Natural Herbal Yoga Rug by Oko Living that is treated with herbs like neem, turmeric, holy basil, and hibiscus flowers.
Chakra Energy Natural Herbal Yoga Rug
10. For the morning lounger:
What you wear impacts how you feel, and if you want to wake up feeling luxurious, lounge like you mean it in this unisex Parachute Cloud Cotton Robe. Soft, light, and sumptuous, this super comfy robe features fluffy 2-ply gauze, a snug waist tie, and two hidden side pockets. It's made from premium 100% long-staple Turkish cotton and designed to have a relaxed, comfortable fit.
Parachute Cloud Cotton Robe