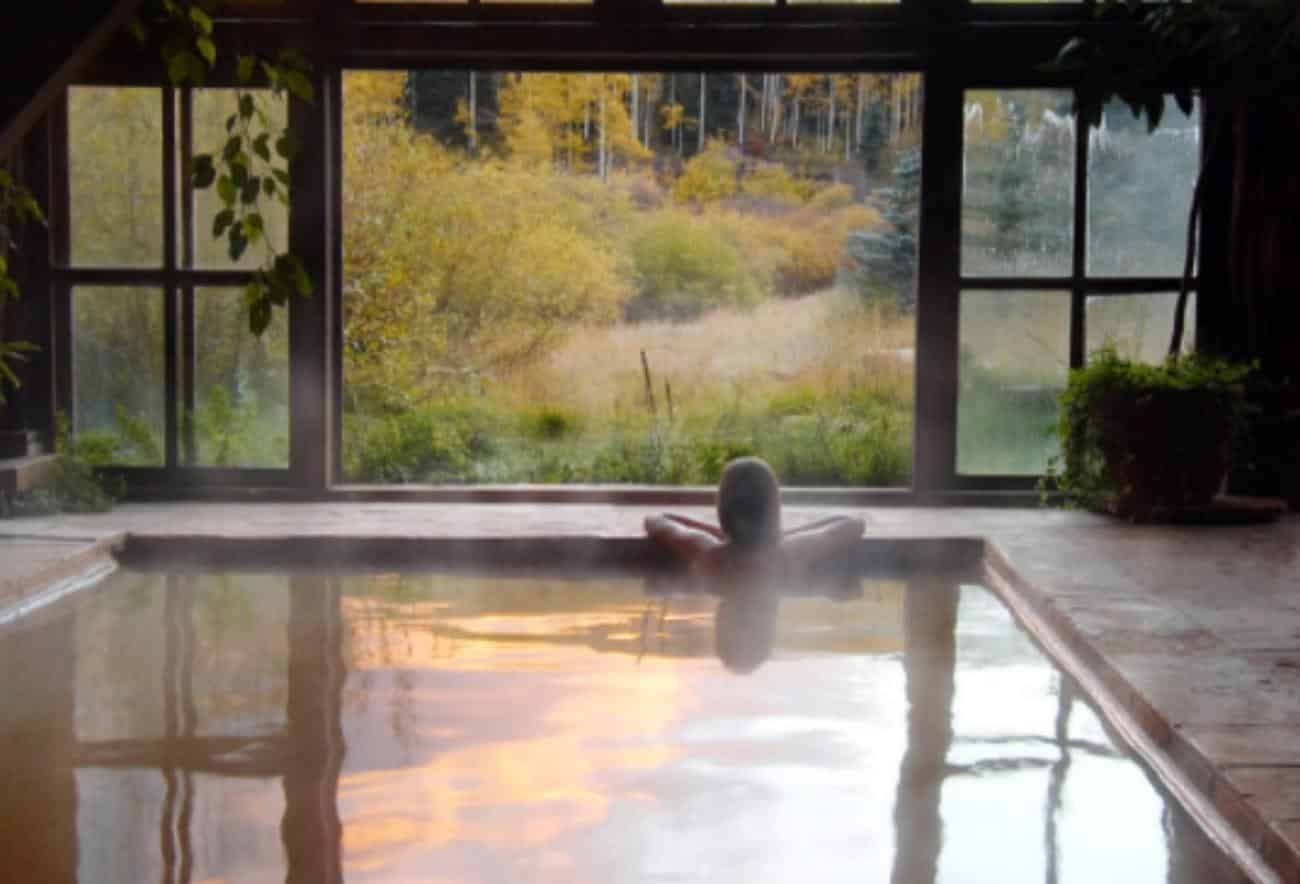 Top Outdoor Luxury Retreats to Relax and Restore
Destressing and finding ways to be more mindful are some of the key ingredients of a happier life. With our hectic schedules, rushed routines, and the daily demands of nine to five, sometimes it takes a hard refresh for us to truly find calm and step back into our lives relaxed and restored. If you've been craving a refined yet rugged outdoor luxury retreat, these exceptional escapes will deliver a once-in-a-lifetime experience. From ranches to wilderness resorts, off-the-grid luxury comes in many adventurous forms.
1. Clayoquot Wilderness Lodge
Accessible only by seaplane, Clayoquot Wilderness Lodge is located on the banks of its namesake ocean inlet, Clayoquot Sound, and offers an escape to the breathtaking, serene beauty of Canada's remote wilderness. Magnificent conifer forests play backdrop to this luxury lodge that fully immerses guests in the landscape and its wildlife. Adventure-filled days wind down into relaxing nights where guests can indulge in locally sourced, sustainable dining, fine wines, and the chance to sleep under the stars in generously appointed canvas tents featuring contemporary interiors accented by period and local artisan-designed furniture to offer a truly decadent retreat.
The lodge offers a series of extraordinary adventures and guests are greeted with a personalized itinerary upon arrival. With access to 600-acres of a nature reserve, the opportunities are endless for adventure, education, and personal connection. Soak in nature with their "Walk the Wildside" excursion where Guests can take a Zodiac boat across the sound, before hiking the pristine wilderness to the remote First Nations village of Ahousaht. From canyoning to archery and even bespoke helicopter activities, skilled personal guides lead the vast array of unique experiences and excursions.
If your quest for adventure includes craft cocktails and sumptuous spa treatments, look no further. Sip a cocktail and savor the scenery at The Ivanhoe with floor-to-ceiling glass windows that deliver enchanting views of Clayoquot Sound. Upstairs, a rooftop lounge looks straight down to the bottom of the emerald green Bedwell River, while outside a firepit and cedar deck chairs await your evening plans. Find your sanctuary at The Healing Grounds Spa featuring two treatment rooms, a waterfront massage tent, a yoga and meditation room, cedar hot tubs, a sauna, and a tranquil outdoor lounge space.
With a focus on environmental cleanup and education, locally sourced organic produce, and environmental conservation, sustainability is an important priority at Clayoquot Wilderness Lodge. Since 2001, Clayoquot has worked to help regenerate the declining wild salmon population by creating new salmon spawning habitat channels and restoring native stocks to river systems as well as phasing out its salmon fishing program, and ceasing to serve salmon in the restaurant. Learn more about their commitment to the environment.
2. Brush Creek Ranch
If you've always dreamed of a ranch experience with luxury appointments, immerse yourself in the 30,000 secluded acres of Brush Creek Ranch, an all-inclusive luxury dude ranch on the Sierra Madre range in Wyoming. Wake up to limitless panoramic landscapes and unbridled adventure in a cabin brimming with western charm accompanied by modern amenities and lavish accents.
With 33 individual units, the Wyoming lodging options include 11 elegant two and three-bedroom log cabin residences, 13 spacious rooms in the Trailhead Lodge, and nine fully refurbished cabin suites. You can mountain gaze with the floor-to-ceiling windows in Jo's Cowgirl cabin or cozy up with loved ones around the private fire pit that comes with the Sheriff's cabin. With such a vast array of accommodations, there is a unique flavor of the west for everyone.
When it's time to venture beyond your restful cabin, you can relax and reconnect with a number of family activities including their kid program called the Lil' Wranglers led by highly trained professionals that will immerse your children in everything from archery and hiking to horseback rides, ecological exploration, trail adventures and more.
Embrace the ranch life and find your inner cowboy on the shooting range, go fly fishing on the property's 20 miles of private waters, hike pristine trails, or go horseback riding through the rolling mountains. If you love the mountain views without the ruggedness, have a leisurely afternoon with baking lessons or indulge in a spa treatment.
No vacation is complete without tasting the spirits from their onsite distillery or an evening at their Spirit Vault where guests can experience a custom tasting of flights from around the world – sure to excite even the most seasoned of travelers.
Wine connoisseurs can also relish in Brush Creek Cellar committed to the finest wine lists in the world, representing every wine-producing country in existence.
If craft beer is more your style, be sure to check out the soon to open Brush Creek Brewery where you can learn the basics of the brewing process and ingredients while sampling a few original craft beers.
Brush Creek Ranch institutes a number of conservation practices to enhance the environment while preserving the authentic spirit of the west by educating guests about sustainable ranch management and the history of the land.
Rotational grazing, stream and watershed enhancement, forestry management, and certified organic greenhouse practices are just some of the conservation practices that keep the ranch and the ecosystem well-cared for. In addition, much of the sprawling 30,000+ acres have been placed in a conservation easement, which restricts further development while maintaining agricultural and recreational uses.
3. Dunton Hot Springs
If hanging out in a ghost town is more your idea of adventure, just across the mountain from Telluride, Dunton Hot Springs is a romantic 1800's old mining town nestled deep in the San Juan Mountains of the Colorado Rockies. Rising from its former glory as a pass-through ghost town, Dunton Hot Springs has emerged as a refined nature retreat with exquisitely furnished hand-hewn log cabins, a rustic saloon serving locally-sourced food from their farm, a world-class spa, and of course, sensuous hot springs.
All the cabins are hand-built and, in some cases, by the original miners themselves. Lovingly restored, each cabin features handsomely outfitted interiors adorned with period antiques, heated slate floors, and custom-built signature soaking tubs.
Every window of every cabin affords majestic views of the mountains and the surrounding meadows.
Long before miners first eased their weary bones into Dunton Hot Springs, the Ute Native Americans, relaxed in the restoring waters, and now you can too with five unique ways to indulge. Soak in the luxury inside the restored 19th-century Bathhouse, under the stars at the source, in the pool outside the Bathhouse, in the pool behind the Dunton Store cabin, or inside the Well House cabin with a private hot spring and cold plunge pool.
Once you restore in the hot springs, activities abound with rugged horses to forge high mountain trails, world-class fly fishing on an exclusive nine-mile stretch of the West Fork of the Dolores, scenic hiking and mountain bike trails, and expert guides to help you summit the 14,000ft peaks or take you rock climbing in the surrounding San Juan peaks.
Winter activities are just as majestic with snowshoeing or cross-country skiing on a trail laid out by former Olympic Nordic skier Wendy Wegner.
If you prefer to end the relaxing springs on an even more relaxing note, their spa offers hot stone massages, alpenglow body scrubs, facials, and meditation and yoga sessions.
Sustainability is taken seriously at Dunton Hot Springs with electricity generated by 100% renewable energy, ensuring the practices on the property are as waste-free as possible, and they are even finalizing details of a composting plan for the kitchen where they will have two in-ground composting troughs that will be able to hold 20-cubic feet of organic waste and cardboard. Learn more about their sustainability practices.